Different people learn with different teaching styles. Some prefer visual material, others written and others prefer audio or a combination of those.
Having different content types is essential to a comprehensive online course.
Today, we are so excited to announce our new and revamped Audio Player, that will take your audio upload and management to the next level!
New Design
We have done a complete make-over in the way an audio learning activity is presented. The new audio player comes with enhanced capabilities and modern design.
Upload & Manage MP3 Files
You can now upload an audio lesson on LearnWorlds, and it will play using the new player. The design follows the color theme of your course player and will change accordingly for seamless user experience.
Better Student Control
Students now can control the audio lessons using keyboard shortcuts:
space = play/pause
arrow up/down = volume up/down
arrow left/right = backward 10 sec / forward 20 sec
Embedding an Audio File
A second option would be to embed a playable audio file from another website.
If you already have audio files hosted elsewhere, you could easily embed those and use our default mp3 player.
You can use recordings from:
Soundcloud,
Mixcloud,
Google Drive,
Dropbox,
Your website,
Any website with an embeddable code for audio.
You can follow the instructions of our how-to article here.
Why Use Audio in Online Lessons
You might remember a language class where the teacher had an audio exercise. Whether it is the teacher speaking, an assignment, a listening exercise or a song, audio has always been part of the classroom.
In online courses, audio can be an essential part of the curriculum or a great supplementary material. Of course, some classes may be more suited for audio lessons than others, for example:
Language courses, especially pronunciation
Music education, especially phonetics
Literature, especially early childhood literature
Audio lessons are also vital if you are teaching adults and children with dyslexia, low attention span or reaching to areas with limited internet speed where video lessons are not a good option.
Including multiple different learning units into an online course can also help your students retain the knowledge for longer. Repetition and multiple formats presenting the same material increases knowledge retention.
Audio can also be a good alternative if you are shy to appear on camera or don't have the right equipment for video recording, as good quality microphones are easier to come by, or you can also use your smartphone.
So, what are you waiting for?
Log in to your LearnWorlds school to see how easy it is to use our revamped Audio Player.
(Visited 1,813 times, 1 visits today)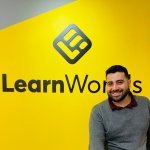 Nick Malekos is a Senior Digital Marketer in LearnWorlds. He is a results based and well-rounded Digital Marketer with years of experience in the education industry, writer and digital literacy trainer.