Choosing the right video equipment is key to shooting a high-quality educational video. We just released the Choosing the right equipment for your online course videos to teach you everything you need to find the right equipment for your video course.
If the content is king, then the video is the king of the kings. With the rising popularity of video as a medium, it would be a mistake not to make an educational video in your online courses. When used correctly, the results can be astonishing.
Everyone has something to teach, and the best way to educate people is by using video. Whether you have a written document or slides, everything can be translated to a video screencast or a how-to video.
The same equipment can be used for pre-recorded classes but also Zoom meetings, live classes, and webinars. It is the right time to invest in video equipment, as right now we are spending much more time in front of our screens.
But, choosing the right video equipment is key to shooting a high-quality video. We are releasing the "Choosing the right equipment for your online course videos" to teach you all the tips and tricks you need to know to choose the right gear for your video and works for every budget type.
While you are at it, make sure to check out other courses in our Academy, like how to make educational videos with Video-Based Learning or Creating a Course with Learnworlds.
Why should I take this course?
This free course includes everything you need to know about video production. There is no more need for painstaking search on the internet about how to shoot the best video. Here, you will learn:
What features should my camera have?
What is the best camera type?
How should I choose a microphone?
How should I choose and set my lights?
What kind of video editor should I buy?
How to make beautiful videos even with a low budget.
It's everything you need to know to start shooting the perfect video for your online course. Learning about your video gear and how to choose the right one for your course and your budget.
How to Get Access?
This is a free course you can get by registering at the LearnWorlds Academy.
Are you preparing an online course?
LearnWorlds is an all-in-one course platform to create, market & sell your online courses. You can try LearnWorlds for 30-days for free and get access to the LearnWorlds Academy at the same time to learn how to create any kind of course and how to make it profitable.
Get your account today!
(Visited 768 times, 1 visits today)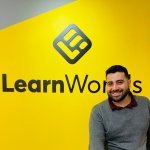 Nick Malekos is a Senior Digital Marketer in LearnWorlds. He is a results based and well-rounded Digital Marketer with years of experience in the education industry, writer and digital literacy trainer.