What's the secret sauce to creating a great online school?
We have asked successful course creators how they did it, and we got some incredible responses!
Discover the real stories, tips, and advice experienced entrepreneurs share with us.
Every story comes with personal insights into their journey and advice to new course creators. In this mini-course, you will discover the background stories, tips, and tricks from the most successful course creators.
What is the secret to a successful online course?
What common challenges do creators face?
How can you overcome those obstacles?
We have collected all the stories and added them to the LearnWorlds Academy. Join LearnWorlds' Academy today and get access to the 7 case studies.
The Academy is free for everyone and also includes courses on how to create, market, and sell your own online course, now with incredible case studies from course creators like you.
(Visited 826 times, 1 visits today)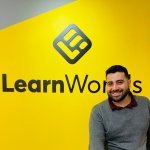 Nick Malekos is a Senior Digital Marketer in LearnWorlds. He is a results based and well-rounded Digital Marketer with years of experience in the education industry, writer and digital literacy trainer.