This is a premium course available for free to LearnWorlds users with a Learning Center subscription.
Email is the king of digital marketing. It is personal, direct and not going away soon. Email works great if you are launching a new course or you want to build a relationship with your students and sell more courses.
While growing your online course business, you have probably read a ton of advice on marketing. And, the most common advice is always "Start an email list". It's no secret. The sooner you start collecting emails and reaching out to your potential customers, the more sales you will have.
We are here to help you with that!
Email marketing for online courses is not much different from any other digital products. It can be broken down into three parts:
Collect emails
Offer value
Sell
It is something that most of our instructors here at LearnWorlds already do, and if done well, it means success and 5 or 6 figure of income!
This is why we have been working on a new course to give to our clients:
"A comprehensive Guide to Email Marketing in Online Courses"
This course gathers all the experience of our top sellers and therefore, provides a proven framework for a successful online course launch. And…on top of that…20 ready-made email templates to inspire trust, and bring sales! You can copy, make a few changes and use them immediately!
What you will be learning in the course:
Why Email Marketing Matters in Selling Courses
Grow your Email List in Practice
How to Use the Email List you Have Created
Email Metrics: What they show and how to use them
Increasing Conversion Rates with Email Segmentation
Launching your Online Course: First Give Value, then Sell
Writing Emails: Best Practices for Subject Lines and Email Content
Ready to Use Course Email Templates
The best part of it, this is a premium course available for free to LearnWorlds users with a Learning Center subscription. Giving you access to the only one true white-label course platform, Interactive Video, Single-Sign-On with your site, and all the marketing, sales tools, and integrations you will need to make a profitable course business a reality.
Our course promises a lot. And don't think that this course is suitable only for beginners! If you are already using email marketing, this course will give you even more ideas on what to do.
Why Email Marketing?
Email marketing is continuously chosen as the most effective among other successful marketing strategies (social media marketing or content marketing), you can read all about it in our blog post "Why Email Marketing Matters in Selling Courses".
So, this is your chance to start a new opportunity (or open up a marketing channel)!
What's the best part about it?
Email marketing has so many options that it is effortless to shape the strategy to your personality, character, taste and communication style.
Apart from these, it is inexpensive; it is practical and convenient for both your audience and you, as mobile devices have become so familiar.
But enough about why to use email marketing!
Why should I take this course?
Through a series of videos and other activities, you will get an excellent idea on how email marketing works for online courses and also how you can improve your strategy if you are already using it. What will you learn?
Learn about email marketing
Learn how to start and grow your email list
Learn how to write great emails
Learn how to sell online courses with email marketing
Get the ready-made email templates for your course launch!
We are sure you will find this course creative and realize that you can stand out from everybody else. Remember that your customers will be getting hundreds of emails in their inboxes and it's your responsibility to stand out.
This course will help you give out a clear value proposition that will increase your customer base, keep your audience interested in opening your emails and build trust between you and them!
So, for every online instructor, it's worth investing time in this course!
How to Get Access
This course is free for LearnWorlds users with a Learning Center subscription. Send an email to [email protected] to get access for all your school admins.
More courses are coming up in the next few months! Now it is the time to upgrade to a Learning Center plan and get access to all premium courses on the LearnWorlds Academy.
(Visited 1,421 times, 1 visits today)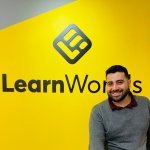 Nick Malekos is a Senior Digital Marketer in LearnWorlds. He is a results based and well-rounded Digital Marketer with years of experience in the education industry, writer and digital literacy trainer.