Trust is the most important and difficult to achieve aspect in any business transaction. Building trust online is an even more challenging process, but, we got you covered!
As of this week ALL our schools, even at the basic package, come with a built-in SSL certificate for an added layer of security! Whether you are using the LearnWorlds domain (i.e. school.LearnWorlds.com) or your own custom domain, you will get your own SSL certificate, for Free!
What is an SSL certificate?
The Secure Sockets Layer (SSL) certificate is the standard technology for a secure connection between your device and the website you are visiting. Visiting a page with an SSL ensures a secure connection making confidential data such as credit card information, password and other files or data to be kept safe and encrypted.
There are three signs that a website you are visiting has an SSL certificate.
The URL starts with HTTPS instead of HTTP
A green padlock ? is next to the address, followed by "Secure"
You will not see any warnings, (!) or red ⚠️ next to the address
Why is it important?
An SSL-secured website sends clear signs of trust to your visitors, with some websites seeing up to 30% increase in their sales and increases in sign-ups, conversion rates and better Google search results.
In an increasingly global inter-connected world, it is impossible to know all the brands and many websites have duplicates, similar domain names and a number of trustworthy individuals. Offering security to your users through an SSL is a competitive advantage for any business, and online courses need to come from credible, trustworthy and secure sources.
Trust signals are important and securing your online academy can have the following benefits:
Increasing course sales ?
Increasing lead generation and conversion rates
Additional traffic from organic results with https being a ranking signal for Google (SEO)
Brand value & pricing – A more trustworthy brand can ask for higher prices, and an SSL is the cheapest way to increase your value offering and thus the price of your courses
Secure vs non-Secure Browsing on login forms
At this current time, Google Chrome browser users will be prompted that their connection is insecure any time the browser thinks you're sending or receiving sensitive information. The warning may not appear immediately when browsing to a website. However, when you are trying to send any information such as your username, password or a credit card number to a website over HTTP, the browser will warn the user via the address bar.
The Firefox browser also adds a notification below the text field. See example below.
Don't leave your courses exposed, LearnWorlds has got you covered! Below is an example of a secured website while completing a form.
Securing your school's domain, courses and checkout page to instill trustworthiness.
(Visited 1,427 times, 1 visits today)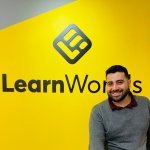 Nick Malekos is a Senior Digital Marketer in LearnWorlds. He is a results based and well-rounded Digital Marketer with years of experience in the education industry, writer and digital literacy trainer.