From selling dresses to
teaching thousands

how to create them

Marina Brumpton shares her experience in designing new clothes, teaching, inspiring new students in sewing/tailoring and selling her own courses!
Don't have a School yet?
Start your Free online School Now
Create New School
Marina, the founder of Frocks & Frolics, studied Product Design and Design Technology at a university level in Germany. She then went on to become a teacher and taught Textiles to students for 6 years. After that, she founded her own bridal shop at Bradford-on-Avon, while at the same time she was working with several well-known people in the industry like Anna Trestal, a fashion designer from Berlin.
She started her online selling adventure back in 2012: "You need to show people how to create flower dresses for girls: that will get more people to your website, who will be more prone to buying because you will look approachable." Marina's aspiration for Frocks and Frolics is to become the biggest sewing school online.
If number 1 priority is having a good product, number 2 is the personal brand. Read the instructions carefully and set up the perfect course.
Her online presence started with teaching on YouTube in order to promote her business.
She taught how to create flower dresses, when she realized that selling that flower dress pattern, sold better than her actual dresses because there is no limit as to how many you can sell on digital.
Since then, Marina's business has been a huge success, something obvious not only in sales numbers but also through the love and appreciation she receives from her students.
Are you into the Arts & Crafts industry yourself?
Start your school Now!
Why LearnWorlds?
Learn why Marina selected and excelled with LearnWorlds
Using LearnWorlds
✊
❤
🎓
, she managed the transition from selling dresses to selling dress patterns, a much more profitable endeavor. Her decision to choose LearnWorlds was its community-oriented, discussion-enabling nature, a huge factor in building a successful school.
I want to create the best experience for customers and that is what I really like about LearnWorlds.
I feel that it is not just a money grab for you, you know? I believe your company has a real interest in creating the best experience and not just make a profit.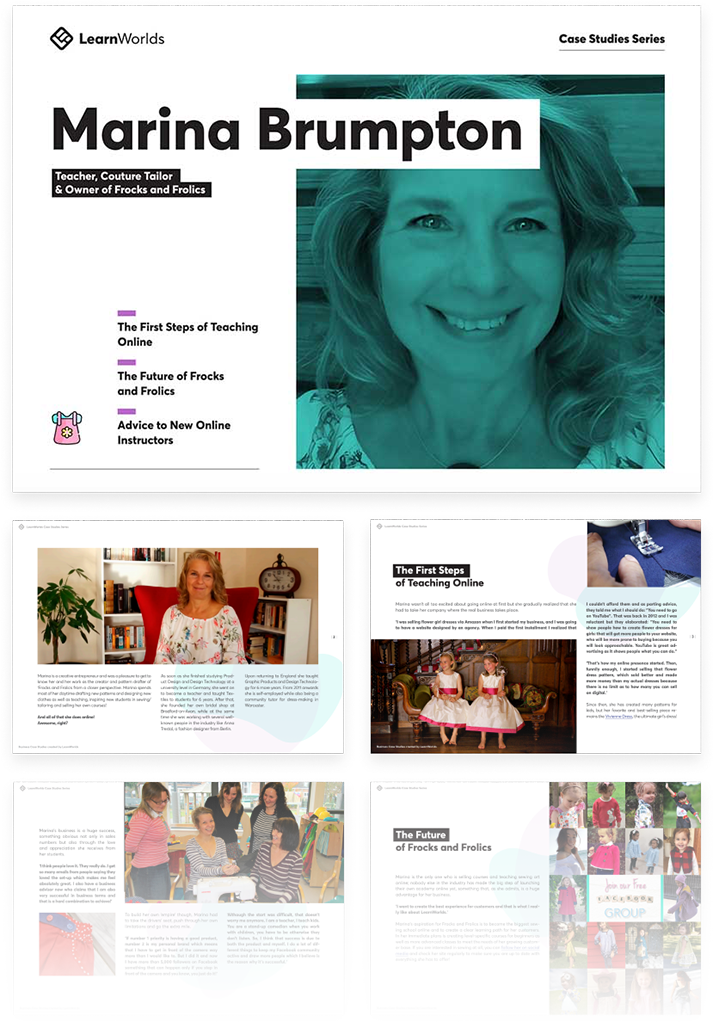 Read more about...
Having a good product
Building your personal brand
Carefully designing your school
Course design consistency
Properly using LearnWorlds
Creating best experiences for customers
Create your own school