A lot of course creators get stuck in the brainstorming stage and struggle to take the next step. That is why we have created the Just Launch It! Challenge.
The goal of this challenge is to take you from an idea (or even no-idea) to launching your first online course within just 4-week bootcamp!
The Just Launch It! Challenge is going to take place between the 19th of October and 13th of November 2020.
The challenge is for anyone who is getting started with their first online course, including total beginners as well as seasoned bloggers, content creators or coaches.
During the 4 weeks, you will learn how to:
Find a profitable course topic,
Create a sales page,
Prelaunch your course,
Write your course contents,
Upload them to LearnWorlds, and
Launch it!
We will be taking you into a step-by-step method to create a course like an experienced educator. We will also be running weekly live Q&A sessions to answer your questions, and you can use the community to start a conversation with other course creators!
The challenge and Q&As will be presented by Panos Siozos, PhD, LearnWorlds' CEO. Watch the introductory video by him to learn more:
Why join?
It's completely FREE,
No previous online course creation experience is needed,
It includes an exclusive peer community,
You get access to weekly live Q&A sessions with LearnWorlds' team of experts, and
Access to amazing learning resources: free ebooks, checklists, even instructional design cards.
By the end of the challenge you will have created:
A ready-to-sell online course.
A complete email launch sequence.
A sales page for your course.
Along with the step-by-step process, you will get access to an accountability structure and exclusive support by our experts who have created hundreds of online courses.
Creating and launching your course will be a breeze!
Schedule
Each week's goals and resources will be released in a drip-fed fashion on Mondays. There, you will be getting a goal and instructions on how to achieve it.
Here is the schedule for the challenge:
Week 1: Plan Out a Profitable Course
19th of October 2020
Learn how to identify the right course topic for you.
Avoid mental blocks and write engaging educational content.
Find out the basics of instructional design and how to turn your storyboards into educational videos.
Week 2: Create your Course & Prelaunch
26th of October 2020
Create an engaging learning experience by choosing a combination of content types as videos, screencasts, PDFs, quizzes, slideshows and engaging activities.
Find what works for your students, and what makes more sense to you. You'll leave this course feeling confident about your content!
Prelaunch and presell and start making money even before you finish your course.
Week 3: Setup your School Site and set up Payments
2nd of November 2020
Delight your prospecting customers with awesome designs that increase conversions.
Learn how you can build your online school website, landing pages and 1-click sales pages.
Create and edit your learning activities. User tricks to capture attention, increase engagement, improve learning efficiency, guarantee satisfaction.
Connect with payment gateways, set your course price and be ready to start getting money!
Week 4: Time to Launch and Promote your Course
9th of November 2020
Learn about the tools for getting more customers, revenues and repeated sales.
Learn about email marketing and email sequences. Build together with us your first 3 email sequences.
Learn how to create ads for promoting your course.
Additional Resources
Along with the challenge, you will be getting access to a course creation workbook, ebooks and checklists that will be helping you on creating and launching your first course.
Also, we are giving a very unique resource for every educator, the 50 Course Creation Cards. Those are printable cards with easy-to-follow instructions that take you through the ABC's of instructional design.
Every card is a step towards creating a high-quality course, created by our internal team of educators.
What are you waiting for?
Join the challenge today and make your course a reality!
(Visited 1,241 times, 1 visits today)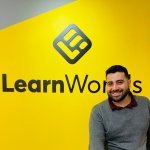 Nick Malekos is a Senior Digital Marketer in LearnWorlds. He is a results based and well-rounded Digital Marketer with years of experience in the education industry, writer and digital literacy trainer.