What if I told you, you can have a Faster, Better and more Powerful Media Library to manage your images on LearnWorlds?
An all-in-one platform to create, market and sell your courses means you can also build a whole elearning website and a blog.
Your company deserves a beautifully branded academy.
Our refreshed and fully polished media library will make your work with images of any size and shape, easier and quicker.
A Better Way to Upload Images
With this media library, you will be able to upload and manage your pictures much faster than before.
The Multi-uploader functionality will allow you to build a rich media library and upload every image you need faster. Just drag and drop the images and click on the button!
More Options Including DropBox and Google Drive
Upload images from your own device: Computer, tablet, iPad or smartphone!
Take photos from your camera: You can now capture yourself with a smartphone or from your computer's camera and directly upload it to your school.
DropBox: Connect to your dropbox account and access all your images directly from there, no need to download and re-upload!
Google Drive: Coming soon! Similar to Dropbox, you will be able to connect your Google Drive account to your school and make image management even easier!
Directly from another website: Insert the address of any public image (you have the rights to) in the web and use the "link to url" option to upload it directly to your school.
Quick Access to Free Stock Images
Remember when you were looking at websites to find free stock images to use in your landing pages?
We have partnered with Unsplash to bring you a quicker way to find and use high quality stock images from a gallery of over 1 million free-to-use images.
If you are looking for something different, you can visit any of the Top 10 Free Stock Image Sites in our list.
Easy Management & Editing
Now, you can quickly edit, preview, insert and delete images from the main screen.
Let's focus on the editing part here. When you click on the edit button for an image, this gives you the power to:
Rename the image
Add categories with tags(see the next section for more on this)
Copy the url (image location)
View the dimensions and size of the image
Crop the Image – Saving an image after you specified an area for cropping will create a new cropped image
Insert image – This will insert the image to the specified place you clicked before visiting the library.
*You need to click "Save to Library" for any changes to take place.
Better Search with Image Tags
This is a centralised image library, common among your courses and pages. It might be easy to find an image out of a handful, but what if you school grows to hundreds or thousands of images?
The new Media Library comes with a better search function that looks in both the title and the image categories to bring you the right one.
Adding tags to your images will help you organise them.
You can have a word or phrase as a tag.
You can have multiple tags in an image.
Both titles and tags are searchable.
Tag your "favourite" images for finding them quickly or tag them by category.
The Media Library was designed to be a productivity booster to your online course business. You can upload images faster, make quick edits and organise your material like a pro.
Why don't you give it a try and let us know if you like it?
(Visited 579 times, 1 visits today)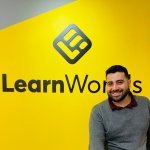 Nick Malekos is a Senior Digital Marketer in LearnWorlds. He is a results based and well-rounded Digital Marketer with years of experience in the education industry, writer and digital literacy trainer.