Do you have a WordPress site?
Do you have a vibrant online business with hundreds or thousands of users?
Then, you are probably wondering how you can connect with your online course platform and offer a seamless transition for your users. Asking them to create a new account and use a new password is a cumbersome process.
This is where SSO comes in to save the day!
With LearnWorlds' new SSO WordPress plugin, you can implement a Single-Sign-On (SSO) for seamless browsing between your site and your courses, without the need to pay a developer for it.
*Single-Sign-On for WordPress or any other site requires an active plan which includes SSO/API integration with LearnWorlds.*
What is a Single-Sign-On?
SSO means connecting the registration/login systems of two different systems to communicate. Your users sign-in to one of them and can navigate between two or more systems without the need to repeat their username and password.
Our SSO WordPress plugin automatically creates accounts, signs users in and keeps user login in both sites.
Without it, you would need a developer to do all the work of connecting the two. Now, you don't need to worry, even without any technical skills, you can just install the plugin, include the API credentials and follow our step-by-step instructions to make it work.
Why should I use the LearnWorlds WordPress SSO plugin?
If you already have built your business on WordPress, this plugin will help you provide amazing learning experiences, in a seamless way. Suppose you want to educate your audience on a new product or a new skill.
In your WordPress site you can simply add a menu item with a link to your school (or even directly to specific courses). Then, when members of your page click on this item, they directly connect to your learning material without the need to register at the school you have created with LearnWorlds.
Or imagine that you have created a blogpost where you train people on your subject and you want to provide more explicit video training. You can then add a link to your blog post including a shortcode to a course (or even a course unit!) you want to redirect your readers to.
They can then immediately continue studying , without having to get through the cumbersome process of creating a new account and have to juggle multiple passwords for your site.
Our SSO plugin also works great for WordPress sites that use membership plugins or in the case you have created a custom dashboard or profile page for your students. With our SSO plugin you can easily add a link to your school/courses, as a Widget, in every WordPress page, thus combining the versatility of WordPress with the learning power of LearnWorlds.
This is also a big part of white-labeling, as your students will barely know they are connected with LearnWorlds and they will think they are learning from a custom developed solution.
A Central Registration / Login
The LearnWorlds SSO plugin for WordPress improves the browsing experience of your students, by taking away password fatigue and the need to create new accounts or re-enter an email/password.
When a user finds your school and wants to sign in, they are immediately redirected to the login/sign up page of your WordPress site and they have to sign in from there. Everything looks familiar and simple.
WooCommerce Compatible
Our plugin goes the extra mile and works perfectly even when you are selling products through WooCommerce, a super popular e-commerce plugin for WP
Now, you can easily sell your courses from WooCommerce and your LearnWorlds school takes care of the "order fulfillment", that is we take care of the actual course delivery, within the LearnWorlds platform, ensuring a stellar learner experience for your audience.
And all this without your students having to worry about logins and passwords and how to find their courses.
How can I connect my WordPress site with my school?
The connection between these two sites is done manually with the use of your custom urls (eg. courses, checkout pages etc.) that work as links. Note that, if you change your domain name, you have to re-enter those links. So it is advisable that before creating the necessary connections with your WordPress site, you set your custom domain in your school.
You can use SSO links from your WordPress site to any of your school pages, which you can place practically anywhere using the shortcode provided. An example of a shortcode might be:
[learnworlds-sso-link url="http://myschool.learnworlds.com" text="Login to school" logged-in-text="Go to school"]
We have prepared a detailed step-by-step guide on doing that here.
What are the benefits from this plugin?
The LearnWorlds SSO plugin improves the browsing experience of your students, by taking away the need to create new accounts or re-enter an email and password in both your WordPress and LearnWorlds site.
Every time a registered Learnworlds user changes their email in their WordPress profile, the plugin updates that email to the Learnworlds database as well, keeping the two neatly synced.
The plugin also supports WooCommerce and allows your website to use the default account management pages that are installed by the WooCommerce plugin.
How can I activate this plugin in my school?
You can now connect your website's login with LearnWorlds for a seamless browsing experience without the need to have a technical team at your side all the time. However, this plugin requires a Learning Center Plan and above which includes SSO/API integration with LearnWorlds.
Still, you will need to contact LearnWorlds' support ([email protected]) to receive the API credentials. LearnWorlds' Customer Success is always here to help with the integration, questions, and issues you might encounter along the way.
Are you ready to start selling courses from your own website?
You can easily do that with LearnWorlds. If you don't have an account yet, you can get a 30-day free trial and start building your own online academy in minutes!
Further reading you might find interesting:
(Visited 4,169 times, 1 visits today)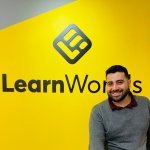 Nick Malekos is a Senior Digital Marketer in LearnWorlds. He is a results based and well-rounded Digital Marketer with years of experience in the education industry, writer and digital literacy trainer.