Starting today, your users can sign up with their own Google accounts or social media accounts already available – Facebook, Twitter and LinkedIn – to connect to your online school. This gives you access to more than 1.2 billion active Gmail users!
54% of users might leave a website if they were asked to complete a registration form.
Source:
Blue Research & Janrain
Adding social logins to your registration forms will increase your school's rate of enrollment. What's great about social logins is that students don't have to remember different passwords for different sites; they can login using just their social media accounts. This can be a huge advantage for your online school.
What is a Social Login?
A Social Login is a button which allows you to connect to a website by using your social media account. You don't need to repeat your basic information, and it's a quick and easy way to sign-up.
Most popular social networks for this are Facebook, Twitter, LinkedIn and Google. These cover more than 90% of online users of social networks looking to sign-up with a social login.
Advantages of Using Social Logins
Social logins are becoming more and more popular, and it's no wonder why. There are many benefits to using social logins providing added value to the business:
1

Easy and quick login

Skips the lengthy registration process and makes it easier for your customers to log-in to their school by transforming the registration process to a less painful process and be done with it through a few links – if not in a single click.
2

Eliminates incorrect passwords

No need to remember another username and password, most people have many accounts they sign in to everyday for and is easy to forget the login details. Social log-in offer one less login for people to remember because they can connect automatically and just as easily. This is huge considering that 92% of users will leave a site instead of resetting or recovering login info.
3

Increases the number of account creations

Improves customer retention and increases the number of visits, especially on mobile. Think about it – filling out a registration form on mobile is often complicated, but a social log-in always makes the process simple.
4

Verified email address

Major social networks are great in verifying an email address, and people use their personal address. If you wish to get access to their personal inbox, a social login is the best way to avoid fake and spam emails.
5

Enhances familiarity

If your brand isn't known, logging through social accounts, e.g. Facebook, Twitter, has the power to increase the feeling of familiarity and comfort for customers.
6

Avoids spam and mistargeted messaging

People sign in through their social accounts because they are willing to do so and expect they get updates and news from your company. This kind of communication is less likely to be considered spam.
7

More personalized experience

Provides additional log-in options, a feature that is not offered by a large number of companies, offering greater flexibility and familiarity in its use.
8

Valuable and accurate visitor data

Social logins can give instant permission to demographic information about your customers and also more detailed and accurate data on their background coming from their social accounts. This kind of information improves the quality and targeting of your marketing activities.
9

Decrease customer support

Not having to remember another username and password decreases the need to provide password retrieval support. For online instructors, this means less hustle and time spent on tech support duties.
10

Easier for mobile users

Using a smartphone to access websites, and especially educational content is becoming more common. Mobile users prefer a social login rather than typing their password or resetting it, which means changing to their email app to recover it.
How to Add Social Logins to Your LearnWorlds School
Social logins aren't rocket science to understand or to use. Adding social logins to your online school is done within minutes through a simple activation button.
Simply go to 'School Settings' in the dashboard and click on 'Sign Up – Login button'. Then through the 'Sign Up with Social Media' option tick those boxes that correspond to each social media channel you want to include to your school logins.
This is how the login options to your LearnWorlds school will appear to your students when choosing all social media accounts available:
For more details, you can read our relevant help center article on social logins to guide you.
Social logins is a powerful tool addition that can improve your performance results at large. Just like any other feature, it comes to complete a much bigger puzzle with the potential to make everything easier for you and your business.
We hope that you find social logins as useful as we do!
(Visited 1,102 times, 1 visits today)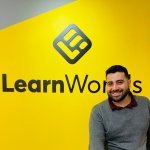 Nick Malekos is a Senior Digital Marketer in LearnWorlds. He is a results based and well-rounded Digital Marketer with years of experience in the education industry, writer and digital literacy trainer.