The best advice we could ever give to anyone who is about to create a new school or launch a new course is to start promoting it before you even have it! All the top course sellers agree in this:
From the very first day you have to take your course idea out there in the real world.
Your Online Course needs a Title
Find a catchy and substantial title, a good description and start building your mailing list from Day One! Every email address you capture takes you one step closer to a successful course launch and the sales you deserve.
Prelaunch your course or school
LearnWorlds is kicking off the new year by bringing you a brand-new feature: built-in support for pre-launching individual courses or even your whole school. Just use one of our amazing pre-launch zones in the Pages Builder, and start capturing those valuable leads today! No need to hire someone to create a landing page for you and certainly no need to buy a subscription to one of those "landing page" services. Setup your launch page in minutes with LearnWorlds. We've got you covered!
More to follow next week as we are working hard to improve the speed of your school. And don't forget, LearnWorlds keeps getting better every day!
Are you ready to start selling courses with the top all-in-one platform?
See them in action or read the support article.
And don't forget, LearnWorlds keeps getting better every day!
(Visited 1,607 times, 1 visits today)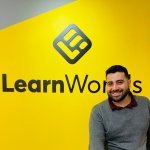 Nick Malekos is a Senior Digital Marketer in LearnWorlds. He is a results based and well-rounded Digital Marketer with years of experience in the education industry, writer and digital literacy trainer.