I am so excited to announce an awesome workshop we have prepared for you, taking place on September, 27-30!
"Email Marketing for Course Creators"
We have teamed up with top experts such as Jeanne Jennings and Sarah Cordiner, who have been helping course creators grow their online course sales for years.
Along with them, we have three of the top email marketing software companies and a leading email marketing agency join forces in the workshop to share their ultimate email marketing expertise:
Sendinblue
Campaign Monitor
GetResponse
Email Mastery
The Email Marketing for Course Creators will begin on the 27th of September and it is just what you have been waiting for to help you sell more online courses.
And guess what? It's absolutely FREE.
Talking with thousands of our platform's users, we encountered amazing educators that struggle in selling their course. While you may be an expert at your topic, selling is a totally different ballgame.
In the workshop, you will find videos and ebooks guiding you through how to:
Grow Your Email List
Build the Email Sequence
Write Emails & Templates
Benchmarks & Metrics
And there is more! Here comes my favorite part:
EMAIL TEMPLATES
We will be sharing email templates you can copy-paste and start selling immediately, written by expert copywriters and inspired by some of the top course sellers!
All you need to push your course sales up a notch is in this Email Marketing Workshop 😏
Check out some of the reviews on our previous workshops:
P.S.: This workshop will be self-paced with a LIVE Q&A on Wednesday 29 of September.
P.S.2: I will be personally answering all your questions through the community between the dates of the workshop!
I look forward to seeing you there!
(Visited 554 times, 1 visits today)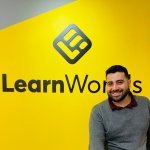 Nick Malekos is a Senior Digital Marketer in LearnWorlds. He is a results based and well-rounded Digital Marketer with years of experience in the education industry, writer and digital literacy trainer.