Christopher
and
Panos
share with you the proven model to design your program for scale.
Take the next step with LearnWorlds!
Watch a demo
Free on-demand webinar
Creating your high-impact
customer education

program!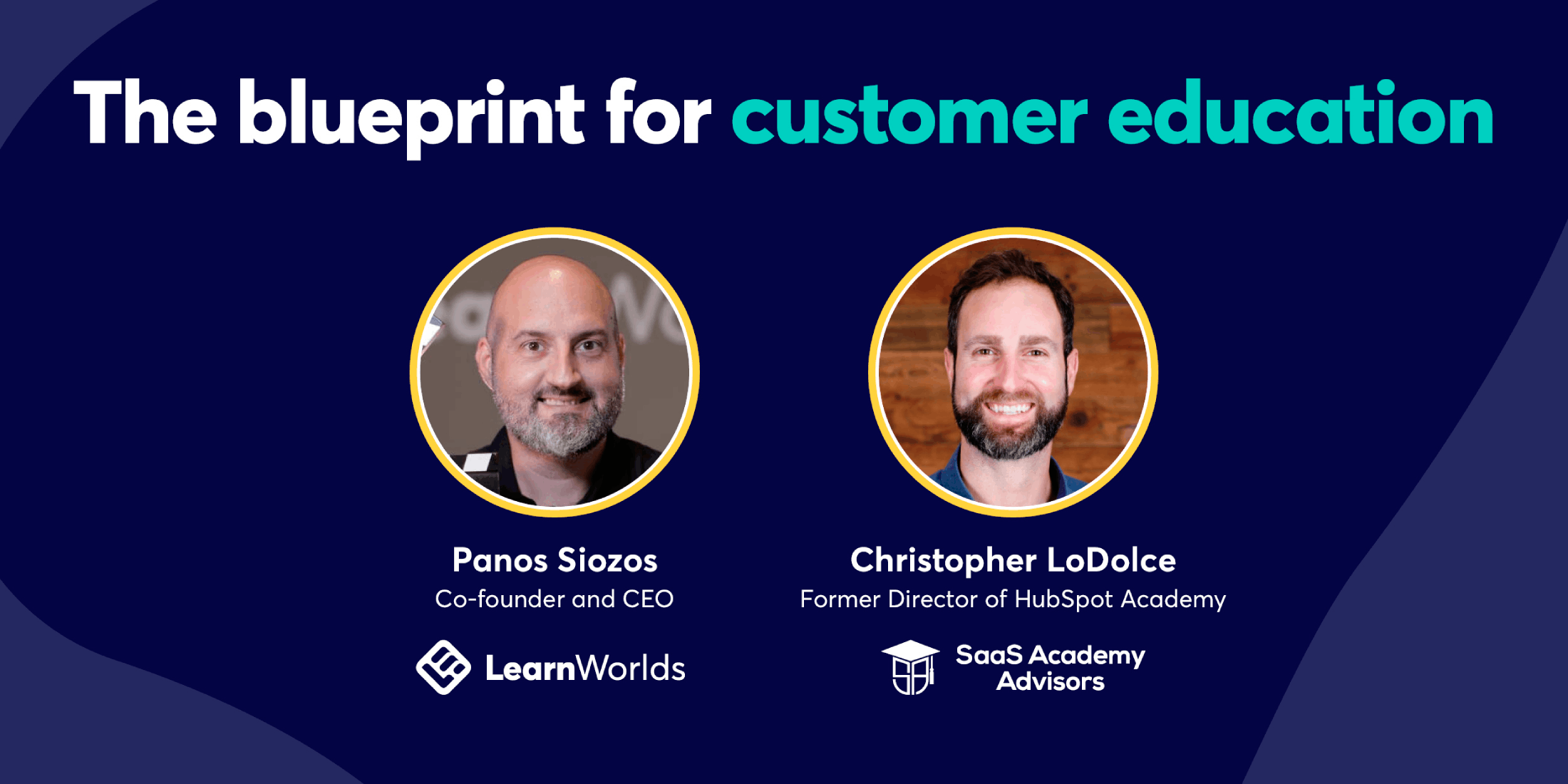 Hosted by
Panos Siozos, PhD
LearnWorlds co-founder and CEO
Christopher LoDolce
Customer Education Advisor
Fix funnel leaks! Slash churn!
Looking for the missing piece of the customer success puzzle?
Stand out from the competition by making product education readily available to your customers. Maximize the value of educational content to impact key growth metrics including CaC, retention, CLTV, NPS/CSAT, ENPS and many important KPIs.
Watch the free webinar and get access to the "playbook" for setting your customer education team up for success.
Learn about the:
5 stages of the Customer Education growth model
3 major mistakes to avoid
7 proven ways to design your program for scale
What you will learn
Join Panos Siozos, co-founder and CEO of LearnWorlds, and Christopher LoDolce, Customer Education Advisor for high-growth tech companies and Former Director and Founding Member of
HubSpot Academy
to gain actionable insights on:
Program Leadership
Who should you hire, what skills should they have? We'll go over typical roles and skills for starting and growing your customer education program.
Program Management
We'll discuss the key elements necessary for designing or improving a customer education program for scale that will drive sustainable retention and revenue growth.
Stakeholder Management
Codifying and tracking stakeholder management to secure the resources and support needed to deliver on the program goals.
Content Design & Development
Developing educational content that is educational and inspires the learner to action.
Tech Stack Design
To buy or to build, to be scrappy or to go big? What to keep in mind when designing your Customer Education tech stack for speed, quality, and scale.
Marketing your Customer Education
So you developed some customer education, now what? It's all about understanding your customer communication channels.
Panos Siozos, PhD
LearnWorlds co-founder and CEO
Panos has a PhD in Educational Technology and extensive work experience as a software engineer, e-learning researcher, and science educator. Before following the startup route, he was working in the European Parliament as a policy adviser for research and innovation.
Panos loves mountaineering, photography, and travelling and is always happy to work under extreme pressure in multinational environments.
Christopher LoDolce
Customer Education Advisor, Former Director and Founding Member of HubSpot Academy
Chris is an advisor to high-growth software companies on Customer Education program design and operations from program ideation and beta through program launch and scale in service of increased retention and recurring revenue.
He co-founded the HubSpot Academy team in 2011 and over the next 10 years managed the division which grew to over 30 people.
Under his leadership, the team created trainings that reached millions of learners, certified half a million business professionals, expanded the educational offering from one to three robust software products, and led the initiative on localizing HubSpot Academy in 5 languages to target new international markets.
Customer education is a powerful tool that can generate measurable business impact across the entire customer lifecycle. Watch our free webinar to learn more!