Drive business results through powerful
Customer education
Drive business results through powerful

Customer Education
Create, manage and scale your fully white-label customer education program with the world's most flexible eLearning platform. Empower your customers, improve your metrics, and scale your revenue.
Risk-free trial. No credit card required
All the features we wanted for our learning center!
Alvar De La Viuda
Instructional Designer at Lodgify
Create amazing training experiences tailored to your customers' needs
A white label platform for all your resources
Offer seamless user experience through your branded academy & app. Create engaging learning paths for your audience using your content.
Accelerate your learners' success
Maintain a great user experience while streamlining your customers' learning. Foster brand loyalty by nurturing happy customers.
Manage training programs for all segments
There has never been an easier way to build customer education programs for different products or target audiences. Track everything in one dashboard.
Develop an accredited program
Establish a community of customers, partners, and prospects who actively engage in online training and certifications.
Deliver the right training program at the right time
Offer a robust training program
Create your courses in no time. Easily compile and offer a powerful ecosystem of learning material ranging from videos and SCORM files to ebooks, audio, and live sessions.
Drive customer engagement
Build communication bridges with your customers through engaging videos. Add questions, images, pop ups, mini-quizzes, transcripts, and much more.
Issue online certificates
Reward your customers, partners, and resellers with branded online certificates for successfully completing your online training courses.
Your own branded & fully customizable academy
Build a true white label academy
Use the most powerful Site Builder to create your branded online academy that you can also connect with your domain. Enjoy total design freedom with the best drag-and-drop tool.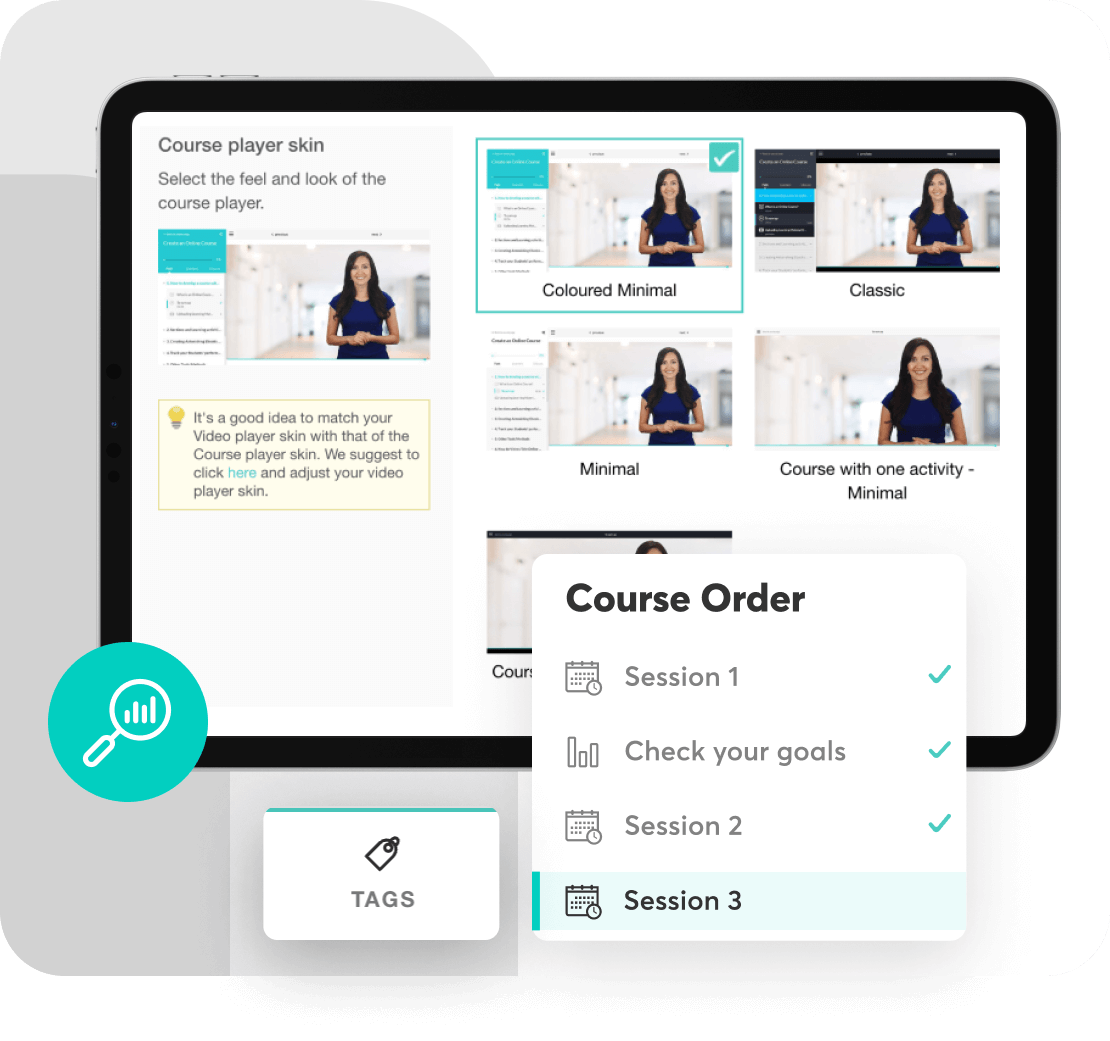 Train using your own app
Take your branded academy mobile with LearnWorlds' no code Mobile App Builder. Meet your customers on the go and allow them to learn from anywhere in the world.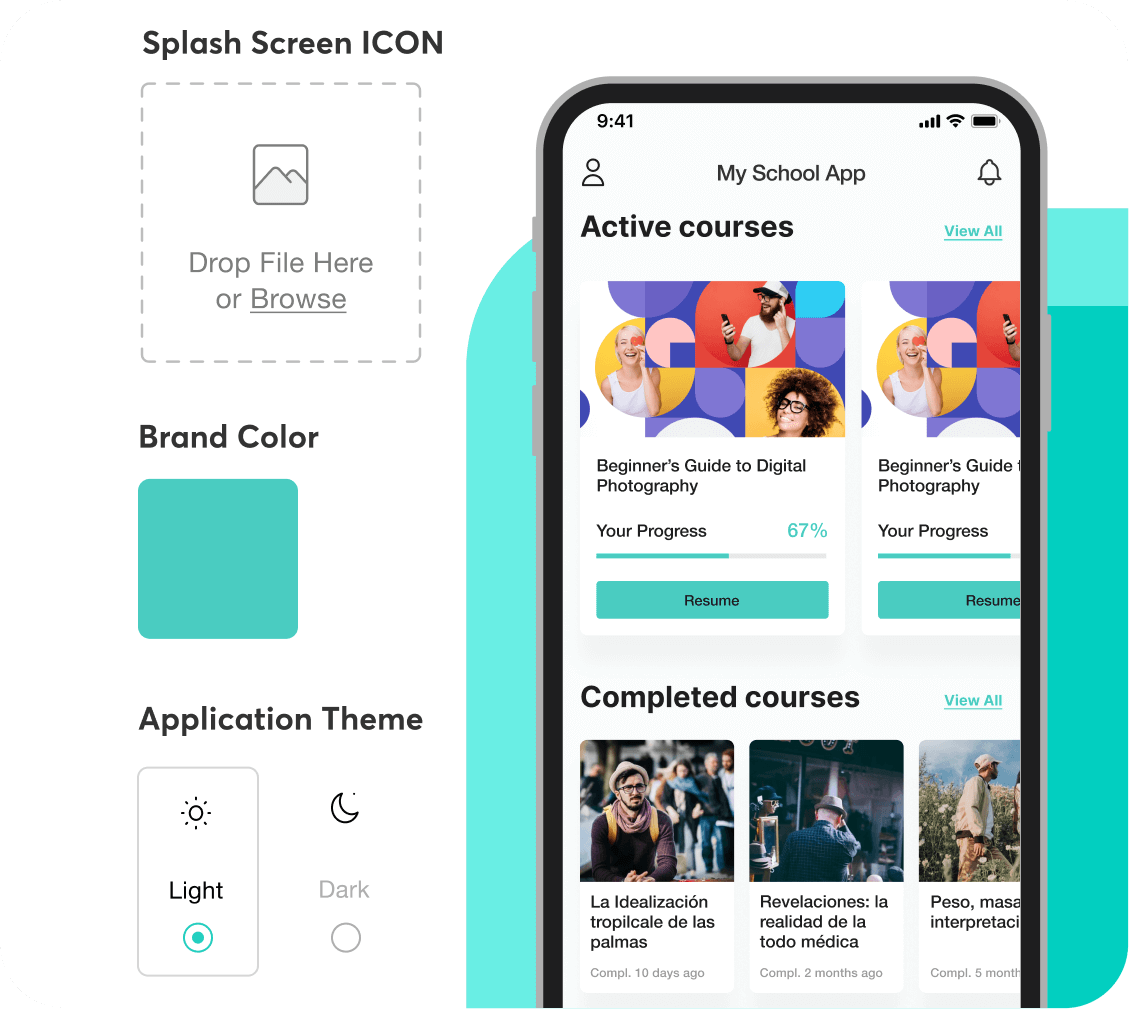 Enjoy seamless integration with third-party tools
Connect your academy to your tech and marketing stack with 1.000+ integrations. With our SSO and API you will streamline training throughout your customer network.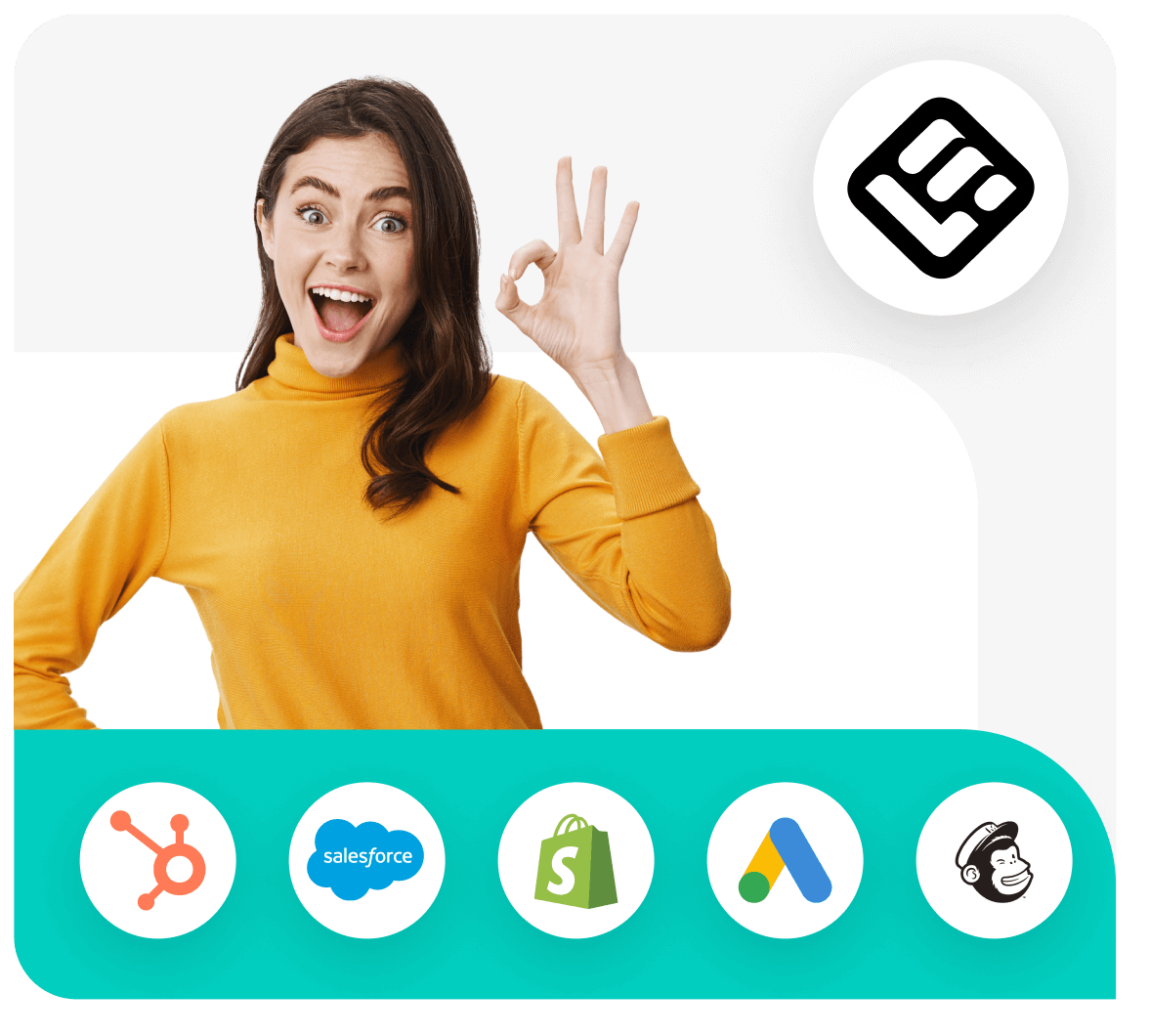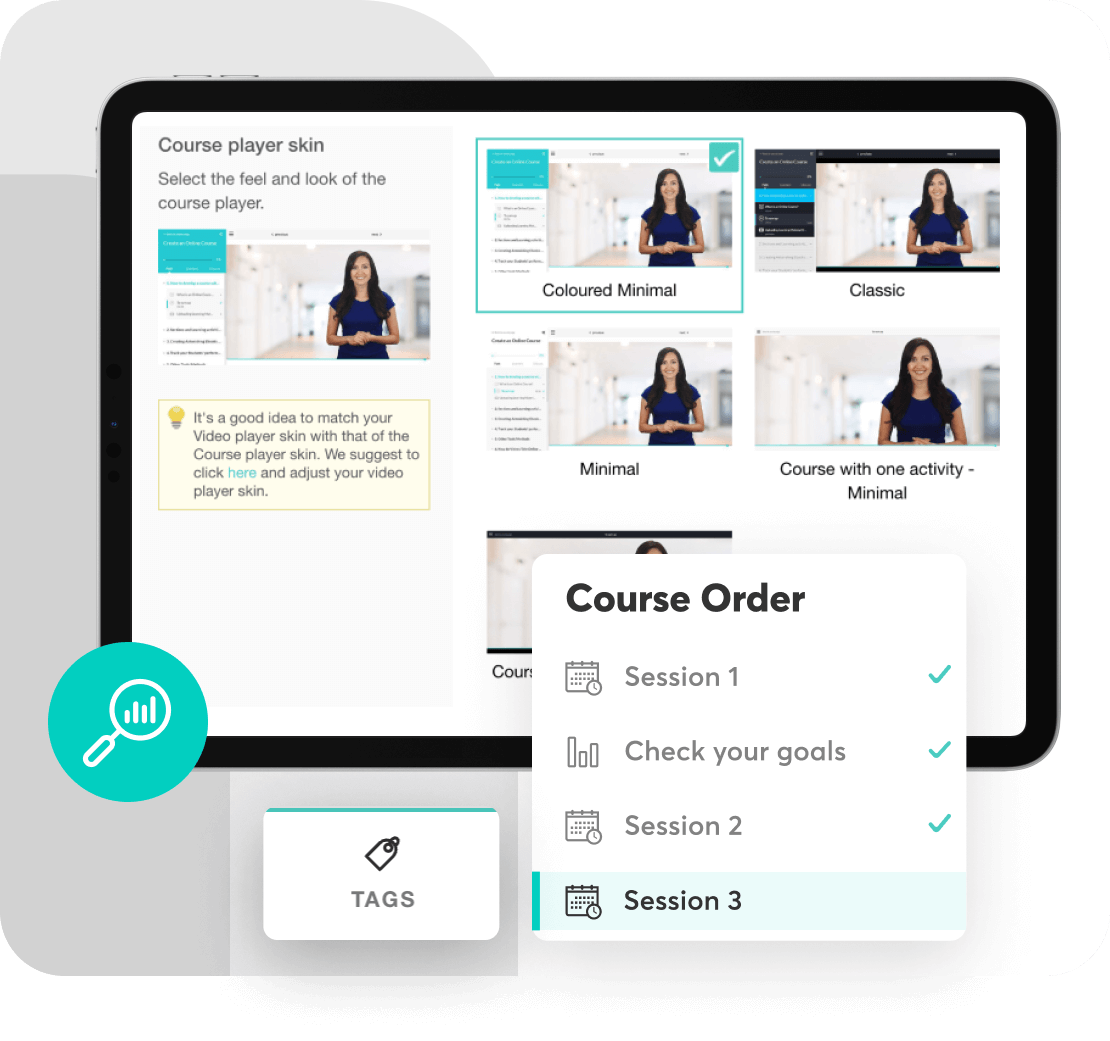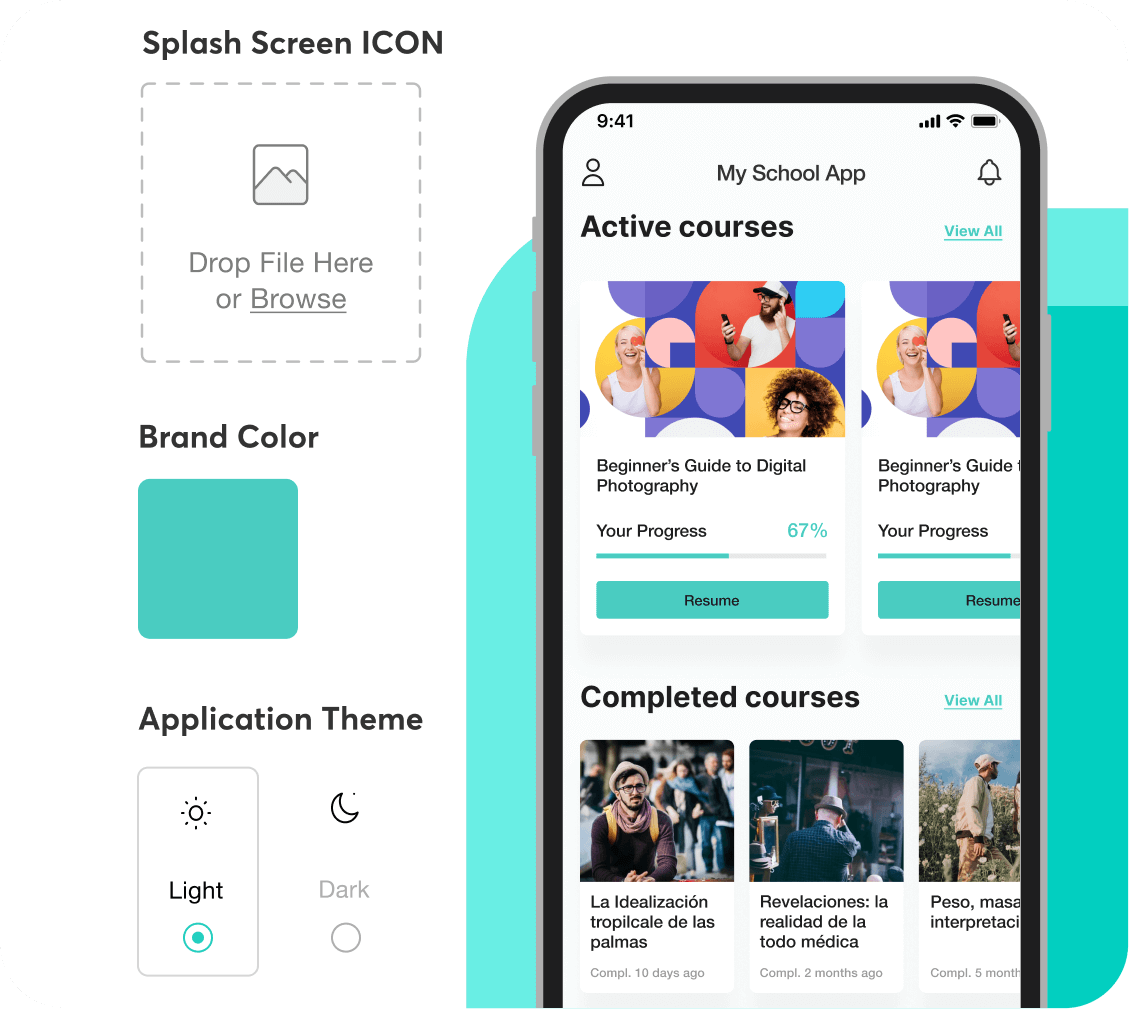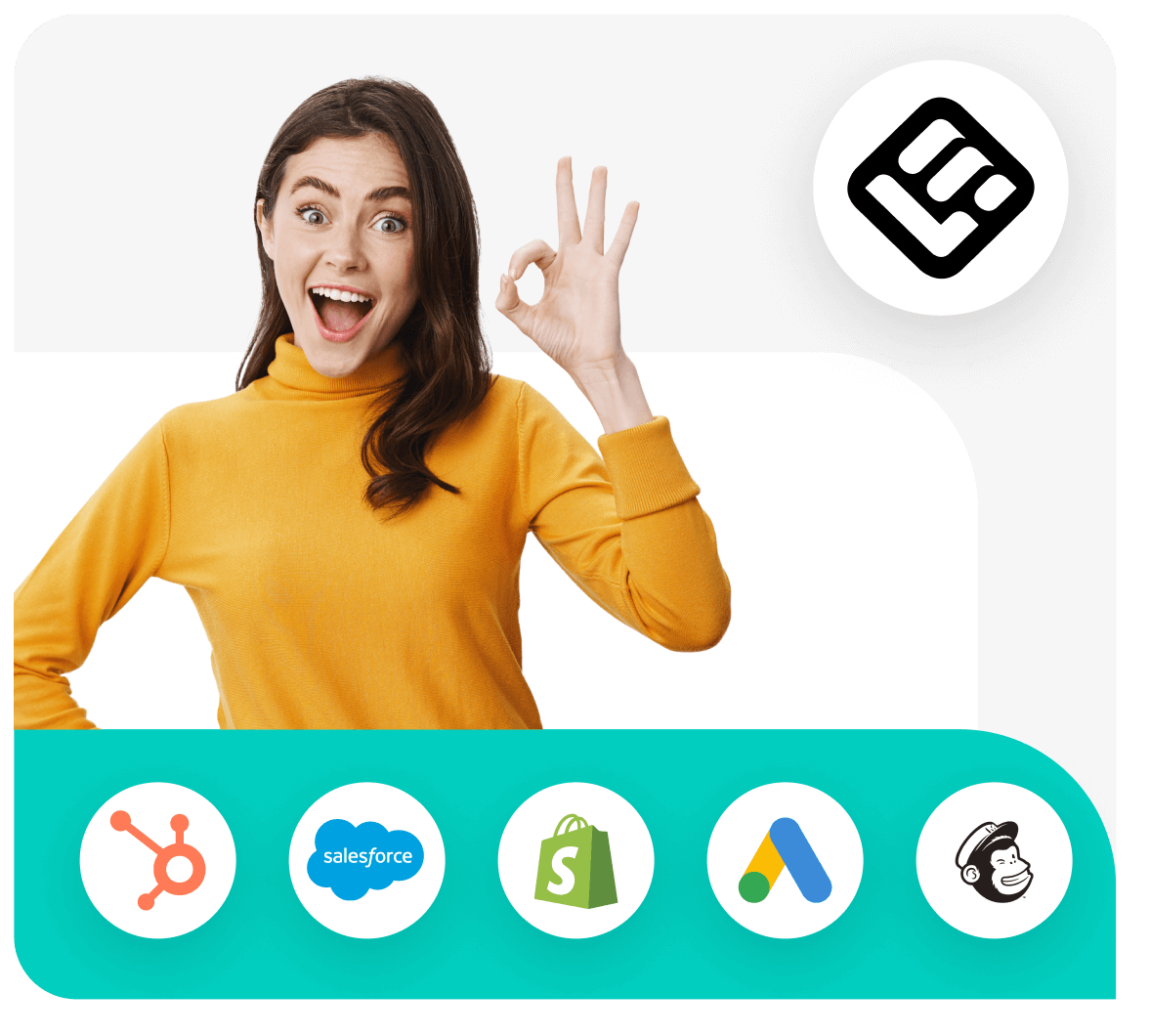 Tailor your academy to your organization
Create custom reports
Reach new levels of flexibility for your business with the most powerful elearning API. Sync your school's data with your system's database in no time.
Custom user roles & seamless audience management
Appoint your team and external partners to specific roles and functions. Protect sensitive content and data by deciding who gets access to what. Streamline every collaboration and scale.
Safe payment options
Drive upselling and expansion opportunities. LearnWorlds integrates with the most trusted global and local online payment gateways for secure and seamless payments.
We are committed to helping your business succeed!
We are committed to helping your business succeed!
Our stellar team of experts will answer your questions, guide, educate, and empower you to thrive.
Awarded top Customer Relationship LMS by G2
1.4h average response time out of 22.200K tickets
Dedicated Customer Success Manager
Build a branded mobile app for your school
Build a branded mobile app for your school
Unlock the power of mobile to boost your business, reach more audiences, and engage your students even more.
100% White-label
No-Coding Required
Visual Editor
In-App Purchases
Push notifications
iOS & Android native
Go mobile
Risk-free, affordable plans!
Starter features plus:
Increase engagement
Unlimited Free & Paid Courses
Customizable Course Player

Assessments & Certificates

Live Classes & Webinars
20 SCORMs / HTML5
Build up your school
Complete Site Builder
Survey Builder
Grow your revenue
Pop-up Builder
Subscriptions & Memberships
Installments
Organize your team
5 Admins / Instructors
Affiliate Management
Develop your ecosystem
Advanced Zapier
Master course creation
24/7 Priority e-mail support
Our Most Popular Plan
Pro Trainer features plus:
Boost the learning experience
Auto-Transcripts & Subtitles
Advanced Assessments
Zoom & Webex Multiple Accounts
Unlimited SCORMs / HTML5
Scale your academy
Full white-labeling
Access insightful reporting
Progress Reports / User Segments
Schedule Automated Reports
Boost efficiency
20 Custom User Roles
Bulk User Actions
Personalized consulting
Premium Onboarding
24/7 Premium Support
Auto-Transcripts & Subtitles
Advanced Assessments
Unlimited SCORMs / HTML5
Full White-labelling
User Progress Reports
Schedule automated reports
20 Custom User Roles
Bulk User Actions
API
Webhooks
24/7 Premium Support
All features plus:
Ensure smooth operations
99.95% Server Uptime
Premium Cloud Servers
Multiple Daily Backups
Accelerate your training program
Unlimited admins / custom user roles
Tailored Pricing Options
Flexible Invoicing
Reach your goals faster
Premium Onboarding
Customer Success Manager
24/7 Premium Support
Optional custom SLA, contract and DPA
LearnWorlds is the best course sales software that provide the students with on time courses an manages the issues related to course handling. It has a demo that can make the user to feel easy in working.
- Ayesha Nasee
I took a long time for me to find a great platform for my online schools. LearnWorlds is a robust platform that is very easy to use and setup and it is also affordable for those that are just getting started.
- D'Andrea Bolden Ministries
The TEAM behind LearnWorld is what makes the difference and the support they offer.
- Ariane G
I am in love with this platform and I would never change them for another. I feel cared for by the amazing support team that know my name, my work, my problems and needs. They offered me the attention and personalized tips. All that gave a big boost to my online school.
- Teya B.
LearnWorlds will soon be recognised as the GLOBAL authority in online teaching... they stand out above the rest and their promises are REAL.
- AAW
The confidence I've gained in my business is priceless. No matter what issue I might have with my platform, the LearnWorlds Support Squad has my answer. When they say "customer service is their #1 goal" they truly mean it. I've never been disappointed.
- Missy C.
I have used few others providers and wasn't satisfied until I found LearnWorlds. They have all the tools and easy to use interface to build your online school.
- Jonas K.
I'd like to say that the support that we've been getting from LW since I got to know the platform is, until this moment, without any doubts one of the best customer services that I've experienced.
- Samir A.
Extremely easy to use their in house video hosting platform, so there's no need to get a platform like vimeo which ultimately saves you money.
- Kenneth John
I can recommend LearnWorlds as a great tool to manage an online course, academy, accelerator or anything similar. The platform works well and has many adjustable features. The support is super fast and always helpful! 5/5
- Alona Belinska
LearnWorlds is likely the most interactive learning system I have encountered. Thanks to greatly integrated video functionalities, gamification and personal notes/library there are immense opportunities to enhance the learning experience by creating engaging content.
- Epp Krusenvald
Before I committed, I decided to contact every elearning platform but honestly, no one beats what they offer. They are always on top of things and all the best features are always being added. The creators are so amazing, I can tell they work so so hard!
- Corine C.
Easy to use, good support from the team (very responsive) and costs less than many course platforms
- Tany Williams
I was looking at maybe 5-7 different platforms before I decided to go with LearnWorlds. It is easy to use (intuitive) and there are the features that you need. I am happy I found it!
- Martin B.
Definitely the best option on the market after an extended research I made. I like to compare my options before making a purchase and LW was the clear winner. The amazing, friendly and well trained support team that replies withing a few minutes is what I find also extremely impressive about LW.
- Teya Bozhilova