We get you. Your role as a school administrator is no piece of cake. You have to keep every single person happy: learners that want the interactivity of live classes and the flexibility of on-demand offering, instructors that have their own schedule to accommodate, and – to top it all off- the rest of your business pushes you to get more clients.
Long story short, organising your school has become a giant puzzle.
But you're in luck, we can help you.
Being the fastest growing eLearning platform comes with perks! We are continuously launching new features. And today, we're excited to reveal some brand new unique functionalities.
You can watch our video presentation of the features below:
Brand new integration with Webex
If you are one of the 324 million users of Cisco's Webex, then you're in luck. No need to add any more apps to your tech stack. LearnWorlds school administrators can now get their Webex up and running through their online school in literally five clicks.
I want to point out that we're the only eLearning platform offering this integration. I'll tell you even more about Webex integration in the next paragraph (we like suspense).
→ Already part of the LW family? Read our support article here.
Multiple live sessions at the same time
You can connect more Zoom or Webex (or both!) accounts to your LearnWorlds school. Your instructors can connect with their accounts, and you can run multiple sessions at the same time.
Yes, multiple sessions at the same time. This is perfect if you are running a school with multiple instructors, admins or a marketplace of live courses! You will become an eLearning superhero.
→ Already part of the LW family? Read our support article on Zoom here.
No more format limitations with File Assignments
Not all assignments are made equal. Some require text, a picture, an excel spreadsheet, a presentation, a video, etc. LearnWorlds eLearning platform supports them all. I'll tell you more, not just your learners can submit a file.
You can also create a template file for your learners, or provide them with additional instructions.
→ Already part of the LW family? Read our support article here.
Multiple-choice questions sport multiple correct answers now
Last but not least, now you can also create multiple-choice questions with multiple correct answers. Just like that:
Schedule automated reports for your most important stakeholders
Some clients are tough to please, but definitely worth the effort. We can help with that too.
With LearnWorlds, you can keep your corporate clients automatically informed about their employees' progress on your online school. The same benefit works whenever you need to keep in the loop any stakeholder (subject to GDPR!) interested in tracking progress of a specific group of learners.
→ Already part of the LW family? Read our support article here.
We're making the distance between onsite and online training shorter (and better)
We make it our mission to support your vision of building a flexible school that satisfies your requirements, and exceeds your learners' expectations.
Zoom, Webex, multiple teleconfering accounts, file assignments, multiple correct answers features are closing part of the onsite / online distance and paving the way for all the possibilities ahead of you.
Want to know more? Try LearnWorlds for free!
(Visited 879 times, 2 visits today)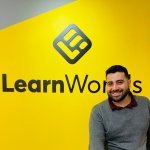 Nick Malekos is a Senior Digital Marketer in LearnWorlds. He is a results based and well-rounded Digital Marketer with years of experience in the education industry, writer and digital literacy trainer.