Launch your academy &
Save up to

269

for 6 months
Launch your academy &
Save up to

269

for 6 months
Get the offer
Live Event
June 27th
June 27th
Register now
Register now
The Top 12 Learning Management Systems (2023)
There are tons of options in the LMS market – how do you pick the one that's right for your needs? Good news! We did the hard work for you and have singled out the best 12 Learning Management Systems based on their features and customer reviews.
Get started with LearnWorlds, free for 30 days.
All Learning Management Systems that made it to this list are feature-rich, scalable, and trustworthy, as they have been tried by hundreds of companies, big and small. Are you excited to see the top choices? Let's go!
LearnWorlds - Users' Choice!
LearnWorlds is the leading cloud-based LMS for customer, partner, and employee training. With its comprehensive features, LearnWorlds empowers you to captivate your audience effortlessly. Create multimedia-rich content and enhance engagement with interactive videos and eBooks. Conduct live sessions seamlessly through Zoom and Webex integrations.

Discover the exceptional assessment engine and reward your customers with the platform's certificate builder, while monetizing your program. Build your website with ease using the visual drag-and-drop builder, complete with custom domain and branding options through 100% white labeling. Benefit from the dedicated LearnWorlds customer support team, a vast resource library, and daily webinars.

Monetize your programs effectively with LearnWorlds' integration capabilities for email marketing tools, payment gateways, BN/PL services, and flexible payment plans with bundles and coupons. Stay on top of learner behavior and course sales with comprehensive and customizable reports.

Technical features include SCORM compliance, API support, multiple languages, B2B licensing, custom user roles, and seamless integration with popular tools. Experience LearnWorlds' transparent pricing and unlock a world of training possibilities.
Pros
Intuitive UI for administrators & users
White-labeled option with customizable website templates
Multimedia and interactive content
ILT, blended, drip-fed, and cohort-based courses
Advanced Assessments, Gradebook & Certificate Builder
NPS surveys & Qualification Questions
Native, no-code mobile app for iOS and Android
Unlimited users
Multi-tenancy
Multiple integrations
Free premium support
Sales & marketing tools
B2B licensing
Advanced reporting and analytics
Personalization through user tagging
Cons
Learning curve due to multiple features
No free plan
Pricing
30-day free trial
(plus $5 per course sale – save up to 20% if billed annually upfront)
Pro trainer plan:
$99/month
(No transaction fees, 5 admins/instructor –  save up to 20% if billed annually upfront)
Learning Center:
$299/month
(No transaction fees, 20 custom user roles – save up to 20% if billed annually upfront)
Contact LearnWorlds to book a demo and discover more
Absorb LMS
Absorb LMS is an AI-powered platform with strong educational features that make it suitable for any type of training. Absorb LMS offers users personalized content suggestions and emphasizes on social learning opportunities.
Pros
Built-in content library
White labeling
Robust certificate management
eCommerce capabilities
Highly customizable & user-friendly
Cons
Limited assessments
Limited reporting
Slow customer support
Pricing
The pricing information is not publicly available. Contact Absorb LMS to request a custom quote.
LearnUpon
LearnUpon is another great option for educational, corporate, customer, and partner training. This platform is well-known for its rich functionalities, user-friendly interface, and multilingual support. Its ability to segment different teams and create unique learning paths is one of its top advantages.
Pros
Great gamification options
eCommerce functionality
Compatible with SCORM and xAPI/Tin Can API
Third-party integrations with key business tools
Support for multiple audiences in one system using multiple portals
Cons
Expensive
Doesn't offer HTML5
Limited reporting capabilities
No branded mobile app (only LearnUpon app)
Pricing
LearnUpon has three plans:
Detailed pricing information is not publicly available. Contact LearnUpon to request a custom quote.
*Pricing information retrieved from LearnUpon on March 29, 2023.
360Learning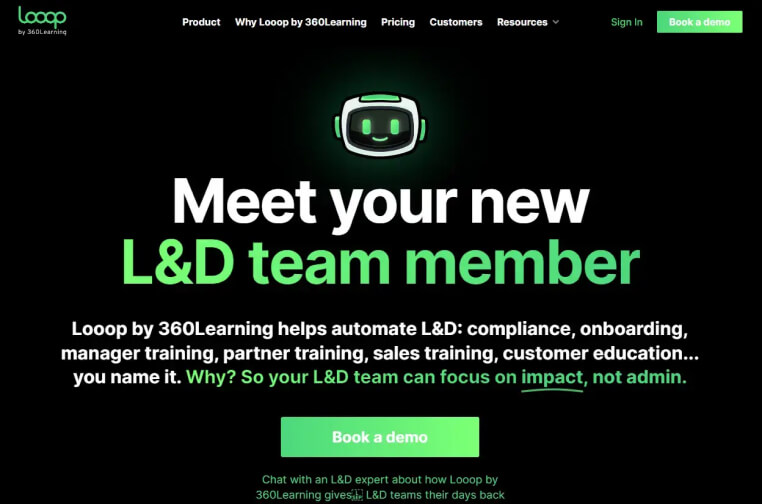 360Learning offers a viable LMS solution for organizations that want to invest in L&D initiatives . Abandoning traditional training methods, Looop uses software that promises guaranteed performance and real results.
Pros
Compatible with xAPI/Tin Can API
Detailed performance reports
Easy and quick content creation
Personalized learning paths
Excellent user and customer experience
Native mobile app for iOS and Android
Cons
No 24/7 support
Limited gamification options
No eCommerce capabilities
No certificate builder
Pricing
Looop offers a free trial for all four plans available:
Small Business:
up to 50 users
Mid Size Business:
up to 250 users
Enterprise:
up to 500 users
Enterprise Plus:
for more than 500 users
The pricing information is not publicly available. Contact Looop to request a custom quote.
*Pricing information retrieved from Looop on March 29, 2023.
TalentLMS
TalentLMS is a popular eLearning solution that allows businesses to create training courses with a few clicks. It's so intuitive you can set it up and running even with no technical expertise. It is enterprise-friendly and offers very specific training options to organizations regardless of the industry they are in.
Pros
ILT and blended learning
Compatible with SCORM, CMI5 & xAPI content
Advanced analytics, customization, and white-label options.
Integration with many communication and organization tools
Course marketplace with pre-made online training courses (at extra cost)
Free plan available
Cons
Lacks 24/7 support
No gradebook
No mobile app
Limited user-to-user interaction
Limited eCommerce features
Pricing
Standard plans include:
Enterprise:
custom pricing for companies with more than 1000 users
Active plans include:
Starter Active:
$149/month
Premium Active:
$519/month
* Pricing information retrieved from TalentLMS on March 29, 2023.
Litmos
Litmos is a well-known learning platform that offers a variety of eLearning solutions for businesses, including corporate, customer, partner, and compliance training. One of its strengths is the ability to create customized learning paths that meet the needs of every company and its employees.
Pros
Intuitive course builder and built-in authoring
Compatible with SCORM, AICC, xAPI/Tin Can API
Built-in reporting, dashboards, and social communication functionalities
eCommerce and third-party integrations
ILT, video assessments, and virtual classroom capabilities
Content library with 2000+ ready-made training video-based courses
Cons
Limited customization and content categorization
Doesn't support drip-feeding
Occasional glitches
Poor customer support
Expensive (based on customer reviews)
Lacks a dedicated payment gateway connection
Pricing
14-day free trial
The pricing information is not publicly available. Contact Litmos to request a custom quote.
*Pricing information retrieved from Litmos on March 29, 2023.
Docebo
Docebo is a cloud-based LMS that ticks off the majority of every organization's training needs and requirements. The platform is learner-centric and comes with L&D capabilities using learning-specific Artificial Intelligence (AI) algorithms that personalize the learning experience.
Pros
Mobile app
AI-powered
Powerful reporting
Extensive learning features
Compatible with SCORM 1.2 and 2004 editions, AICC, and Tin Can API
More than 40 languages available
Cons
Extra charge for premium customer support
Set up requires up to 3 months
Hidden pricing
Slow customer support
Limited functionality on certain objects of the LMS that require richer API
Pricey
Pricing
14-day free trial
Enterprise:
more than 300 users
Detailed pricing information is not publicly available. Contact Docebo to request a custom quote.
*Pricing information retrieved from Docebo on March 29, 2023.
iSpring Learn
iSpring Learn can be used to deliver a corporate training program for any business. Because of the large variety of pricing plans and standalone tools it offers, you can choose the plan that best fits your training needs and budget.
Pros
Unlimited file storage
Course template library
Rich gamification features
Analytical, real-time reporting
Compatible with SCORM, AICC, and xAPI/Tin Can API
Integrated authoring tool
Mobile and offline access
Automated course management
Cons
No multilingual support
No direct learner-to-learner messaging inside discussion forums
Limited design customization and branding options
Limited eCommerce capabilities
Pricing
Business:
starts at $2.99 per user/month, billed annually for 50 users
*Pricing information retrieved from iSpring on March 29, 2023.
Moodle
Moodle is a free, open-source learning management designed by a group of developers. It includes a range of drag-and-drop tools and useful resources that can help the everyday user. The platform is translated into over 95 languages and powers learning environments worldwide.
Pros
Desktop and mobile app (iOS and Android)
Compatible with SCORM, AICC, IMS LTI, and xAPI/Tin Can API
Customization options and integrations
Access to a community of developers, users, and certified partners that share best practices on the use of the platform
Cons
No email or 24/7 support
Limited gamification options
Can be expensive if you're hosting the solution, but don't have an in-house IT team
The setup can be tricky and time-consuming without the help of a certified Moodle partner
Consultation services may come with an additional fee
Pricing
Open-source Moodle is free. MoodleCloud has the following plans:
Starter:
€110/year (50 users, 250MB)
Mini:
€190/year (100 users, 500MB)
Small:
€350/year (200 users, 1GB)
Medium:
€820/year (500 users, 2.5GB)
Large:
€1570/year (1000 users, 5GB)
*Pricing information retrieved from Moodle on March 29, 2023.
SkyPrep
SkyPrep offers a range of flexible training solutions to organizations. This platform helps businesses build their own training programs and keep their employees productive. It offers advanced security options that are suitable for the most demanding companies that want to make sure their data is always safe and protected.
Pros
Compatible with SCORM, AICC, and xAPI/Tin Can API
Advanced security tools
Easy-to-use dashboard and navigation tools
Native mobile app for iOS and Android
Excellent customer support
Reasonable pricing (based on customer reviews)
Cons
Basic reporting capabilities
Limited feature sets
Limited integrations
Pricing
SkyPrep offers a 14-day free trial and three plans:
Professional:
100+ active users
The pricing information is not publicly available. Contact SkyPrep to request a custom quote.
*Pricing information retrieved from SkyPrep on March 29, 2023.
Blackboard
Blackboard is an LMS solution that offers an adaptable learning environment suitable for both academic and business development purposes. As a learning platform, it provides a range of social and blended learning features that can make any type of training engaging from start to finish.
Pros
Native mobile apps (iOS and Android)
Compatible with SCORM, AICC, IMS LTI, and xAPI/Tin Can API
Ability to categorize users by different metrics, e.g., skills and department
Integration with social channels and video conferencing tools
Cons
Limited reporting capabilities
Limited gamification options
Outdated user interface
No security-enhancing features
Pricing
30-day free trial
The pricing information is not publicly available. Contact Blackboard to request a custom quote.
*Pricing information retrieved from Blackboard on March 29, 2023.
CoreAchieve
CoreAchieve is a learning management system that improves the current training process of your business. Developed by CorePartners, the platform uses the latest technology and tools that were applied by a team of professionals with more than 20 years of experience in managing technical and business projects.
Pros
Detailed reporting
Rich customization capabilities
Compatible with SCORM and Section 508
Plenty of integrations, including eCommerce
Cons
Doesn't offer 24/7 support
No gradebook
No mobile app
Expensive for the features it offers
Pricing
14-day free trial
Free:
up to 5 active users, unlimited courses
Starter:
$175/month (up to 50 active users)
Basic:
$299/month (up to 100 active users)
Standard:
$798/month (up to 300 active users)
*Pricing information retrieved from CoreAchieve on March 29, 2023.
Which LMS is the best option for you?
We believe you could use an LMS built by educators for educators, like LearnWorlds
LearnWorlds stands out as the most reasonably priced, scalable, and feature-rich solution, including strong eCommerce capabilities and a native, branded mobile app – two features that most LMSs lack:
Reasonable & transparent pricing
Easy deployment – set up your training course in minutes instead of weeks!
Amazing educational features
Marketing tools
eCommerce-ready
Scalability
Multiple ways to sell your courses (including subscriptions & bundles)
Advanced, customizable reporting (learner, academy & sales!)
Native mobile apps and downloadable content
ILT sessions
Excellent, 24/7 customer support
Try LearnWorlds with a
30-day free trial
, with the most features available. Don't let another day pass without offering your customers all the resources they need to truly appreciate your product and integrate it into their lives!
LearnWorlds is the best course sales software that provide the students with on time courses an manages the issues related to course handling. It has a demo that can make the user to feel easy in working.
- Ayesha Nasee
I took a long time for me to find a great platform for my online schools. LearnWorlds is a robust platform that is very easy to use and setup and it is also affordable for those that are just getting started.
- D'Andrea Bolden Ministries
The TEAM behind LearnWorld is what makes the difference and the support they offer.
- Ariane G
I am in love with this platform and I would never change them for another. I feel cared for by the amazing support team that know my name, my work, my problems and needs. They offered me the attention and personalized tips. All that gave a big boost to my online school.
- Teya B.
LearnWorlds will soon be recognised as the GLOBAL authority in online teaching... they stand out above the rest and their promises are REAL.
- AAW
The confidence I've gained in my business is priceless. No matter what issue I might have with my platform, the LearnWorlds Support Squad has my answer. When they say "customer service is their #1 goal" they truly mean it. I've never been disappointed.
- Missy C.
I have used few others providers and wasn't satisfied until I found LearnWorlds. They have all the tools and easy to use interface to build your online school.
- Jonas K.
I'd like to say that the support that we've been getting from LW since I got to know the platform is, until this moment, without any doubts one of the best customer services that I've experienced.
- Samir A.
Extremely easy to use their in house video hosting platform, so there's no need to get a platform like vimeo which ultimately saves you money.
- Kenneth John
I can recommend LearnWorlds as a great tool to manage an online course, academy, accelerator or anything similar. The platform works well and has many adjustable features. The support is super fast and always helpful! 5/5
- Alona Belinska
LearnWorlds is likely the most interactive learning system I have encountered. Thanks to greatly integrated video functionalities, gamification and personal notes/library there are immense opportunities to enhance the learning experience by creating engaging content.
- Epp Krusenvald
Before I committed, I decided to contact every elearning platform but honestly, no one beats what they offer. They are always on top of things and all the best features are always being added. The creators are so amazing, I can tell they work so so hard!
- Corine C.
Easy to use, good support from the team (very responsive) and costs less than many course platforms
- Tany Williams
I was looking at maybe 5-7 different platforms before I decided to go with LearnWorlds. It is easy to use (intuitive) and there are the features that you need. I am happy I found it!
- Martin B.
Definitely the best option on the market after an extended research I made. I like to compare my options before making a purchase and LW was the clear winner. The amazing, friendly and well trained support team that replies withing a few minutes is what I find also extremely impressive about LW.
- Teya Bozhilova