LearnWorlds for Creators
Cash in on your passion
You could be a chef, an interior designer, or even just tired of your 9-5 and make money in ways you never thought of before! Here's your online business-in-a-box solution made by creators, for creators. Enjoy that first paycheck feeling and beyond!
Stellar businesses & professionals, like you, trust LearnWorlds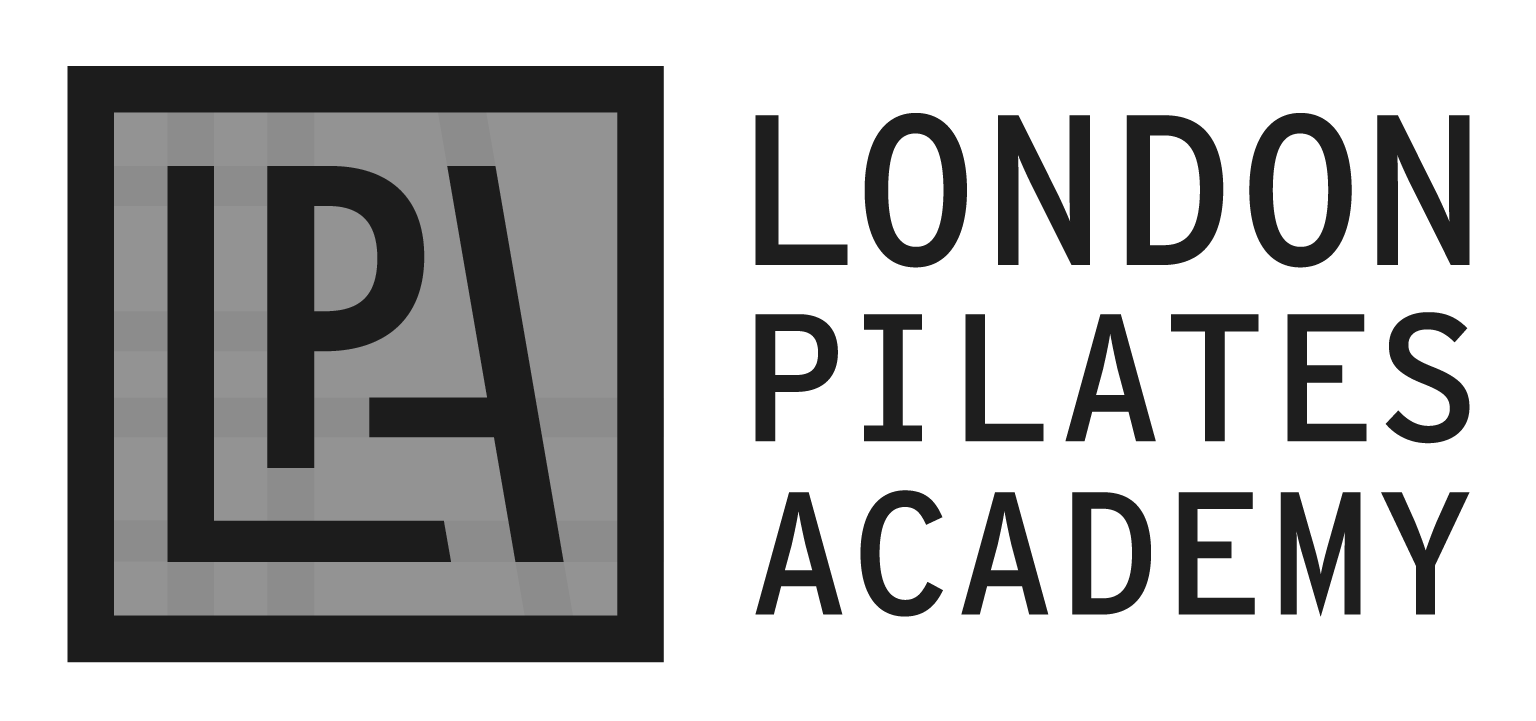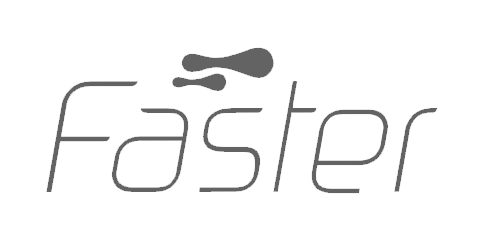 Build a polished & profitable website for your online business
Pick one of the sleek and easy-to-use themes suitable for any type of online course business, customize it to fit your brand with a few clicks & zero coding, add your content and courses, and you are good to grow. So simple, so powerful!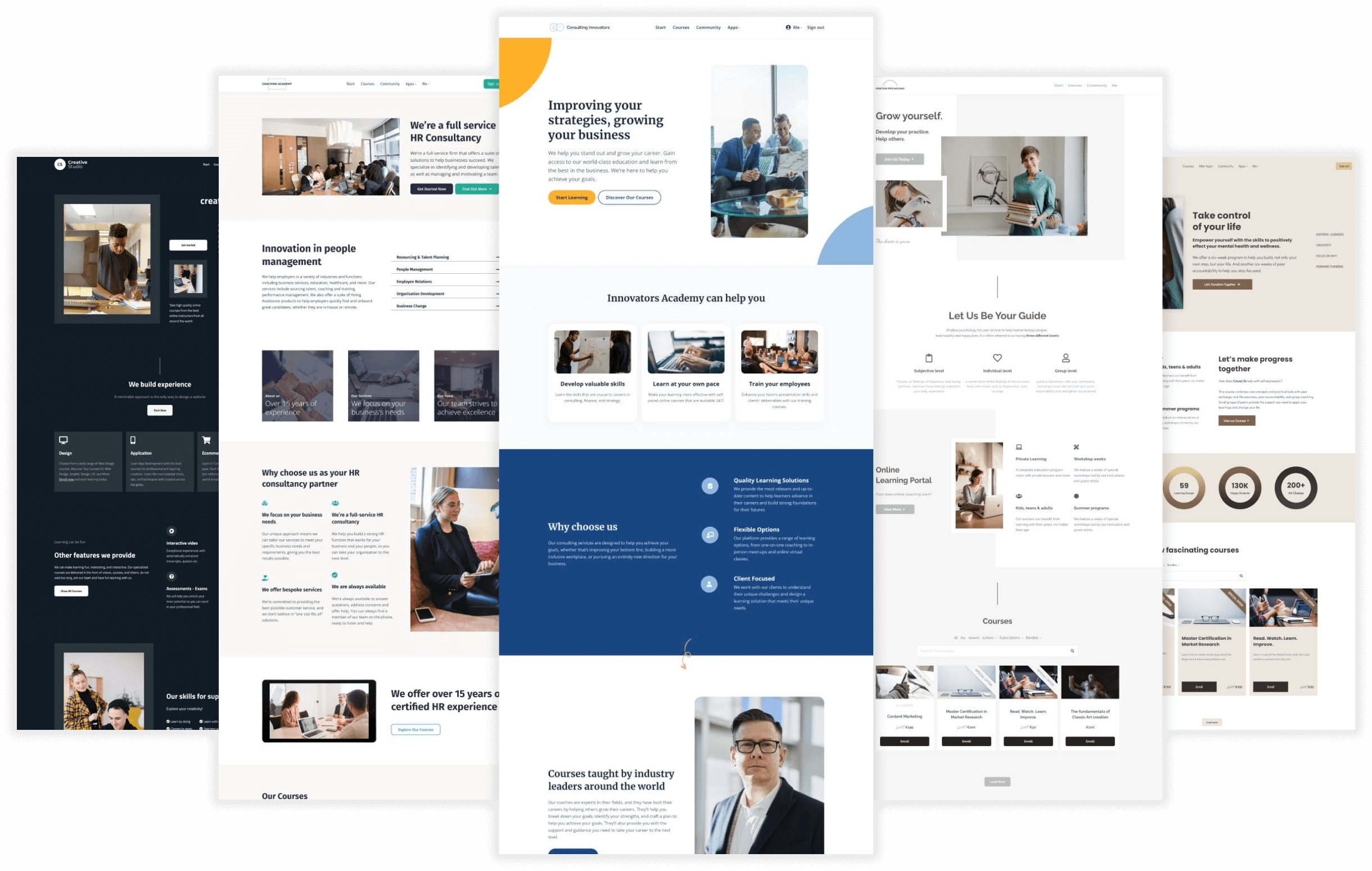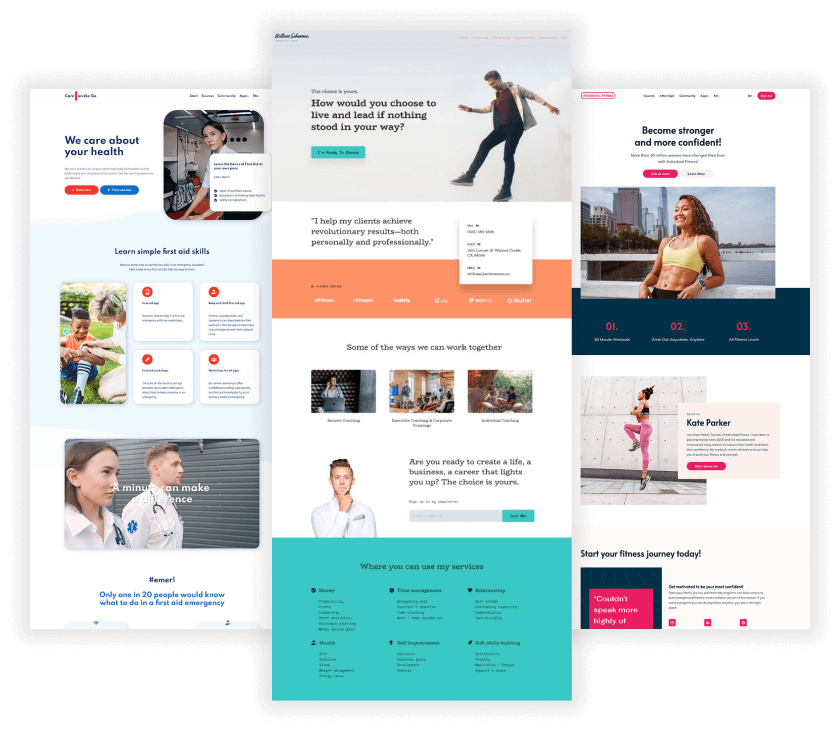 Monetize your knowledge
Transform your passion into a business
Finally, a way to make money while you sleep! Create unlimited online courses, teach fashion design, fitness, or anything else you want from anywhere to anyone. They learn, you earn.
Build a source of recurring income
Create a membership site and sell courses in bundles. You can even offer live events, coaching programs or workshops as part of your bundle to give your customers the skills they need!
Sell, upsell, sell out. Repeat!
Who can resist a good discount? Create coupon codes -individually or in bulk, with or without expiry dates- to make it easier for your customers to purchase from you.
Create engaging content that your learners can't resist
Don't just sell courses, offer incredible learning experiences
Interactive videos, vibrant eBooks, live sessions, quizzes; all the high-value, flexible and dynamic types of content you can imagine.
Attract learners with vivid learning activities
LearnWorlds' interactive features are the answer. Add questions, titles, pointers, overlay images, links, clickable elements, auto-generated transcripts.
Build a vibrant community of engaged customers
Enhance your learners' experience with a vibrant online community. Let them share their experiences, ideas and tips, and keep them motivated.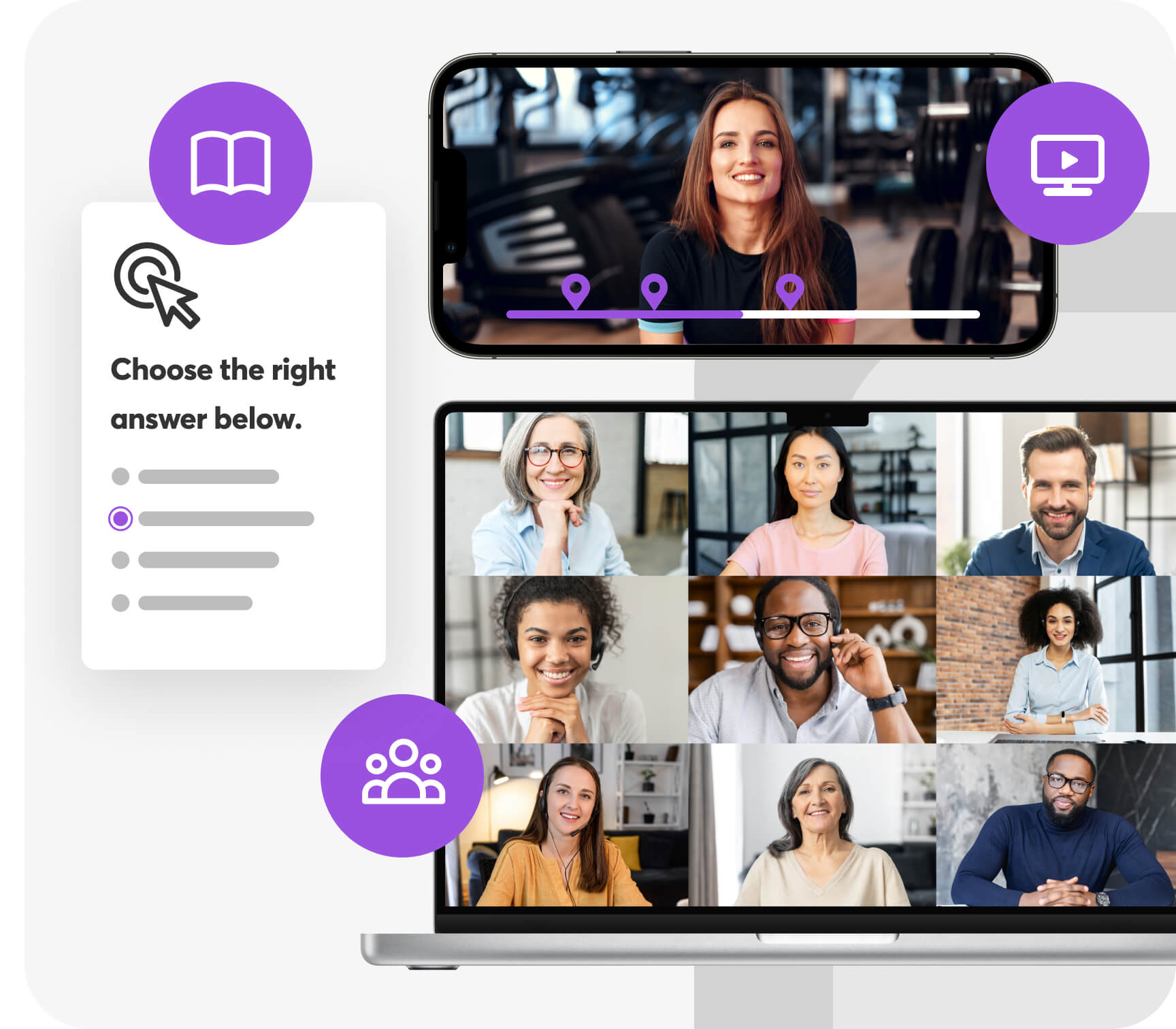 A complete business powerhouse for ambitious course creators
Waste no more time, money and sanity on buggy software. LearnWorlds replaces a dozen tools you need to run your elearning business. Set a course for high growth from a single dashboard. Thousands of integrations are also available if you need them.
all-in-one approach replaces all these services
| | | | |
| --- | --- | --- | --- |
| Course platform | | | |
| Website and blog | | | |
| Web hosting | | | |
| Video hosting | | | |
| Landing pages | | | |
| Transcription | | | |
| Interactive video | | | |
| Checkout | | | |
Reach out to more customers with your business
Take control of your brand
Create your website with a custom domain that defines your business. It's all about your brand, not LearnWorlds. So, no LearnWorlds logo on your website, mobile app, email, or even source code.
Use email marketing to spread the word
Let your leads know about the amazing opportunities you're offering. Use a popular email marketing solution such as Mailchimp or Active Campaign that integrates natively with LearnWorlds.
Aim for high growth with 4,000+ integrations
Streamline your marketing activities and scale your online academy effortlessly with LearnWorlds' powerful collection of 4,000+ integrations; top email marketing solutions, customer service, live chat, marketing analytics, and more!
Boost your business growth with data
Get real-time, actionable analytics for your business
Know what's happening with your revenue and how your courses perform. Make data-driven decisions, reduce your costs, and keep your online academy on track.
Get started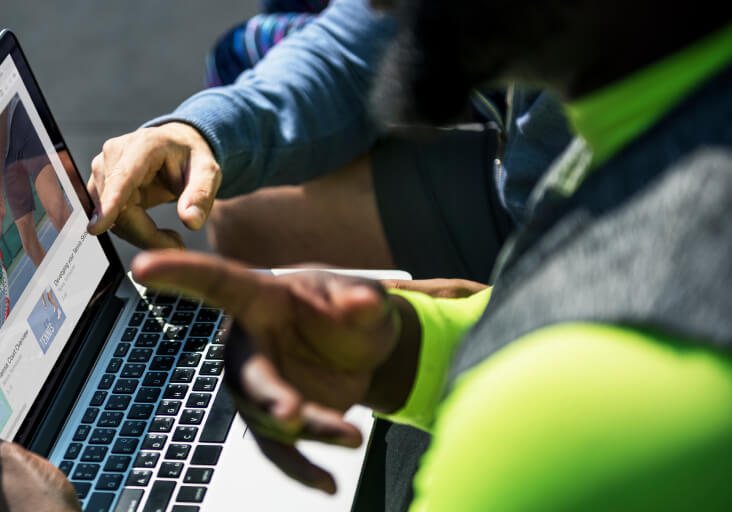 Track and evaluate your learners' progress live
Understand how engaging your courses are by analyzing real-time user data. What courses did they visit, what transactions did they make, where did they enroll?
Get started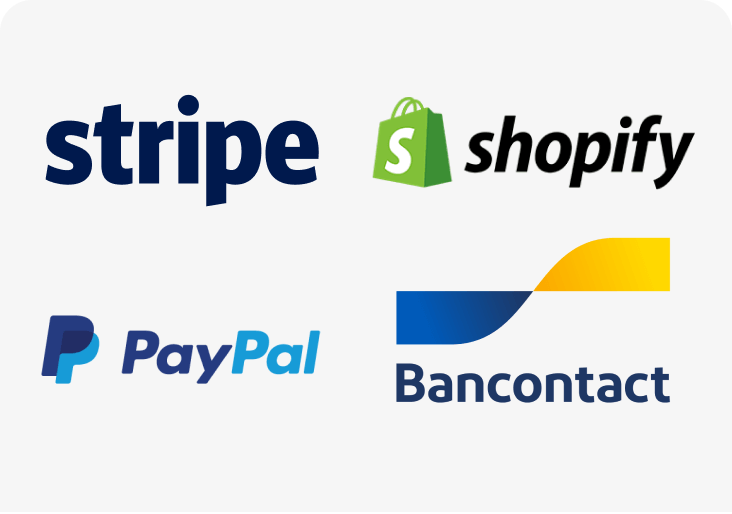 Earn money on your own terms
Access multiple international payment options and local payment gateways to receive payments quickly, safely, and easily. You can even sell your courses in the currency of your choice.
Get started
"In 6 months of joining LearnWorlds I increased my revenue by $18K."
Charlie Baxter, The British English Podcast
Enjoy seamless integration with third-party tools!
Start growing your fitness academy with our native integrations and scale it with 4,000+ third-party apps. Streamline training throughout your customer network with our Webhooks and API.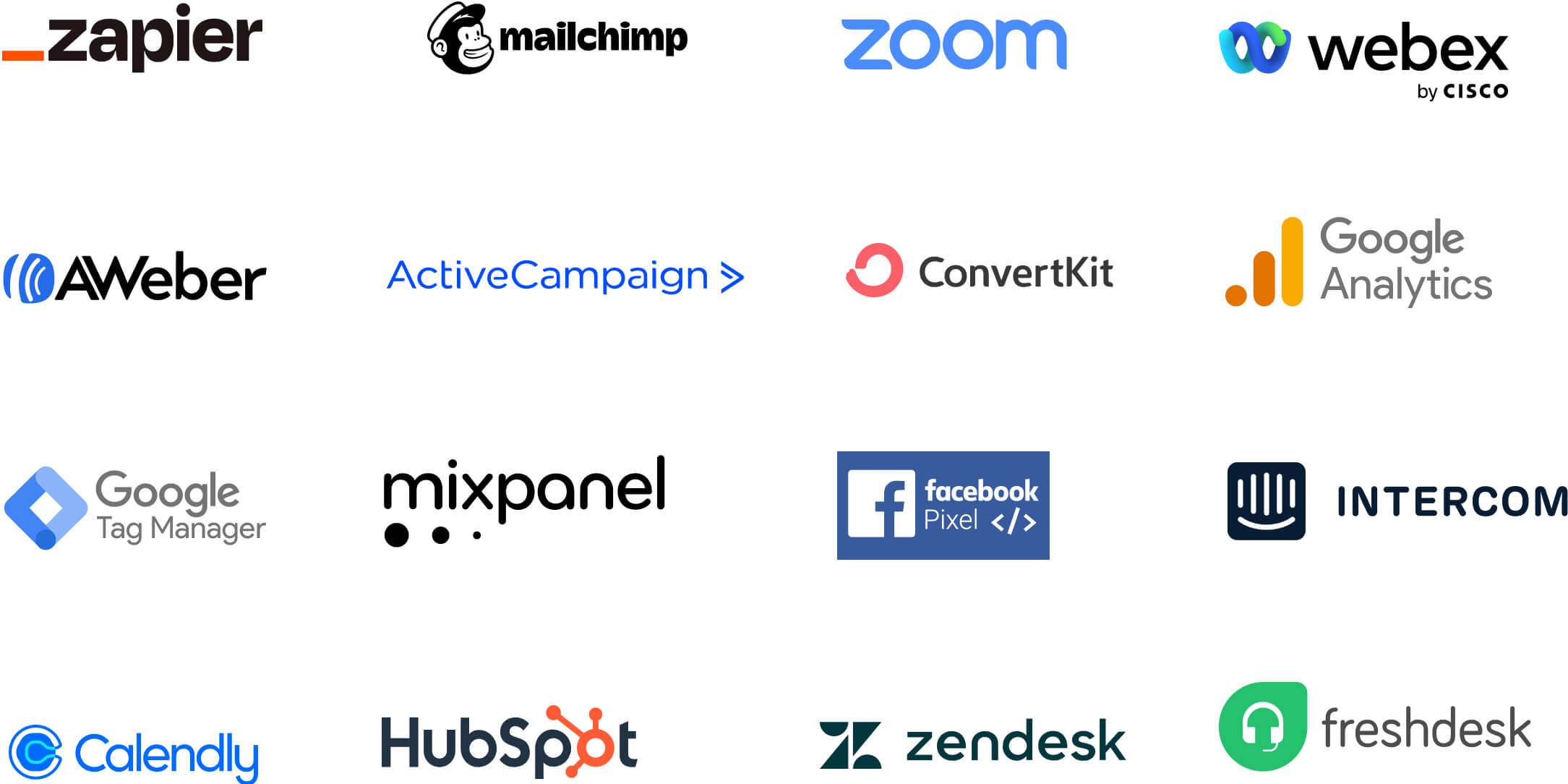 Creators' FAQs
Everything you have ever wondered, but were too afraid to ask...
LearnWorlds is the best course sales software that provide the students with on time courses an manages the issues related to course handling. It has a demo that can make the user to feel easy in working.
- Ayesha Nasee
I took a long time for me to find a great platform for my online schools. LearnWorlds is a robust platform that is very easy to use and setup and it is also affordable for those that are just getting started.
- D'Andrea Bolden Ministries
The TEAM behind LearnWorld is what makes the difference and the support they offer.
- Ariane G
I am in love with this platform and I would never change them for another. I feel cared for by the amazing support team that know my name, my work, my problems and needs. They offered me the attention and personalized tips. All that gave a big boost to my online school.
- Teya B.
LearnWorlds will soon be recognised as the GLOBAL authority in online teaching... they stand out above the rest and their promises are REAL.
- AAW
The confidence I've gained in my business is priceless. No matter what issue I might have with my platform, the LearnWorlds Support Squad has my answer. When they say "customer service is their #1 goal" they truly mean it. I've never been disappointed.
- Missy C.
I have used few others providers and wasn't satisfied until I found LearnWorlds. They have all the tools and easy to use interface to build your online school.
- Jonas K.
I'd like to say that the support that we've been getting from LW since I got to know the platform is, until this moment, without any doubts one of the best customer services that I've experienced.
- Samir A.
Extremely easy to use their in house video hosting platform, so there's no need to get a platform like vimeo which ultimately saves you money.
- Kenneth John
I can recommend LearnWorlds as a great tool to manage an online course, academy, accelerator or anything similar. The platform works well and has many adjustable features. The support is super fast and always helpful! 5/5
- Alona Belinska
LearnWorlds is likely the most interactive learning system I have encountered. Thanks to greatly integrated video functionalities, gamification and personal notes/library there are immense opportunities to enhance the learning experience by creating engaging content.
- Epp Krusenvald
Before I committed, I decided to contact every elearning platform but honestly, no one beats what they offer. They are always on top of things and all the best features are always being added. The creators are so amazing, I can tell they work so so hard!
- Corine C.
Easy to use, good support from the team (very responsive) and costs less than many course platforms
- Tany Williams
I was looking at maybe 5-7 different platforms before I decided to go with LearnWorlds. It is easy to use (intuitive) and there are the features that you need. I am happy I found it!
- Martin B.
Definitely the best option on the market after an extended research I made. I like to compare my options before making a purchase and LW was the clear winner. The amazing, friendly and well trained support team that replies withing a few minutes is what I find also extremely impressive about LW.
- Teya Bozhilova