Affiliate and Referral marketing are both great ways for promoting your products or services to new customers. Leveraging the network effect of affiliate partners can bring a new wave of sales to your academy.
While your satisfied customers, students, and business partners may already be willing to spread the word about your program, giving an extra incentive will go a long way. By getting a share of the profits or an extra reward, they will be much more likely to vouch for you and spread the word about your business and your courses.
Check out LearnWorlds built-in Affiliate Management.
Differences Between Affiliates and Referrals
Affiliate marketing is about financial motivation, where the advocate does not know the final customer. It works well for business partners, website, and community administrators as well as for influencers.
On the other hand, referral marketing is when someone recommends your brand to a colleague, friend or family member. They are being motivated by a strong relationship between referrer and final customer and comes with some kind of reward (usually for both parties involved).
How does it work?
A person will suggest your course or training program to someone else, and for each sale, that person will get a reward (cash, gift, discount etc). To make that work, you need a reliable, automated way to track and reward partners.
Here is where you need a specialized software to help you track, manage and reward. A specialized software can give you a competitive advantage over your competition making the process easier, and much more profitable.
Is it better than Advertising?
When you pay for ads, you do not know the result your budget will have. You are paying to reach "potential customers" and your return will vary from expectations.
When paying affiliates, you are paying what you get. Yes, you usually pay a much higher percentage on each sale, but you only pay for successful sales.
Of course, there is some work on finding your first referrals and might need some time before the first sale, when done correctly, referrals could even be a significant percentage of your sales and can increase the positive word of mouth about your brand, bringing a flow of indirect sales as well.
Choose your rewards
You can reward people with cash, store credit, discounts or free products. Actually, choose your rewards both for your referrals as well as the customers they bring to you. The most effective affiliate marketing strategy is to give an extra incentive for someone to advertise you.
For example, if you are launching a new cooking course, you can reach out to food bloggers and Instagrammers to be your affiliates. But to give an extra incentive, you can give them a discount coupon for their audience. This way, they get to brag about giving something extra to their fans and also pocket some extra income 😉 neat eh?
And remember, discounts work better if you follow the rule of 100:
Some Inspiration to Start your Referral Program
If you are a first-timer, the best way to start is by standing on the shoulders of giants. Get your inspiration by what successful brands are doing and choose what will work for your audience. It is important that your incentives work in line with your brand and audience to succeed.
Examples of Business with Cash as Incentives
Payment gateway Paypal literally gave away cash as a referral incentive in the early days. Similarly, e-wallet company MatchMove gives its customers $3.88 of credit for each referral, up to $500.
Mattress company Leesa knows that people aren't likely to buy a second mattress right after they've bought their first one, so they give cash rewards instead – $50 cash Paypal'd to you and $50 off for the friend you refer. The mattress typically costs $890, so that's about a 6% discount.
DapperTime gives $10 cash to advocates and 10% off their friend's order (as long as the order exceeds $30).
Supplements company Powder City gives a 6% cash reward to the advocate upon successful referral while offering the referred friend 10% off their purchase.
Stock Video brand Videoblocks gives advocates $20 per successful referral, and 90% off their annual subscription (down to $99.)
Examples of Business with Discounts or Credit as Incentives
Airbnb and Uber give credit towards their services– $10 off your next Uber ride, $25 off your next Airbnb stay, $75 cash if you rent your place out on Airbnb.
Footwear brand Greats gives $10 credit to both advocate and friend– which works out well for them because happy customers often purchase multiple pairs of shoes.
Designer fashion portal Amuze gives both advocate and referred friend $25 off their next purchase.
Dropbox gives 500MB free storage to both advocate and referred friends, up to a limit of 16GB. So you can get rewarded for referring up to 32 people to the service. (Pro accounts get double that– 1GB per referral up to 32GB.
Ideas for Course Creators' Referral Rewards
When selling your online courses you might want to give a different set of rewards than other businesses, and getting creative can give an extra incentive and value.
Offer 1-on-1 sessions for anyone who refers 3 friends (or even more valuable, a group session to the 4 friends).
Give a free course as a reward.
Send them a gift. When someone pays for a service, they don't expect a gift. But if you are selling an expensive training course, some branded gifts and gadgets might be an awesome gift. E.g. a signed book
You can also create a gamified incentive with a combination of rewards. Referring a friend will earn them a pdf with extra material, referring 3 friends will also give them a free course and for 5 friends they get a private session and the list can go on!
Setting up Your Academy's Referral or Affiliate Program
With the brand new addition of the Affiliate Management feature on LearnWorlds, you now have the power to control all things affiliate accompanied by a large variety of options, ease-of-use, real transparency, and flexibility.
With this popular and extra-useful integrated tool, you can build your own affiliate program and manage your own sales team directly from your LearnWorlds dashboard. What's great about it is that it comes without the need to hire external staff, use a third-party affiliate management system or pay anyone else to do it for you!
In an attempt, to serve you as the complete affiliate commission and tracking solution, the LearnWorlds Affiliate Management feature offers affiliate registration, terms & conditions, commission set-up, easy management, and reporting.
If you want it, you can have it. It's available to all customers with a Pro Trainer or higher plan while on the Learning Center plans comes with an advanced affiliate management tool with more options on controlling your affiliate program.
Alternative Affilaite Integrations with LearnWorlds
Referral Candy
Referral Candy is a simple to use, customizable and powerful referral plugin to every online school. It is easy to setup and all you need to start is a free account.
You can customize the landing page for referral signups, the links you give and the rewards. Whether you are giving cash, a free course or a gift, Referral Candy is the affiliate program for you.
Refersion
Refersion is a powerful affiliate marketing platform that you can launch in minutes. And it comes with an extra advantage, a marketplace of 4000+ affiliates where you can show off your affiliate programme and quickly build your network.
Get started with 14-days trial: You can try Refersion for free for 14 days and then choose one of the plans you want to upgrade to.
Refersion also comes with a blog that can help you set up your affiliate marketing network.
Next Step: Create a Landing Page
After setting up the affiliate or referral program of your choice, you can create a new landing page to promote it and contact your students, colleagues, and partners to let them know about it.
Invite influencers to join your program and give them the right tools to promote you and your ecourses, or get your affiliate program listed to attract affiliates. A successful affiliate or referral program can significantly increase your sales!
Once a week or so we send an email with our best content. We never bug you; we just send you our latest piece of content.

(Visited 3,430 times, 1 visits today)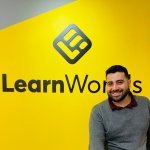 Nick Malekos is a Senior Digital Marketer in LearnWorlds. He is a results based and well-rounded Digital Marketer with years of experience in the education industry, writer and digital literacy trainer.