Providing value to the human element can be a significant part of the perks a company offers.
Today, companies are looking to improve the performance of their employees as well as their wellbeing, health and safety. Therefore, they invest a lot of time and money in employees' education.
The good news is that they can buy courses from you!
Selling training courses to big companies is a very profitable business to be in and requires a high-touch approach. It is enormously rewarding, both financially and personally.
Why?
Because corporate clients are the best clients, you can have! They:
Are not price sensitive, they pay a premium
Buy multiple seats per course, and
Pay upfront
And the best part is that in big companies, your customers will be:
Human Resources
The CEO
The Project Manager
The Procurement Department
The Sales Manager
The Chief Learning Officer
Although you are still selling to individuals, these people buy courses in bulk for the whole company or specific teams, and the training budgets that they can invest are much higher.
All you need is to get the right connections in place, pitch your ideas to the right person, and arrange meetings to structure your offering.
Why Selling to Corporate Clients is a Good Idea
Contrary to popular belief, larger companies do not do all of their training in-house. More is outsourced and purchased than created and delivered by their own employees.
The obvious benefit of selling to corporate customers is the higher ticket sales, but this is just the beginning:
1

Your revenue goals will be easier

Concerning your revenue goals, you might need thousands of individual transactions to reach them. But you don't have to reach such a large volume of potential clients if you are marketing and selling courses as training for corporate teams.

So, with only a few single-client sales you make a big dent in your income goals.
2

The network effect from credibility is high

Selling courses to big companies can help you get even more individual clients. And that's because, sharing that you work with corporate clients can add to your profile instant credibility.
3

Many upsell opportunities

When you establish some clients in corporate training, they might repeat a purchase of your services. For example, if you initially agreed at an in-person workshop they may be interested in online training and vice versa.

Another advantage is the possibility to be invited as a speaker to a corporate event, coach top management or develop new training material just for them.
4

You will gain great testimonials and authority

Selling to a big company can also add value to your business. You can take a manager's testimonial or add their logo on your website. This will bring you more individual and corporate clients.
And what are Corporates interested in?
Here are just a few of the subject categories that companies like to invest in:
Accounting and Finance
Corporate Sales Training Programs
Customer Service
Health and Wellness
Information Technology
Leadership and Management
Marketing
Personal and Family Development
Productivity and Organization
Strategy, Creativity, Innovation
Team Development
There are also topics that you may not expect like: Chiropractic Services, Alkaline Diet and Raw Food Cooking, Breastfeeding for New Moms, Outdoor Adventures, and Herbal Supplementation.
When it comes to selling to corporations, you need to be and look professional.The look and feel of your website, landing pages, courses and your personal touch has to be top-notch.
LearnWorlds can help you create a professional online academy to get attract the right corporate customers.
What if I Already Have Courses?
No matter what courses you possess, they may fit and be suitable for a company. Honestly, if you sell it the right way, you can customize the subject and content in a way that a corporation will be interested in offering it to their employees.
All you need is a company with a budget to spend on its employees, the right person, and a good sales pitch! Remember, companies need anything that will:
Improve the performance of their employees
Improve the lives of their employees
Comply with laws, industry or internal requirements
You can also add more content to suit the company better and customize the course content for their employees.
If you are teaching marketing tactics, for example, you might want to add a few industry-specific points on the company's products or services.
So, your course is suitable for corporate training as long as it can be seen as a value to the company or the employees. Make sure your course:
Does it improve the company's productivity?
Does it improve the collaboration of teams?
Does it improve the needed professional skills?
Does it improve employees' family and personal life?
Does it promote the value/belief of the company?
Pre-Sell a course to corporate clients
Pre-selling an online course before you create it can be a powerful way to get clear on what to include in your course.
How can someone pre-sell a course?
You can easily arrange meetings with corporate clients, and have them tell you what they want.
You can then either create a mini-course or create a content structure only and pre-sell the seats. Your client pays no "design" fees, and you get pre-sold seats in your course.
But how to start selling to companies?
Το start selling the courses you need to understand the marketplace, target your audience, and develop a plan. How will customers find you?
You need to build social proof first!
To gain the trust of more significant customers, you need to build authority first. Industry events, seminars, workshops, can build up a reputation.
1

If you already have some reputation

If you're not unknown, e.g., you have previously worked for a big company as an employed trainer, you can use that connection to get hired back as an independent trainer.
2

If you are really unknown

Otherwise, start small. Talk to people from smaller companies first and collect many customer case studies.

Once you've got your act entirely together, you then present yourself to more prominent companies, showing them the value you can add.
3

Use social media

Use social media. Find groups your potential customers are visiting and get involved, thereby contributing to discussions and starting interesting new talks.

Linkedin is the most effective way to reach corporate decision makers, however, Facebook groups or Twitter conversations may start with a more casual conversation and end up with a sale.
4

Write books and articles

Another effective way to launch yourself as an authority is by writing books and leadership blog posts on your website as well as on others.

Writing influential publications will establish you as a thought leader. Suddenly you'll find that previously closed corporate doors will now open.
How to Find Companies
Create a list of suitable corporate companies and the names of their decision-makers. Seek for HR, Managers, Learning Officers, or any other decision-maker. Find those people online and message them about the value you can provide.
Work with your marketers to come up with the right angle and pitch for the initial outreach email campaign to explain the benefits of your offer and get you in touch with the decision-maker.
Don't forget to showcase other companies who have benefitted from you with testimonials.
Also, a great tactic in sales outreach is always follow up an email with a phone call the next day, letting them know that you have even contacted them by email and looking to talk about your training. Companies are busy, and your sales pitch might not be top of mind for them. Therefore you have to be persistent enough to be heard.
Choose the Right Technology
To start selling your training to companies, you will also need a Learning Management System or a white-labeled Course Platform.
Choosing the right one might come down to the individual needs of your training. Depending on whether you are offering simple video courses, coaching, or certified CPE training, the requirements will change.
The best way to go into it is to make a list of your requirements and note the most important aspects of it. Don't make a list of all essential aspects, but instead choose the top 3 or 5 things that are essential.
Some more things to consider when choosing a platform:
Integration with your existing CRM or marketing automation platform (or see if it connects through them with Zapier).
Interactive elements like progress tracking, gradebook, quizzing, certificates of completion, gamification, interactive videos, etc.
Reporting and analytics.
Selling and managing bulk licenses for your courses.
Selling Seats to Corporate Training & Mass Enrollment
Companies will be buying your course in bulk for their employees.
You will be selling "seats" or "licenses" instead of a single course. This can skyrocket your sales, as those can range from a single digit to hundreds or thousands of premium pricing courses.
Wire Transfer / Bank Payments
Due to the high cost, many companies will be looking for an invoice and will pay through Wire/Bank Transfers. When you are pitching your course to a company, be prepared for a longer payment process.
For example, expect that there will be some paperwork involved, such as a contract, an invoice, and multiple communications. The process might take a bit more, but the return on investment is much higher.
Selling Pre-packaged Training Seats
If the cost is 3 or 4 figures only, then the company might also want to pay digitally with a card payment. This is where you might need to set up a specific checkout for the seats.
Setting up pre-determined seat packages will make it easier to manage payments. You can create an empty course just to handle the payment, with the price you would ask for specific intervals, e.g., 10 seats, 25 seats, 50 seats, 100 seats.
Let's take the example of selling a "Communication Skills Course". The normal price would be $100, but selling it to corporations for multiple seats might come at a discounted price for bigger orders:
10 seats – $900
25 seats – $2000
50 seats – $3500
100 seats – $6000
The person responsible for the company would buy the course, which comes with instructions on how to give access to their employees after they bought it.
There are two ways you can give access to their employees, depending on the control or the flexibility your customer wants it:
Accessing the Course
When a company buys in bulk, they either have a group of employees they want to take the training, or they wish to offer it as a perk to anyone who would take it.
Importing a Group of Employees
In the first case, the company already knows who they want to give access to. In this case, you will need an excel file with the names and emails of the employees to manually enroll them in the course.
You can also mass import users to create them an account. LearnWorlds will send them an email with their new account and further information on how to log in.
Access Codes
Sometimes, the company might want to buy licenses to share with their employees. It can be a wellness or family course they wish to offer as a gift to their employees, or they want to keep some licenses for future use.
In both cases, it's a much better idea to use coupon codes as access codes. You can create a discount coupon for 100% of the price of the course; this way, a user can create an account by themselves and use the code at the checkout to get access.
Custom Online Checkout
If you don't want to offer pre-determined packages and your customer has a deal with you, and they are going to pay online, you can create a private course with a link to the checkout.
Let's say, you have agreed to 100 seats for $5000 with Bob's Local Supermarkets, and they want to pay with the company's credit card.
You can create a Paid course for $5000 and then change the "access" to Private. The course will keep the original price but will not be accessible to anyone without a direct link to it.
Also, you can send this course to your contacts, and they can use the private course to pay the amount owed. After that, you can choose whether you want to send access codes or manually enroll the users to the course.
Premium Private Courses
On the subject of private courses, a corporate customer might require a customized course. You might be adding content, branding the existing content or login pages, or offering a different experience altogether.
This is the purpose of having a private group for specific audiences. A 'private', or 'unlisted' course is created for a dedicated group of people whose learning needs are industry-specific, measurable, and different from those of the majority of your students.
The creation of a private course serves a unique purpose – that is, to educate a group of students who need to build and develop the knowledge, abilities, and skills that are required to carry out an industry-specific activity or task.
These courses stay 'hidden' from and are 'not listed' on your course catalog, which means they are only accessible to a selected group of people whom you choose to include.
A private course makes it easier to manage specific groups, their reporting, usage, and particular needs.
Use Reports for your own benefit
When you are selling training, proving, and continuously improving the business case is paramount. The best way to show your business case is to demonstrate value.
And you can achieve that with LMS reporting. LMS reporting includes progress and completion data that is sortable by individual, group, organization, or any other demographic. See those reports and figure out how you can use it to show your customers your training is helping their business.
By showing interest in the effects of your training, you're moving from vendor to advisor, and that may result in opportunities to sell more training in the future.
(Visited 14,978 times, 15 visits today)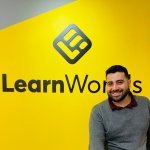 Nick Malekos is a Senior Digital Marketer in LearnWorlds. He is a results based and well-rounded Digital Marketer with years of experience in the education industry, writer and digital literacy trainer.