In today's fast-paced, ever-shifting business landscape, establishing and promoting one's Brand should be at the top of the list of every entrepreneur. LearnWorlds embraces that notion wholeheartedly, that's why from very early on we made the decision to make our customers' brand as prominent as possible in every online school/academy we empower with our tech.
A few years down the line and one of the top reasons that many top course sellers and businesses choose Learnworlds for building their online academies is the ability to have total control over the branding and create a fully "White Label" elearning experience.
How?
I'll tell you in a moment. But first, let's go through what White Label really means.
What does White Label mean?
The term white label is derived from products with unmarked packaging that get branded and sold by different retailers under their own Corporate brand. Companies in most cases don't have the expertise to make all the products they want to offer.
For example, the last time you stayed at a hotel you may have found it odd how they could provide all those fancy branded products like shampoos, soaps, shower caps, sewing kits, even chocolates.
Do they produce all these on their own?
Well, apparently they don't 😉
These are White Label products, produced by specialized manufacturers and bearing the brand of the company that distributes them.
Likewise, a White Label online course platform is created with an e-learning platform that is branded on behalf of another company, i.e., yours.
Thus you can drastically alter the look and feel of a standard platform and have it fully portray your own corporate identity, giving to your trainees, customers or employees a seamless experience.
Why do I need a White Label online school?
Branding is a powerful concept in marketing. Branding "is a marketing practice in which a company creates a name, symbol or design that is easily identifiable as belonging to the company" (Brandingmag.com).
Having a strong brand means you have a number of people, visitors or customers recognizing the unique characteristics of your company and strongly associate it with some values, ideas or a product/service.
A powerful brand can help you sell more courses or price higher while at the same time differentiating from the competition.
So, why would you prefer a white-label course platform?
Exclusivity – It feels like you have created something from scratch offering a higher-valued proposition.
Consistency – Your students have a seamless experience, staying at your website instead of visiting an unfamiliar environment. The secure environment you have created for their learning. This goes along with design elements, using your company's colours, logo and fonts.
Experience – LearnWorlds offers a unique, social and interactive experience, but the best part of it is you can customize the learning journey of your customers. Whether this means customizing the landing pages, the course player and many parts of the process.
Value & Price – A strong brand is valuable to a company, brings new customers, attracts investors (or buyers) but can also allow you to price higher (high-ticket selling). Think of Apple vs Samsung, they might offer a similarly good phone, but Apple will always charge 200$ more for their products, and their customers will pay for them.
Employee Satisfaction – Many employees choose to work for companies based on their brand values, the exclusivity and unique perks. A branded corporate academy can instill a sense of pride and satisfaction as it will be perceived as a higher quality internal training for them.
Trust – Your customers already trust you, and anything that comes under you brand name, design and company will be more trustworthy. This increases someone's willingness to make repeat buys from someone they trust.
Advertising – Brand consistency will also help you while advertising. Using your social media or paid ads, you are using your company name, logos, colour, font etc, continuing your funnel with a consistent tone will increase the likelihood of someone buying.
Custom vs White-Label Course Platform
You might have asked yourself, what if I pay a developer to create a platform for me, or combine a few WordPress plugins?
It is the same as asking whether to buy a car or create one on your own. Elon Musk of Tesla managed to do it with a few billions.
Having a specialized team, you are getting a high-end platform for a very low price and out-of-the-box, created by professionals who know the industry, research and trends to help you succeed.
You will be getting a combined:
E-learning industry expertise
Years of experience in the field
In-house developers
Tech-support
Regular updates
And, you can sell the end-result as if it were your own.
Teachable Vs Thinkific Vs Kajabi Vs LearnWorlds White-Label
As you may know, not all e-learning platforms are created equally. Each platform serves a specific niche of course creators, entrepreneurs or businesses.
All course platforms offer the capability to connect a custom domain name, it is almost an industry standard. White-label features begin by removing the mentions of the brand, for example "Powered by…" or "Created with…" labels on the bottom of each page.
The main things you would be looking at a white-label course platform sorted by importance would be:
A custom domain
Mentions of the brand
Login branding
Branded email notifications
Design & customization capabilities
Teachable, Thinkific, Kajabi and Learnworlds under the lens of white labeling completeness (comparable packages).
Teachable
Thinkific
Kajabi
LearnWorlds
Custom Domain
٧
٧
٧
٧
Login Page (The platform's name is not visible in the login page)
٧
٧
٧
Social Media Login
(The platform's name is not visible in the social media logins)
٧ Customer Brand
Footer Branding (The platform's name can be removed from the footer of landing or course pages)
٧
٧
٧
٧
Email Notifications (from your domain e.g. support@youracademy.com instead of the platform)
٧
Option for Branded mobile apps
٧ iOS & Android
While most platforms offer the basic white-labelling, when you get into the details, it is easy to identify a true white-label course platform.
If you don't care about branding and white-labeling, all platforms offer a unique set of features for an online business depending, with a few differences on features that set each platform better for a specific audience.
However, on the topic of a white-label product, Teachable offers the least. While it offers a school-login, it prominently displays a myTeachable login option.
And, during the login process, redirect students to an unbranded login page bearing the platform's name. This is a breach of the consistency principle we mentioned earlier.
That way, any sense of white labeling is lost. You might have paid top dollar to get a branded school and during the first user interaction the provider brand is exposed.
Another thing we go above and beyond here on LearnWorlds, is that we have built a set of unique Social Logins to make it easier for your users to login.
Those logins, need to pass from a Social Account, which, by default is branded. Those are branded under the platform you are using, but we go a step beyond to white-label them.
For example, Thinkific offers a great white-label in the sign-in forms, until someone clicks on a social login through Facebook or LinkedIn.
This is not only a white-label concern, but also a privacy concern for the data of your customers. While they know your branding, they have suddenly jumped on a page mentioning a different company.
Similarly, emails sent by Teachable, Thinkific & Kajabi come from their own domain with a change in the name of the sender, making them not true white-labelled. If you can open an email and check the sender's email to see @t.kajabimail.net, @m.teachable.com and @notify.thinkific.com, this is not white-labelling.
Your students may be confused as to who is the sender, or worse, the emails you worked so hard to craft word by word may not reach their intended recipients. You can't afford to risk that.
That's not how we do things here at LearnWorlds.
For us a full White Label school means that there are no logos or references to anyone but your own business. A proper white-label LMS allows you to eliminate any visible vendor references regardless of where those are.
Learnworlds is one of top course platforms and the only one providing an entirely white label experience.
To make sure we offer a high standard of services, we did a thorough research on our competition and after researching several couple dozen courses delivered through the most prominent platforms, we tested the degree in which they actually provide white label courses.
It wasn't difficult to figure out that the courses weren't truly white labeled…
Conclusion
Your brand is one of the most valuable assets of your company and if you have an established online business or building one, you should be protecting and nurturing it. If you are looking for a white-label course platform, then you should be looking for one that really gets the job done.
*The information for this article was collected between October and December of 2018. We encourage you to test our claims yourself and decide which is the right option for you*
(Visited 7,861 times, 18 visits today)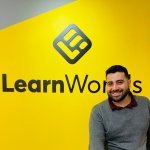 Nick Malekos is a Senior Digital Marketer in LearnWorlds. He is a results based and well-rounded Digital Marketer with years of experience in the education industry, writer and digital literacy trainer.