LearnWorlds and Kajabi are featured in many lists as the best and leading e-learning platforms in the market. While both offer an exclusive package to online educators and businesses, each one has different capabilities and has something unique to provide.
There is no doubt that both are great choices when it comes to creating, hosting and selling your online courses, but which outwins which?
If you want to know how these two platforms compare then this detailed comparison guide is for you.
——————————-
Disclaimer: The information in this comparison is based on publicly available information on Kajabi pricing and support pages, as well as our individual research and review on their account.
We are also comparing both platforms on the terms of their top tier plans where they can be compared in full with all features and capabilities enabled.
This comparison was updated in May 2020. If you find any discrepancies do let us know.
LearnWorlds is the top learning platform for creating, managing and selling your online courses. It beats Kajabi in most aspects of online learning and offers a high degree of branding and customization to represent your brand. Plus, LearnWorlds pricing is affordable and significantly lower than Kajabi's. Kajabi subscription plans are rather costly, with their Basic plan starting at $149/mo, while LearnWorlds's Starter plan is at $29/mo.
On the other hand, Kajabi is an all-in-one marketing automation platform with added capabilities to sell digital products and courses.
LearnWorlds focuses on offering engaging learning experiences, when Kajabi simply focuses on marketing & sales. Your choice in a nutshell is whether you are looking for a sales engine or a platform to educate and train people.
————————
*When comparing the differences between the two platforms, we use a ✔️ to identify where a feature exists and a ❌ where it does not. A slightly darker background indicates where a platform has a better or more advanced version of the feature. Both cells are dark where features are slightly different but equivalent.
————————
Deciding on any elearning platform is not a straightforward decision because it all depends on what you are after. In this respect, it doesn't always come down to capabilities but what you expect the platform can do for you.]
Do you want the easiest to use platform?
Do you want the best marketing platform?
Do you want a professional looking elearning website?
Do you want the best possible learning experience?
Do you want the most options and customizations?
Do you want to scale while your customers grow?
Do you want a superb customer service that cares for you?
LearnWorlds is the choice of top course creators, picky educators and serious corporate trainers who care about their learners.
Do you want some unique features that Kajabi does not have?
True white-labeling
Live classes with Zoom integration
Interactive videos, transcripts & ebooks
Customizable course player
Discussion forum
Copyright protection
GDPR toolkit
Local payments for EU
SCORM files support
As a general note, Kajabi is a good option if you are looking to sell an online course. Kajabi automation features facilitate marketing and selling a simple course. On the other hand, it lacks the amount of customization in the elearning experience it offers compared to LearnWorlds.
Now let's see each platform in more detail.
| | |
| --- | --- |
| LearnWorlds aims to improve the way educators, professional trainers and companies teach online. LearnWorlds' customers are entrepreneurs, educators and small to mid-sized businesses who value education and look to offer the best learning experiences to their students, customers and employees. | Kajabi aims to make all processes of every online business easy, helping out entrepreneurs sell their products. Kajabi's customers are non-techy online courses creators, digital entrepreneurs, small businesses, freelancers, creators and individual instructors who want to sell simple format courses and downloadable. |
It's clear from independent reviews that users prefer LearnWorlds over Kajabi. All reviews point to LearnWorlds as being the best platform to create, manage and sell online courses.
A special note here is that Kajabi does not show up on review sites that specialize in online education such as the Elearning Industry, as they themselves do not consider themselves to be close to a learning management system.
Are you ready to compare? You can get a 30-day free trial on LearnWorlds and then continue to read the most detailed comparison of LearnWorlds vs. Kajabi, side-by-side.
As far as it concerns the course creation process, LearnWorlds has a clearer pathway as to how you can start creating courses. Course creation goes through a wizard that tells you to write down the title of your course, decide on an outline and start uploading content.
On the other hand Kajabi makes it a bit more complicated than it has to be introducing 'posts' and 'categories' as lessons and modules respectively which become part of the course creation process. This is confusing for educators as it is built for a variety of digital products and is not very suited for online education.
In course creation, both platforms offer basic features, unlimited hosting for videos, PDFs and text. Here is a quick break-down of the common features in both online course platforms:
Video & content hosting,
Drip content,
Student discussions & community
Downloadable content,
Embeddable units,
Embeddable webinars (both with a 3rd party solution),
Private courses,
Prerequisites,
Video captions.
But, the breaking point is where they differ.
Here are the main differences between LearnWorlds and Kajabi in relation to the course creation:
LearnWorlds
Kajabi
Ease of Course Creation
✔️
❌
Interactive Videos
✔️
Interactive video editor to increase course engagement (buttons, questions, labels, and other elements etc).
❌
Automatic Video Transcription
✔️
Creating transcripts and subtitles automatically from your video.
❌
Interactive Transcripts
✔️
Multiple languages
Editor
Click to follow video (interactivity)
❌
Interactive Ebooks
✔️
ncreases course engagement with highlights, notes, starring sentences and more.
❌
Exams / Assessments
✔️
LearnWorlds provides detailed exam settings, question randomizations and time-limits
✔️
Kajabi keeps assessments to simple graded quizzes.
Quizzes
✔️
A learning quiz, not for grading but for testing ones' knowledge on the subject.
✔️(Limited)
Only include multiple-choice or multiple selection-style quizzes.
Gradebook
✔️
❌
Certificates
✔️
❌
Question banks
✔️
Creating multiple question banks to draw questions for both quizzes and exams, able to randomize or choose which questions to use every time.
❌
Assignments
✔️
LearnWorlds supports hosting of SCORM and HTML5/Multimedia files
✔️
Through the assessments feature
SCORM* & HTML5
✔️
LearnWorlds supports hosting of SCORM and HTML5/Multimedia files.
❌
Course Player
✔️
Highly customizable, modern player.
✔️
Kajabi has a post player based on themes for courses with minimal customizations. This is not a real course player.
Copyright protection
✔️
Add watermarks for both video & pdf
❌
Course creation in Kajabi is efficient and customizable but when it comes to student engagement tools it is lacking compared to LearnWorlds.
Kajabi is missing an important functionality as it doesn't create or issue any certificates for students. To send course completion certificates with Kajabi you will have to use a third-party tool like Accredible or Google docs which adds an additional fee and a complex procedure to your work as an educator.
LearnWorlds on the other hand, allows you to design and award your own personalized digital certificates to your learners, which can later be shared on Social Media or with an employer.
Similarly, the most unique feature of LearnWorlds, the interactive video, is both an educational and marketing tool that Kajabi is missing.
Assessments and exams aren't a strong point for Kajabi either, since it doesn't allow you to add advanced quiz elements such as question banks, randomization or timed quizzes in there.
Other advanced educational features including the ability to upload SCORM and HTML5 content, provide to the teacher the ability to create online material with more flexibility through an authoring tool. This is an important requirement for LMS and a much-sought-out capability by professional trainers.
LearnWorlds is the clear winner in educational features and learning experience.
When choosing a course platform another important part of your research should include the website building capabilities and design. Especially if you are looking for a white-labeled platform, you want to be able to customize the look and feel to suit your brand.
Both LearnWorlds and Kajabi offer an easy to use system to build, customize and white-label your elearning website. For example, both offer the capabilities to:
Build and edit landing pages
Built a website
Write a blog,
Edit the html/css,
Connect a custom domain – www.yourwebsite.com or courses.yourwebsite.com,
Free SSL certificate,
Font Customization,
Lead capture zones,
Design templates.
However, there are a few differentiations when you dig into the details of what is actually offered by each platform:
LearnWorlds
Kajabi
Branding & Identity (Customize the look and feel of your site)
✔️
✔️
WordPress Plugin
✔️
For SSO.
✔️
Showing the course cards on a WordPress Site.
Both Kajabi and LearnWorlds give you a ton of capabilities to build your website with pre-made templates to aid in the design and further customize the look and feel.
While the main functionalities are there, the implementation varies a lot between the two platforms. It all comes down to which one you prefer to use and works best for your business.
The real difference comes at the white-labeling…
White-Labeling
With both LearnWorlds and Kajabi, you can use your own website or domain to connect your school/academy and you have different levels of white-labeling your website – removing the platform's name and showing your branding only.
LearnWorlds
Kajabi
Custom Domain www.yourwebsitename.com or academy.yourwebsitename.com
✔️
✔️
Login
✔️
✔️
Website (footer)
✔️
✔️
Email Notifications
✔️
❌
Social Logins
✔️
❌
Website (footer)
✔️
LearnWorlds offers custom-made, white-labeled mobile apps (iOS and Android), branded for each school (available at the Learning Center plan and above with an additional monthly fee )
✔️
Kajabi offers a generic Kajabi mobile app (i.e. non-white-labeled) which can be used by your students to access their courses or downloadables on a mobile device. Students can also access your competitors' courses from the same app.
However, LearnWorlds goes a step beyond Kajabi to white-label email notifications as well as social logins.
Another major difference is that LearnWorlds offers branded mobile apps as an add-on for each account and removes the LearnWorlds branding from it. Kajabi on the other hand operates a more "marketplace" style app where all accounts can give access to their students through the app.
Another major issue are email notifications. Emails that are sent come in their own domain with a change in the name of the sender – e.g. @t.kajabimail.net, making them not truly white-labeled.
On the other hand, LearnWorlds does and offers a full white label option with social logins and email notifications that have the customer's brand.
When all is setup and ready to go, you will need to start marketing your courses. Here, LearnWorlds and Kajabi have the most common features with a few slight differences.
Both platforms tick all the boxes on the main features you need to market & sell your online courses like:
Connecting a payment gateway and having instant access to your funds,
Multiple payment methods,
Memberships / Subscriptions,
Coupons, Discounts & Promotions,/li>
Integrations with marketing & analytics tracking tools,
SEO optimizations,
Course expirations,
Affiliate reporting,
VAT handling through Stripe & Quaderno Integration.
However, there are subtle differences:
LearnWorlds
Kajabi
1-click sales funnels
✔️
✔️
Email Marketing
✔️
Email notifications (preset)
✔️
Email broadcasts
Pipelines (Sales Funnels)
❌
Funnels can be created using the Pages Builder & Zapier.
✔️
Automations & Events (time-based emails)
❌
✔️
Both LearnWorlds and Kajabi offer similar features on ecommerce, making selling online courses easy. They both offer multiple ways of payments like memberships & subscriptions, coupons, SEO and affiliate marketing capabilities.
Both platforms feature resources to help you better understand marketing and grow your business: the LearnWorlds Academy and Daily Webinars and Kajabi University and Kajabi Access (the latter comes at an additional $99 per month) will help you kick off your online course business successfully.
The difference comes on the email marketing features. Here, Kajabi has an advantage as they are a great all-around-marketing automation tool. They come with built-in email marketing capabilities, sales funnels and event-based automations.
The marketing pipelines (sales pipeline builder) are one of their top features which help to easily connect landing pages to sales and checkout pages making the process easier for course creators.
Here Kajabi wins on the option to promote and sell an online course due to more advanced email & automations features.
Payment Gateways
While selling online courses, you need to also be able to get paid. A payment gateway is a hugely important part of that offering the payment processing.
Both platforms offer a number of payment gateways. Both offer Stripe & PayPal integrations, but the similarities end there.
| | LearnWorlds | Kajabi |
| --- | --- | --- |
| Stripe | ✔️ | ✔️ |
| Paypal | ✔️ | ✔️ |
| Shopify | ✔️ | ❌ |
| 2Checkout | ✔️ | ❌ |
| PagSeguro (Brazil) | ✔️ | ❌ |
| Stripe Local | | |
| iDeal (Netherlands) | ✔️ | ❌ |
| Bancontact (Belgium) | ✔️ | ❌ |
| Giropay (Germany) | ✔️ | ❌ |
| Sofort (6 EU countries) | ✔️ | ❌ |
Next up is administration. Whether you are a course creator looking to better understand your students & sales, an HR or trainer interested in seeing the progress of your students or customize the experience of your users, the administration side is immensely important.
LearnWorlds and Kajabi both offer many options on managing and reporting on your students like:
Dashboards,
Sales data reporting,
Data exports,
Reporting & analytics,
Manual enrollments of students,
Bulk student upload
Student Progress monitoring,
User administration (reset passwords, change emails etc),
Customizable sign-up fields,
Change language.
Here at LearnWorlds, we also feel that administration and security is hugely important. For this, we are taking some additional precautions, offering more control, customization options and protection of your and your students' data:
LearnWorlds
Kajabi
Different levels of admins
✔️
✔️
Customizable options for student login
✔️
❌
Control who can communicate with whom in private messages
✔️
❌
GDPR & Data Security
✔️
✔️
Full GDPR compliance toolkit
Basic GDPR security
24/7 Support: Phone, Email & Onboarding 1-on-1
✔️
✔️
(No phone support)
If you are residing in Europe or have customers there, then the GDPR-compliance features of LearnWorlds are an absolute must for your online school. LearnWorlds is the only fully GDPR-compliant course platform with features to collect consent and manage your students' information according to the GDPR policy.
On the support care, LearnWorlds offers concierge onboarding with one of our experts, 24/7 customer support and phone assistance. Kajabi offers 24/7 email support but not phone support.
Slightly more powerful when it comes to admin and Security options of your online school, LearnWorlds is the winner.
Now, that most things are covered, you are probably wondering, what about scalability? How does LearnWorlds compare with Kajabi when my business is growing?
What about larger audiences and big surges of traffic?
The answer is that both platforms are able to support huge amounts of traffic and simultaneous users, as well as corporate level requirements with:
A dedicated account manager,
Dedicated servers for high volume accounts, and
SLAs by request.
Likewise on the premium services, LearnWorlds and Kajabi seem to be congruent in the features they offer:
LearnWorlds
Kajabi
DPA
✔️
✔️
Flexible Invoicing
✔️
❌
Backups
✔️
Daily multiple backups (up to 4/day)
❌
Does not mention any backups
LearnWorlds and Kajabi are on a tie when it comes to scalability and premium features.
Mobile Apps
A major differentiation between LearnWorlds and Kajabi is the offering of a mobile app. Both companies offer a solution for iOS and Android, but in a very different way.
LearnWorlds: White-labeled Mobile Apps
LearnWorlds offers a white-labeled app to each customer, at an additional monthly cost. The App is fully branded so that it mirrors the look & feel of the customers' online school.
So every customer can have his/her own mobile app published in the Apple and Google app stores!
Kajabi: A Mobile App Marketplace
Kajabi on the other hand offers a single Kajabi-branded app where a creator allows their courses to be viewed side by side with their competitors. Students can access courses from all Kajabi schools they have enrolled to and discover other courses by other trainers.
While this may be very useful for students, allowing them to access all their courses from multiple Kajabi schools in a single app, it's not ideal for the trainers since effectively your audience is shared with that of your competitors, making it harder to compete and stand out.
So the question is, to brand or not to brand?
Last but not least comes the price.
LearnWorlds' pricing offers a lower barrier of entry at $29 while Kajabi starts at $119 (monthly payments) which is a huge difference.
On the higher end, LearnWorlds' comes at $299 per month whereas Kajabi is at $399 per month. Also, LearnWorlds comes with an Enterprise level pricing which you need a quote for, while Kajabi doesn't.
LearnWorlds
Kajabi
Higher Plan
$299 per month
$399 per month
Middle Plan
$99
$199
Starting out at
$29
$149
Free Trial
✔️
30-day
✔️
14-day
Free Plan
❌
❌
Unlimited Courses
✔️
❌
Limited products (courses). Kajabi only allows 3 products on the starting plan and 15 on the second. Then, there is a limit of 100 courses on the $399 plan.
Enterprise / High Volume Plan
✔️
❌
Many customer reviews state that Kajabi plans are expensive to begin with. Even Kajabi's basic plan comes with only 3 products which means you can create up to 3 courses, allows up to 1,000 active members and offers no 24/7 chat support – unlike other paid plans.
With LearnWorlds, there is no limit on the number of courses you can create.
LearnWorlds offers more for a better price in every plan and it is much more cost-effective. Compared with Kajabi, LearnWorlds offers a platform that is higher in value and lower in price.
Check out some of the testimonials we got from LearnWorlds instructors:
Learnworlds is great! I've tried Teachable and
Thinkific
and several others and Learnworlds is exactly what I've been looking for! It's really been a blessing from God and I'm excited about all the ways I can use it! I reached out to your support team yesterday and they were very helpful! – Lynn
I just want to also say, having using a WP Plugin LMS, evaluated Thinkific, and Teachable, I am very pleased with what your platform provides. It is by far superior. – Fabien
It is the most customizable platform that I have tested without needing any code. Other platforms such as Teachable or Thinkific only offer a very basic design of the pages. For those like me, who value not just functionality but beauty, Learnworlds will exceed your expectations.
Even though LearnWorlds and Kajabi may share some similarities they are accustomed to serving a different segment of the audience, and they are both great in what they do.
LearnWorlds helps you create a learning environment that allows instructors to teach students similar to a school. Having said that it creates a friendly place for students and makes everything easy for both.
LearnWorlds is an easy to use learning platform that gives you the capabilities to offer the best learning experience to your students, employees and customers.
It also offers all the tools you will need to create, manage, sell, and deliver your online education, but also customize the look and feel of it to work well with your brand.
If you are looking for the best representation of your brand, LearnWorlds is the way to go!
How do I remove Kajabi branding?
To remove the Powered by Kajabi logo (Kajabi branding):
Open the Settings tab from the Dashboard.
Click Site Details.
Scroll to the bottom of the page to the Kajabi branding section.
Then, toggle off Display "Powered by Kajabi".
Click Save to keep your changes.
Is Kajabi SCORM compliant?
No, Kajabi doesn't support SCORM files.
What is Kajabi's video upload limit?
The maximum file size for video uploads on any page is 4GB. Your video content can contain as much time and content as you wish as long as the file does not exceed 4 GB.
See more comparisons:
(Visited 24,350 times, 7 visits today)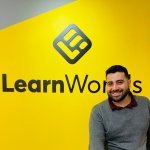 Nick Malekos is a Senior Digital Marketer in LearnWorlds. He is a results based and well-rounded Digital Marketer with years of experience in the education industry, writer and digital literacy trainer.