Whether you are launching an online education business or looking to add some side-income, Podia and LearnWorlds come up quite often as the top platforms to do so.
While both addressing the same issues, there are many differences between them. LearnWorlds and Podia take a whole different approach while addressing the problem of selling digital products.
LearnWorlds is more suited to professionals launching an online course, a community, membership and all-around digital knowledge business, while Podia focuses on downloadables and memberships that are good enough to get some side-income rather than launching a business.
Before you go on, the best way to experience LearnWorlds is by getting a 30-day free trial, No credit card is required and you can start building your online academy today!.
Save big with Learn
Worlds
We go through all the details and the differences in this side-by-side comparison guide!
LearnWorlds is the top learning platform for creating, managing and selling your online courses. It is a scalable platform that grows with your needs and provides an excellent e-learning experience at all levels, from a small business to a growing company.
Podia on the other hand is more suited to solopreneurs and creators that are just starting out and aim to provide downloadables or simple embedded videos.
*Pricing comparison is not very relevant, as the platforms hugely differ in terms of features in each level and Podia is missing a higher-tier pricing to support medium to big businesses.
Deciding on any elearning platform is not a straightforward decision because it all depends on what you are after. In this respect, it doesn't always come down to capabilities but what you expect the platform will do for you.
Do you want the easiest to use platform?
Do you want a professional looking elearning website?
Do you want the best possible learning experience?
Do you want the most options and customizations?
Do you want to scale while your customers grow?
Do you want a superb customer service that cares for you?
LearnWorlds is the choice of top course creators, picky educators and serious corporate trainers who care about their learners.
Do you want some unique features that Podia does not have?
Website builder
Interactive Videos
Interactive Transcripts
Interactive Ebooks
Discussion forum
Copyright protection
GDPR toolkit
SCORM files support
White-labelling & branding
As a general note, Podia is a good option if you are looking to create simple standalone courses that can be sold as digital products or downloads. The features it offers are tailored for the creative entrepreneur and solopreneurs but aren't suitable for SMEs or growing companies, as Podia won't scale with those needs.
Now let's see each platform in more detail.
| | |
| --- | --- |
| LearnWorlds aims to improve the way educators, professional trainers and companies teach online. LearnWorlds' customers are entrepreneurs, educators and small to mid-sized businesses who value education and look to offer the best learning experiences to their students, customers and employees. | Podia aims to offer everything its customers need to sell online courses, downloads, webinars, and memberships without worrying about the tech. Podia customers are content creators and artists who want to monetize their content and knowledge with simple learning activities and gated video. |
Both platforms are close to the score (averaging it out) with Podia having less reviews in total and no reviews in specialized websites for elearning platforms.
Are you ready to compare? You can get a 30-day free trial on LearnWorlds and then continue to read the most detailed comparison of LearnWorlds vs. Podia, side-by-side.
Save big with Learn
Worlds
With both course platforms, it is easy to create an online course. They both offer basic and intermediate features, unlimited hosting for videos, PDFs and text.
The main difference being that Podia may offer an easier and quicker way to build a course, as it has less to offer in educational capabilities compared to LearnWorlds.
There are some similarities in both platforms in terms of basic features:
Video & content hosting,
Drip content,
Importing content,
Downloadable content,
Embeddable units,
Student discussions (comments).
But, going one step beyond simple course creation LearnWorlds outshines Podia by offering more advanced teaching and learning tools and a social network for learners to create a vibrant community.
Here are the main differences between LearnWorlds and Podia in relation to the course creation:
LearnWorlds
Podia
Ease of Course Creation
✔️
✔️
Live Classes with Zoom
✔️
Interactive video editor to increase course engagement (buttons, questions, labels, and other elements etc).
❌
Interactive Videos
✔️
Interactive video editor to increase course engagement (buttons, questions, labels, and other elements etc).
❌
Exams
✔️
Auto-graded examination based on multiple choice answers with dynamic settings.
❌
Quizzes
✔️
A learning quiz, not for grading but for testing ones' knowledge on the subject.
✔️
Non-graded quizzes
Certificates
✔️
❌
Gradebook
✔️
❌
Question banks
✔️
Creating multiple question banks to draw questions for both quizzes and exams, able to randomize or choose which questions to use every time.
❌
Assignments (open-ended questions)
✔️
❌
SCORM* & HTML5
✔️
LearnWorlds supports the hosting of SCORM and HTML5 files.
❌
Automatic Video Transcription
✔️
Creating transcripts and subtitles automatically from your video.
❌
Interactive Transcripts
✔️
Multiple languages Editor Click to follow video (interactivity)
❌
Interactive Ebooks
✔️
Increases course engagement with highlights, notes, starring sentences and more.
❌
Course Player
✔️
Highly customizable, modern player.
✔️
HBasic course player
Private Courses (unlisted)
✔️
Highly customizable, modern player.
❌
Course Expiration
✔️
Highly customizable, modern player.
❌
Prerequisites (course compliance)
✔️
Highly customizable, modern player.
❌
Copyright protection
✔️
Add watermarks for both video & pdf
❌
LearnWorlds has an interactive video-based learning ability and a more customizable option in terms of creating course content. Such features provide to the teacher the ability to create online courses with more flexibility.
Podia's course player is limited in functionality and cannot be customized to match instructors' specific preferences. On top of that, it seems to lack important learning tools like grading, assessment/assignments and prerequisite activities (blocking activities if a user did not complete the previous).
For these reasons, LearnWorlds is the clear winner in educational features and learning experience.
Learning Community & Social Features
Another noteworthy feature that puts LearnWorlds ahead of the game is the school level community it offers. Podia tries to imitate the role of a community, but it fails to do so.
LearnWorlds on the other hand provides a vibrant online community to engage your learners and members. Your members can post, comment, send messages and connect to each other.
LearnWorlds
Podia
School Community
✔️
❌
Messenger (inbox)
✔️
Students can also send messages to each other (can be enabled/disabled)
✔️
Only messaging between an admin and the users.
Course Discussion
✔️
✔️
Study Group Creation
✔️
❌
You can read more on LearnWorlds' community features from here.
Next category in which every course platform needs to be assessed is the website building capabilities, the branding and design.
An important note here, Podia does not offer the capabilities to build a fully-blown website, but offers a simple landing page builder.
The similarities between the two are again on the basic level of functionality:
Build and edit landing pages,
Connect a custom domain – www.yourwebsite.com or courses.yourwebsite.com,
Free SSL certificate,
Font customization,
Lead capture zones,
Included hosting.
However, there are some clear changes when you dig into the details of what is actually offered by each platform:
LearnWorlds
Podia
Branding & Identity (Customize the look and feel of your site)
✔️
LearnWorlds' robust website builder gives you more customization options, templates and editing options.
✔️
Page design templates
✔️
More than 400+ templates to mix & match with rotation functionality for ease of use.
✔️
One template used by default.

Only 9 different zone templates to create a landing page.

WordPress SSO Plugin
✔️
❌
Student segmentation
✔️
❌
Edit the HTML
✔️
❌
LearnWorlds' robust website builder allows you to create a branded website for your business. With a rich library of templates to theming options and full control over your brand identity. Every website built with LearnWorlds is fully responsive on both desktop, tablet and mobile.
You can see examples of websites built with LearnWorlds here.
White-Labelling
With both LearnWorlds and Podia, you can use your own website or domain to connect your school/academy.
However, if you are looking for a white-lable solution, Podia isn't your ideal platform. You cannot remove the footer mention of the brand or in any other part of the platform.
On the contrary, LearnWorlds offers a comprehensive white-label option to remove all brand mentions and allows your brand to shine through your website.
Here is a thorough list of brand mentions and where it can be white-labeled:
When all is setup and ready to go, you will need to start marketing your courses. Here, LearnWorlds and Podia have the most common features with a few slight differences and different implementations of the features.
Both platforms tick all the boxes on the features you need to market & sell your online courses like:
Connecting a payment gateway and having instant access to your funds,
Multiple payment methods,
Memberships / Subscriptions,
Coupons, Discounts & Promotions,
Integrations with marketing & analytics tracking tools,
Affiliate reporting.
However, there are a few differences:
LearnWorlds
Podia
Email Marketing
✔️
Email notifications (preset)
✔️

1-click-sales-funnel
✔️
❌
Payment Gateways
✔️
Stripe
2checkout
PayPal
Shopify
PagSeguro (Brazil)
✔️
Stripe
PayPal
Local Payment Gateways
iDeal (Netherlands)
✔️
❌
Bancontact (Belgium)
✔️
❌
Giropay (Germany)
✔️
❌
Sofort (6 EU countries)*
✔️
❌
Podia has a slight advantage with more robust email marketing capabilities, but on the other hand it offers limited methods of payment processing that might be limiting for some countries.
Podia's email marketing is good for a beginner to use and avoid using multiple tools, but, growing up your business you will need to integrate with a more professional email marketing platform.
*Countries that support Sofort Payments
Germany
Austria
Italy
Spain
Belgium
The Netherlands
Next in line is administration. Whether you are a course creator looking to better understand your students & sales, an HR manager or trainer interested in seeing the progress of your students or customize the experience of your users, the administration side is immensely important.
LearnWorlds and Podia both offer many options on managing and reporting on your students like:
Dashboards,
Sales data reporting,
Data exports,
Manual enrollments of students,
Customizable sign-up fields.
Here at LearnWorlds, we also feel that administration and security is hugely important. This is why we are taking some additional precautions, offering more control, customization options and protection of your and your students' data:
LearnWorlds
Podia
User roles
✔️
Admin & Instructor Role
✔️
Customizable role
Advanced user reporting
✔️
Customized reporting dashboards, saving reports etc.
❌
Control who can communicate with whom in private messages
✔️
❌
Customizable options for student login
✔️
❌
Set School Language
✔️
✔️
API / Webhooks
✔️
❌
GDPR & Data Security
✔️
❌
Account Sharing Protectio
✔️
❌
24/7 Support: Phone, Email & Onboarding 1-on-1
✔️
❌
As you can see LearnWorlds comes with full GDPR-compliance features that are an absolute must for your online school if you are selling in Europe.
On the support care, LearnWorlds offers concierge onboarding with one of our experts, 24/7 customer support and phone assistance, which Podia seems to be lacking.
Obviously more powerful when it comes to admin roles, LearnWorlds is a clear winner.
Now, that most things are covered, you are probably wondering, what about scalability? How does LearnWorlds compare with Podia when my business is growing?
What about larger audiences and big surges of traffic?
The answer is that both platforms are able to support big amounts of traffic, but only LearnWorlds has the administration (see previous section) & scaling features to match your needs:
LearnWorlds
Podia
A dedicated account manager
✔️
❌
Dedicated servers for high volume accounts
✔️
❌
SLAs by request
✔️
❌
Custom Mobile App for your online school (Android, iOS)
✔️
❌
DPA
✔️
❌
Flexible Invoicing
✔️
❌
Backups
✔️
Daily multiple backups (up to 4/day)
✔️
LearnWorlds: White-labelled Mobile Apps
A major differentiation between LearnWorlds and Podia is the offering of a mobile app.
LearnWorlds offers a white-labelled app to each customer, at an additional monthly cost. The App is fully branded so that it mirrors the look & feel of the customers' online school.
So every customer can have his/her own mobile app published in the Apple and Google app stores!
Both course platforms offer unlimited users & courses with their paid plans and different features in each level.
LearnWorlds' pricing offers a lower barrier of entry at $29 while Podia comes with a two-tier pricing plan that starts at $39 (monthly payments).
On the higher end, LearnWorlds' full features come at $299 per month whereas Podia's at $79 per month. Also, LearnWorlds comes with an Enterprise level pricing which you need a quote for, while Podia doesn't.
LearnWorlds
Podia
Higher Plan
$299 per month
Podia does not support higher-tier plans.
Middle Plan
$99
$79
Starting out at
$29
$39
Free Trial
✔️
30-day
✔️ Free limited plan
Enterprise / High Volume Plan
✔️
❌
Mobile App (with an additional fee)
✔️
❌
At a first glance, Podia looks like the cheaper option, but in truth, Podia offers less at its maximum level ($79) than LearnWorlds offers at its lowest ($29).
When you are just starting out, pricing is important. You don't want to spend too much upfront before you begin making money. It is important to start at a basic level and move to more expensive plans as your business grows.
Choosing the right platform that will scale with you is important from day one. A course platform that can't grow with your needs will cause problems when you have hundreds or thousands of customers.
Here at LearnWorlds we have experience helping entrepreneurs scale from 0 to hundreds of thousands of users, and we can support you on your journey to success!
When it comes down to using the platforms, our users – LearnWorlds instructors, have some insightful information to share:
Check out some of the testimonials we got from LearnWorlds instructors:
Wow, I am honestly blown away by the service that LearnWorlds provides! As a coach, I have always had a dream to share my knowledge with the world but have very limited technical computer skills and prior to finding LearnWorlds, it was incredibly daunting trying to figure out the online world and how to get my message out there. Since using the LearnWorlds service, it has been such a motivating and reassuring process having so much access to your website's information and amazing staff helping me along this journey. Jaspar
humanisedtraining.com
I am impressed. I cannot remember anyone else responding like this in the past with other companies. – William Kamp,
Virtual KenPo
I have two schools with you and I really like the platform but I wanted to contact you about your support team. I just wanted to praise them for their brilliant work and attitude to dealing with every issue I have asked them about. The support team has delivered amazing customer service every single time we have asked for help. LearnWorlds is a great platform but the customer service makes it even better. – Stephen Bates,
Certain Change
We have been very satisfied with the support we have received from LearnWorlds as we are still fairly new customers. The service is prompt, courteous and thorough in helping us resolve any issues. In addition, the site itself is very user friendly and has worked well for us overall. – Les McKeown,
Predictable Success
The testimonials and reviews we get prove that LearnWorlds is doing a great job with the platform and the elearning capabilities that come with it. LearnWorlds is getting better every day and strives to meet the needs of the modern educator.
Podia is a great option for solopreneurs, creators and making a side-income with downloadables.
If you are already running a business or plan to grow to more than a side-income business, then, you need a more professional platform that you can host your e-learning business, membership site or digital products.
LearnWorlds is the right choice for growing your business into a profitable enterprise. It is an easy to use learning platform that gives you the ability to offer the best learning experience to your students, employees and customers.
It also offers all the tools you will need to create, manage, sell and deliver your online education, but also customize the look and feel of it to work well with your brand.
When looking for the best representation of your brand, LearnWorlds is the definite choice for you!
Save big with Learn
Worlds
Frequently Asked Questions (FAQs)
What can I sell on Podia? (and what not)
Podia is excellent for selling digital downloads, ebooks, templates, and memberships. If you want to sell physical products or need a more customizable checkout process, we recommend using Shopify or BigCommerce.
Does Podia support SCORM?
No, Podia does not support SCORM files. We recommend LearnWorlds for online courses in SCORM format.
Does Podia connect with WordPress?
No, Podia does not connect directly with WordPress. However, you can use a subdomain to connect the two platforms. This would allow you to use Podia as your payment gateway and WordPress as your content management system. You need to set up a redirect from your WordPress site to your Podia checkout page to make this work.
Does Podia have a mobile app?
Podia does not have a mobile app. You can use LearnWorlds to create a mobile app for selling courses, memberships, and coaching products.
Do you get a website with Podia?
You can use Podia as your main website, but it is not recommended. Podia allows you to build simple landing pages, but it is limited when designing a website and including a blog.
Is Podia an LMS?
No, Podia is not an LMS. It is more of a marketing and sales platform for simple digital products. You can create simple video courses with some basic learning activities but lacks real educational value, advanced learning activities, learner management, and support for standards like SCORM.
————————————————-
Disclaimer: The information in this comparison is based on publicly available information on Podia pricing and support pages, as well as our individual research and review on their account.
We are also comparing both platforms on the terms of their top tier plans where they can be compared in full with all features and capabilities enabled.
See more comparisons:
(Visited 14,937 times, 3 visits today)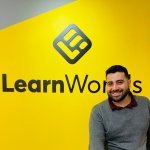 Nick Malekos is a Senior Digital Marketer in LearnWorlds. He is a results based and well-rounded Digital Marketer with years of experience in the education industry, writer and digital literacy trainer.