A landing page that works is a landing page that offers a solution!
The landing page presents essential pieces of information that help site visitors understand what it is all about. In this sense, it provides a clear message, a purpose, radiates the instructor's authority and (social) proof of its results.
The Ultimate Guide To Selling Online Courses (vol 1)
Discover how to make your online courses ready for sales and, most importantly, profitable.
Your website needs to offer all the important information to a visitor. This includes the 'About Us' page, the 'Thank You' page, the 'Contacts page' and most importantly the 'Landing' page. Without this very last piece, not only your website would be incomplete, but it wouldn't be able to stand alone – not only in terms of web design, but most importantly in terms of content.
This article sheds some light on the purpose of a landing page and explains why every course instructor needs to have it on their website!
What is a Landing Page?
A 'landing page' is the first page you 'land' when you click on a link that directs you to a website. This is a page that is designed 'with no distractions' so that it converts site visitors into leads.
A landing page is designed in a way to receive and convert traffic from an online marketing campaign. To do this, it presents specific and carefully-chosen information that encourages site visitors to receive your offer – whether this is the choice to opt-in or to buy your courses.
A landing page is different to a homepage, even though sometimes a homepage might also be your landing page, for example when you are only offering a single-course. Below, you can see how a homepage will differ from a landing page.
Whereas a homepage directs your site visitors to a number of site links and features in order to help them navigate and explore the site further, the landing page has only one greater goal and that is to generate more leads or sales.
The homepage has more links hence more distractions as opposed to the landing page which offers one single CTA. This shows that the number of links you position on the site matters in conversion rates.
As Neil Patel points out, the success of landing pages is found in their capability to:
'talk directly to each kind of visitor you get – whether they are coming from social media, Google, a product page, a blog post, or something else – and offer them a customized next step that will keep them engaged with your website and business.'
From this regard, a single mislead or false step in the online path of your site visitor might influence them to leave your page. To avoid this, you need to design a landing page that is spot-on and directs your site visitors straight to the end-result.
What Does a Course Landing Page Do?
A landing page is designed to serve the Call-to-Action buttons that guide action throughout the page. As a major component of the sales funnel, the landing page guides the way of the site visitors from attracting their interest to making them paying customers.
Increase course sales
Improves your ROI
Brings more subscribers on your email list
Converts a high percentage of your site visitors into leads
Gives you more information on your audience demographics and behaviour
Helps to make the first step of establishing a relationship with your customers
Each element on the page has a dedicated role. Behind the scenes, a landing page works like this:
Step 1: A site visitor sees an ad, clicks on it and finds himself on a landing page that prompts him to complete a form.
Step 2: The person completes the form and provides their contact details (name + email address).
Step 3: The information the person provides is stored in your leads database.
Step 4: You advertise to the contact/lead what you already know about them that will find interesting (through email).
Why Do You Need a Landing Page?
The role of the landing page changes according to its format because then it has distinct functions and CTAs are linked to specific page pointers and external sites/pages carrying out a different task/completing a different action.
A landing page is successful when it is created for the right reasons and for the right audience that encourages them to complete an action. To do this right, ask yourself what is your audience and what their needs are and make it easy for them to meet those.
Most straightforward landing pages will push people towards buying instead of getting leads. So they would guide them through other steps like watching a video informing them about a course, or providing them the chance to become a newsletter member to pre-register for a course before telling them to buy your course.
'Depending on what goal you are after, you choose what type of landing page you want to use.'
Generally, there are three main types of landing pages:
The Standalone Landing Page: includes click-through, lead capture (lead Gen, Squeeze page, Splash page or Sales page), infomercial and Viral landing page.
The Microsite: A small multi-page website (or sitelet), usually created as a supplement to the main website.
The Internal Website Landing page: this is the homepage and product detail page.
Out of these, the most important pages and commonly used are:
The Lead Generation page: also known as 'lead gen' or 'lead capture page' – it is used as an online form that collects lead data, including names and email addresses.
The Click-through Landing page: a page that is used for e-commerce and usually has one CTA button.
The following diagram shows the differences between the two most common types of landing pages:
How Do You Create a Course Landing Page?
This is where the real fun begins. First step of creating a landing page is to think about what kind of ingredients a successful landing page has.
These are the following:
Short but attractive headlines: your headline, should explain how visitors can benefit from the offer and positively show how their needs and wants can be met.
This needs to give out a powerful message promising them an intriguing result that will influence them to stick around and read what comes next.
The headline should inform your visitors immediately about where they are and what they are getting in return. Since it is the first thing people will get to see and it needs to be valued-focused and clearly visible.
To get this right, include large and bold text that explains what they can find on your page.
Strong action words and phrases: action words and phrases that can build their motivation to learn. Choose verbs and words that have a positive proposition such as 'discover', 'explore', 'improve' or 'start' that prompts them to take action.
Engaging media: any visual element (including photos, graphics, infographics, or other persuasive media) that present the result your courses achieve can get people right into your sales funnel.
Visual representations of the course's value are very strong, and combined with effective use of white space, customer badges, color-contrasting CTA buttons, and a 100% money-back guarantee, your landing page can do wonders!
A video: while the use of video is optional, it is highly recommended as it can offer a greater impact – bigger than any other media. Any type of video ranging from emotional-appeal, news/commentary, testimonial or 'behind the scenes' helps to offer a nice preview into your course and explain to people what your school/course is all about.
Testimonials: testimonials can come in the form of opinions or reviews either from previous students who have taken the course has tremendous influence in the decision-making of your site visitors, or anyone who has tried your course.
Apart from this, it helps to reinforce your brand, value proposition and builds your credibility in the online market. Testimonials allow you to provide social proof, as they show that you are a trustworthy individual on your subject. These can really come from anywhere — emails, tweets, Instagram posts or comments, blog posts, etc.
An opt-in form: this is the ultimate medium serving your page end-result point. It is a form that captures email addresses and other important information of people visiting your site including contact names, company names, etc.
All these page elements are based on four main factors that should guide your thinking when creating a landing page.
These are a) the product – your course, b) your brand – your school, c) the marketing copy – your copywriting, b) the page's design and UX – User Experience.
Let's dive in to explore these in more detail…
A)

The Product:

When creating your landing page, you need to think about your product and how it is positioned on the page at all times. This will be at the centre of your landing page, which is what your website essentially promotes.

The way you present your course, helps potential students understand what you are offering and leads to making a better judgement as to whether they need it or not. Since this is a decision they need to take in the first 10 seconds – before they decide to leave your page, you need to think how you can position your product carefully.

You might think that product photography is unnecessary, but the combination of positioning good visuals and engaging text can influence your site visitors to opt-in and buy from you.
B)

Your Brand:

This is a recurring issue and there is much literature on creating and maintaining your brand, a fact that shows how heavily you need to focus on it.

Choosing the right colour palette to use on the page – the one that best represents your course and industry is a nice way to start. But you have to make sure your logo stands out on your landing page and that the themes you have working on for your brand are associated with your email – newsletters and social media posts.
C)

The Marketing Copy:

The marketing copy is the baseline of your landing page. This is the written information that your site visitors will get to read and it needs to match with your business unique voice and brand.

To help you come up with the right message for your page, there are a few questions to ask yourself and guide your thinking on the marketing copy:
Question 1: Who is this offer for?
Identifying your audience is key to writing an effective copy and targeting the right people who are going to be interested in your offer. So let's say, the learning material in the ebook, guide or online course is about digital marketing, the answer to the question 'who is this for' – ideally it would be for someone interested in digital marketing or perhaps something related to it but more specific e.g. SEO tactics.
At this point, it's essential to come up with a strong headline or title that explains the offer in a few words, gathers attention and gets clicks!
Question 2: Why would they opt-in for it?
Think about how you can approach your audience – test it to people who are potentially interested in your offer and see how it goes. Also, think about whether this page makes sense for your audience. If not, what would possibly make the biggest appeal?
Giving your audience a motive is the best way to encourage your site visitors to give you their contact details, or their credit card!
Question 3: What should I write?
What you write in your marketing messages makes the biggest impact and this is one of the reasons why you need to choose them wisely. Include a short introduction that describes the offer and explains what your school does, list out the benefits for opt-in or buying your course, and then link a post/video/download button to work alongside completing the desirable action.
Overall, your marketing copy should include your offer and the personalised-targeted message you want to send out to your audience. The content needs to sound human so that it can 'speak to others' as naturally as possible.
Be careful though as you don't write too much copy – you only have about 2 seconds to make an impression as most site visitors won't read everything on your page.
Step 1: Create a catchy headline for your offer
An offer is a product that is related to what you are selling – your course, and works as a supplementary feature. This could be a checklist, a handout, an ebook, a PDF with important information relating to the course or the subject you are teaching, even your online course!
If you are promoting your course, the headline needs to captivating and be able to describe what it entails presenting its full value.
A few examples:
A: Learn to fly your drone – A Step by Step guide
B: Do you want to learn how to lose weight in just 20 days? Let's talk!
C: Learn all the secrets to acing job interviews and landing a job!
Step 2: Come up with on unique message (CTAs)
Coming up with effective CTAs is vital to your traffic and lead conversion. These set specific expectations and let potential subscribers know exactly what your website contains. These are the 'action points' that lead people where you want them to go and influence them on what you want them to do, once they arrive on your landing page.
Step 3: Decide where the CTAs should go
Think about the positioning and make sure CTAs guide the way to the buying process of your site visitors and that it is made easy and possible for them to follow. Make sure that your site navigation works for you and not against you, so that you meet your advertising intentions and avoid losing on conversion. Essentially, your CTAs need to be clear and specific letting know people what you want them to do next.
D)

Design and User Experience – Landing Page Examples:

When it comes to page design, LearnWorlds can do all the work as it allows you to build beautiful landing pages within minutes through the help of the pages builder.

However, you need to be aware of user experience – UX, at all times and think about the journey of the site visitor. How you position the different elements on your page is important as this arrangement helps to get more conversions.

If you are in need of inspiration and want to see how this works, check out the following list of 9 examples from our course creators.

*The screenshots were taken on May 2019.
1

Sell by Owner

Category: Business

A very good example of a home page created with LearnWorlds is Raincatcher's Sell By Owner, coming up with a catchy headline, introducing the whole concept with a short video and customer testimonials to reinforce their image.

Marla DiCarlo – CEO of Raincatcher, says: "The copy [of the landing page] should be short but to the point, directing them to other pages to help them understand what we are selling and whether our product is a good solution for their needs. The messaging and formatting should be consistent throughout all pages to showcase professionalism."

Along these lines, it should inspire credibility, and a sense of continuance encouraging people to keep coming back.
2

I Draw Fashion

Category: Fashion

I Draw Fashion offers a unique list of the learning outcomes students can achieve through their enrollment on the course. It is very visually pleasing and informative with clear guidelines and directions as to why this course can be beneficial and a real supplement of knowledge.
3

WELL Learning Library by Chromatic Content

Category: Health and Wellness Education

This school's landing page includes a mixture of benefits, reasons to subscribe and different call to actions. It's simple enough and catchy to the eye and the site visitors easily understands what it is all about.
4

European Tourism Careers

Category: Business/Career Advice on Tourism

A collaboration of european universities and local authorities to provide online courses for tourism SMEs. This landing page is an example of a corporate page with high authority partners at the bottom to instill trust.
5

Start Social

Category: Business and Marketing

Start Social teaches businesses how to use Social Media, and they know how to create a great landing page for their courses. Starting strong with a video introduction and going forward with the reasons why you need to learn social media to grow your business.

The desired result is the ideal solution that tells students how they will do something in a given time or deadline and can attract the right amount of attention and action.

Your CTA should be the catalyst from a good sales page. However, sometimes a simple landing page with just the CTA can also work out pretty well. The best way to do is to test what works for your audience. After testing, don't be afraid to change your text. This along with writing a marketing copy for your course could take a while. Your call-to-action can always be improved and provide better conversions at a later time.
6

Learning Liaisons

Category: Continuous Professional Education – Teacher Training and Assessment Preparation

Learning Liaisons's landing page features a long Long Page template that includes multiple courses, and CTA. The page features multiple product offerings for a diverse demographic and different kinds of training, leading to specific landing pages for each subject.
7

Ulyana Aster

Category: Beauty

Ulyana Aster's online academy is visually heavy, showing off the incredible results and setting up high expectations to the potential students. Selling the idea first and then the products.
8

Virtual Kenpo

Category: Martial Arts

Virtual Kenpo's home page comes with an above-the-fold hero image, giving a direct visual cue on what you are going to learn and a clear call to action with the value offerings exactly below. The sign-up button goes to the sales landing page with a clear message of what the student is getting and the different subscription options.
9

Your School!

Category: This could be just about anything!

With LearnWorlds, you can easily create a beautiful elearning website and sell your online courses. All you need is to create your account with a 30-days free trial.

Are you already a LearnWorlds customer?

Do you want to feature your landing page here?

Send us your example at hello@learnworlds.com

Check out more examples of landing pages here and get inspired to create yours!
Get Inspired by the 8 Biggest Graphic Design Trends 2019
While designing your course landing page, you might want to take a look at some modern inspiration. After years of bland minimalism dominating the graphic design world, color and creativity exploded back onto the scene in 2019.
You can get inspired by bright color palettes, futuristic patterns, and hand-drawn illustrations which have become extremely popular lately.
This is great but that means you're going to do a lot more to stand out this year.
Thankfully, Content Marketer Ryan McCready, who designs all of Venngage's marketing materials and leads our social media team, has found out a few graphic design trends for 2019 that will help you upgrade your visuals.
Vivid Colors
Like I said above, vivid colors are back in vogue this year. Kinda like in the example below:
The popularity of these bright colors can be traced back to the rejection of boring minimalism over the past few years.
Plus these vivid colors really stand out nicely in a blog post or social media feed, where most of the screen is dominated by neutral colors.
Strong & Bold Typography
In the design world, we have seen bold fonts and typefaces become very popular over the past few years.
In an instant you can project strength, innovation, and individuality with a bold font, like so:
These types of font are very easy to read on social media and on smaller screens, like phones and tablets as well.
Futuristic Influences
We are technically living in the future that all of those classic sci-fi movies predicted, so our design might as well draw inspiration from that.
With futuristic designs, there really isn't a right way of doing things so you can let your creativity run wild.
From what we have seen, futuristic color patterns, gradients, abstract patterns, glitches, geometric influences and more are being used across the design world.
Like with vivid colors, I think that these futuristic patterns and colors are a great way to stand out from the risk-averse crowd on social media.
Light & Dark Color Schemes
As you probably have seen over the past few years, tech companies have been adding light and dark modes to their apps.
With this addition, they wanted to make their apps and programs more flexible in any situation.
You can use this tactic to upgrade the visuals you use for your content marketing, as well:
Now this poster can be hung up on a light or dark wall, and still be very eye-catching. With a dual color scheme for each of your projects, you can adapt to any situation.
Creative Gradients & Duotones
You probably have noticed that gradients and duotones have seen a major resurgence in the past year or so.
Most of the time these color transitions have been used only in the background of visuals.
However, in 2019 and beyond gradients will become the main focal points of many graphics:
And the same can be said about duotones this year:
Colorful Minimalism
A lot of people think that minimalist graphics should old use simple black text or white backgrounds, like Apple used for so long.
But minimalism in the design world means that you're using only necessary components to get your message across.
In 2019, I think that a lot of the more vibrant design trends are going to mix with traditional minimalism. As you can see in the example below, gradients are used very effectively:
This colorful minimalism will be dominated by creative focal points but cut out a lot of flair or unneeded elements.
Dynamic Hand-Drawn Illustrations
Hand drawn illustrations are a fantastic way for your brand to stand out, on social media.
Especially because no other brand is going to be able to copy a hand-drawn illustration.
But like with most of the trends that we have seen so far, designers are taking it to a whole new level this year.
For example, MailChimp upgraded their illustrations from last year:
To this year:
Genuine Stock Photos
People are tired of seeing overly polished and staged photos from companies. We have been exposed to that for years and it has caused us to ignore them out of habit.
Instead, genuine and authentic photos are going to dominate this year.
I would recommend looking for low-key photos that look like they were taken with a personal camera or phone. Like the examples below:
Not overly staged, cheesy or professionally shots like so:
Seriously, that fist bump photo is so awkward and cheesy it hurts to look at!
Infographic
If you want to learn more about these graphic design trends, check out this infographic:
This infographic was created using Venngage's online process infographics maker.
Elearning Page Templates & Other Pages
While building a website for online education, your most important pages will be the home of your website and your course landing pages, where you will be driving most traffic from marketing activities.
LearnWorlds' elearning website builder offers more than 200 responsive templates to make your educational site uniquely your own. While building your homepage, all you need to do is choose the templates that works for you and edit it as you would do a word document!
Similarly, you can easily create other important pages for your academy such as the About Page to introduce your team, your blog to establish your identity and the sales funnel pages like the checkout and the "Thank You" page.
Before You Go! A Few Things to Remember:
While working on your landing page, keep the following guidelines in mind:
Limit page navigation: avoid distractions and limit the number of exits from your landing page so that your visitors are focused on filling out your form.
Make sharing easy: add social media links to encourage site visitors to share your landing page and information with their audience.
Give it a test: create a couple of landing pages and test your CTAs to see how they work and rank in terms of lead acquisition. Stick with those that work the best for your audience.
Put important information first: internet users have the tendency to focus on what they see first on a page and skim through the rest of the content. This means that you will score more conversion rates when your offer is at the top of the page or at places where the information is easily visible.
As you can see, a landing page can do a lot to improve your sales funnel! It can increase your conversions, improve your branding and the experience of your users/customers.
First impressions count, make your memorable with the right landing page that works for your audience!
(Visited 28,204 times, 1 visits today)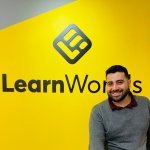 Nick Malekos is a Senior Digital Marketer in LearnWorlds. He is a results based and well-rounded Digital Marketer with years of experience in the education industry, writer and digital literacy trainer.