An eLearning authoring tool is an important component in creating e-learning content and a must-have tool for instructional designers, L&D professionals, and training businesses.
While many learning management systems nowadays come with built-in content authoring tools, they sometimes lack the advanced features of specialized eLearning software. This, and the portability factor, moving the learning content from one LMS to another, are the main reasons instructional designers prefer to work with e-learning authoring tools to develop online training.
There are many options to choose from. Here we will go through the most popular authoring tools and suggest the best use case for each one to help you choose the one that works for you best!
The Best eLearning Authoring Tools
What is an eLearning Authoring Tool?
An eLearning authoring tool is used to create different types of eLearning content, such as lessons, training, courses, assignments, exercises, simulations, and more. You can combine text, images, audio, or video to create a new interactive learning experience or create one from scratch.
Authoring tools export the final result into a SCORM, HTML5, xAPI, or TIN CAN file, which can then be imported into an LMS for delivering the training.
Do you need an authoring tool?
Specialized tools for online learning can be used to go beyond simple video lessons and basic assessments that most LMSs offer. If you need to create a customized learning unit for very specific purposes, then you might need an authoring tool to achieve that.
Most professionals will be happy to use their LMS' built-in tools. Using another e-learning authoring tool is suggested for advanced users, instructional designers, and trainers who are looking for very advanced and custom learning activities and need to create them themselves.
What to consider before choosing an eLearning content creation tool
To choose the right tool, you need to evaluate available options based on your specific requirements. Different requirements set from your client or for compliance purposes might require a different set of tools.
Consider the following:
Type of training: Is it a simple video training or do you need to build an interactive learning experience? Does your training include software simulations? How important is tracking, grades, and reporting? All these will affect your choice of tool based on the features you'll need.
Mobile learning: Today, mobile devices play a huge role in learning. In some cases, you might need to ensure mobile compatibility and that learning units will be viewed correctly by all devices.
LMS compatibility: Not all LMSs are Scorm-compliant or support xAPI and TIN CAN. You need to see the requirements of your LMS and whether it is fully or partially compliant with the output of the content authoring tool. There is no point in building interactive content externally if you cannot import it to an LMS.
Budget: Be mindful of the budget. Authoring tools vary in costs, and some may come with additional costs for advanced functionalities. Compare the features you need against your budget and whether you can afford the tools you need.
Scalability: Authoring tools charge a per user fee. If you have a team that requires different logins per user, then you need to plan ahead and think about whether that fits into the budget. Also, be mindful of future requirements such as collaborative content creation or other features you might need later on.
Another aspect of scalability is having the features you will need in the future, which could be collaborative content creation or features that you might need immediately but might need in the future.
Learning curve: If you have not used an authoring tool before or you are shopping for a new one, there will be a learning curve. More advanced tools are usually more difficult but may come with onboarding or training. Try a demo of the tool and see whether it feels intuitive enough before adding it to your toolkit.
What are the different types of authoring tools?
Αuthoring tools differ in terms of deployment type and pricing model.
So it matters whether it is SaaS/cloud-based, self-hosted or self-hosted on the cloud, desktop-based or accessible on a mobile app (Android or iOS). Each has its advantages and disadvantages and you need to look deeper into these.
Subcategories of authoring tools include assessment authoring tools, rapid authoring tools, interactive authoring software, and more. All these are tools specializing in a specific requirement.
Also, you have to look at pricing models and decide which one is the best for you. The most common pricing models are subscription, free, freemium, or one-time purchased license.
Tool #1: LearnWorlds – An all-in-one cloud LMS and Authoring Tool
LearnWorlds is an LMS with robust e-learning authoring capabilities, with recent updates to its assessment engine, form builder, certificates, and more. It is the best choice that combines hosting & authoring in one tool.
It is focused on providing the best learner experience and is scorm-compliant to host content developed by other tools as well.
Best for
Individual course creators, instructional designers, SMEs, nonprofits, and small enterprises.
LearnWorlds Pricing
LearnWorlds has three pricing plans which include authoring and hosting. High Volume & Corporate plans are available for bigger accounts:
Starter $29/m
Pro Trainer $99/m
Learning Center $299/m
You can compare the different plans here. Pricing information retrieved on the 14th of July 2022.
Pros:
Free trial.
Authoring and hosting features.
Interactive & social features.
Ecommerce features to sell courses/training.
User management, reporting, & analytics.
Mobile-ready out-of-the-box.
Cons:
Not a fully featured authoring tool.
It's content cannot be exported and uploaded to another LMS
Tool #2: Articulate Storyline 360
Articulate Storyline is a popular course authoring tool amongst many demanding course creators and instructional designers. Many are choosing it as their favorite tool because it has winning features and does what it promises to do.
Best for
It is more suitable for newer designers because of its ease of use. Also, it is an ideal choice for freelancers, academics, and businesses of any size or industry.
Articulate Storyline Pricing
There is only one price for business teams which is up to $1,299/yearly (per user).
Alternatively, you can buy Articulate Storyline 3 with a one-time payment at $1,398 (per license) for new customers or $699 (per license) for existing customers upgrading from a previous version of Storyline.
There are discounts for multi-year contracts or more than 4 team members.
Here's a comparison chart of all Articulate Storyline versions and their features to help you choose.
Information retrieved from Articulate and ArticulateSupport on 14th July 2022.
Articulate Storyline Support
Articulate Storyline support is available via live chat and online where you can find help through community forums, training, resources and articles on course building, books, tutorials, and user guides.
Pros:
It has a comprehensive set of features.
It allows you to create courses manually from existing templates.
It has a variety of quizzes and course templates.
It allows you to add various interactions with the content.
It comes with a large library of photos, icons, and illustrations.
Cons:
It has a downloadable program only.
It has one price tier and feature set only.
It is expensive compared to others.
It relies heavily on PowerPoint experience.
It is difficult to use and might need a technical expert to help you out.
Tool #3: Elucidat
Elucidat comes with a beautiful user-friendly interface, modern and easy navigation, which makes it one of the easiest-to-use course creation tools in this list. While it doesn't offer the flexibility to create your own course template, its 25,000 different ones are enough to compensate for that.
Best for
It is ideal for small/medium companies, large enterprises, and non-profit organizations.
Elucidat Pricing
Elucidat has four pricing options: Basic, Team, Enterprise, and Scale. Pricing is a combination of users, learners, and accessible features per plan.
Prices are not public and you need to contact their sales representatives to get a quote.
Information retrieved from Elucidat on 14th of July 2022.
Elucidat Support
Elucidat support is available during business hours, email and live online. Outside of these hours, it has a help desk where you can search for articles written by the Elucidat team that offer advice and answers to most common questions.
Pros:
It is a cloud-based authoring tool and offers collaboration options.
It has a specialized gamification tool.
It fits all screen sizes.
It offers a free trial.
It comes with a rich course template library.
It has a range of support resources.
Cons:
It is lacking integrations.
No public pricing.
Tool #4: Adobe Captivate
Adobe Captivate is a popular choice for an authoring tool and it's one of the top premium ones in the market. Depending on what you need it for, you can use it to create immersive learning scenarios and high-quality online courses. Adobe Captivate is one of the top-rated and most recognized brands.
Best for
It is aimed for use by freelancers, small/medium companies, large enterprises, and non-profit organizations.
Adobe Captivate Pricing
Adobe Captivate has a subscription of $33,99 per month but charged annually at $407.88
Access to Adobe Stock for additional assets comes with an additional $29.99 per month.
Information retrieved from Adobe on 14th of July 2022.
Adobe Captivate Support
Adobe Captivate support is accessed via email. Whenever you need help using the product, you can access their Help Center or their community forums where you can ask other people or professionals for help.
Pros:
It has a clean and easy to navigate user interface.
It allows you to create interactive training courses or videos.
It includes a green screen feature where you can insert your background.
It offers the possibility to create storyboards.
It includes logic and puzzles to projects.
It is frequently updated with new services and features.
It is available on MAC and Windows.
It supports a variety of mobile forms.
It has a PowerPoint integration.
Cons:
It can be difficult to use or overwhelming for new users.
It is slow and requires powerful computers to run.
It is complex with a large learning curve.
The asset library comes at an additional cost.
Tool #5: Lectora Online
Lectora Online (ELB Learning) checks off the majority of the feature points that come with any course authoring tool. Packed up with a responsive design, automated versioning, interactivity, branching, quizzing features and course template options, this tool will prove itself handy for creating elearning content.
Best for
It is ideal for freelancers, small/medium companies, large enterprises, and non-profit organizations.
Lectora Online Pricing
Lectora Online has three pricing plans per authoring suite based on features and usage:
Silver Suite – $899/yr
Gold Suite – $1299/yr
Platinum Suite – $1599/yr
Information retrieved from ELB Learning on 14th of July 2022.
Lectora Online Support
Lectora Online support is available during business hours. Outside of these hours, you can visit the Trivantis community and communicate with other users, check out the blog, or the FAQs.
Pros:
It offers a free trial.
It supports SCORM, xAPI, HTML5, AICC, and cmi5.
It integrates well with every LMS platform.
It is easy-to-use and easy to understand.
It comes with a wide range of editing features.
It integrates with Camtasia and Snagit.
It comes with a variety of templates and other assets for effective course creation.
Cons:
It has some new features that can be quirky with different browsers.
It is one of the most expensive authoring tools in this list
Publishing SCORM, xAPI, cmi5, and HTML is only available on the highest plan
Hosting plans can get expensive very quickly with different learner volumes
Tool #6: iSpring Suite
iSpring Suite offers the quickest elearning solution of authoring elearning training. The ease-of-use and the speed it needs to create online courses are unbelievable. Its newest version – iSpring Suite 9, is built to facilitate content for onboarding, product training, and assessment.
Best for
This authoring tool is great for new entrants who don't need the full authoring capabilities of a more seasoned tool. It is suitable for academic institutions, freelancers and large enterprises..
iSpring Suite & Max Pricing
iSpring costs $770 per author per year
iSpring Suit Max costs $970 per author per year
There are additional costs if you are looking for extra features:
Text to speech $397
Content library $397
Online collaboration tool $770
Information retrieved from iSpring Solutions on 14th of July 2022.
iSpring Suite Support
iSpring Suite support is available 24/7 and live online. On top of that, it has an online community with a range of forum activities and a knowledge base with guides and articles you go through whenever you need help using the tool.
Pros:
It is easy to use, especially if you are familiar with PowerPoint.
It has 24 different training formats and 15 ways to check knowledge.
It allows you to create online courses quickly.
It is an inexpensive option compared to others.
Cons:
It lacks certain capabilities compared to other tools.
It must be used in conjunction with PowerPoint.
It only works as a local installation.
Tool #7: EasyGenerator
Just like its name says, EasyGenerator is super easy to use. It has rich interface options and it is great for use by people who are starting out and have no previous experience in creating online courses. This tool aims to simplify the course creation process to make it accessible to everyone.
Best for
It is ideal for people who have no elearning background. It is up for use by freelancers, small/medium companies, large enterprises, and non-profit organizations.
Easy Generator Pricing
Easy Generator has three pricing plans:
Pro: $99/monthly or $1188/annually (1 author, 10 courses, 100 learners)
Team: $495/monthly or $5940/annually (5 authors, unlimited courses, unlimited learners)
Enterprise: you need to contact Easy Generator to discuss the plan (unlimited authors, unlimited courses and unlimited learners)
Information retrieved from EasyGenerator on 14th of July 2022.
Easy Generator Support
Easy Generator support is available during business hours and offered live online through Easy Generator Live. The tool also has a knowledge base that is full of articles divided by categories for easier browsing, a resources page with case studies and a blog.
Pros:
It is easy to use.
It has a free trial.
It has a drag-and-drop functionality.
It doesn't need coding skills to operate.
It allows you to see learners' results with no extra charge.
It is compatible with most LMS platforms out there.
Cons:
Its drag and drop feature doesn't always work on mobiles.
It is overpriced to start with
It has limited features on its $99 and even jumps to $495 per month just to unlock certificates and other important features
Tool #8: isEazy
isEasy promises to help you create interactive and professional e-learning courses, quickly and hassle-free. Its modern design and interface make it easy to create interactive and dynamic training content that is attractive and engages the user, and all of that within just a few steps.
Best for
It's ideal for freelancers, small/medium companies, and non-profit organizations.
isEazy Pricing
isEazy has four pricing plans available including a free version:
Free: $0/monthly (1 author, up to 3 projects)
Professional: $69/monthly (1 author, nlimited projects)
Business: $200 (2 authors, unlimited projects)
Enterprise: Contact sales for price (custom authors & storage, unlimited projects)
Information retrieved from isEasy on 14 of July 2022.
isEazy Support
isEazy support is available 24/7. It has a knowledge base you can visit whenever you need help using the tool. It has many example courses and demos you can check out, FAQs, a blog with helpful guides and articles.
Pros:
It offers a free trial and has some freemium options.
It supports SCORM.
It is cheaper compared to other tools that include hosting.
It offers discounts for students, educational organizations, and NGOs.
Cons:
It is a bit restricted in terms of templates.
It lacks advanced features of other authoring tools.
Higher plans can get very expensive.
Tool #9: Evolve
Evolve offers an elearning solution that users would describe as top-notch. It allows you to create learning content with HTML5 quickly without losing on its rich quality. What's great about Evolve is that it gives you complete control over your course creation and how it is presented.
*Evolve has been acquired by Intellum in 2019.
Best for
It is ideal for freelancers, small/medium companies, and no
Evolve Pricing
Evolve offers 3 plans offered in yearly installments only:
Standard: $576/yr
Agency: $756/yr
Enterprise: Contact the sales team
Information retrieved from Evolve on 14th of July 2022
Pros:
It offers simulation building
It offers different types of admin access for teams
It offers multi tenancy
It has a flexible builder and theming options.
Cons:
It has limited features
It only exports in HTML5
Tool #10: H5P
H5P is an open-source, community-driven system for creating rich and interactive multimedia for elearning. Thousands of universities, enterprises, school districts, governments and other organizations use H5P to deliver interactive learning experiences.
It offers a number of learning units you can't find in many LMS and you can also adapt it to use as microlearning units. Adding H5P modules to your training material will greatly enhance the content.
Best for
Instructional designers, small course creators, teachers and academics. Elearning developers for businesses may use it to enhance their material but it's not enough as a standalone authoring tool.
H5P Pricing & Hosting
H5P.org offers the tools to create the learning units for free. If you have the coding skills to do some technical work on your own server, you can also host the content yourself and avoid the pricing costs.
For everyday instructional designers without the skills or dev team, H5P.com offers hosting options starting from $67 per month.
Information retrieved from H5P.com on 14th of July 2022
Pros:
It is easy to use.
It is open source and could be customized by the right team.
It offers a big variety of learning units.
It is suitable for microlearning.
It can be integrated to most major learning platforms like Canvas, Blackboard, Moodle and can be embedded on LearnWorlds.
It has a big community base and will be easy to find support.
It supports xAPI.
Cons:
It doesn't allow for advanced units like simulations.
Content types cannot be combined into one file.
It does not export to SCORM, only at .h5p format.
Choosing the Right Authoring Tool
Choosing the right tool to create digital learning is essential for every instructional design or course creator. Authoring tools come in various prices and with different features, but they have to also be compatible with your delivery method (LMS).
Make sure to note your requirements and evaluate each authoring tool based on them before choosing one. For example, many authoring tools still do not support camera or screen recordings, which is a requirement for some training.
If your tool of choice offers a free trial, take advantage of it and see how intuitive it is.
FAQs
What are authoring tools?
Authoring tools are software used to create e-learning content. They can be used to create different types of content, such as videos, quizzes, and simulations.
What are authoring tools examples?
Some examples of eLearning authoring tools are Articulate Storyline, Adobe Captivate, H5P, and iSpring.
What are the most popular authoring tools?
The most popular eLearning authoring tools are Articulate Storyline, Adobe Captivate, Lectora, iSpring Suite, and Easygenerator.
What are the 3 types of authoring tools?
There are a variety of e-learning authoring tools available on the market, but they can generally be divided into three categories: those that are standalone, those that are integrated into Learning Management Systems (LMS), and those that are cloud-based.
What is the difference between authoring tools and traditional word processors?
Authoring tools are specifically designed to create e-learning content, while word processors are more general-purpose software used for a variety of tasks such as writing papers or reports. Authoring tools offer features specifically useful for creating e-learning content, such as templates for different types of courses, wizards that walk you through the creation process, and ways to easily add multimedia elements like videos and quizzes.
(Visited 8,802 times, 1 visits today)
Kyriaki is a Content Creator for the LearnWorlds team writing about marketing and e-learning, helping course creators on their journey to create, market, and sell their online courses. Equipped with a degree in Career Guidance, she has a strong background in education management and career success. In her free time, she gets crafty and musical.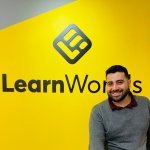 Nick Malekos is a Senior Digital Marketer in LearnWorlds. He is a results based and well-rounded Digital Marketer with years of experience in the education industry, writer and digital literacy trainer.