Why should you create an online course?
The growing knowledge economy is the best proof that the demand for online courses has increased. It is without a doubt a booming market worldwide – and research statistics prove it.
As recent data finds, the global e-learning market is going to reach $325 billion by 2025. This is evident through the Compound Annual Growth Rate (CAGR) of 7.5%, which shows an increasing demand for online content and digitalization. A few reasons why:
Businesses from varying industries have started adopting online training solutions, taking advantage of the versatile and powerful online course platforms that the eLearning market has to offer. Moving their training online saves them time, money, and trouble.
Young people are turning their backs on traditional academia and the infamous loan debts that come with it, opting for online education offered by reputable educational institutions, often directly from course marketplaces like Coursera.
People prefer the comfort and flexibility of their homes. The desire to avoid commuting to physical classes or to follow a specific course schedule has further contributed to them exploring new ways of developing their skills online.
Both young and older demographics are seeking to invest in lifelong learning – eLearning is an affordable solution to enhance their resumes or pursue personal development goals.
And, why not, right?
From the course creator's point of view, selling online courses generates a source of passive income. Online courses are relatively affordable to create, take less time, and don't involve any shipping costs. All this while you have a product that can be sold unlimited times.
This guide explores everything you need to know about creating and selling a profitable online course from start to finish.
We're diving deep into the course development process, available choices to host your course, business models, and types of courses to consider, and we're also sharing many, many tips on marketing from structuring your sales page to using offline and online marketing channels to promote it.
Why Create & Sell an Online Course?
Whether you're a coach, an entrepreneur selling a product or service, or knowledgeable in a job-related field or any type of skill (like painting or nutrition), selling an online course can help you in multiple ways:
Enhance your online brand
Perhaps you already have a YouTube channel, a blog, or a podcast, or you're an up-and-coming coach or keynote speaker in industry events. Sharing your knowledge and expertise through an online course will help your audience know more about who you are and what you stand for.
Educating your audience can establish you as a thought leader in your field and boost your personal branding. A strong, distinguishable brand is the foundation for everything that you want to achieve: more revenue, customer loyalty, recognition, and a profitable business that outshines the competition.
Create a loyal following
As you market and promote your online course, you're also promoting yourself. More people hear about you and discover how you can help them. Apart from that, a successful course is an effective way to build a connection with your audience and turn them into loyal, repeat customers. Why? Because it significantly increases the value they get out of you, be it your product or service or the skills you can teach them.
Increase product adoption
One of the major concerns, especially in the SaaS industry where products and services can be pretty complex, is finding a way to get customers to start using the product, then integrate it into their lives.
A high-impact customer education program helps you successfully onboard new customers and show them all the ways they can use and benefit from your product, thereby increasing product adoption and customer satisfaction at the same time.
Generate passive income
An eLearning course is a product you create once, update regularly, and sell for a really long time without having to start all over again. Pretty neat, right? Plus, you don't need to spend a fortune to start creating your course (you can even get sponsorships for financial support), nor do you need to quit your full-time job.
Course creation is an excellent side hustle that can start even as a hobby. But if it goes well – with smart marketing and quality content – it can turn into a decent source of passive income and even your new full-time occupation.
Help your audience reach their goals
Don't underestimate what your course can mean to other people, and how sharing your expertise can impact their lives. Your course can be the opportunity they'd been looking for to pick up a new hobby, boost their career, work towards personal development, build confidence, or simply have some fun exploring a topic they love. Your course is what will bring them closer to their goals, and make them happier!
These benefits are hard to overlook. There's definitely a lot more to gain than lose from creating an online course – it's a low-cost investment with minimum risk and high earning potential. What's stopping you?
How Can You Ensure Your Online Course Will be Profitable?
According to a new research report by Global Market Insights, the eLearning Market size is set to cross USD 1 trillion by 2028. That is quite the hype.
But how can you successfully join and become one of those six-figure-income course creators?
Whether your course will be profitable or not depends on several things, from how popular your course topic is to your audience size.
Let's see some of the factors that come into play for a profitable online course:
Level of expertise
Training content (blog posts, books, videos/vlogs, audio/podcasts)
Size of your audience/email list
Audience income
Market size & competition
Your marketing & sales skills
To make good money selling courses online, it's not enough to have quality content or be a top expert – unless you're instantly recognizable. You need people to know about it. In other words, you need to invest in marketing and sales strategies. This is the reason we've created this extensive guide on how to sell an online course, where we present you with all the know-how on making a profit out of selling online courses.
Having a strong presence online, an engaged social network or an email list are big advantages. They can help you have a great course launch. But, just like Rome wasn't built in a day, it takes time to attain a loyal audience, and when you do, you will need to keep investing in maintaining it.
The more people are aware of your brand's name and the product you offer, the bigger the profit you will get out of the sales. Gradually, when you start building your own online tutoring empire, you will get a better hold of this.
How to Create Your Online Course
Whether you are creating an online learning course to teach a language or other skill, coach people, or offer professional certified training, there are some steps you can follow to make it easier.
Here is a quick overview of what you'll need to do:
1

Choose a Course Topic

Finding the topic for your course shouldn't be a struggle at all. Surely you have several course ideas to choose from, but you need to choose something you know in-depth and are passionate about. It's also important that you choose a popular topic, something that will draw people to your course.

If you don't already know what to teach, then take a look at your everyday reality and ask yourself the following questions:
Do your friends, customers, and colleagues ask for your help in a specific thing that you are considered an expert?
Have you solved a problem that you think others are struggling with?
Are you an expert on specific software or a method that others want to use?
You can also:
Get your audience's opinion: if you have an email list or social media following, prepare a survey with a list of potential course topics, asking your audience to pick their favorite. This should help you decide which one is most in demand in your network.
Invest in your expertise: if there is a subject that you 'own' and have expert knowledge on, whether you have received professional training or spent years practicing, that could be an excellent place to start.
Do online research: not sure if your course will attract an audience? Browse course marketplaces and relevant social media groups to see if there are already any courses offered, registration numbers, and comments in the groups. This should give you a good idea of the popularity of your topic.
2

Research Your Audience

Figure out who your intended audience is and what they need. This information is essential to create a useful course, with content your learners will enjoy, and, at a later stage, to put together an effective marketing strategy. Applying the same methods as when researching your topic, this is what you need to know about your audience:
Key demographics (age, occupation, interests)
Goals & challenges
Other solutions they might be considering
Knowing their pain points, for example, or potential alternatives they might be considering will help you proactively address their objections and create a compelling offer. If you're addressing busy employees, you can emphasize that your course is bite-sized and that you also offer it on a mobile app for easier access.
3

Create a Course Outline

Start the online course creation process with a comprehensive course outline. This should help you divide the course into modules and add the content strategically to create a smooth learning journey for your learners. A course outline includes the following:
Course name & description
Learning objectives
Learning activities per module
Optional and supporting material
Assignments & final exams (with due dates where applicable)
Live sessions (if any)
4

Set Your Learning Goals & Objectives

At this point, you will need to write down your learning goals and objectives. Learning goals are the general statements that you create and define what your course is all about and what it can do for your students.

Learning objectives (also known as learning outcomes) tend to be more specific and measurable in terms of what you expect your students to learn and be able to do once they complete the course.

Apart from helping you to concentrate your content creation efforts, setting learning outcomes can help you come up with great sales pitches for your course. Using the learning objectives, you can communicate to your audience the benefits of the course and help them decide whether to invest in it or not.

Added to that, learning outcomes can also help you:
Choose and organize the course material
Align objectives with evaluation methods
Set up expectations for your learners.
🎯 Learning goal example: Improve your English.
▶️ Learning objective example: Identify false friends between English and Spanish. Use all the tenses correctly. Enrich your everyday vocabulary.
You can see how learning objectives paint a clear picture for the learner and give you direction. Learning goals, on the other hand, sound more like a vague promise and don't really offer a starting point to begin building your course or specific topics to focus on.
5

Create the Content

The next step is to create the course content. Based on the lesson plan and the activities you have planned to include, you will need a variety of media productions for your course. Experienced trainers and educators can easily create a course from scratch. But, the best approach to launching your online academy is by repurposing your old content.

If you have ready-made content at hand, you can evaluate your ready-made digital material. For example, do you write a blog? Have you recorded your last workshop, training, or webinar? Good – because quotes from your blog can turn into infographics or scripts for your videos and webinar recordings can be broken down into video lessons!

Reusing old content is a good starting idea, especially if this content hasn't been yet seen by many eyes.

Popular types of content you can use:
Video content (from video lessons to YouTube videos)
Audio content (like podcasts)
eBooks, interactive PDFs, and Slideshows
Quizzes
You can always create new content to enrich your course. Besides, with so many AI writing tools to assist you, you can significantly speed up the process and get some awesome ideas at the same time!
Where to Sell Your Online Course
You've got more than one option when it comes to hosting and selling your online course. Here are the 3 most popular ones:
Your own Website
If you already have a website – and we're going to go on a limb here and say it's a WordPress site – you can install a WordPress LMS plugin and self-host your online course.
Pros: Most LSM plug-ins are feature rich and support tons of add-ons to create your course as you wish.
Cons: The final cost can be hard to calculate or go off the rails due to the multiple add-ons; plus, this option requires some level of tech-savviness.
Course Marketplaces
Course marketplaces, like Udemy and Skillshare, enable you to upload your course and sell it through their platform.
Pros: You'll get high visibility with no effort on your part to market your course.
Cons: Course marketplaces get a huge cut of your income (as high as 67% on Udemy). There's no option to allow your brand to shine or get your students' contact information.
Online Course Platforms
LearnWorlds, Kajabi, and Thinkific, to name a few, are popular course platforms that enable you to create, sell, and market your course all from one dedicated platform, through your own branded website.
Pros: All-in-one option that integrates with third-party tools to enhance functionality, ability to promote your brand with white labeling and connect with your audience through built-in communities, and to track your academy's performance with analytics.
Cons: Some level of tech-savviness is required. Most platforms often focus on marketing and fall behind in educational features.
👉We've singled out the best online course platforms to create and sell your course.
4 Business Models to Consider
If you have decided to join the creator economy, we're excited to tell you that there are several business models that could make this work for you depending on the scope of your course and your preferences. Let's take a look:
Self-Paced Courses
This is one of the most popular business models, as learners have traditionally linked eLearning to flexible and self-directed education. If you go with this option, your course won't have a start or an end date.
Learners can join at any point and finish the course at their own pace. If you want to add some structure, though, you can still drip-feed the content or set prerequisites before they can access a new lesson.
Membership Site
With this option, learners expect to get access to new content on a regular basis and possibly attend some live events and join a vibrant community. The scope of this business model is to secure a steady income for you and strengthen the bond with your following.
Cohort-Based Courses
Online learning can be lonesome and uninspiring, but not with this model. In this case, a group of learners advances together through the course with live sessions and joined activities. Choose cohort-based learning for academic courses and corporate training with an increased difficulty level.
This is also an excellent option for coaches who want to start selling coaching online, whether through one-to-one or group sessions, as it helps maintain regular contact with the client and offer quality services.
Hybrid/Blended Courses
Hybrid and blended learning are often used interchangeably but they have their differences. In a hybrid classroom, some students attend the physical class and some attend remotely. In a blended classroom, most of the learning will take place in the class and is supported online with additional resources. A good option for academic learning and any sort of training that requires hands-on practice.
7 Popular Types of Courses to Sell
In this section, we discuss some of the most popular types of online courses you can offer. Promoting our course as a specific type of online course will help you market it more effectively and attract attention from different audiences. To see the extended list, read our post "Accelerate Course Design with 18 Proven Course Templates."
Orientation Course
An orientation course is an overview of all your courses in one. This is a smart way to draw people in, showcase your offerings, and create anticipation for upcoming courses.
Mini-Course
A mini-course is packed with educational value and is often a short version of a long-form course. Mini courses are an excellent lead magnet.
Bonus Course
Similar to the mini-course, a bonus course is usually pretty short but still valuable. It can be advertised as an extra offering accompanying a long course and is offered for free.
Workshop
Workshops are fun and incredibly immersive. Invite your learners to a live session to create something together or record yourself performing a task.
Professional Training/Academic Course
We've grouped these two types of courses together because they bear many similarities, namely:
They follow a strict structure and are often drip-fed
They lead to a certificate of knowledge
They are heavily assessment-based
Challenge Course
Another popular type of course, a challenge course invites learners to complete an ultimate challenge taking small steps, reaching milestones, and receiving awards (like badges) along the way.
Invited Talks
Invite experts to talk and educate your audience. Top experts and influencers will bring in their own following and help, in turn, your brand to become more recognizable and respected.
How to Price Your Online Course
"How much should I price my online course?"
This is one of the most common questions every course creator asks themselves. Finding that sweet spot where your course price is competitive but still generates profit seems like an elusive quest!
It's critical to get the pricing of your online course right. Pricing it too high may result in people not buying from you. Pricing it too low and you won't be making a profit. The right price will play a huge role in increasing your conversion rates.
Here are a few factors to consider to get the pricing right:
Course length & content: think about how long your course is and the content it offers. A 2-hour course that consists of video lessons with AI voice-over can't be compared to a 5-hour course filled with videos from a real instructor and tons of supporting material and resources.
Competition: are there any other courses offering the same classes as you? If so, how much do they charge? Are they more established than you? You don't want to stray too much from the average pricing, but if you're competing against giants you need to set a competitive price to get the ball rolling.
Value & impact: your course price should reflect its value and potential impact on learners' lives. What is the purpose of your course? Will you teach your audience how to knit and pass the time or will you teach them how to close lucrative sales pitches and skyrocket their career? The bigger the potential impact and transformation, the higher the price.
Brand, credibility, and authority: your price should be worthy of your expertise and authority. How powerful is your brand? Do people already know and trust you? Then you should be able to set a higher price than the competition.
Market demand: if the market demand is low, this means that the need for your course is not urgent, therefore people won't be willing to pay a lot. And unless you're an authority figure, it's going to be pretty hard to convince them otherwise. If it's high, stay within the average range.
Cost & quality: this is a purely practical consideration, but if you've made quite an investment to build your course, then this should be reflected in the price. Besides, if you've invested in professional video software, graphic design tools, and a course creation platform, this automatically increases the quality of your course.
Certificate: are you awarding your learners with a certificate upon the completion of the course? A certificate validating their knowledge & skills offers multiple benefits for the learners, especially careerwise, and justifies a price pump.
Desired revenue: setting an income goal helps to calculate total earnings. How much are you looking into getting out of this? Be realistic with your expectations, but don't undervalue yourself.
At the end of the day, we advise you to not lowball your pricing because: "Your course is worth much more than you give it credit for. An online training course is the amalgam of your work and life experiences, years of learning, and education."
Pricing tiers for courses
1

Free

Offering a free course is an excellent way to showcase your expertise and get people to trust you before they invest in your long-form courses. If you're a new course creator, consider creating a mini version of your full course to warm people up and start building your email list.

Another occasion to offer a free mini-course is during a pre-launch to give the chance to potential customers to preview the course and decide whether they want to go full access and pay for more. In other words, you can use it to attract customers and upsell a more expensive course.

Other reasons to offer a course for free:
Generate leads & boost brand awareness.
Offer a bonus course as part of another purchase.
Do beta testing.
2

One-off payment

Setting a fixed price with full access to the course upon payment is the simplest and most straightforward way to offer an online course. Make sure to offer several payment options (e.g., via PayPal).

This pricing model works well if you sell separate courses or digital downloads. You can also offer installments, especially if you want to sell bundles.
3

Subscriptions (recurring payment)

With subscriptions, you ensure a monthly/weekly recurring income that you can rely on. Subscriptions work well for membership sites that provide gated content to subscribers only, but this means that you'll have to create new content regularly.

You can set different access levels depending on which content your audience is interested in the most and how much they can afford to pay. For instance, some may want access to video lessons only, while others might be interested in live events and exclusive offers.
4

Premium

For premium courses, you can charge your customers more and consider using payment plans (installments). You can go premium when you offer exclusive content or more advanced courses leading to certifications.
How to Write a Compelling Online Course Title
A great course should have an awesome title. Without exaggeration, something as brief as a title has the power to make or break your course.
Why?
The title you create determines whether a potential learner will click on the online course or not. A compelling course title has to be able to catch someone's attention, communicate the learning benefits, encourage people to learn more about your offering, and also work well for SEO purposes so that it shows up on Google search engine results.
Other than that, these are some great advantages that a popular course or training title offers:
Brand recognition
Differentiation
Learning objectives & expectations
Coming up with an effective title is pretty easy. However, if you need help, the following formula can help you create yours:
Use popular search queries: conduct your search on Google and see what comes up in terms of keywords and phrases (shown at the bottom of the Google page and the number of times they appear in results).
Specify your audience: make sure you know who you are addressing here. Obviously, your whole course is dedicated to a specific group of people. Think about what their characteristics are and what they expect to see in your course.
Keep it short and simple: a title doesn't have to be too long to make a point. On the contrary, short and straightforward ones that can explain what the course is all about can do the trick better.
You can find the most successful formulas for writing a course title in our relevant blog post, but, here are some examples to help you get started:
How To [____] in
How To Rock [____]
How To Make A Strong [____]
How To Create [____] That Gets [____]
How [____] Boost Your [____]
The Dummies Guide to [_____]
The Expert's Guide to [_____]
A Complete Guide To ]____]
Ultimate Guide: [____]
The Secrets of [Your Topic]
[Your Topic] Revealed
[Your Topic] 101
[Result/Goal] in [Amount of Steps]
All of these course title examples have something different to say. Their message can get across to your audience in a unique way. Whether students will become interested in it or not, depends on their individual needs first and firstmost. However, it also comes down to how you will structure your online course, how you will position it in the right context so that it works well with your online school, and what you need your brand to project.
Building a Successful Online Course Sales Page
The page that will sell your course, by persuading the visitors of its value, must describe your course, show its value, and motivate visitors into taking action.
The sales page also includes a series of call-to-action points that are placed throughout the page. The goal of these calls to action is to encourage site visitors to complete specific steps. These CTAs help to drive more people through the sales funnel, bringing them closer to buying your courses, which is also the main purpose of your online course page (also known as a "landing page.")
Most straightforward sales pages will push toward buying, while other sales funnels might include lead captures (e.g., to download an eBook or a checklist), watching a video first, or pre-registering for a course.
Depending on what you are after, you can choose what sales page you want to use. There are a few types of sales pages that have basic differences:
Lead generation page: this is the most common page type used for B2B marketing, known as 'lead generation' or 'lead capture pages', that uses CTAs to collect lead data such as names, phone numbers, and email addresses.
Click-through sales page: this is a sales page that includes a simple button as the call-to-action point.
A

How to Create a Sales Page

A sales page requires two things: persuasive copy and eye-catching web design.

To write the perfect copy, you will need to understand your audience, what they are looking for, and how to convince them.

Specifically, you need to answer the following three fundamental questions about your course:
Who is this course for?
Identifying your audience is key to writing effective copy and targeting the right people who are potentially interested in your course.
Answering this question will force you to think of your customer persona, which can be a powerful instrument in your marketing efforts. A customer profile includes a collection of characteristics, demographics, attitudes, goals, challenges, and behaviors that create a fictional "average" character for a group of your audience.
Using your customer persona effectively requires that you ask yourself the following:
How to find/approach my audience?
What should I write?
Would this page make sense for my audience?
Would someone buy my course?
If yes, how much are they willing/able to pay?
Once you answer these questions, go back to the customer persona you created and handle it as a real person. Naming your customer persona can help you put things in a realistic perspective. For example, would 'Mike' or 'Sarah' buy my course or understand this page? If the answer is yes, then you are going the right way, if it is no, then you will have to rethink how to talk to them.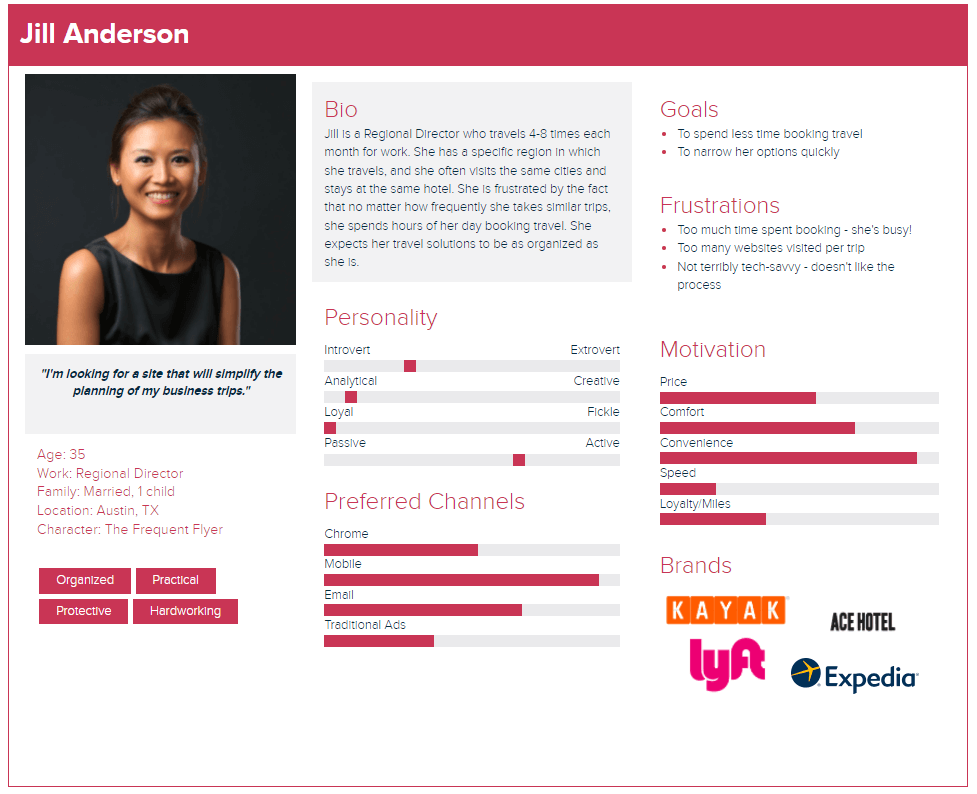 Example of a customer persona from
Xtensio
What does it help them do?
Next, think about what kind of solution you are aiming to provide to your customers. The more details you give about the solution, the better it is for them to understand what kind of services you are offering.
At this point, it is important to articulate clearly what kind of goals your course can help your audience achieve. For example, "By taking this course, you will learn how to organize your space and manage your time better, and become more productive in your work, and life achieving greater balance."
Why is this course beneficial for them?
Your marketing message should make sense to your site visitors and needs to answer why it matters to take the specific course.
Ensure that whatever you include in your sales page is relevant to your target audience, including subjects of interest for your potential customers (such as emails, blog posts, online courses, and more). This should help you list all the benefits students can get out of your online course and include these benefits in your content strategy plan.
For the design of your sales page, LearnWorlds' powerful Website Builder provides ready-made, beautiful landing page templates that are easily customizable. No need for technical headaches or hiring a web designer to create your landing page.
A very good example of a home page created with LearnWorlds all-in-one LMS by Raincatcher's Sell By Owner, including a catchy headline, introducing the whole concept with a short video and customer testimonials to reinforce their image.
Marla DiCarlo – CEO of Raincatcher says: "The copy [of the landing page] should be short but to the point, directing them to other pages to help them understand what we are selling and whether our product is a good solution for their needs. The messaging and formatting should be consistent throughout all pages to showcase professionalism."
B

The Ingredients of a Successful Sales Page

When working on your sales page, you need to take certain factors into consideration to make sure that no visitor will turn their back on your services, but would rather stick to it and find out more about what your school has to offer. What you are after is getting their attention through the use of context that has a certain clarity and balance.

Along those lines, your online course's sales page should inspire credibility and a sense of continuance, encouraging people to keep coming back.

For better results, consider using the following page ingredients:
Brief value-focused headlines
A good sales page should have a heading at the beginning of it with large and bold text that gives visitors an idea of what they will find on your page. For a course sales page, using just the title of the course won't suffice. A better approach would be to briefly state significant benefits that the potential learner will gain when joining the course.
A catchy title on your sales page is most likely to stimulate the customers' interest in wanting to find out more about your services. Your headline must predispose the reader positively based on their needs and wants, as well as promise them an intriguing result if they stick around and read what comes next.
They have to immediately know where they are and what they are getting in return. For example:
"Painting for beginners: Learn to draw in 3 weeks"
"Get certified as a professional nanny"
"Improve your health with a better diet"
"Learn how to sell courses online like a pro"
"Start your eCommerce business using WordPress in 3 weeks"
Action words and phrases
When visitors enter your sales page they need to be engaged, excited, and drawn into your courses. Your best friends on such occasions are power words and phrases that can build their motivation to learn.
Verbs and words that predispose action are working best. Words like "discover", "emerge" and "explore" are bound to make them feel like they are part of the e-learning experience you are offering, while words like "learn", "do", "improve," and "start" can prompt them into action.
Social proof with testimonials
Since what you are selling is in digital form (and not a tangible object), you need to provide social proof that you are a trustworthy authority on your topic. Your testimonials can really come from anywhere — emails, tweets, Instagram posts or comments, blog posts, etc.
Whenever a customer talks positively about your courses you definitely want to add that commentary on your landing page. Using logos of reputable publications where your school and courses have been featured can be a huge plus.
Engaging media
Any visual cues that direct site visitors to the CTA buttons and images you use on your sales page can get them right into your sales funnel. Visually beautiful graphics, infographics, short videos, or any other kind of persuasive media that show insights into the results that your online courses have achieved can offer immense power to your sales page.
Also, the addition of customer badges, color-contrasting CTA buttons, and a 100% money-back guarantee can do wonders.
Images are processed in our minds faster than text, so supplementing your course's sales page with media can enhance your message. Visual representations of the course's value are very strong!
Video
A short (1 to 2-minute) video that explains who you are and what you do can work perfectly on your sales page, offering a greater impact. Any type of video ranging from the emotional appeal, news/commentary, testimonial, or "behind the scenes" helps by providing a nice preview of your course and explaining to people what your school/course is all about.
Different types of videos you can use to welcome students and sell the course:
Emotional appeal sales video: helps potential students 'hear' you or 'see' you and experience a deeper connection through the message on the video. In this video, you can speak about yourself, your story, your background, and your expertise.
News, reviews, commentary: share up-to-date information, voicing your opinion on industry news. Don't be afraid to comment, explain or review news to increase the chances of being on top of searches for current events.
Testimonial video: have some students do a testimonial video for you explaining how they benefited from your course. In contrast to written testimonials, video can give the 'real feel' to it, without the doubt of 'faking' recommendations.
Behind-the-scenes video: a video that can include cut scenes of possible mistakes in the editing process can give a lighter mood and a more personal feel to your sales page, thus making it friendlier to the page visitors.
💡 If you don't feel comfortable with the camera, these tips from successful YouTube creators will do the trick for you!
Testimonials
Students' testimonials and quotes are powerful marketing tools and have a proven record of success in the market. These can help you enforce your personal brand and build your credibility in the online world. That's because learners are more likely to trust other learners.
Any testimonial or feedback review can help to position yourself as a true entrepreneur, which is your ultimate goal, proving that you have something unique to offer to the public in contrast to others.
These ingredients along with a simple and elegant design that includes both easy-to-use drop-down menus, and lead capture forms that work and allow site visitors to leave their name and email addresses can strike the right balance on the content and design you need for a successful sales page.
💁 Tips
Put the important stuff first
Internet users have the tendency to focus on what they see first on a page and skim the rest of any page's content. In that sense, your best shot is to put every important aspect of your course and services on the top of your landing page for everyone to see right upon loading.
Use an "About Us" page
As part of your sales page, you also need to consider creating an "About Us" page. Ideally, this is another type of landing page that helps site visitors better understand who you are and what you have got to offer to the wider public.
C

Examples of course landing pages built with LearnWorlds
Well Learning Library by Chromatic Content
This school offers online courses on health and wellness education for occupants within a building space. Their landing page addressing organizations and corporations includes a mixture of benefits, reasons to subscribe, and different calls to action.
ADK Program
Marcela's ADK Program is directed to marketing professionals in Mexico and is a perfect example of a multiple CTA landing page. The page is broken into different sections and starts with a video soon after her title. She includes a call-to-action after each different action-free course, different levels of paying programs, and subscriptions.
European Tourism Careers
A collaboration of European universities and local authorities to provide online courses for tourism SMEs. This landing page is an example of a corporate page with high authority partners at the bottom to instill trust.
Chapter
Chapter is a one-stop mobile learning app for job security retraining. Their sales page is a great example of leveraging video as a powerful communication channel to attract visitors' attention.
How to Market & Sell Your Online Courses Step-by-Step
As soon as you have your course's sales page ready, you can launch your online academy and start selling!
Marketing is essential for any business as it helps to attract potential customers. This couldn't be any different for your online school – marketing can increase your academy's visibility by attracting more visitors and potential clients.
The profitability of your course rests upon your marketing and sales efforts. You will need to use all the resources available to promote your course as much as possible.
That is, if you want sales coming your way, you need to walk the extra mile and start promoting your course. Doing so is necessary, but you must learn how to do it methodically. This is where the sales funnel comes in and helps to understand the process of attracting customers and bringing them closer to you.
A sales funnel is a multi-step process that turns your website's visitors into buyers. The graph below shows how the sales funnel guides your potential buyers (learners) through a specific path that ends with them making the decision to enroll (or not enroll) in your course.
The sales funnel takes prospective customers through the following steps:
Step 1 – Awareness: when potential students first become aware of your course, which offers a solution to their problem. If you're new in the market, this is where you will need to focus on – getting your course the attention it deserves.
Step 2 – Interest: when you attract the interest of the potential customer. They get to know your business and digital products and look more into the offering.
Step 3 – Decision: at this stage, potential buyers are trying to decide whether to buy from you or not. A sales page is essential to facilitate all the previous steps, but most importantly in the decision phase, where it helps the visitors to make a decision.
Step 4 – Action/Purchase: this is how smooth your sales funnel becomes after they click on the "buy" button. How compelling your checkout process and page are, as well as how trustworthy your site looks, will help them complete the purchase.
Understanding the structure of the sales funnel is essential because you will have to create yours, introducing marketing tactics that work for your business. A sales funnel describes the whole process from awareness to purchase.
Generally, there are five ways in which you can bring traffic to your sales funnel:
organic traffic from search engines (through SEO)
paid traffic from ads (such as Facebook and YouTube ads)
social media traffic
email marketing, and
referral traffic coming from various websites mentioning you, affiliates, students, and business partners.
As this traffic converts through each stage of your sales funnel, you should be ready to handle purchases from anywhere in the world. However, it is essential to keep track of the results of each specific channel, so you can have an overview of your investments.
Thankfully, tools like Voluum help you optimize your campaigns. This may include charging sales tax, VAT, or GST, depending on your customer's location. Using a tax compliance automation tool like Quaderno will ensure your business stays tax compliant wherever you're selling.
Leverage your network
A powerful way to gather traffic is to leverage your contacts and build your network starting from the people who are closer to you (e.g., family, friends, co-workers, business contacts/partners, affiliates, or students), who can talk about you to others offering you referrals, product reviews, or conducting podcast interviews discussing what you do.
Organic traffic
To attract more people into your sales funnel, create course content that your audience will find valuable and useful. This can be done through organic traffic – either through a blog, a YouTube channel, or creating podcasts.
If you have a budget you can work with, invest in paid traffic (e.g., Google Ads, YouTube Ads, Facebook Ads, Banner Ads).
Organic traffic and SEO are long-term strategies. While you can invest early on it, it will need months to drive traffic to your website. Creating great content should be your first concern, so use the content in your funnel and make it SEO-friendly from the get-go.
Manage your social media for traffic
You can also gradually start building your followers list on social media – Facebook groups, Instagram, Pinterest, other groups or forums, or any online place where you can easily communicate with them. This is known as social media traffic.
You can offer prospective customers an incentive to sign up on your email list. Your goal is to build trust between you and customers and create an email sequence that leads them to purchase your course. In your email sequence, you can start by talking about the problem you're solving and then slowly introduce your course.
Alternatively, you can create a webinar and follow a similar format where you start by giving out value before you talk about your online course.
Prepare attractive offers
Some marketing tactics can help you bring potential students closer to making the purchase decision. Psychological tricks like scarcity, FOMO, countdowns/pre-launches, and loss aversion, among others, do the trick when used alongside an effective sales strategy.
You can implement these techniques in your sales through
coupons
discounts
course bundles, or
by editing your sales page to work with seasonal offers or discounts you may have.
With coupons, you can share a range of discounts and special offers at different percentages and prices. You can send the coupons to the contacts in your email list, submit them to different websites for offers/discounts, or share them on your social media pages/profiles or groups.
Also, you have the option to time-limit your coupons and create multiple coupons with the same offer and a different name or occasion (e.g., a 10% discount for current students and a 10% discount for the audience of a blogger/influencer). You can even create super discounts (e.g., 90% for the next 24 hours or free courses (100% discount)) to collect new leads that will pay for their next course!
With discounts, you can lower the price of your courses. Doing so can help you do the following:
Increase your short-term sales
Reward/upsell to loyal customers
Promote new courses or get new students (customers)
While it's not wise to keep discounted courses all year long, LearnWorlds gives you the option to do what you prefer and control your prices and discounts. Still, our experience shows that premium pricing is the best option, with discounts being only a marketing/sales tool.
Lastly, course bundles allow you to upsell your courses. Upselling means that you can convince people to buy more than they intend to do so. For example, let's say you want to buy a t-shirt for $20, but the store employee tells you that you can have two t-shirts for the price of $30 instead of $40. If those t-shirts cost the store $5 each, they have just earned an extra $5 because they convinced you to buy both of them!
This is what course bundles are for. If you want to give it a go with bundles, get a few together in a category such as a "Life Skills Bundle" at a discounted price. If you bundle together 5 courses x 50$ each, you can offer them for a discounted price of 200$, and there you have it! You have just sold five courses at the price of four instead of one.
💁 If you want to learn how to do this yourself, read our very own guide on How to Create a Course Bundle.
Create an effective call-to-action:
Call-to-action points are worth all the money because, from there, the sales funnel starts the real work. Thus, they deserve some more attention. In order to get call-to-action points right, you need to remember the following:
Talk to them in their language
Target their needs and wants
CTAs are all about conveying your message in a way that encourages an action, e.g., clicking on the "buy button" is called Call to Action (CTA). In theory, this sounds much easier than putting it into practice, but we have prepared some examples and templates for Calls to Action that are ready to be used in your online school.
Another call-to-action format that can prompt someone to take action could be a short message, a few words, or a phrase that encourages site visitors to click on it.
Powerful words you can use include:
Use these action words in combination with your online course's title and the desired result (what students can potentially get out of it). This tactic will help you create effective lead captures. For example, you can come up with something like this:
Get the only course that will teach you how to be rich
or
Join the training program and be fit in 6 weeks
The desired result is the ideal solution that tells students how they will do something in a given time or deadline and can attract the right amount of attention and action.
Your CTA should be the catalyst for a good sales page. However, sometimes a simple landing page with just the CTA can work out well. The best way to do this is to test what works for your audience. After testing, don't be afraid to change your text. This, along with marketing copy for your course, could take a while. Your call-to-action can always be improved and lead to better conversions later.
Lead magnets
Not all customers are ready to buy immediately upon visiting your pages. This is the reason you will need a sales funnel that will push them to go step by step toward the process.
Lead magnets are on the top of this funnel. They are the little "gifts" (free resources) you will be giving your visitors in exchange for their email addresses. In essence, a lead magnet is a quickly digestible piece of useful information, and the first step toward your sales funnel, as it will help you build an email list.
There are a lot of different lead magnets you can use:
Free courses
Ebooks
PDF downloads
Checklists (toolkits, resources, steps into a process)
Templates
White-papers
Optinmonster has an exhaustive list of lead magnets you can use. Choose one that makes sense for your audience.
Keep in mind that a lead magnet is not only about getting an email address. It has to solve a problem, provide valuable information, and demonstrate your expertise at the same time.
For example, if you are selling a course on a Cooking Masterclass, you might want to create a free course on "How to make chocolate chip cookies".
The LearnWorlds Academy is a perfect example of this, why don't you take a visit to one of our many free courses?
Email marketing
Email marketing has four times the return on investment (ROI) compared to any other marketing channel. 2.6 billion people worldwide are still using emails, and the reason for this is that emails are more direct, personalized, cost-effective, and transactional than any other type of communication.
The use of email, especially in online business, can help in generating amazing results. To start using email marketing, the first thing you will need is an email list. Building an email list to sell online courses is easy. You can use all the tactics we have already mentioned, especially lead magnets, to nurture those leads into happy customers.
One thing you should know about email marketing is that success depends on the quality of the messages you send rather than the quantity. Your marketing tactics need to be carefully chosen and developed.
One of the most effective email marketing strategies is sending out newsletters. When it comes to newsletters, two things are certain: they are the most common and easy type of email marketing to compose, but they are also the most difficult to get right.
Creating your first newsletter
A newsletter is an email containing informative material. It can range from a new article on your blog, interesting information about your company, or information from other sites that interest your audience.
Ask yourself
Would an email newsletter work for you?
You will need to have something new every week or month or on a specific period and create content quite often. Newsletters require good writers, who like to write, and an audience who likes to read. Think about your strengths and your audience's wants and needs.
Choose the type of newsletter
Would you share your own content (blog posts, thoughts, course updates, etc.) or a collection of others' content?
Will the newsletter invite your readers to events or webinars?
Is it more educational or informational?
Offer value before the promotion
Follow the 9:1 rule. Give your readers 9 times more educational and informative content than promotional. Give value first, before asking for something back from them. However, avoid spamming them with too many emails or too much content. Don't forget that unsubscribing is just a click away.
Inform your audience
As soon as you have set up a focus point in your newsletter and kept its content balanced, the next step is to properly inform your target audience about your content or the promotion you want to offer.
An excellent way to do so is to have a subscription section on your landing page(s) or a dedicated landing page for it. Your call to action needs to set expectations and let potential subscribers know exactly what your newsletter contains.
Create intriguing subject lines
Let's be honest, everyone is sick and tired of generic email subjects "Company Newsletter: blah, blah, blah". A much better approach is to create a separate, creative, and engaging subject line for each newsletter you send.
Questions and personalized subject lines, for example, can work well, and most email marketing automation tools will allow you to add the name or company of the recipient in the subject so that it is addressed directly to each one. Controversial, one-sided subject lines that address the "pain point" of the reader right away, such as "10 Ways to Make Your Cat Obedient," are the best. Now, wouldn't you open that?
Use a CTA
It makes sense that your newsletter will include multiple 'Call to Action' (CTAs) points for the various pieces of content you wish to promote. But, in this case, you will need to have one primary CTA that focuses on an action you would like your subscribers to carry out.
Your primary CTA will be in a prominent position (e.g. a button "Join our latest course" centered at the end of your email). And, remember, don't overdo it with the secondary calls to action, you don't want to confuse your readers.
Create concise copy
The way you choose to write your email matters. Write simple and concise copy. The same applies to the design, which also needs to be minimal and to the point.
Your sales emails might need a better design if they have a minimal copy, but for your newsletter, your best shot is to allow plenty of white space. A readable newsletter is better for all devices and meets the different needs and tastes of people.
Include ALT text into the Images
Visual content is very important for any marketing effort. But, when it comes to emails, some email providers block images automatically, and visually impaired people might also block all images.
Make sure your images contain alt text. Alt-text is the text that appears when images aren't loaded in an email. Every business has its own work pace, flexibility, goals, and resources, so you will need to put your newsletter to the test in order to optimize it to the fullest, test after test!
For the best email marketing, we suggest the top 8 email marketing tools in the market – and LearnWorlds integrates with all of them.
Active Campaign
AWeber
ConvertKit
MailChimp
GetResponse
Constant Contact
MailerLite
Moosend
If you don't see your favorite email service provider in the list, then you can use Zapier to connect and send your capture leads directly to it, automating your email marketing efforts.
Social media marketing
Social media marketing is a big part of digital marketing and cannot go unnoticed as a marketing channel you should consider using. However, there are many social media networks out there, and you should be thinking about where your audience might be and where you can reach them.
Facebook
As of the fourth quarter of 2022, Facebook, the biggest and most popular social media network reached up to 2,79 billion users. It is probably the largest social network and offers an online environment that can help you connect with your audience in unique ways.
Using your personal account to reach your network and managing your own page or group can all be great ways to start attracting traffic to your course.
Instagram
Instagram works great for promoting your online school to a younger audience. It is a place of good visuals, reels, and most importantly, Instagram stories. Visuals and hashtags dominate Instagram, so you need to be able to provide great content to attract attention and followers.
Remember, you can only link in your profile description, so plan your call to action accordingly!
👉 Check top advice on how to sell your online courses on Facebook and Instagram from Mari Smith.
Twitter
Twitter has a very passionate audience of over 368 million active users. Through Twitter, you can reach out to people, post public updates, and join in conversations easier than other closed networks, making it suitable to reach out to new, engaged audiences.
LinkedIn
LinkedIn is perfect for B2B courses. As the top professional communication network, LinkedIn is perfect for reaching out to the corporate world and promoting an online course to business people who want to master job-related skills.
With LinkedIn, you can optimize your presence in search engines, gain exposure for your brand, and establish yourself as a leader in your niche.
Pinterest
Similar to Instagram, Pinterest makes use of beautiful visuals and acts as the go-to engine that helps you find inspirational images and quotes. Set up your profile (either personal or business), add your bio, link to your other social media profiles, and create albums to share with your audience.
What's special about Pinterest is that it has high-quality images you can share including infographics.
YouTube
The second most popular search engine after Google, YouTube has experienced incredible growth since 2005 when the first video has been uploaded. Today, it is an all-time favorite platform for 2,1 billion users, and this holds especially true among online instructors.
YouTube is becoming more popular for e-learning practices because it offers a great way of transmitting information for educational purposes. With YouTube, you can create a channel promoting your online school and online courses, or create a list of tutorials or instructional videos. Also, you can upload your own live training events – webinars, for your audience to watch and always keep them up to date with what you are doing.
YouTubers trying to monetize their YouTube channel also turn back to create online courses or other kinds of paid content. If you already have a YouTube channel, you can utilize it as a marketing channel, work with creators to co-host an online course, or even become affiliates.
Apart from that, in 2023, YouTube introduced the YouTube Player for Education, which enables creators to sell their audiences online courses they can watch in a distraction-free environment without ads, including a Quiz feature.
Apart from these social platforms, you can also use Quora, Reddit, and other online forums to raise awareness about your online school and courses. For example, you can post a question on Quora or answer a question and propose a solution to others. Alternatively, you can start a conversation with other people interested in products or services in your own niche.
Being social in an increasingly connected world is a very important skill and one that will help you boost your online business and sell more courses.
Running a blog
Blogging matters. There is no secret that having a blog has many benefits. Apart from bringing traffic to your site, a blog can promote your online school and courses in a unique way that any other online tool can't.
A blog builds brand authority by positioning you as an industry leader, it prepares your audience for product launches, helps to support your social media strategy, provides you with useful content, and brings inbound links that strengthen your SEO efforts.
A blog also creates a loyal following of your current visitors and clients and helps you get more customers potentially interested in what you offer. You can always try a reliable brand tracking tool to better understand your efforts and what your core audience is looking for so you can better plan your approach.
According to a recent marketing report from HubSpot, 80% of businesses that use blogging as part of their marketing strategy, claim that they have acquired more customers through blogging.
This blogging-to-subscription process helps us to understand the importance of having a blog. The very definition of a blog makes this clear: A blog is a simple and easy-to-use platform that connects with and shares timely and relevant information with customers. Essentially, this explains how a blog can potentially become your direct communication channel with your audience through consistency and patience.
So, why create a blog?
To educate your audience on the subject you teach
To share news and updates from your industry
To create blog posts to provide content for email newsletters
To help generate inbound links increasing the power of your SEO efforts
To rank higher in Google searches by providing searchable content
To increase leads which may convert site visitors to buying customers/students
To facilitate constructive discussion on industry-related themes
To create opportunities to share links on your blog
To increase online exposure and expand your audience
To establish yourself as an authority
Blogging is a major part of your content marketing strategy. Content marketing aims to stimulate the interest of the consumer in buying your products and services.
As the Content Marketing Institute puts it:
Content marketing is a strategic marketing approach focused on creating and distributing valuable, relevant, and consistent content to attract and retain a clearly-defined audience — and, ultimately, to drive profitable customer action.
Ultimately, this can easily be done by sharing blog posts. Combined with the help of email marketing, you can exploit your email list and reach out to a bigger audience.
Producing quality content is important for all types of marketing and especially SEO. Quality content helps your online courses rank higher in Google searches. SEO, as the process of making changes to your own website to improve marketing efforts, is responsible for increasing your website's traffic in terms of quantity and quality through free/organic search results on search engines.
Pre-launch your course
By now, you should know the marketing channels and tactics you are going to use. It is time for the sales part. And, a great sales strategy to make money begins before the initial launch.
You have prepared your audience, social media posting, blogging on your site, providing free resources, and sending emails to warm up your prospects. But, how about selling your course before the initial launch?
Selling your course before its initial launch is called a pre-launch marketing strategy. It is one thing most top course sellers agree on – and would probably advise you to do – to promote individual courses or even your whole school before its official release. This follows the idea that from the very first day, you create your course, you need to share your ideas with the rest of the world.
Here are some valuable tips to remember when pre-launching your business:
Don't waste your time: The sooner you start promoting your courses, the more people will hear about it and your target audience will eagerly anticipate what you have to offer.
Get feedback: When promoting your courses before launching them, you give your audience the opportunity to decide which aspects look promising and which don't.
Make it a deadline: For the most effective pre-launching, all you need to do is set a deadline upon which leads will anxiously wait for your brand's new course release.
Improve the final result: When it comes to preselling (like pre-launching, but instead of gathering leads, you sell), you can use the money that you earn from pre-launching subscriptions on your online course to improve the quality of your final material and content.
Discounts, Coupons & Bundles
Price is always a strong motivator. A high price can signal a premium product and a discount can push for a quick sale. Using discounts, coupons, and bundles you can drive more people toward your online academy.
Coupons & Discounts
Coupons are great tools to use when you put on your discount prices. With these, you can attract new clients or encourage old ones into buying new online courses through upselling.
Coupons also work incredibly well with pre-launches. Why should someone buy a course before it is launched? To get a VIP seat, extra benefits, or get the advantage of preferential pricing (also known as "early-bird discount").
Creating a coupon is an excellent way to offer special, limited deals to specific audiences, share with your affiliates, and send to people who did not buy on your initial launch because they couldn't afford the price.
Coupons can also:
Encourage learners to keep coming back for more (repeat purchases).
Gain a competitive advantage in the market.
Provide urgency, exclusivity, and timing.
Before you activate your coupons, make sure you think about other practicalities that are equally important. For example, coming up with a smart and catchy name, deciding on a good percentage discount to calculate your numbers (profits/losses), and setting up expiration dates and limited-time offers.
Once you are ready to distribute your coupons, you can then share them on social media or websites that specifically promote coupons from CouponGreat, Groupon, and PromotionCode, among many others.
On your LearnWorlds school, you can leverage the coupon functionality to easily create a new coupon or set discounted prices:
Bundles
How many times have you seen a 'Buy 3 – Pay for 2' offer in a store? It seems like a timeless tactic and for a very good reason!
Let's take the example of t-shirts. When you pay 15$ for a t-shirt, the actual cost to the story could be as low as $2, making you buy one more even for a reduced price gets the store a nice profit while selling you more products. This is called upselling.
It can also work together while paying for various different items that go together. Even McDonald's uses the same tactic, and they call it "meals." Let's say you buy a Big Mac for $4, and you want fries with it for $1.5, McDonald's convinces you that paying $5.99 for a meal that also includes a soft drink, which will cost $1.5, makes you save some money. In reality, it has sold you one more item for 50c, which costs them a few cents.
So, what would happen in an online course?
You have a high initial cost to create a course, which includes your time, equipment, services you might pay, etc., but there is no more cost in creating more of them.
For example, you have 5 courses with a price of $100 each. But, you have decided to offer them in a bundled offer for "buy 5 pay 3" ($300). Most of your customers will think about spending $500 in one go, but offering them at a discounted price will make them think of the $200 they are saving, and you are getting them to buy more courses where initially they were going to get only one.
With a modern learning management system like LearnWorlds, you can easily create a bundle of courses and start upselling!
Referral & affiliates traffic
Referrals have always been a powerful tool in marketing because it usually comes from a person that values and highly trusts your brand. If the referral comes from someone with a large audience and has a big and positive influence on them, it gives you a huge boost in your sales.
Partnering with other businesses, companies, and influencers (major personalities in your industry) is a powerful way to market your product and bring more people under your wing. Getting affiliate partners is all about allowing other people to promote your course in exchange for a commission percentage of each sale or lead/click to your site.
This requires that you set up an affiliate program for your course. To do this, you simply reach out to people who are interested in your products – including your students, asking them if they want to become your affiliates.
Reviews & testimonials
Apart from asking your students for referrals, you can also request a review or a testimonial for your course. Other people, such as writers and bloggers, can help as well since they have a huge influence over the net, and finding someone in your industry to review your course should be easy.
Getting a good review posted on a popular blog and then linking this to your site, can help you get more traffic, and increase your sales and brand awareness. Bloggers can become your affiliates to do this, or you can offer them other advantages like giving them free access to your course or other incentives to entice them in giving a review.
Both testimonials from influencers or your own students can be showcased on your school's sales page. Testimonials can influence the decision of a visitor to buy and have been proven to work pretty well.
Public speaking
Giving presentations is another effective way that helps to connect with and expand your audience with the prospect of getting more course sales. Simply, come up with an interesting subject (preferably what you do and know best), and use your public speaking skills at local events – seminars, conferences, or Meetup groups. But remember, you need to draft a speech that inspires and speaks well to your audience.
The focus of the presentation should be on the audience and the need you are trying to provide solutions for. Most events allow for some self-promotion in your presentation, but, even if they don't, people will look you up. All you need to have is a good-looking website, LinkedIn profile, and social media directing them toward the course you are selling.
Run a podcast
Podcasts are becoming more and more popular as a way of attracting interested listeners and building a dedicated audience.
Podcasting is all about creating audio content that people will love and can easily engage with. What's great about podcasts is that they are very easy to create and easy to consume.
Through a podcast, you can give pointers as to where they can reach you, or include links in the podcast's description. Breaking down the subject of your course into small chunks and having an episode on each of the topics you are teaching is one of the best ways to get engaged podcast listeners to buy your course.
Perhaps the only downside to it is that as the host, you are going to have to put a good amount of time and money into it at the beginning.
Guest  speak on podcasts
Speaking at a podcast hosted by another person is an excellent way to raise awareness of your online school and generally explain what it offers to people. Even if your host only has a few hundred listeners per month, it can help you bring free traffic you would otherwise pay and maybe land an interview into more popular podcasts.
You will need to choose your host very carefully. For starters, you will have to be a genuine listener of the podcast show and know what that person can really do for others and potentially you.
Do your research and find a relevant podcast with an engaged audience. Drop the host an email to introduce yourself and your brand before discussing the possibility of becoming their guest. Make sure to point out the benefits they can get from doing so (e.g., you will talk about them and promote their business as well).
Finally, give them a URL that can track back to your business site, and thank your podcaster for the time they have given you. If you want, you may discuss any opportunities for future cooperation.
💁 Tip: Podcasts are great for partnerships and affiliate/referral deals. If they don't do interviews, they might promote products for a fee or for a share of the profits.
Paid traffic
The first step to sales is getting your potential customers to notice you. Bringing visitors to your site is called "traffic," and there are many ways of achieving that. Marketers refer to the different ways of attracting users as "channels of traffic."
You can send an email to invite someone to join, a personal message on Linkedin, Facebook Messenger, or Whatsapp/Viber, or wait for your site to show up on Google results. All those and many more free channels, take a large investment of your time and need the patience to work.
But, if you have the budget to spare, then you can work with paid traffic channels. A piece of advice here – if you are new to paid advertising, spend only the money you can afford to lose or ask for expert help.
Unlike organic and owned channels, paid traffic can bring immediate results and can give you a quick boost. You can easily start with a small budget, test your results, and if any paid channel works for you, invest more to bring more traffic from there.
Let's take a look at the different paid traffic channels for selling online courses:
Google AdWords
If you want to move on to the very top results of Google pages and start getting your first customers, you can promote your online course with Google AdWords.
With the help of the Google Keyword Planner, you can search for keywords and ad group ideas, enter or upload and multiply keywords to get estimates on the bid numbers they get, as well as their popularity.
Here are some tips when using the Google Keyword Planner:
Don't use obvious keywords that are too competitive. Instead, search for long-tail keywords that communicate intent (e.g., "learn to cook," "painting courses online," etc.)
Specify your keyword search by carrying out a) broad match, b) phrase match, and c) exact match. Each search has its own advantages/disadvantages. Broad matches have higher clicks and can achieve more ad exposure, but are usually low on conversions. You can get a phrase match by putting your intended keyword in quotation marks (e.g. "online courses") to appear in searches as part of a phrase (e.g. "creating online courses"). Finally, you get the exact match when using your keyword in brackets (e.g. [online courses]), and the results will come out using only the specific keyword.
Use negative keywords effectively to control the searches your ad won't appear in. This can help you avoid wasting money on poor-value clicks. For example, if you are not offering any free courses "online cooking courses for free" would bring you bad traffic, having "free" as a negative keyword will save you from this.
💡 Pro tip: Be sure to have Google Analytics connected to your school to monitor and evaluate results. If you don't get any sales from your paid ads, you can try and identify the problem.
Facebook Ads
There is a lot you can do with social media to bring more traffic and get more sales, Facebook included. For example, you can connect your Facebook Ads with your LearnWorlds to easily track the ROI of your social media campaigns. This can be done by linking your Facebook Pixel plugin to your LearnWorlds school and creating your first retargeting campaign.
Facebook Ads work because they are based on specific demographics, interests, behaviors, and affiliations, and collect contact information (e.g. email addresses). To get your audience's attention when using Facebook Ads, start by sharing relevant content (e.g. a blog post or a webinar), and then collect their email addresses to promote your school through email.
As you try Facebook Ads, you will find out that creating a Lookalike Audience can help your marketing efforts at large, as it helps to create a network of people who are most likely to be interested in your products.
The last, but most powerful tool Facebook offers is Remarketing. It will allow you to follow up on visitors who came to your school and bring them back again. Most people don't buy on the first visit, so showing them the same ad or a specific offer a few times will increase the chances of them buying from you.
For more detailed information on this, check our published ebook on Facebook Ads.
Instagram
Just like Facebook Ads, Instagram Advertising can help you get more traffic and achieve better brand exposure. Boosting your Instagram posts with money can be beneficial considering that you can invest in the effectiveness and quality of your media – images, and videos, accompanied by a small text.
Instagram's ads can be managed in the same place as Facebook ads, you just enable your ads to also run on Instagram and reach more people!
YouTube
YouTube ads are an excellent way to raise brand awareness and spark interest in a wide audience. Since YouTube is closely linked to education, you're very likely to attract quality leads using this popular platform.
On top of that, YouTube offers several types of ads leveraging video, text, and image, flexible bidding options, and is a cheaper alternative to Facebook. In fact, if the viewer skips your ad, you won't even pay for it.
How to Sell Online Courses Offline
When speaking about elearning, we tend to focus on the digital and forget the offline world, as if it does not exist. When you will be marketing your online course, you might be focusing on digital marketing strategies, but, don't forget there are more ways to reach people and sell courses.
In some cases, especially in the corporate world, it might be easier to connect offline (by word-of-mouth) to achieve better results.
Here are a few ways to go offline and sell online courses:
Speak about your courses
You will find yourself in many situations with friends, family, and business contacts, where you can speak about your new courses or training. Your extended social circle can be interested in your new offering or introduce you to potential customers.
Let them know what you are doing, how someone can buy from you, and who is your target market and they will become your best promoters!
We are social creatures. Never underestimate the power of a friend who knows a friend 🙂
Join events and network
Whether you are the speaker or not, print a few business cards with an interesting call to action and join events in your industry. Get connected, get to know new people and connect with old acquaintances, introduce yourself, and see which new opportunities will present themselves.
At industry-related events, you can find the most interested and engaged people in your industry and collect business cards for reaching out to potential customers.
Events are also the perfect opportunity to meet with company representatives and arrange a meeting to present your services. Selling course access licenses (bulk coupons for free access) to corporations is one of the most profitable ways to grow your business!
Phone outreach
Are you selling B2B training? Then you should be picking up the phone to connect with potential customers.
Ideally, you should already have some industry contacts you can reach out to. If not, then consider going to a relevant event as we mentioned above.
When you are out of warm contacts, you can go into cold outreach. Find a business listing of companies that could be your customers, find the right person, and keep their contact information on a spreadsheet.
Then, send them an email first introducing yourself, your company, and what you can do for them. Be professional and get to the point as soon as possible. Follow up the next day with a phone call letting them know you have emailed them first. You will be amazed by the results, but be prepared for both negative and positive reactions!
Schedule meetings
The next step in offline sales is scheduling a meeting or a presentation. Of course, it's not worth it to schedule meetings for low-value courses. Scheduling a presentation is about selling multiple licenses or offering premium training courses.
Most high-paying customers will expect a more personal approach, and if you are reaching out to local customers, you can afford to meet some of the most prominent and present your services.
Accept offline payments (bank transfers, cash)
Some of your customers might be more comfortable buying offline. This is, of course, an exception to the rule.
Cash Payments work if your work is focused on the local community and you have a physical presence, for example, an office. It will be easy for you to collect payments offline and register students manually at your school.
Bank Transfers are a usual way for big companies to buy in bulk. So, if you are having a meeting with an executive to offer company-wide training, expect to be asked if they can pay with a card or a bank transfer.
There are many more ways where you can advertise your services locally, from local shops, posters, door-to-door, newspaper/radio/tv ads, sending letters, and many others. Think about your audience and how you can better reach out to them and choose the right one for your business.
Happy Students are Your Best Referrals
As an online educator, you are not only offering a service but a promise as well. You have a responsibility for the success of your students, and they will return your love and dedication by speaking out for you.
Have you heard of "word of mouth"?
It is the strongest form of marketing, and you cannot force it. Word of mouth is when your customers speak nicely for you, and suggest your services to their friends, family, and colleagues.
A happy customer will always recommend you as the go-to expert. Keep your students happy, walk the extra mile where it is needed, and you will be rewarded with engaged students who will spread the word for you!
What does that mean for you?
Communication
Delivering education can take many forms, but it is a form of human communication. Be open to communication with your students, welcome their questions, and encourage social interactions between your students.
In LearnWorlds, you can encourage your students to use the discussion board on the left of the course to share their thoughts, questions, or opinions and answer them publicly:
Or you can open up a private channel of communication with them with personal messages through the inbox:
When you see a student getting stuck in an activity or hasn't finished a course, reach out to them. A personal email to identify the reason someone hasn't completed your course can give you insights on what you can improve and an opportunity to personally help someone achieve their goal, converting them into a loyal customer who will get back for more!
Student engagement and interactivity
Learning does not happen passively, it is an active process. Engagement in class plays a huge role in it. Provide your students with different learning activities, some learners prefer watching a video, others prefer reading an eBook.
An online course allows you to provide learners with the option to create quizzes to reinforce knowledge, and exams to test your students and evaluate their learning progress or encourage them to do other activities.
You can also give them assignments like reading, writing, or executing your teaching – it could be a painting, an Excel file, a physical exercise – anything that makes sense for your specific course.
Encourage them to highlight important parts in the ebooks you provide and come back to your teaching whenever needed, or let them know they can take notes.
Active learning happens when the student engages with your teachings and is not passively passing by the text.
This is why we have created a unique Interactive Video for LearnWorlds, where you can take your teaching to the next level by adding quizzes, notes, pop-ups, and more on top of your videos.
Success in online courses is measured in learning, and learning is achieved with highly engaged learners. Teach learners to succeed, and they will be your evangelists!
Goals & certificates
At this point, you need to have already set your courses' learning goals and objectives on your sales page. It is a promise of the results your course will provide.
Your job is to push the students toward the path to achieving those goals. Unit by unit, activity by activity, every step should be getting them closer to it. Whether it is learning a new language, improving their writing, or becoming better managers.
Break down those activities into sections acting as short-term goals or milestones. Then, you can offer a higher level of achievement using a course completion certificate. A certificate can push a student toward a goal that looks achievable, with visible steps toward it.
Certificates offer a sense of achievement and validate knowledge. Sharing them will boost your learners' morale and possibly their careers (and earn them some boasting rights), which in turn will become a free promotion for your course!
Your students are here for a reason, and their success is your main mission. Whether you take the extra step and coach them personally, organize regular webinars to supplement your courses or run a Q&A session every week, all these actions will increase the value of your course and the loyalty of your learners.
Your success lies in the success of your students – they're your pride, your word of mouth, and the positive reviews and testimonials.
Your students are your most valuable asset!
How to Increase the Value of Your Course
There are many ways to keep your online course's content fresh and up to date, especially if you hold on to the same content and learning material for too long. You can review your course content regularly to add that little something that will add credibility and value.
As an online instructor, you need to keep asking yourself what you can do to make your courses better, improve the quality of your teaching, and improve your chances of standing out from the competition.
An obvious way to do this is to increase the price of your courses. However, if you do so, this means that you will also need to justify your decision to put up your prices.
Here are some ways to increase the value of your course:
Offer one-to-one coaching: consulting your students and providing personalized feedback adds another valuable service to your online school. Not only that, but it shows your students that you are genuinely interested in their learning progress. Treat this as a VIP offering of your very valuable time and expertise!
Offer downloadable resources: anything that includes learning material such as eBooks, checklists, templates, worksheets, and resources can help to supplement your method of teaching.
Offer a payment plan: introducing a higher price isn't the best scenario for students, but offering a payment plan gives them an extra option. In this perspective, it offers the chance to your customers to spread the cost of a course over an extended period of time rather than pay it up-front.

Tip: offer an incentive for a one-off purchase, for example, 10% off, and give the option for a payment plan.
Offer a completion certificate: getting rewards is always fun and incentivizes students to continue learning and completing your course. A completion certificate can increase student engagement and show that their efforts didn't go to waste. Offering something they can use for their professional life, like getting CPE credits or a promotion, can justify your decision to raise your price.
Form partnerships to offer resources: apart from creating your own material, offer your students more resources designed by other sellers who are relevant to your niche and can help reinforce their learning.
Create pricing tiers: a pricing tier can offer more options to potential students. Depending on the course package students will choose, you can decide the features and the level of support they will have access to.
Give praise to your students: whenever you get the chance, give a thumbs up and show public recognition to students for the great work they have been doing.
Teach something more specific: instead of 'sticking to the schedule,' make some variations to your lessons and present something different to your students. This could be a surprise guest speaker or a workshop.
Conduct webinars or Q&A sessions: create a webinar or a series of Q&A sessions where you allow your students to ask questions about the lessons in an open and more relaxed environment.
Offer help with assignments: you can provide your students with written transcripts to accompany your instructional videos or, alternatively, hire someone to help students with their learning (e.g., study skills session, grammar check, CV writing, auditing, etc).
Share expert advice: once in a while, make the effort to reach out to other experts in the field – preferably a popular figure or someone you and your students admire. Bringing them in for a talk or webinar to share their advice directly with your students counts as an advantage and premium offering.
Create a community: a community-based learning environment is always welcomed by students. The community should be the place where they go to share their inquiries and exchange their ideas.
Accommodate learners with disabilities: make sure your course is accessible to learners with physical, cognitive, or learning disabilities. Many course creators neglect to go the extra mile and work on details like using voice-over or applying basic web design principles that could facilitate this group of learners. Doing so will truly help you stand out and embrace everyone in your academy.
Resources that Can Help Create & Sell Online Courses
To help you out in the process of creating and selling your online courses, we collected and present you with three essential resources. These include ready-made checklists, ebooks, and online courses that are specially designed to supplement the training of online instructors.
eBooks & checklists
If you enjoy reading ebooks, you can check out the following:
Sell more courses (Checklist)
This checklist gives you a handful of ideas on how to position your business in the right way so that you interact with your students better. It also points out the importance of creating important pages for your online business such as the landing page, the 'Thank You', and 'About Us' pages. Also, you can get tips on how to leverage social media networks and other types of marketing to promote your courses.
Ultimate Guide on Marketing & Selling Online Courses (eBook)
This eBook is a complete outlook of what creating and selling courses is all about. In a few steps, it describes the process every online instructor should follow to effectively create, publish and sell online courses while looking at all the stages and factors that need the most attention.
Academy courses
At our LearnWorlds Academy, we have a variety of online courses you can take to increase your e-learning knowledge and expertise. Most of them are free, and LearnWorlds' users of the Pro and above plans get VIP access to the paid courses on how to market & sell their courses.
How to Market Your Online Courses
This course introduces you to all types of marketing, including email marketing, social media marketing, content marketing, paid advertising, and affiliate marketing. Each section is specifically designed to give you all the guidelines and advice you need to effectively gain brand awareness, promote your online courses and ultimately increase your sales. In doing that, it lists a number of tips and suggestions on methods and advertising techniques that you can implement in your online marketing strategy.
Moving Forward
Looking ahead to the future, creating and selling courses could be more than just an online business you started a couple of years ago. In fact, years from now, if you are committed to it and truly believe that you can make a strong impact through teaching your favorite subject, you could be the next Chris Anderson – the curator of TED (Technology, Education, Design) conferences, in the eyes of future generations!
But even if you don't manage to hit up to Anderson's mountain success level, which reached worldwide influence across 130 countries, the fact alone that you are teaching the subject that you love and know, best opens up countless and unbelievably awesome opportunities for your personal and professional development. All of this you do online, whilst meeting and connecting with people who live anywhere across the globe!
What's best about creating your own courses, however, is that you have the ability to share your expertise but also equip others with your unique vision and inspiration. To offer your perspective on current industry issues that could help shape future trends. This, along with your 'digital' signature right below it, would be difficult to get out of people's heads, and the legacy you leave behind will be by far bigger than what anyone's expecting from you, or as a matter of fact, for yourself!
Now, how awesome would that be?
Get started with your first online course today, using LearnWorlds' 30-day free trial.
Further reading you might find interesting:
(Visited 135,739 times, 15 visits today)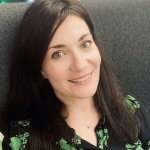 Androniki is a Content Writer at LearnWorlds sharing Instructional Design and marketing tips. With solid experience in B2B writing and technical translation, she is passionate about learning and spreading knowledge. She is also an aspiring yogi, a book nerd, and a talented transponster.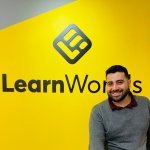 Nick Malekos is a Senior Digital Marketer in LearnWorlds. He is a results based and well-rounded Digital Marketer with years of experience in the education industry, writer and digital literacy trainer.