One reason that many people opt for Teachable to host their online course is that it is very easy to use.
There's no need to learn to code, and it is easy to upload your content. Also, Teachable offers robust eCommerce features, including built-in email, affiliate, and sales tools.
However, it comes with some disadvantages, which may make you want to shift to another course platform.
Teachable disadvantages 👎
Downtime and caching problems. Customers sometimes cannot access their courses!
No white-labeling. You can quickly end up with a platform where students see Teachable branding. You can't avoid the generic Teachable app and login.
There is a lack of course compliance and certification in the basic plan.
There are limited template options to choose from.
The power editor is only avaiable on their most expensive plan.
The lack of real educational tools for creating engaging learning content.
Sluggish support.
On the last point, Teachable's support has a long way to go in improving their services, as requests from customers may take many days to get a response and that is often lacking.
You may have also signed up to Teachable in the past, or might have read a Teachable review and are thinking about it right now.
But now you want to jump to another online experience.
To give you the best Teachable alternatives, we found the best course platforms that include the same basic functionality or perform a similar function and most times are superior to Teachable.
Many Teachable alternatives available in the market focus on different features or serve a slightly different pool of users. It's best to test each one to find the right learning management system for you.
With a learning management system, you can create, manage and sell courses, maintain full ownership of your storefront or training center and provide high-quality educational experiences to your students.
In this review of the top course platforms, I will give you a top-level understanding of each platform, the advantages, disadvantages, prices and tell you for whom it is right.
LearnWorlds is an easy-to-use and reliable online course platform for individuals and enterprises that competes with Teachable.
It is a fully customizable, white-labelled, user-friendly solution to train employees or educate customers (or sell online courses to a broad audience).
The main difference between LearnWorlds and Teachable is that the first one concentrates more on making great learning experiences possible and offers a superb support team to help you start your school as quickly as possible!
Plus, it is fully white-labeled. That means you can remove any mention of LearnWorlds in your students' side of the platform.
How much does it cost?
The "Starter" plan begins at $29 per month ($24 if paid annually) plus $5 per course sales. If you choose the Pro Trainer plan ($99 per month) or the Learning Center ($299) there are 0$ fees, as they are removed altogether.
Schools/Academies with a very high number of users can enquire for the High Volume plan.
LearnWorlds comes with some unique features such as:
Interactive Video & Transcripts
Interactive Ebook
SCORM & HTML5 support
Reporting & Analytics
Powerful website builder
Customizable checkout pages
Learning navigation customization (when students can progress)
Custom Mobile App
These programs come with unlimited possibilities.
LearnWorlds is much cheaper on the Starter & Pro Plans and equals the price of the higher plan for much more to offer.
Where LeanrWorlds starts at $29 and then at a medium plan for $99, Teachable starts at $49 and goes to $129.
Is LearnWorlds the right online learning platform for me?
If you are taking learning seriously, LearnWorlds is what you are looking for. It's ease of use and superior capabilities make it the best choice.
With its many integrations (including WordPress, Mailchimp, Zapier a.o,) LearnWorlds makes it very easy to connect it to your favorite tools and start selling online courses.
Εverything is super easy. Learnworlds supports you at every step and assumes no prior knowledge. So if you're a first-timer, you can focus on creating learning instead of dealing with confusing training on the platform.
LearnWorlds provides a host of other features that allow you to build the school of your dreams by tailoring the branding and courses to suit your ideal teaching environment.
How will I get paid?
In LearnWorlds, there are five payment methods: Stripe, 2Checkout, PayPal, Shopify and PagSeguro.
You can also find:
Free/Paid/Private courses to attract more leads with free offerings.
Integrations with third-party applications/plugins like Mailchimp, Zapier, Facebook Pixel and many others.
Digital downloads.
Subscriptions & Memberships.
Payment plans.
Bundles.
And everything else you need to start selling your courses today!
User Experience
What learners receive when using LearnWorlds is a fully interactive environment, in which they can actively take part.
Our astonishing course community allows for greater interaction and engagement.
Our fantastic course player makes navigation easy from one unit to another. And learner navigation settings is one of the features you will love the most.
Elearning Website Builder on LearnWorlds
LearnWorlds offers a very powerful and robust pages builder, able to create a landing page or a whole website with a blog.
With many templates to choose from …
The customization options in LearnWorlds are limitless coming up with some of the most incredible visual results:
How does LearnWorlds differ from other platforms?
The most profound reason LearnWorlds is standing out from other online platforms is that apart from essential marketing tools (unlimited courses, beautiful landing, and sales pages, easy template management, integrations a.o.) it also provides unique learning features you can't find anywhere else like:
A powerful built-in social network.
Gamification.
Interactive videos.
Interactive ebooks.
SCORM support.
Advanced learning and video analytics.
Much more than just selling online courses, LearnWorlds comes with unique assets for designing a holistic online learning experience.
Here is an example of how you can easily create an interactive video with LearnWorlds in steps.
Thinkific is another online course platform that offers an all-in-one solution. It provides everything you need to create your online education business, including an easy-to-use interface to build courses and rich multimedia to add right into your course content.
Similarly to Teachable, you can create your online courses and also build membership sites with Thinkific. You can host unlimited videos with Wistia, create interactive quizzes, and organize content into modules or lessons.
Unfortunately, Thinkific recently dropped the capability to import SCORM files, which was one of its major advantages over Teachable. Where Thinkific outshines Teachable is in exam and quiz creation with more robust features.
How much does it cost?
Thinkific offers a limited free plan for anyone starting out small. With this plan, you can upload and create a good deal of your course without paying a penny! However, there is a transaction fee (10%).
Added to these, the pricing of Thinkific is $49/month, which is costlier than LearnWorlds' $29/month.
Pricing information retrieved on the 30th of March 2020.
Is Thinkific the right platform for me?
Thinkific is ideal for solopreneurs, small/medium businesses – SMEs, and online trainers. It has a Facebook group for its creators and often hosts webinars covering everything from advice on course creation to marketing your digital product.
How will I get paid?
Thinkific allows payments with Stripe and PayPal to accept payments from your students. There's no holding period with your funds.
With Thinkific, you can offer coupons and bundle your courses. Also, Thinkific provides an affiliate program for you to gain more customers.
User Experience
With progress buttons at the bottom of the page, there is easy navigation inside the course. Also, students have visibility into the length of chapters with lesson counts on each chapter title.
What makes Thinkific differ from other platforms
Thinkific has superior design and more customization options than Teachable but a lot less than LearnWorlds. Thinkific offers pre-sets and themes and a good site builder that allows you to build a great design without touching a line of code.
It is a cloud-hosted platform you can connect your domain with. However, it doesn't provide such a good white-labeling as LearnWorlds does.
Want to see more Thinkific alternatives?
Kajabi is also an all-in-one marketing platform that can also host simple online courses. With Kajabi, you can host your own website, sales pages, online course, membership site, email marketing, and more. So, on this platform, you can have all these things under one roof.
How much does it cost?
There is no free plan in Kajabi. Kajabi starts at $149 per month. This entitles you to create three products, three pipelines, one website, an unlimited number of landing pages, and marketing emails. You can also register and communicate with 10,000 contacts and 1,000 active members.
Unfortunately, Kajabi's free plan requires that you add your credit card number in the sign-up form and charges immediately after the plan expires.
Pricing information retrieved on the 30th of March 2020.
Is Kajabi the right platform for me
Kajabi makes it easy for you to create online courses and membership sites that are based on video or simple quizzes.
It is for non-techy online course creators, digital entrepreneurs, small businesses, freelancers, and individual instructors selling simple format courses and downloadables who want their marketing platform and website under one roof.
Apart from that, Kajabi also offers built-in marketing analytics. You can track the performance of your sales anytime. So, if you want to host many of your websites in one place, Kajabi is the right platform for you.
How will I get paid?
Stripe and Paypal are the only two payment methods you can get paid from with Kajabi.
Once your course price is created, you can choose from:
One-time Payment
Multiple Payments
Recurring Subscription
oxi paragrafos p einai mia mono grammh
User Experience
Kajabi provides an easy-to-use, interactive interface with a library of images and templates. When you start creating a course, you can choose between three options:
Mini-Course
Online Course
Evergreen Training (which is a drip-feed course)
Concerning your sales pages, there are 12 free themes you can choose from. You also have the option to upload a theme. Kajabi though does not offer the customization options LearnWorlds does.
What makes Kajabi differ from other platforms?
A core difference of Kajabi from other platforms is that it has marketing automation features. It has superior email marketing features like triggered and drip emails.
However, because it is sales-centered, Kajabi does not provide an adequate variety of learning activities and learning features. Also, it can be tricky to set-up a course because of its limited control over website design.
On top of that, you can create up to 3 products, even in their basic plan, which costs $149/month and 15 products in their growth plan, which costs $199/month.
These restrictions may make you want to consider going with Kajabi.
Here are the most important advantages and disadvantages of Kajabi:
Udemy is one of the most popular course marketplaces on the web. It helps you expose your courses to a broad audience. There is a huge network of students and instructors built up over time.
How much does it cost?
You'll be pleased to hear that you can publish limitless courses spending no budget initially, but it gets a big chunk of the sales!
Is Udemy the right platform for me?
Udemy makes course creation possible for everyone with free or low-cost course tuition options. It offers a range of online learning materials, including PDF documents, PowerPoint, text, assignments, quizzes, and video content, amongst many others.
A standard Udemy course is video-based. Courses must have:
At least 30 minutes of video content (or 60% of the entire course content in video format).
At least five lectures or learning modules.
If you're a fan of video and used to teach that way, Udemy might be a good option for you.
Also, Udemy is excellent for newbies who are just starting to sell their courses online. So, this platform may be a good step for those who don't have a website and want to create a brand identity.
However, if you are more of a professional, and have your own website, it is not a good idea to go with Udemy.
The platform guides you step by step in creating your course content.
How will I get paid?
You can connect a PayPal or Payoneer account. Payments are monthly. Below, I summarize common revenue share scenarios in Udemy:
Instructor Promotion: If a student purchases your course via an instructor coupon, you'll receive 97% of the revenue, and the remaining 3% is given to Udemy. Alternatively, the revenue is split 50-50 if you make an organic sale. Each month you can create up to three coupons per course.
Udemy Organic: There is a 50% revenue share between Udemy and the instructor. This equal share happens when a user browses the Udemy marketplace for courses, or makes a purchase via an Udemy promotion.
Paid User Acquisition Channel Sales: Instructors take 25% of revenues when Udemy optimizes the sales with affiliate partners. Udemy holds 75% to pay for advertising costs and partner payouts that help us acquire those new users.

Pricing information retrieved on the 30th of March 2020.
User Experience
Udemy provides a simple course player with smooth functionality. The downside is that the platform doesn't offer lots of customization options. As a result, Udemy's courses all look quite the same.
To get a better overview about user experience, watch this video about Udemy User Interface:
What makes Udemy differ from other platforms?
Udemy helps you to market your courses with reviews, while other platforms help entrepreneurs do their marketing.
You can not revoke the Udemy course if you withdraw from the platform.
Udemy is not at all student-centered. You can not communicate with students outside of the Udemy Platform in person.
Here are the most important advantages and disadvantages of Udemy:
Teachery is another Teachable alternative. Teachery also supports a course editor and customizable sales pages.
What's interesting is that changes are completed in real-time. That means that Teachery has a save function, so you never lose any of your work. On the other hand, that means you need to be careful while updating your course as your students will see those changes immediately.
Here are some of the features available in Teachery:
A full course editor.
Custom analytics.
An affiliate program.
Custom domains.
Integrations with email providers.
Promotional coupons and discounts.
Unlimited students.
Unlimited courses.
Landing and sales pages.
Excellent customer support.
How much does it cost?
Teachery offers two plans:
$49 per month.
$470 per year.
Both plans start with two-week free trials and have the same features. The only difference is the payment frequency and the money you save per year.
Pricing information retrieved on the 30th of March 2020.
Is Teachery the right platform for me?
With Teachery, it is straightforward to take the files you have hosted on YouTube, Google Drive, or Slideshare and embed them into your online courses. You can include everything from video to audio and images to slide presentations.
Teachery supports embedding content via many services:
Wistia
YouTube
Vimeo
Soundcloud
Google Drive
Dropbox
Slideshare
In Teachery, you can also create landing pages to link to from your ads.
How will I get paid?
Teachery supports payment only via Stripe. Therefore, you cannot have Paypal payments or any other payment gateway.
If you're looking to offer payment plans for your courses, monthly subscriptions, or yearly memberships, you can do so with ease.
User experience
This is how courses in Teachery look like.
The looks are good. The bad thing about it is that there is no level of interaction with the content.
How does Teachery differ from other platforms?
With Teachery, there are no transaction fees.
A significant disadvantage of Teachery is that all the files you add to your content must be saved on your host or file storage service.
The reason for this is to keep costs low for the users since hosting can get expensive. However, Teachery's monthly pricing is not the cheapest you can find among platforms to start out, but it's not very expensive either.
So, taking all the above into consideration, we see some fundamental differences between platforms:
| Online course platforms | Teachable | Learnworlds | Thinkific | Kajabi | Udemy | Teachery |
| --- | --- | --- | --- | --- | --- | --- |
| Monthly pricing | $39 | $29 | $49 | $149 | Free | $49 |
| Monthly Fees | 5% | $5 | no | no | %3 | no |
| Unlimited courses in the basic plan | yes | yes | yes | yes | yes | yes |
| Learning analytics | yes | yes | yes | no | no | no |
| Student-centered | yes | yes | no | no | no | no |
| SCORM | Student-centered | no | yes | yes | no | no |
We do believe that LearnWorlds is the best solution if you are looking for a Teachable alternative. It is a truly all-in-one course platform with a focus on creating learning experiences.
It covers everything you need in course creation, marketing, sales, and user management and can be customized to your preferences.
LearnWorlds also offers the best white-labeling capabilities of all the above, and you get to keep all your students' data too.
So, if you care about your brand and your students, going for LearnWorlds is a no-brainer when compared to Teachable or the other solutions on this list!
If you are not convinced, you can try LearnWorlds for free through our 30-day trial and check out those excellent features we mentioned above for yourself!
Further reading you might find interesting:
(Visited 17,333 times, 1 visits today)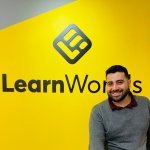 Nick Malekos is a Senior Digital Marketer in LearnWorlds. He is a results based and well-rounded Digital Marketer with years of experience in the education industry, writer and digital literacy trainer.