Podia started out as a coaching platform called Coach and, in 2017, was renamed Podia with a new focus on helping creators monetize their content.
As a creator monetization platform, Podia is best known for selling online courses, memberships, and digital products. Its affordable pricing and its capabilities in selling digital products are two of the elements that set this platform apart from others.
Even though Podia is a great option when it comes to the marketing, hosting, and sales aspects of a business, compared to other course platforms, it lacks some key customization and elearning features like other course platforms. It is a good idea to look into some alternatives if you are searching for a platform that invests more in course creation, learning experience, and educational content delivery.
In this blog post, we are reviewing the best Podia alternatives, looking more closely into their pricing, capabilities, and features while comparing the pros and cons of each.
Before we dive in, we choose LearnWorlds as the top Podia alternative for building engaging and interactive learning experiences. Try LearnWorlds for free with a 30-day trial today and discover its full potential.
Podia Pricing & Plans
Wondering how much does Podia cost? We've got good news for you on that front. By looking into Podia's pricing plans, it becomes easy to understand that it offers one of the most affordable options in the market. With Podia fees being among the lowest in the market, the platform is known for being a cost-effective platform that is worth its value of money.
Podia comes with a free plan and 3 paid plans:
Mover – $39/mo
Shaker – $89/mo
Earthquaker – $199/mo
Signing up for a trial does not require you to add your credit card details, and you can explore Podia's products and features with no additional commitments.
*Pricing information retrieved from Podia on the 20th of April 2022.
Podia Advantages & Disadvantages
As the name suggests, Podia is the plural form of the word 'podium' – a platform on which people can be seen and heard.
For this reason, the platform is considered to be a digital storefront that allows its users to do just that, by hosting and selling online courses, downloads, and memberships.
It follows a creator-first-centered approach and serves course creators, entrepreneurs, small business owners, and other creative professionals who want to generate income on the side.
To decide if it's a good fit for you to use Podia for online courses and more, it helps to look into some of its advantages/disadvantages:
Podia advantages 👍
Podia makes the process of selling online courses, digital downloads, webinars, coaching, and memberships easy. One of its strongest points is that it comes with a user-friendly interface, offering a good overall user experience, a beautiful dashboard, and course page design.
Easy to set up/use to build your Podia courses
Affordable pricing
Integrated community
Embedded checkout options
Live-chat support
Build-in email marketing
Membership site integration
Instant payouts with no transaction fees
Podia disadvantages 👎
While Podia is easy to use and comes with some great features, it also has a few – but important limitations:
Limited customization options
Limited website building capabilities
Lacks elearning features like exams, certificates, SCORM, and HTLM5 files
Basic reporting options
Standard email composer personalization options
No free plan
Best Podia Alternatives for Your Online Courses
#1 LearnWorlds – Our Choice
LearnWorlds comes first in our list of options. Since we work hard on our product, we are proud of our work and have many reasons to believe it is the best online course platform in the market.
As a training platform that wants to offer the best learning experience, LearnWorlds focuses heavily on the course creation aspect and is packed with some robust features that allow instructors to have more control over and a bigger toolset for advanced teaching.
While it offers some basic course creation features, Podia seems to be lacking in educational capabilities. For example, it doesn't go to as great lengths to offer learners an inclusive experience through a dedicated school community, issue certificates, offer interactive learning or SCORM-compliant elearning content as LearnWorlds does.
LearnWorlds and Podia also differ in terms of website building & school design.
Whereas with Podia you can also build and edit landing pages, branding and customization options are limited to only one template by default and 9 different zones.
LearnWorlds' powerful website builder allows you to create a branded website for your school. It comes with over 400 templates that you can mix and match to build a powerful website with course offers, testimonials, widgets, CTAs, animations, and many more.
The platform also comes with different themes and site flavors that allow you to build any website just as easily and quickly.
Lastly, LearnWorlds offers the ability to build your own native white-labeled mobile app either on iOS or Android, allowing your students to learn on the go.
How much does LearnWorlds cost?
LearnWorlds comes with 3 pricing plans:
Starter – $29/m
Pro – $99/m
Learning Center – $299/m
LearnWorlds offers a 30-day trial with most features available during the trial. Our pricing is not very different from Podia's pricing and both platforms offer affordable packages.
*Pricing information retrieved from LearnWorlds on the 21st of April 2022.
Pros:
LearnWorlds offers an all-in-one solution that helps you, train employees, educate customers, and create and sell online courses to a broad audience. It comes with some very essential LMS (Learning Management System) features, but it is much more than that.
Here are some of the top features it offers:
A robust built-in social network
Interactive videos and ebooks
SCORM Compliant
Certificates and quizzes
Custom user roles
Native mobile app
A gradebook
Advanced learning analytics
Marketing tools and affiliate marketing
Highly customizable templates
Multiple integrations and payment gateways
Cons:
It does not offer its own payment gateway
No free plans & fees on the lower plan
Longer learning curve due to more complex features
Compare Podia to LearnWorlds
Find out more LearnWorlds competitors.
#2 Thinkific
Thinkific is an online course platform that allows you to create, market, and sell online courses. Its product allows course creators of any industry to build their knowledge business and provides them with the tools to scale it further. Thinkific is a great tool for entrepreneurs and mid-sized businesses that want to grow using education.
In relation to Podia, Thinkific doesn't come with a lot of course creation features either, but it does a slightly better job since it comes with course content templates, a student survey unit and more assessment options.
It also wins over the website building and design capabilities.
Thinkific's site builder, allows you to build customized websites – homepages, product pages, custom pages, with ease and no coding experience required. It has a collection of website themes to choose from, lead capture zones, course reviews and student segmentation functionality.
How much does Thinkific cost?
Thinkific offers a limited free plan for testing its platform. This is Thinkific's pricing plans:
Free Plan – $0
Start – $99
Grow – $199
Expand – $499
Thinkific Plus – Customized pricing
*Pricing information retrieved from Thinkificon the 28st of September 2022.
Compared to Podia, Thinkific has more expensive package prices, but it comes with a limited free plan.
Podia vs Thinkific: Overall, Thinkific has more to offer in terms of scalability, sales, and marketing. Even though both platforms offer email marketing and support Stripe and PayPal, Thinkific goes one step further offering preset emails and email broadcasts, EU Vat handling options, and a double payment gateway.
Pros:
24/7 customer support
Advanced email marketing
No transaction fees
Community features (forums)
Flexible payment options
White-label option
Assessments and certificates
Cons:
A small selection of page templates
Limited customization options
No interactive features
No SCORM support
Limited reporting & data exports
No mobile app
Want to look into more Thinkific alternatives?
Compare Thinkfic to LearnWorlds
Compare Podia to Thinkific
#3 Teachable
Teachable is another popular alternative choice to Podia. This course platform encourages its customers to share what they already know through online courses, and it is helping mostly coaches, solopreneurs, entrepreneurs, creators and anyone interested in starting and developing a course business.
Teachable comes with a variety of learning tools and monetization options. With it, every creator can get started right away easily. Just like with Podia though, you don't get as many educational features. Both have a course player but with very basic to none customization capabilities and don't support SCORM.
Where Teachable wins against Podia is website building and school administration.
The platform comes with a power editor that is available on the business plan and up. With it you can change the basic template with more customization on lectures, courses, blog and page layouts.
However you will need to have some coding experience to do this.
How much does Teachable cost?
Teachable offers 4 pricing plans:
Free plan & transaction fees
Basic plan with 5% transaction fees–$39/mo
Pro plan without transaction fees–$119/mo
Business plan without transaction fees–$299/mo
Teachable's free plan does not expire but comes with a lot of limitations.
*Pricing information retrieved from Teachable on the 21st of April 2022.
Overall, when it comes to Podia vs Teachable, Teachable is a good option if you want to promote and sell online courses as it has some powerful marketing features in place. It allows email broadcasts, offers a marketplace and a mobile app.
In terms of school administration it offers greater security than Podia along with the opportunity to mass enroll students.
Pros:
User-friendly dashboard
Includes a free plan
White-labeling options
Unlimited courses
Checkout security
Has a course marketplace
Offers the Teachable App
Cons:
Not SCORM-compliant
Not fully white-labeled (there is always a Teachable Login)
Lack of interactive learning features
Limited support availability (Monday to Friday)
No course compliance features
Check out some Teachable alternatives
Compare Teachable to LearnWorlds
Compare Teachable to Podia
#4 Kajabi
Kajabi is an all-in-one platform that positions itself as an 'online business platform. It helps online entrepreneurs, course creators, small businesses, and freelancers to create and sell online courses, coaching programs, memberships, podcasts, and other downloadables. Its aim is to help customers turn their knowledge into income focusing mostly on monetization.
Kajabi invests heavily in the marketing aspects, so its most powerful features are found in sales and marketing, scalability, and website building.
With it, you can build highly customizable websites, set up sales funnels, send email broadcasts, set up marketing campaigns, and create automation and events (time-based emails).
The platform has a course editor that allows you to build course content and add any type of multimedia including presentations, audio files, and digital documents. However, its dashboard is not as intuitive or well-structured as Podia's.
How much does Kajabi cost?
Kajabi comes with a 14-day free trial, and offers 3 pricing plans:
Basic–$149/mo
Growth–$199/mo
Pro–$399/mo
*Pricing information retrieved from Kajabi on the 21st of April 2022.
Compared to Podia and other tools in this list, Kajabi is one of the most pricey options when it comes to selling online courses and other digital products.
The most value you get from Kajabi is through the use of its digital marketing tools and features, but if you already have these in place for your online business, then you don't need Kajabi.
Pros:
Easy to set up
Course templates
Sales funnels
Built-in CRM
Built-in email marketing tools
Variety of marketing options
Kajabi community
Cons:
Not as intuitive dashboard
Expensive solution
Limited web design customization
Limited course design options
Limited elearning features
Lacks course structure/learning paths
More Kajabi Alternatives?
Compare Kajabi to LearnWorlds
Compare Kajabi to Podia
#5 Udemy
Udemy is one of the top course marketplaces in the market. As an online learning platform, Udemy has over 1850,000 courses available and almost 50 million students. While it is not used to create online courses, course creators can host their course content and gain a lot of exposure and brand visibility.
The platform allows you to host, market and sell your online courses, but comes with a list of requirements regarding the format of your courses. For example, video needs to be of high quality, its content should be at least 30 minutes long, and include 5 lectures at the minimum.
With Udemy you can easily set up your instructor profile with no extra fees, and start uploading your course material – including video, text, images, PDF and other documents.
Since it is a widely popular platform, it can be a good starting point to find out how the market works, and promote your courses or business.
However, in some cases a large percentage of the revenue share can go straight to Udemy, so it's best to look into its pricing policy first and then choose if you want to invest in it.
How much does Udemy cost?
With Udemy you can publish as many courses as you want without spending a dollar. However, the platform takes the biggest share of the profits.
As an instructor, you get 37% of the revenue, and Udemy earns 63% unless you are selling the course using a coupon or an affiliate link (in this case, you get 97%). Podia vs Udemy in terms of cost: we have a clear winner, and that's Podia.
*Pricing information retrieved from Udemy Support on the 21st of April 2022.
Udemy is a great choice for beginners who are just starting out and want to sell courses. But if you want to sell different types of products, including memberships, and other downloadables, you won't get as much from it as with another course platform.
Pros:
Easy course promotion
No setup fees
No technical knowledge needed
Cons:
No access to student data
Can't communicate with students outside the platform
Limited control over course pricing
Limited customization options
Unbalanced revenue share
#6 LearnDash
LearnDash is a WordPress LMS plugin that was created by e-learning experts. With LearnDash, you can create and sell online courses if your website is hosted on WordPress, so it's best suited to businesses, creators, and entrepreneurs, who wish to start offering courses as products or want to create their own academy while using WordPress.
The tool is advertised as an online course platform because it has been created having the online learning principles in mind increasing the effectiveness of content delivery and course completion rates. It comes with a course builder upon installation and has lots of advanced features in quizzing.
While you can install the plugin easily, there is some learning curve involved in the process.
If you want to add more functionality to your LMS, you will need to install more plugins or integrate more tools, and this might require some more technical knowledge from your end.
How much does LearnDash cost?
LearnDash offers licenses for 1 year, including support. You can choose to stop paying for it and continue using it, but you will need to continue paying for the license if you still want to get support, updates, and fixes:
1 site license–$159/year
Up to 10 site licenses–$189/year
Up to 25 site licenses–$329/year
*Pricing information retrieved from LearnDash on the 21st of April 2022.
It is important to note that with a WordPress plugin like LearnDash there are often some hidden costs involved.
Since you will need to set up your own server, maintain a WordPress site, host video, and other files, and attract traffic to your site, you will spend more until you get it working for you. On top of that, you will need to be prepared to resolve any technical issues that may come up.
Comparing LearnDash to Podia, it's safe to say that Podia is much easier and cheaper to use.
Pros:
Advanced assessment features
Integrates with other tools
Offers drip-feed content
Cons:
Requires technical knowledge (to set up and maintain)
Can't create other knowledge products (e.g., memberships, coaching, etc.)
Needs multiple WordPress plugins
Needs third-party plugin for payments
#7 Kartra
Kartra claims to be the all-in-one platform you need to bring your product or service to the market. This tool offers a smart solution for marketing and selling your product and covers all the digital marketing needs of your online business. Kartra offers web hosting, email marketing, and email list building features and comes with a shopping cart system.
With Kartra, you get a drag-and-drop website page builder, where you will find many site templates, lead capture forms, and built-in tools to help you monitor leads and track conversions.
Comparing Kartra vs Podia in terms of course-building capabilities, we notice that Kartra is not suitable for building courses, as it is a sales-focused tool that many creators use to sell simple video courses using its funnel capabilities.
This means that you can invest in its email marketing capabilities and email builder to set up your marketing campaigns, create sales funnels and build customizable videos for mobile use that can have your own elements to it, including pop-up forms and CTAs.
Amongst its powerful features, Kartra also comes with a marketplace where you can sell your marketing campaigns and own expertise or simply connect and discover the work of other Kartra users.
How much does Kartra cost?
Kartra offers (via a pop-up offer) a 14-day trial for $1, and has 4 paid plans‌:
Starter–$99/mo
Silver–$199/mo
Gold–$299/mo
Platinum–$499/mo
*Pricing information retrieved from Kartra on the 21st of April 2022.
While Podia is not as sales-centric as Kartra and does not offer the robust marketing tools this platform comes with, it is much more cost-effective and offers the possibility to build and sell courses.
Pros:
Advanced email features
Lead scoring and tracking
Email marketing automation
Sales funnels
Opt-in forms
Affiliate marketing
Cons:
No course creation tools or templates
Video is the only type of content it supports
Lacks key educational features (drip-feed content, assessments, live sessions)
Limited amount of video bandwidth (in Starter plan)
#8 Simplero
Simplero is an online education platform that allows you to sell online courses, memberships, and other digital products. The platform is ideal for coaches, trainers, consultants, and influencers and promises to make everything related to your online business simple. As an all-in-one tool, it can help to simplify processes and gather all your necessary tools in one place.
Apart from courses and memberships, with Simplero, you can create subscription programs, emails, websites, landing pages, automation, and many more.
In comparison with Podia, Simplero gives you more power, flexibility, and control to focus on what matters most to you. Whereas Podia has a basic storefront page, Simplero comes with a complete website builder and advanced marketing automation.
Simplero also has more product options compared to Podia – with the only exception of webinars, and offers limited customization for membership sites and email.
Unlike Simpero, Podia has buy buttons, messaging, and live chat support.
How much does Simplero cost?
Simplero comes with 3 pricing plans:
Starter: starting at $70.80/mo
Launch: starting at $118.80/mo
Rule the World: starting at $178.80/mo
*Pricing information retrieved from Simplero on the 21st of April 2022.
Simplero offers some flexible pricing options to accommodate the diverse needs of entrepreneurs and businesses. However, overall Podia has lower prices to start with.
Pros:
Zapier integration
User forum & notifications
Sales funnels & automations
Unlimited landing pages
Affiliate program
Customizable membership sites
Cons:
Very limited starter plan (1 course, product and membership)
Price increases per number of contacts and can get very expensive
#9 ClickFunnels
ClickFunnels is a marketing software that allows you to create sales funnels. The platform helps you gather leads, track your marketing campaigns, and sell your products and services. As a funnel builder, ClickFunnels is ideal for entrepreneurs who want to sell digital products – including online courses and memberships, but also physical products.
Comparing ClickFunnels vs Podia in terms of monetization, we see that Podia only allows you to sell digital products, and ClickFunnels has an advantage over this.
However, it does not come with any course creation capabilities, which means that if you want to build courses, you will need another tool to go with it. If you don't mind investing in a course platform that allows you to do that then ClickFunnels is a good choice for you.
ClickFunnel's drag and drop editor makes it easy to build funnels and add in images, text, videos, forms, and other elements. Use its templates to build pages for upsells, collect information and measure the performance of your campaigns.
How much does ClickFunnels cost?
Clickfunnels offers a 14-day free trial and comes with 2 main pricing plans:
ClickFunnels Standard–$97/mo
Clickfunnels Platinum–$297/mo
*Pricing Information retrieved from ClickFunnels on the 21st of April 2022.
Pros:
Automatic tracking and reporting
Built-in tools and page customization
Superior sales funnel building
Support multiple payment providers
Cons:
No course creation/learning tools
No white-labeling options
Outdated templates
Lack of a built-in payment gateway
Limited email marketing opportunities (in the Standard plan)
#10 MemberPress
MemberPress is another WordPress plugin that allows you to create membership sites and sell online courses and digital downloads. To help professionals make the process of creating and managing a membership site, this tool is packed with features.
It comes with a paywall and content dripping capabilities, subscription billing, course creators, and a members-only dashboard.
Compared to Podia, MemberPress offers much flexibility in design because it can work well with your current WordPress theme. It also comes with easy-to-read reports allowing you to filter through transactions quickly.
However, it lacks some other important features that only add-ons can transform into an all-in-one solution like Podia. For example, it doesn't have email marketing and video hosting capabilities or offers the ability to sell webinars.
How much does MemberPress cost?
MemberPress comes with the following 3 pricing yearly plans:
Basic: $179/year
Plus: $299/year
Pro: $399/year
*Pricing Information retrieved from MemberPress on the 21st of April 2022.
Pros:
Community forum
Easy setup
Email reminders
Many add-on integrations
WordPress affiliate plugin
Unlimited members and courses
Cons:
No free plan or trial
Some add-on integrations are not available in the basic plan
#11 Ontraport
Ontraport is a sales and marketing platform that has everything a business needs to grow. As a CRM and marketing automation tool, it can help to simplify business processes, making it easy to run a business. On top of that, it comes with WordPress hosting and it can help you build an e-commerce store or create membership sites.
The platform also allows you to create and sell online courses through a membership site, or integrate it with an LMS. Ontraport is much focused on creating web pages, automation, and sales enablement and comes with strong analytics.
Ontraport comes with a membership site generator with some customization in the logo and colors and a user-friendly landing page builder. In terms of email marketing, it allows you to send email broadcasts, set up autoresponders and use click-through tracking.
However since Ontraport is not equipped with course creation features, you will need to use or pay for a course creation tool. And although the platform has some robust reporting capabilities, they are more complicated to use.
How much does Ontraport cost?
Ontraport comes with a 14-day free trial and has 4 pricing plans‌:
Basic: $79/mo
Plus: $147/mo
Pro: $297/mo
Enterprise: $497/mo
The platform offers yearly plans that are discounted. If you have more than 20,000 contacts or 200,000 emails, then with an enterprise account and above, you can purchase additional contact and email packages:
$99/month per 100k additional contacts
$99/month per 100k additional emails
They also offer custom pricing for accounts that want to send more than 5 million emails per month. Contact them to get a custom quote.
*Pricing Information retrieved from Ontraport on the 21st of April 2022.
Pros:
Marketing automation
Drag and drop editor
Live chat & screen-share options
Multiple integrations
Membership sites
Cons:
No course creation features
Long support response time
Complicated tracking features
Steep learning curve
#12 Gumroad
Gumroad is a powerful eCommerce platform that can help you sell anything from online courses, and memberships to video lessons, books, and digital and physical products. The platform makes it super easy to start earning money selling these products, but it also helps you set up your online store or embed one on your website.
With Gumroad, you have all the tools you need to sell your digital services and you can do so using a very simple and intuitive dashboard. It comes with a lot of customization options allowing you to build your own website through its flexible page editor or connect your existing one under a custom domain.
The platform comes with several built-in tools that make selling easier and faster, but also allows you to build sales funnels and set up your marketing campaigns.
Overall, it is a comprehensive tool that provides reports and analytics to help you segment and grow your audience.
Compared to Gumroad's reporting capabilities and the variety of products it can sell, Podia appears to be lacking. However, Podia has a stronger customer support system, and its pricing model is more straightforward.
Overall, placing Gumroad vs Podia, we'd say that this platform is more suitable for those looking for a simple shopping cart at a low price. It's mostly used by creators, artists, bloggers, writers and other professionals.
How much does Gumroad cost?
Gumroad is free to use and has no monthly fees or tiered subscriptions. There is no limitation to what you can sell – including courses and memberships but comes with a 2.9 to 9% transaction fee. This equals +30c on each transaction. Comparing Podia vs Gumroad in terms of pricing, it's easy to see that while it's cheaper to start with Gumroad, the cost will increase over time.
*Pricing Information retrieved from Gumroad on the 21st of April 2022.
Pros:
Gumroad University (user tutorials)
Easy-to-use interface
Built-in affiliate marketing
Customized landing pages
Affordable pricing and free plan
Cons:
No A/B testing
No advanced analytics
No educational / e-learning features
Limited integrations
Support only available via email
#13 AccessAlly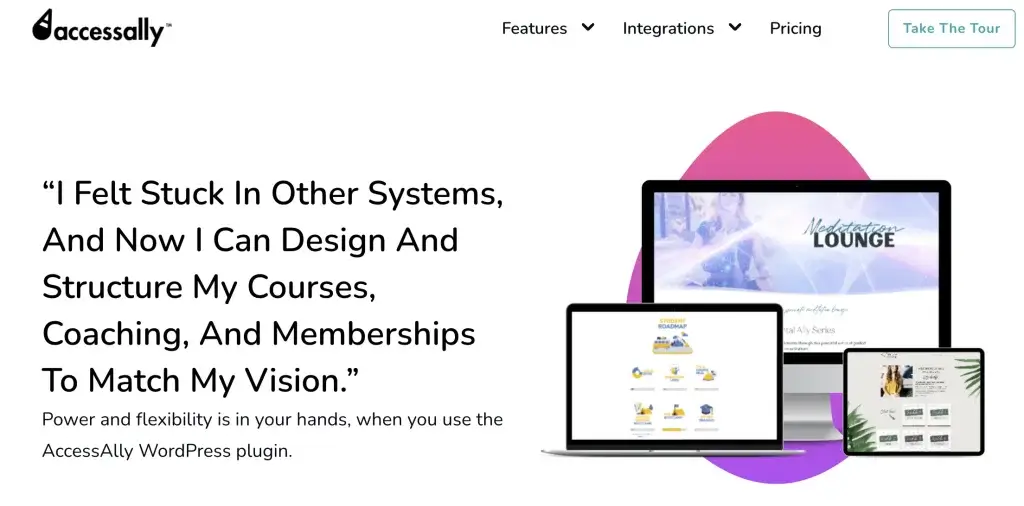 AccessAlly is a WordPress LMS membership plug-in that enables creators to monetize their knowledge by selling courses, memberships, downloads, communities, and coaching programs.
Setting up a course with AccessAlly is easy, as it features a Course Wizard. You can enrich its functionalities with the multiple plugins available. But, as with most WordPress plugins, you may encounter technical issues down the road.
AccessAlly has strong promotional capabilities and rich gamification elements, but it lacks advanced built-in email marketing features or native video hosting.
How much does AccessAlly cost?
AccessAlly doesn't offer a free trial. It comes with 3 pricing plans.
AccessAlly Essentials – $99/mo
AccessAlly Pro – $129/mo
In-House Training $250/mo
Customized landing pages
*Pricing Information retrieved from AccessAlly on the 21st of April 2022.
Pros:
Advanced website customization
Several monetizations and promotional options (subscriptions, free trials, one-off)
Sales features (order bumps, coupons, affiliates, abandoned cart follow-up)
Progress tracking, certificates, video bookmarking
Gamification
Cons:
It's not SCORM-compliant
Limited learning features (doesn't support synchronous learning, few quizzes)
Limited email marketing options
No phone support
Podia vs AccessAlly: AccessAlly is far more expensive than Podia and lacks important learning features. It does stand out, though, for its sales and promotional functionalities, which are superior to Podia's.
#14 Patreon
Patreon is a crowdfunding site that enables creators of all kinds, from artists to psychologists and educators, to create memberships and offer rewards to their patrons.
Creators have several options to set up their memberships and get paid either monthly or per creation, while Patreon gets a percentage of their monthly earnings once they start making money.
Patreon isn't the best option if you want o focus on course creation, although it does support text, images, video, and audio. It also integrates with popular marketing tools to help you to market your courses. Another interesting feature is its mobile app, where creators can chat with their audience.
So when it comes to Podia vs Patreon, it all depends on your end goal. If you want to focus on course creation, Podia is a better choice. But if you want to build an online community, Patreon fits the bill.
Pros:
Mobile app
Live chat
Free to start with
Video and live streaming
Cons:
Transaction fees
No learning analytics
No educational features
How much does Patreon cost?
Patreon has 3 pricing plans, with each one offering more features and taking a larger percentage of the donations. Getting started on Patreon is free.
Lite – 5% commission
Pro – 8% commission
Premium – 12% commission
*Pricing Information retrieved from Patreon on the 21st of April 2022.
At this point, let us mention that many compare Podia vs Shopify. Shopify, though, is not addressed to course creators. It's an eCommerce platform addressed to business owners who want to create an online store for selling physical products.
Choosing the Best Course Platform/LMS
All these Podia alternatives were only some of the best course platforms in the market.
Regardless of the platform you choose, you first need to ensure that it fits well with your own business requirements and customers' needs.
Podia is definitely a good choice for anyone who wants to promote and sell digital products – including online courses, but not a great learning experience.
However, if you want a platform that dives deeper into course creation features, offers certificates and gives you more powerful course and user analytics, it's best to choose a platform like LearnWorlds.
LearnWorlds is already packed with some amazing features. Are you ready to explore them with a free 30-day trial? Get started today!
Further reading you might find interesting:
Podia FAQs
What is Podia for?
Podia is an all-in-one platform that is suitable for course creators, entrepreneurs, businesses, and any creative professionals interested in selling online courses, memberships, and other digital products. It is a creator-centric platform that helps professionals sell their products online and earn some money on the side.
What is the best Podia Alternative?
LearnWorlds is by far the best Podia Alternative in the market. LearnWorlds gives you the tools to easily create a website, remove the company's branding and offer a great learning experiences.
How do I add a product to Podia?
Here's how you can add your product to the Podia platform:
Step 1: Log into your Podia account and go to the 'Products' page from the top menu.
Step 2: Click on the 'New Product' button and then choose the type of product you want (online course, digital product, or product bundle).
Step 3: Give your product a name and storefront description.
Step 4: Click 'Create & Continue'.
Step 5: Access your product page and start adding content.
How do I contact Podia?
Contact Podia's support in any of the following ways:
Via email to

[email protected]

.
Via live chat using the chat widget at the bottom right of any Podia's page.
Via joining Podia's weekly Zoom Q&As.
What is the difference between Kajabi and Podia?
Kajabi comes with more features, and its plans are more expensive, whereas Podia has fewer features and plans at a much lower price. Kajabi's website is also more complex and less user-friendly as compared to Podia's, which is easier to navigate.
Is Podia better than Teachable?
Compared to Teachable, Podia offers much more affordable pricing plans and has 24/7 support but no free plan.
Teachable comes with powerful marketing features and a free plan but has limited support availability and higher pricing plans. LearnWorlds is the best alternative to both platforms.
How can you import a course from Podia?
According to Podia's Help Center, you can export a copy of any of the files you've added to your Podia products or sales pages following these steps:
Step 1: Click on Products in the top bar of your navigation, then click on the "Edit" button on the far right of the product.
Step 2: Select the file you'd like to download, click on "…" and select "Download file":
How do people review Podia?
People seem to love Podia for its affordable pricing and ease of use. It's a good solution for anyone making their first steps in course creation and looking for a tool that can cover basic course creation and marketing needs.
What are the alternatives to Podia website builder?
This post discusses all the main competitors when it comes to website building for creators that want to monetize their knowledge. Among the most notable with similar selling points as Podia are LearnWorlds, Kajabi, LearnDash, Thinkific, and Teachable.
(Visited 732 times, 2 visits today)
Kyriaki is a Content Creator for the LearnWorlds team writing about marketing and e-learning, helping course creators on their journey to create, market, and sell their online courses. Equipped with a degree in Career Guidance, she has a strong background in education management and career success. In her free time, she gets crafty and musical.