Any new course creator looking for the best online course platform, will eventually come up to compare Thinkific versus Teachable.
Both platforms serve a different kind of inline instructor, and come with pros & cons. This review of the platforms will help you decide which one is the right fit for you.
We will focus on a pricing review of Teachable and Thinkific, comparing their features for:
Course creation
Marketing
Making a course website
Integrations
… and more
In addition, we will offer a third option that we believe is the best choice: LearnWorlds
Pricing Comparison of Thinkific vs Teachable vs LearnWorlds
Thinkific
Teachable
LearnWorlds
Basic / Starter Plan
$49
$39
$29
Pro Plan
$99
$119
$99
Business / Premier / Learning Center
$499
$299
$299
* Price information represents monthly pricing and is retrieved from Thinkific, Teachable and LearnWorlds on 22nd of January 2022.
Comparing Thinkific vs Teachable
Thinkific vs Teachable
Choosing the right online learning platform for your course business seems like a daunting task, but here we are to help.
Both Teachable and Thinkific are modern, user-friendly platforms suited for creating and selling online courses, but they come with different features in different plans.
While some might think that Thinkfiic is better than Teachable, there are many cases where Teachable is the better option or it can substitute Thinkific.
Common Features
To begin with, they both have a number of common features, which at their basic forms are very similar.
Here are some similar features:
Ecommerce features for course sales
Student management features (Admins, Reporting)
Payment gateways (PayPal)
Unlimited video hosting
Unlimited number of students
Integrated affiliate marketing
Integrations with popular software
Emails software Integrations (Mailchimp, ConvertKit)
Assessments: quizzes and exams
Importing / exporting users
Knowledge base / support portals
Drip content
Below, we are going to analyze both platforms. Just click on each link to skip to that section:
Our Choice: LearnWorlds
LearnWorlds is the top choice if you are looking to provide the best learning experience and ease of use for your users, more control over your brand and better pricing across all plans.
With LearnWorlds, you get to build your whole website with beautiful templates and even change the colours and fonts in your school without writing a single line of code.
You also control how the course player looks and you can fully customize the experience of your students.
Thinkific Pricing Plan Overview
Thinkific is one of the top online course platforms used by course creators and online training companies. It is a versatile platform that works both for selling online courses as well as offering internal training to customers and employees.
With Thinkific, you can create a white-label online academy similar to any learning management software and create online courses, connect a payment gateway and build course landing pages to accept payments and a CRM-like function to manage your students.
In this article, we are going to review Thinkific's plans, most popular features, advantages and disadvantages compared to other platforms like Teachable and LearnWorlds.
Thinkific Subscription Plans Comparison
Thinkific offers 6 plans, which might seem complicated if you are not sure what you need. We will be explaining each one of Thinkific's plans here:
| Thinkific Plan | Monthly Pricing | Yearly Pricing |
| --- | --- | --- |
| Free Plan | $0 (limited) | $0 (limited) |
| Basic | $49 | $468 ($39/m) |
| Pro | $99 | $948 ($79/m) |
| Growth Plan Add-on | $149 – $499 | No information |
| Premier | $499 | $4788 ($399/m) |
| Thinkific Plus | Contact to Request Pricing | Contact to Request Pricing |
In the next section, we'll continue to break down the pricing comparison by reviewing each plan and who it's best suited for:
Thinkific Free Plan
Instead of a free trial, Thinkific offers a free plan which limits admins to 3 courses, including hosting videos, unlimited students, and only offers the basic features to create your first course and sell them.
The biggest drawback is that the free plan does not allow for connecting your website with your online school.
Core features:
Course building – drag-and-drop course builder
eCommerce capabilities – e.g. accept Paypal or Credit Card payments
No transaction fees
Page builder templates – drag-and-drop page builder (including CSS customization)
Instant access to your funds
Student notifications (emails)
Content Hosting – including video, pdfs, and more
Best For: The free plan is ideal for testing the platform before you decide to move on to a paid plan.
Thinkific Starter Plan
Thinkific's starter plan comes with everything a first-time course creator needs to start building their online courses, connect their website, and comes with unlimited courses.
It also adds on the free plan with features like coupons, drip-feed courses and one-to-one emails.
Core Features (including previous plan's features):
Custom domain – which means connecting your website instead of having a Thinkific site such as myschool.thinkific.com
Secure cloud hosting with a free SSL certificate
Customer support live chat
Best For: First-time course creators, solopreneurs.
Thinkific Pro Plan
On Thinkific's pro plan, you unlock more options for your courses such as private, hidden, subscriptions, communities, live lessons, and a few more features to improve the learning experience like completion certificates.
Lastly, it allows you to get priority support whenever you need it and adds on the marketing capabilities, but, for the best marketing features you will need the Growth or Premier plans.
On the Pro plan you are also entitled to an additional site admin account, so you get 2 admin accounts instead of 1. Quite useful if you are working with a team.
Core Features (including previous plan's features):
Multiple instructors (2)
Completion certificates
Communities
Private courses and Hidden courses
Subscriptions and payment plans
Course compliance and prerequisites
More integrations (e.g. Mailchimp, webinar software like Zoom)
The Thinkific App Store – most integrations might come with an additional cost
Best For: Small training businesses, membership sites and established solopreneurs. It is the most popular choice as Thinkific states.
Thinkific Growth Package Add-on
The growth add-on is a step before the premier plan, adding essential features like white-labeling, API, webhooks and advanced integrations like Zapier, Infusionsoft, and ActiveCampaign, as well as bulk emailing, enrolling and importing students.
Thinkific's growth plan costs an additional +$50 more on top of the Pro Plan and increases with the number of enrolled students until it reaches $499, where it makes sense to change into the premier plan.
Core Features (including previous plan's features):
White-labeling for the website – not for the emails though
Integration with Brillium for exams
Advanced integrations
More groups & communities
Bulk enrollments
Best For: Growing businesses. If you need one of the Premier's plan features but can't afford it's steep price, then the growth plan offers is the solution.
Thinkific Premier Plan
Thinkific's premier plan is the powerhouse of Thinkific and is priced accordingly. At $499 per month, it's one of the most expensive prices for course platforms, but comes with advanced features like a Brillium integration, white-labelling and API access..
It also allows bigger teams to have 50 course admins and unlimited communities.
Core Features (including previous plan's features):
Additional admins & group analysts
Email white-labeling
API access
Onboarding call (30 minutes)
Best For: Suitable for course creators with a big audience, SMBs and Training Businesses that require white-labeling, APIs, or additional administrators to run their academies.
Thinkific Plus
Thinkific Plus is a choice for big corporations and enterprises looking to build their academy. It comes with all the previous features and adds advanced functionalities like SSO & Advanced API, as well as essential features like course duplication, SLAs and specialized onboarding.
Core Features (including previous plan's features):
Advanced API
Single-sign-on (SSO)
Service Level Agreement (SLA)
Master Services Agreement (MSA)
Additional onboarding
Best For: Corporate & Enterprise
Thinkific Pros
Thinkific offers a complete solution for online course businesses along with the marketing tools you will need, including some email marketing capabilities. Where Thinkific may lack in features it makes up with popular integrations.
The Thinkific app store adds on to any course creator's specific needs. And, if you do a complete Thinkific review, one of their unique features would be an integration with Brillium.
The easy-to-use course and website builder is also a plus.
Thinkific Cons
While Thinkific offers an almost complete marketing toolset to sell and upsell courses, their learning experience features and site building capabilities are certainly lacking together.
The platform is easy to use for an admin, but user experience and learning features could be improved, as it lacks:
Advanced quizzes and exams if you don't use an integration or a plugin
SCORM file support
GDPR tools
Interactive features
Advanced reporting – only offers basic reports
Mobile app
Thinkific explicitly states that it does not support SCORM. There is a drawback to this that could limit your ability to add external content to your online school. With a lack of features to meet European standards, it may not be great for international schools.
Another serious oversight from Thinkific is the mobile learning app. While it's websites are mobile friendly, it does not offer it's own app which all of it's biggest competitors like LearnWorlds, Teachable, and Kajabi provide.
Thinkific Alternatives
There are several Thinkific alternatives in the market. Some free alternatives to Thinkific like Moodle or Udemy come with pitfalls, such as high development costs or fees.
The best option for an online course platform or learning management system is LearnWorlds. It is the best choice if you are as concerned about the learning experience as you are about sales. You can get a 30-day free trial with LearnWorlds from here.
Compare Thinkific with LearnWorlds
Thinkific Frequently Asked Questions (FAQs)
Does Thinkific have transaction fees?
Thinkific used to have transaction fees, but it currently does not apply any. If you are using Thinkific, you might still get fees from the payment gateway you are using e.g. Stripe or Paypal.
Does Thinkific have a free plan?
Yes, Thinkific offers a free plan which is pretty limited in capability. The main limitation is the number of courses you can create but also many features and white-labeling options you can find in the next plans.
Does Thinkific have a free trial?
Yes, you can try the Thinkific Pro plan with a free trial using a credit card for one month.
Does Thinkific have a money-back guarantee?
Thinkific does not provide refunds. It states very clearly in the terms of service that it does not offer any money-back guarantee or refunds for payments of their services.
Do I own my course content with Thinkific?
Student data and content belongs to you and you can export your data at all times. Thinkific does not claim your intellectual property when uploading your material in their software.
Teachable Pricing Plan Overview
Teachable is another cloud-based learning platform that caters primarily to creators and online coaches that want to monetize their content.
It comes with many similarities with Thinkific and LearnWorlds, but is more of the go-to platform for entrepreneurs who are new in online course creation and focus on coaching.
Teachable offers four pricing plans: Free, Basic, Pro and Business with no enterprise solution.
You can purchase Teachable and pay a monthly subscription or an annual payment that comes 20% cheaper.
Teachable Subscription Plans Comparison
| Teachable Plan | Monthly Pricing | Yearly Pricing |
| --- | --- | --- |
| Free Plan | $0 (limited, transaction fees) | $0 (limited, transaction fees) |
| Basic | $39 | $348 ($29/m) |
| Pro | $119 | $1188 ($99/m) |
| Business | $299 | $2988 ($249/m) |
Next, we'll review each plan's characteristics and for whom it's better suited for:
Teachable Free Plan
Teachable's free plan allows you to have unlimited courses, students and coaching services, product bundles, and basic quizzes.
You can also upload and host your video tutorials and accept payments.
As a whole, it offers the basic features you need to build and sell an online course, with the downside of additional fees per sale and additional fees even when using PayPal.
The good news is that it does not charge you any fees on free courses.
Core features:
1 admin-level user
Course builder
Student management
Coaching products
Bundles
Basic Quizzes
Video hosting
Instant payouts (with some caveats)
Sales pages
Email support
Best For: New course creators with simple educational material
Teachable Basic Plan
On the next tier is Teachable's basic plan. In the first level of paid plans, the fees are reduced to 5% per transaction, you get a 2 admin-level user, and you can connect your website with your online courses.
Additional to that, you get access to basic marketing features such as coupons, drip course content, community features, and integrations.
Core features:
2 admin-level users
Connect your website
Coupon codes
Drip Courses
Email marketing integrations
Third party integrations with: Google analytics, Sumo, ConvertKit, Zapier (triggers only)
Best For: Course creators or online coaches with a small audience
Teachable Professional Plan
Moving to Teachable's Pro plan you unlock access to the first really interesting features including the affiliate program, course completion certificates, graded quizzes, reports and unbranded website.
*Important note here: Teachable does not offer a white label solution. Every plan of Teachable requires your students to have a Teachable account. Also, there is no email white-labeling in any level. Read our comparison of white-labeled course platforms.
Another disadvantage of the Pro plan is that it's the most expensive among competitors. Teachable offers the Pro plan at $119 compared to LearnWorlds and Thinkific which comes at $99. That's $240 more in a year.
Core features:
Affiliate program
Course completion certificates
Graded quizzes
Reports
Remove Teachable branding from the footer
Live chat support
Best For: Established creators and coaches with more complex courses that include graded quizzes or certificates.
Teachable Business Plan
Moving on to Teachable Business plan, it does not offer any additional learning features, but focuses on bigger accounts that require better management and design.
You will need the business plan if you have a team and need up to 20 administrators or instructors, bulk imports and customizable themes (pages).
Core features:
20 Admin-level users
Custom roles
Bulk Imports
Advanced theme customizations
Best For: Elearning or coaching businesses with a large team and established customer-base.
Teachable Pros
Teachable is great for new creators and coaches, it is the simple solution for people who are just getting into online courses and want to simply upload their material as an online course.
While it offers a Business plan for bigger businesses, Teachable is more suited to small businesses (less than 10 employees) and solo creators.
Another strong point is the Teachable Payments solution, which makes it easier than handling an account on Stripe or PayPal, but it is limited to specific countries.
Another advantage of Teachable's platform is its Discover marketplace and mobile app, which we will further explain below.
Teachable Cons
On the other hand, Teachable comes with some big downsides. Notably, it does not allow white-labeling. Your students will always need to create a Teachable account and your email notifications will feature Teachable's address.
Also, Teachable locks you in high fees especially on the Free Plan with 10%. And you can only accept payments in its own payment gateway or with PayPal. This can be very limiting for bigger creators with a higher volume of sales.
The other major disadvantage is the limited page builder for your site design. It is only suited for simple sales pages, without many customization options. Especially if you compare it with higher-end platforms like LearnWorlds.
Lastly, Teachable lacks on learning features. Some of the things you will find in other course platforms are not available here, like:
SCORM / HTML5 file support
Question banks
Advanced quizzes and exams
Direct to student messages
Teachable Discover Marketplace
A unique feature for a course platform, is Teachable's Discover marketplace. It is a place to sell your courses and find an audience for you, similar to what Udemy offers.
It also comes with it's own mobile app for iOS only.
Having a marketplace and an app is a big advantage and helps creators find an audience if they already don't have one.
On the other hand, Teachable gets a 30% revenue share of sales for your work.
While it's great for getting upfront a new audience, the 30% cut is a big deal. Getting your course shown side-by-side with your competitors entails the risk of decreasing your sales.
Teachable Frequently Asked Questions (FAQs)
Does Teachable have fees?
Yes, Teachable has fees starting from 10% on the free plan and 5% on the basic plan. There are also fees for Teachable's Discover marketplace and additional payment processing fees.
Does Teachable have a free plan?
Yes, Teachable has a free plan where you are charged based on 10%+$1 per sale. Free courses do not have fees.
Does Teachable have an app?
Teachable only has an iOS (Apple) app, not an Android one.
Does Teachable integrate with my Website / Shopify / Wix / WordPress?
You can connect Teachable to a subdomain of your website, Wix, Shopify or WordPress site. Unfortunately it does not integrate with any of those systems, but you can set up Zapier to connect and transfer sales from them to Teachable.
Are you looking for a system that really offers a great learning experience, customizable website, white-labeling, and integrations?
Then, LearnWorlds is the best choice for you. You can get a 30-day free trial and test it out.
Compare Teachable with LearnWorlds.
Which will you choose: LearnWorlds, Teachable, or Thinkific?
Choosing the right LMS is not always about features, it's a personal choice of what works for you, your online business and your audience.
You can only understand if the platform is easy-to-use and intuitive after trying it, and after your learners take a peek inside your courses for the first time. You can also take into consideration testimonials from peer online course creators on social media or from credible reviews sites like G2 and Capterra.
All platforms come with slightly different pricing options that offer different features. Our take is that LearnWorlds will end up being the best platform that will offer the highest quality and learning experience to your students, while offering the customization options to create a beautiful learning website.
Try LearnWorlds today with a 30-day free trial and you will not regret it.
Read more comparisons:
(Visited 2,028 times, 7 visits today)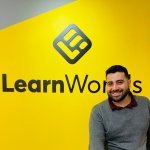 Nick Malekos is a Senior Digital Marketer in LearnWorlds. He is a results based and well-rounded Digital Marketer with years of experience in the education industry, writer and digital literacy trainer.