Since the very beginning, we aimed at creating an excellent all-in-one platform that takes your e-learning and e-commerce to the next level. Not only you can create all your courses with LearnWorlds, but you can also create a full-fledged e-commerce enabled website! There is no need to pay for additional hosting and website creation services.
Our unique Pages Builder technology is the most powerful tool to create a full e-learning website for your business. LearnWorlds schools do not only offer online courses, rather than a suite of tools for any e-learning business. Building up an excellent experience from the first visit to buying, learning and engaging your students.
The Pages Builder is the technology which powers many unique LearnWorlds features such as the Thank You pages and is similar to the Interactive Ebook creator. It also powers up your landing pages.
You don't need to have any coding or design skills when creating your website. We give ready, responsive and beautiful templates to create a page in just a few minutes.
With the addition of 25 new templates for our interactive ebook, we are providing our school owners with more options! Create a unique, professional and beautiful online school or academy to host your online courses.
Why add new website templates?
We listen, and we deliver!
Among the feedback and reviews we get from our customers, many praise our pages builder and the ability to create beautiful pages with it. Going a step ahead, we wanted to add more to it and expand its capabilities. Now, there is a wider variety of templates to use while creating a landing page which promotes courses, training and coaching services.
Recently, also released a powerful upgrade for the Pages Builder. Giving power to non-coder users over advanced customization options, where they can edit the CSS (styling options) with just a click while providing additional easy options for power-users to further edit every element in a page.
Coming along, the time-saving magic templates. Now, you can rotate among similar templates to see which one fits your needs, and even change templates without losing your work.
Now, keeping up to date with design and usability trends, we designed a number of new templates that work incredibly well across devices, are SEO-friendly, and will take your brand's presentation to the next level.
New Templates Types
LearnWorlds comes with a wide variety of templates, but we wanted to add some more. Try one of the new templates to impress on the first look or present your team; you can also include the learning outcomes or services you offer. Don't limit your creativity; the templates are just a starting point.
Every template is customizable in many ways; you can change the color, fonts, images or even delete items you don't need, to make a lasting impression. Instill the branding and feel of your company or a personal touch to your students' hearts, make them grow two sizes <3 (or more) and join a community of their peers. Our premium templates are available with our Learning Center plan, but you can try them all while on a trial and see what works for you before upgrading 🙂
Above the Fold Images & Video
A beautiful presentation intended for page headers and full-width image or video presentations. A modern approach to course landing pages, awe-inspiring hero-images along with your tagline.
Or use a Call to Action above-the-fold template to immediately capture the attention of the visitor!
Images with Text Template Zones
Mouth-watering template zones for visual courses. A perfect way to present pictures and photography along with the text.
P.S. If you are launching a visual course, you should be using Instagram to promote it. Read our Instagram Marketing guide for that.
Unique Text Presentations
Present your learning outcomes, team, services and more with the premium text-only templates. New text-based templates with a modern design, choosing between a color or icon style presentation of your school.
Also looking great on mobile. Whether you are presenting simple ideas.
Or looking to present Ideas & Texts on mobile devices and small screens. Reaching your students with a seamless experience.
Thank You Zones
A Bonus regarding Thank You Zones. We have recently launched an exciting new feature for upselling online courses. Thank You pages are what comes after someone purchases a course. You can now customize their experience with the pages builder.
You can guide them to the next step or offer a welcoming message.
Or give them a gift-coupon to upsell, it's your choice, and we make it as easy as a click 🙂
Create an Elearning Website
All you need to launch your eLearning website is the right platform. You will need to be able to upload your material as online courses, create your pages (think of it as your school's storefront) and have all the marketing and sales tools you will need to make the sales and get the return on your investment.
With LearnWorlds, you can create an online course and your landing page in minutes. All you need is a free trial to get started.
Click here, and start building a beautiful page to welcome your students.
(Visited 4,459 times, 3 visits today)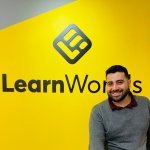 Nick Malekos is a Senior Digital Marketer in LearnWorlds. He is a results based and well-rounded Digital Marketer with years of experience in the education industry, writer and digital literacy trainer.