A webinar is one of the most powerful weapons a course instructor has access to. It's the crown jewel of your sales funnel. And because of its video-based characteristics, you can host a webinar to reach a wide audience and repurpose it as video content for your courses.
As reports show, 86% of online businesses use webinars as a marketing tool while 81% of marketers say video has helped them directly increase sales.
Taking this into account, you can use webinars not only as a medium for communicating with your students and facilitating learning but also as an advertising tool for promoting your courses.
To do this effectively, you need a great webinar that educates and…sells.
In an attempt to shed more light on what is a webinar and how it works, in this article we share everything you need to know about creating a successful webinar and also answer some FAQs you may have.
What is a Webinar?
A webinar, which is short for web-based seminar, is defined as a presentation, a lecture, a workshop, or an educational or instructional session that is transmitted over the web using a video conferencing tool. It facilitates audio-visual communication between a person (the webinar host) and a group (webinar attendees).
You can find webinars named differently depending on their purpose, the needs, or the outcome they serve.
Some other terms you might hear for a webinar are:
Free online workshop
Master class
Online seminar
Live class
Virtual training session
Interactive training
A webinar can be hosted by an individual or an organization. It may cover anything from an informal interview to a discussion on a specific subject that is predetermined.
As an online event, a webinar allows the sharing of slides and other interactive elements that facilitate information exchange and discussion in real time. It encourages participation through chat boxes and Q&A features.
How does a webinar work?
To attend a webinar, you need to sign up using your email address, where you'll receive a private link before the live event. On the day of the webinar, the organizer sends a reminder email. You click on the link when the starting time comes and join the webinar.
In contrast to videos and podcasts that are "free" to join, people need to sign up to book their spot at the webinar by giving out their name and email address.
What are the benefits of a webinar?
It provides one of the best ways to generate new leads.
It is like a mini customer education program, during which you introduce your product or service through live tutorials and case studies. This enables you to sell them faster.
It offers an effective way to build trust and increase brand awareness.
It allows more interactivity and helps to get specific points across.
It is a source for repurposed content, e.g., ebooks, presentations, and infographics.
It is cost-effective and less time-consuming than other media.
Benefits, particularly for course creators:
It helps to position yourself as an authority on a subject.
It allows for greater engagement and better relationship-building – it's more about teaching than presenting.
It can be used as evergreen content for online courses, just like blog articles that can be saved, read, and reviewed at any point.
It helps attract more students and distribute information easily.
It allows you to increase the number of your following and build your email list.
It makes teaching and knowledge transfer easy and effortless.
How can you use a webinar inside a course?
Generally, this is how you can use webinars in online courses:
As part of the course curriculum.
As part of the instructional manual.
As part of a marketing campaign to release a new course or training.
Just like the ebook and the video, a webinar is another form of content that has the potential to create a unique eLearning experience delivering a targeted message for informative, educative, or marketing purposes.
Now that we have covered all the associated benefits, it's time to take a look at how to create a webinar.
How to Create a Webinar
In contrast to popular belief, setting up a webinar is simple and easy. However, the whole process needs some proper planning.
Here are the steps you need to go through:
Step 1: Decide on the webinar topic
First, think about what the topic of the webinar is going to be. Prepare a plan for what subject you will address and how you will do it, with an end goal that serves your business.
Your webinar must work around one main idea so that it's niche-specific, and the presentation's content should support that.
If it helps, ask yourself the following questions:
Do you need…
A webinar that educates?
A webinar that converts and generates leads?
A webinar that informs (introduces you and what you do)?
A webinar that promotes your online course or other digital products?
A webinar that does all of the above?
There are many types of webinars (sales, training, corporate training/communications, educational, customer retention/nurturing, branding/reputation, etc.). Deciding on the type of webinar you need is a priority since this will help you better organize the next steps.
An evergreen topic is the best way to increase participation and reviews. Although it's a good strategy, always focus on what you are offering to the audience and the value it carries.
Step 2: Think about the webinar format
There are many webinar formats. Choosing the ideal one for your purpose will boost the webinar performance and determine success.
These are some of your options:
Single expert presenter: one expert sharing tips and advice.
Dual presenters: two presenters educating attendees and inviting them to the discussion.
Panel: hosting a group of experts discussing a specific topic.
Q&A session: an expert or a panel answers questions asked by your audience via chat or social media.
Interview webinar: a popular influencer as a guest speaker discussing a specific topic.
Product demonstration: explaining and promoting a product or a service.
Webinar series: an ongoing series of webinars as opposed to a one-off presentation.
Each format has its advantages and disadvantages. So make sure you give it a good thought before you decide which one fits your goals best.
Step 3: Choose your webinar provider
To start recording your webinar, you need to come up with the webinar content and then choose the webinar provider that will allow you to do so.
How to record a webinar
First, plan the webinar content and the script that will allow you to prepare some keynotes you can use during your live webinar.
Once you're ready, choose a webinar creation software to start recording. Each platform is different and has different functions you can use to record your webinar, so make sure you follow the guidelines.
What equipment do you need for a webinar?
A computer with an internet connection
Webinar software
A camera/webcam
A microphone or headset with one
These tools will come in handy when hosting a webinar, so ensure that you have them well in advance.
Best Webinar Software
Many webinar platforms can help you with this task. Choose the one that fits your business needs the most paying attention to its pricing and the features that come with it.
Here are a few of the top software to create a webinar:
Each software comes with different features. According to Capterra, it's important to look for the following:
Customizable Branding
Event Management
Live Chat
On-Demand webinars
Polls/Voting
Reporting/Analytics
Screen Sharing
Social Media Promotion
Paying attention to these features should help you create a high-quality webinar experience and attract many attendees.
Step 4: Prepare the content
Now it's time to create your content and prepare your presentation slides. To do this, you can use PowerPoint, Prezi, Visme, or any other presentation creation software you prefer.
Make sure your presentation has a simple and clean design, it's free of clutter, and presents content that is easy to understand. Don't forget to use bullet points!
If you aren't the webinar host but inviting a guest speaker or course instructor instead, discuss the content with them and ask them to create it.
Also, ask them to send their finished work on a deadline. Three days before the live webinar works just fine.
Step 5: Choose the day/time
Just like your social media campaign, when deciding on the day you post, you have to be strategic. Your webinars can get filled with attendees depending on the date and time they take place.
According to the ON24 Webinar Benchmark report, Tuesday, followed closely by Wednesday and Thursday, are the best days to get webinar attendees.
What is the best time to host a webinar?
The same research showed that the best time to host a webinar is mid-morning and early afternoon, e.g., at 2 pm.
Having this in mind is helpful, but you should always think about time zones to figure out what time suits your audience best.
Using Webinars to Teach Online
Webinars are a great way to teach online or move a workshop online. They're interactive and enable two-way communication, which makes them perfect for education.
Webinars are also great for recording a live class and offering it later as an on-demand video or pre-recorded training. To do so, upload it to your LMS to sell it as an online course.
So, how can you use webinars to teach online?
First, you need to decide whether you'll follow a webinar-only format where you communicate with a small class of students by email and schedule their classes. Or, if you'll build an online course and the webinar will be part of the curriculum.
Live Class
Live classes or a virtual classroom environment are face-to-face live video sessions with one or many students. Like on-site classes, the instructor organizes a class and leads the conversation.
In a live class, the instructor can share their screen using a PowerPoint, a document, a video, or other multimedia. Some software, like Zoom, support sharing a whiteboard environment.
After the class, you can upload the recording to a course platform like LearnWorlds and allow your students to have access to the class at any time they want. If you have a mobile app for your online school, send them a notification so they can view it right away if they want to.
Virtual Training
Virtual training is most common in professional education. It's often used in internal employee training or continuous professional education. But it also applies to non-traditional education and non-professional subjects, like sports, certain skills, or hobbies.
The principles that apply to virtual training are the same as any other subject. You will need to identify the learning objectives before creating the material. We have written an article on how to create an online course where the same principles apply, with the only difference being in the production of the material. There, instead of shooting video, you're having live training at specified times.
Decide the course topic
Research the subject
Write the learning goals and objectives
Plan the course outline
Invite your students
Host the webinar
💡 Small tip – you can use a calendar app like Calendly and embed the form on your website to get registrations or schedule one-to-one live training. Here is how you can embed it in LearnWorlds.
Live & Pre-recorded Webinars
Here at LearnWorlds, we allow you to do both live webinars or include them in a course curriculum. You just embed the webinar inside a course and sell it as a class, course, webinar, or training. Would you like to give it a try?
How to Host a Webinar on LearnWorlds
If you have an online school with LearnWorlds, you can connect Zoom and run a meeting or live webinar with LearnWorlds' Zoom Integration.
You can read our detailed guide on how to do that from here.
Step 1: Connecting Zoom
First, you will need to connect the Zoom integration to your LearnWorlds account.
Step 2: Add a Live Session to a Course
You can go to an online course and add a new learning activity. You will need to choose a Zoom Meeting or Zoom Webinar.
Step 3: Choose your Settings
You will need to save and choose the right settings for your live session, including the date and time it will run.
Step 4: Run the Live Class
Now that you are all set up, you can run the live class through LearnWorlds. Here is what it will look like:
Keep in mind that:
Zoom also offers Zoom Classrooms for educators.
Zoom integrates with LearnWorlds by embedding it in a course and using Zapier to automate registrations, more on that below.
Using YouTube Live
Follow the steps of our super easy article on how to create a live webinar with the help of YouTube Live. To do this, all you need is a Google and a YouTube account.
Creating a webinar with YouTube Live is a piece of cake once you get to learn the procedure.
Simply go the YouTube's 'Live Streaming' to create an 'Event.' Choose the date, time (start/end), and other basic information about the webinar, such as title, location, tags, type of stream, and broadcast control. Broadcast control allows you to make your webinar public, unlisted (available only through an invite link), or private.
Once you are done, click on 'Go Live'. This opens up a new window, but you need to go back to your browser and click on 'Live Control Room' and then, 'View on Watch Page'.
From there, go to the video and click on 'Share' to insert the embed code.
Finally, go to your LearnWorlds school and find the course you want to embed the live stream to.
Click on "Add an Activity" and then 'Embed' to insert the code into your course content.
Lastly, go to the 'Update Embed learning unit' and paste the "Video Embed" script of your Youtube Stream, and you are good to go.
This is how your webinar will appear in your LearnWorlds video player:
To invite people to your webinar, send them the YouTube page link.
Please keep in mind that not all of the webinar tools/software can be embedded in your school. That's why LearnWorlds suggests you use YouTube Live.
Using Prezi Video
Prezi has combined its powerful interactive presentations with Video. A favored tool by educators, Prezi Video, allows for an open canvas-style of presentation to be embedded on top of your video.
Imagine a video where your graphics join you in the presentation for a more unique experience. Learners will no longer 'tune out' to flat, voice-over slides.
You can use Prezi Video as a video solution for your online and live courses to optimize the learning experience and keep the learner focused on key content. You can also use it in live webinars and online conferences. Video links can be shared across any platform. When combined with third-party video conferencing or webinar software, you have the most engaging online learning and webinar solution at your fingertips.
It works with all major platforms like:
Zoom
Webex
GoToWebinar
GoToMeeting, and
Google Hangouts
See some teacher examples, or learn how to use Prezi Video here.
Automate Webinar Registrations with Zapier
So, what if you are selling your webinar as an online course, or what if a webinar is part of your online course?
You will need to connect Zoom, Youtube Live, or Go-To-Webinar so that someone who signed up for your course is registered to it.
This is where Zapier comes in.
You can use Zapier to send all new enrollments to a Zoom webinar or register them for all your live classes associated with the course.
A Profitable Webinar Sales Funnel
Webinars are great for selling your products. Webinars can be a part of your main focus in sales.
You can use webinars to collect leads and nurture them into paid customers. When constructing your webinar sales funnel, you need to think of the whole process: from getting people to sign up to your call to action during the webinar.
You will need to:
Steps to a webinar funnel
Get people to sign up for the webinar
Calling out for webinar participants can happen in many ways, but mostly through social media channels. Create a Facebook or LinkedIn group/page and reach out to other businesses and bloggers, asking them to promote the event to their audience.
In the meantime, do the same with yours. But before you start sending out invitations, think about how many registrants you will need or can handle.
Usually, there is a 3 to 5% conversion rate. This means that to secure 10 registrants, you might need to send out more than 200 invites.
How to promote a webinar
If you want to promote your webinar effectively, try the following:
Create a spot-on sales pitch: come up with a sales pitch that sounds natural, letting words speak from your heart. When you are genuinely trying to help people, they feel it and will sign up for the event with no further questions. In your pitch, give a short description of what the webinar is all about, explaining the 4Ws – What, Who, When, Where. You can also urge more people to enter, creating scarcity with the availability of seats.
Run Facebook Ads: promote your webinar through Facebook and/or Instagram ads. Send out the invitation link to people who are more likely to be interested in it.
Come up with a lead magnet: create a pop-up form offering a short free webinar, an ebook, or a coaching session with you to entice potential participants. Ask for their full names, email, and telephone numbers. Use their contact details to send them a welcoming email and two or three more webinar reminder emails along the way. Let your email marketing strategy take the lead from then on to convert webinar attendees into future course buyers.
Create a strong webinar landing page
Creating a winning landing page that can host your webinar registration page and your 'Thank You' page or confirmation page is the best thing you can do to promote it.
Research conducted by GotoWebinar, which analyzed 350,890 webinars hosted by more than 16,000 of their customers, showed that the company site is the top channel for webinar promotion. This means that the company site is the ideal place to direct people to learn more about and join a webinar.
Image Source: Marketing Profs
To get your webinar landing page right, clearly explain when the webinar will take place, what the topic of the session will be, who will be presenting, how to register for the event, and what people can gain from attending it. Make sure to also optimize it for SEO using relevant keywords.
How to charge for a webinar
Most webinars are offered for free, but you also have the option to charge for them if you want to. In this case, your webinar is your product instead of your funnel, but it can also be part of a more intricate, premium product funnel.
To do this first, determine the costs of webinar production – how much you pay to host it. Usually, this is around $100 at the minimum. Depending on which webinar platform you choose and the results you're after, pricing will differ.
Then, calculate the amount of time it takes you to create the webinar content and measure how many participants you expect to have in your webinar to come up with the final price.
How to host a paid webinar
Choose a webinar platform that allows you to charge attendees, and follow the guidelines to set up and connect your payment gateway e.g. PayPal. Then, encourage people to 'Pay to Register' using the appropriate CTA (call to action) in all your webinar marketing efforts.
Invite people to attend the webinar
The ideal number of webinar emails to send out is three to four, depending on the registration day. You can use an email automation tool to set this up.
For example, if you are counting down to the webinar from Day 7, you can send the first to say 'Thank You' and confirm registration on the day of the signup. Send another one or two in the middle of the week – Day 5 and Day 3 to prepare them for it, and one on Day 1 as a reminder email. Those who register in the middle of the week will get fewer emails as a reminder.
Tip: When inviting people to attend your webinar, consider geographical differences and population characteristics. For example, the different time zone of locations for the time of the event and the speaking languages.
Send a follow-up email
Once the webinar has taken place, it's a good idea to send out follow-up emails. Those reminder emails you sent out to people before the event can prove useful after it's completed.
With these emails you offer the opportunity to those who took part in the online event, as well as those who didn't make it, to replay the webinar and review the information you have given.
On top of that, you can ask them to provide some feedback on your presentation. This can help you improve the effectiveness of your content marketing strategy and discover more creative ways to reach out to your target audience.
Close the sale
This is the part where you sell.
You will need to have a clear call-to-action that is repeated in your whole funnel in order to make the sale.
Whether you are selling online courses, products, services, or software, you will need a way to "activate" your attendees.
You have several opportunities to do so. The best way is to mention an offer or a Call-to-Action inside the webinar. This can be at the beginning, middle, or end of the webinar. Alternatively, you can follow up, usually with an email sequence or – in the case of high-ticket sales – a personal call/email.
You could also use remarketing to reach out to everyone who attended. But that works best if you have thousands registering or attending your webinar.
If you're using a webinar as a sales funnel, good luck!
And, don't forget your CTAs and follow-ups to close that sale!
Frequently Asked Questions About Hosting Webinars Online
Despite their popularity, not many people know a lot about webinars. Knowing what a webinar can or cannot do is the best way to create a successful webinar that gathers the attention it deserves.
These are our answers to some of the most popular questions regarding hosting webinars:
What is the purpose of webinars?
The purpose of webinars is to discover customer needs, educate, present new ideas, gather leads, or increase your brand awareness.
How to create a webinar presentation?
Choose the webinar presentation tool that suits your needs and give your presentation a structure. Start with the following:
Come up with a catchy title: use industry-related keywords and show what it is about.
Provide a presentation outline: explain what you'll talk about.
Give an introduction of yourself/company: tell who you are and what you do.
Deliver your training to attendees: teach people how to do something.
Talk about your product: introduce your product and describe what it can do for them.
Present your product offer: list all the reasons why you are the best in your niche.
Close the 'deal': talk about the next steps and how people can get in contact with you.
Hold a Q&A session: answer any questions people have at the end of the webinar.
How long should a webinar be?
According to Zippia webinar statistics, the average webinar length is 60 minutes, while the average viewing time for webinar attendees is 56 minutes.
Slightly shorter webinars are more popular with attendees. 44% of attendees prefer webinars that last 45 minutes and another 41% prefer 30-minute long webinars.
What are webinars?
A webinar (or web seminar) is an online event (usually a live meeting or conference), that is organized and hosted by an individual or an organization/company, which gets presented in front of a small or large group of people via the online means – using an internet connection, computer, laptop or mobile.
What is a webinar session?
A webinar session is a live virtual event that takes place online. It may be an educational or instructive session that includes audio and visual communication between a speaker and attendees.
Are webinars effective?
Webinars work and are one of the most effective marketing tools every entrepreneur or company that wants to promote their product and services can use in their advertising strategies.
Are webinars interactive?
Webinars have many interactive elements, such as the sharing of presentation slides and a chat box, which allows webinar attendees to talk directly to the webinar host through a Q&A session.
Are webinars live?
Yes, typically webinars are real-time meetings, presentations, or events that take place online. However, there are occasions when a webinar is not live but is presented as live, or it's pre-recorded.
What describes a live webinar?
The main feature of a live webinar is interactivity – the ability to connect with viewers across the world to discuss, send, and receive information.
Can the instructor see you on a webinar?
It depends on the kind of webinar. Typically, a webinar is a one-to-many format. This means the webinar instructor can't see the students while in a webinar, but the audience can send out questions to the instructor and the instructor answers them through the live session.
Some webinars allow for two-way communication through video as long as the person who created them permits it.
How to use webinars for training?
A webinar for training your business team members can be used as:
A lecture-based training: one-way communication where the trainer presents to attendees.
Virtual classroom training: use of traditional webinar presentations, combined with interactive tools including videos, surveys, polls, Q&As, or breakout rooms.
A mixture of the two: a combination of both training types.
Bear in mind that each trainer uses a different type of instructional video and has a unique teaching style. Therefore, the nature of the webinar may differ from person to person.
What is an evergreen webinar?
'Evergreen' in marketing refers to content whose topic is always relevant and fresh for readers. An evergreen webinar is a webinar that can withstand the test of time.
What are some good webinar title examples?
Catchy, short, and easy-to-remember titles are ideal for webinars:
How to Lose 3 Pounds in 10 Days
5 Steps to Create a Winning CV That Gets the Job
Baking 101: 7 Ingredients to Make the Best Brownies
Instagram Tips: 10 Secrets to Increase Brand Awareness
These are some examples of specific industries. Take a few examples and templates to create different variations that suit the niche of your business or your online school.
You are ready to create your first Webinar!
While there is no definite way to promote and host webinars, there is always a way that works.
If you're planning to create a webinar and invest in webinar marketing, make sure you choose the right webinar service that helps you create great and valuable content along with coming up with creative ways how to promote it.
All you have to remember is to prepare, have your goal in mind, and always aim to give value to your audience before self-promotion!
You've got this, good luck!
Further reading you might find interesting:
(Visited 38,124 times, 4 visits today)
Kyriaki is a Content Creator for the LearnWorlds team writing about marketing and e-learning, helping course creators on their journey to create, market, and sell their online courses. Equipped with a degree in Career Guidance, she has a strong background in education management and career success. In her free time, she gets crafty and musical.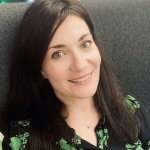 Androniki is a Content Writer at LearnWorlds sharing Instructional Design and marketing tips. With solid experience in B2B writing and technical translation, she is passionate about learning and spreading knowledge. She is also an aspiring yogi, a book nerd, and a talented transponster.