We have launched a new course on email marketing for course creators, you can read more on it here:
A Comprehensive Guide to Email Marketing.
——————————————-
Automate Your Online Courses with the top Email Marketing Software
As a course entrepreneur, you are probably spending a significant amount of your time marketing and selling the courses you have created. A big part of those activities will be growing and maintaining your email list. It's indisputable: email is still one of the most effective ways to reach your customers.
Sending emails, automating workflows and auto-responders is not a manual job. Top entrepreneurs use only the best tools to promote their business. With these new integrations, LearnWorlds connects directly to the most powerful email marketing tools in the market to save you time and enable you to sell more online courses!
MailChimp, Active Campaign, Aweber and ConvertKit (in no particular order), plus Zapier to help you connect with more than a thousand other tools. Automating your email marketing process has never been easier!
Your favorite email marketing tool is not in the list? Just shoot us an email (support@learnworlds.com)
The top email marketing platforms in the industry
Active Campaign is an integrated email marketing and can double as a small business CRM & sales software. It allows you to send newsletters, automated messages to contacts, segment your audience and personalize every campaign.
How to connect Active Campaign with LearnWorlds.
AWeber helps entrepreneurs drive results with email automation. You get access to ready to use email templates, list management, autoresponders, and email tracking with detailed insights. It offers live chat, phone, and email support, as well as live webinars and a rich library of how-tos and tutorials.
How to connect AWeber with LearnWorlds.
ConvertKit is a robust email marketing platform for professional bloggers, creators, authors, and marketers. It is easy to use and setup auto-responders, drip emails and segment your contacts. Its support includes an extensive knowledge base and learning material.
How to connect ConvertKit with LearnWorlds.
Mailchimp is a simple and easy-to-use email marketing software, suitable for small businesses with simple automation needs and an easy way to setup and send newsletters to any email list size.
How to connect Mailchimp with LearnWorlds.
Zapier allows you to connect an Email Service Provider (ESP) with your online school and automate other repetitive tasks in your daily business and marketing management list. It offers integrations with 1000+ tools, and I can bet that your favorite tool is on that long list.
How to connect Zapier with LearnWorlds.
How Can I Connect LearnWorlds with my Email Automation Software?
When you login to your LearnWorlds Online School, visit the Integrations menu and choose the E-mail marketing option.
There, you can connect your school with your favorite email marketing tool. The process is easy and we guide you step by step. You will either need to provide an API Key or click a button to authorize a connection between LearnWorlds and the email service with your related username and password.
What Information is Sent?
The whole point of email marketing is to communicate with your contacts, automate the process and customize the communication as much as possible. Segmenting is the name of the game.
What we do is sync user data as custom variables to the email marketing software of your choice. You can then use those variables to segment your audience or trigger emails based on their activity. This way each person in your list gets the right email at the right time!
Here is what information is passed to your chosen email marketing software:
| | |
| --- | --- |
| AVATAR | The profile picture of your student. |
| REGISTERED | This is the date the user registered to the school. |
| LSTSEEND | This is the date the user was last seen in your school (last login). |
| LSTBUYD | This is the date the user last bought a course. |
| COURSES | This is a string that contains all course title ids the user is enrolled in, separated by commas. |
| COURSESNUM | This is the number of courses the user is enrolled in. |
| CERTIF | This is the number of certificates the user has obtained. |
| CERTIFSIN | This is a string that contains course ids of courses the user has completed, separated by commas. |
| ADDRESS | This is the user's address signup field. |
| COUNTRY | This is the user country signup field. |
| SUBSCR | This is the name of the user's current subscription. |
| ISADMIN | This is the user's admin status (YES/NO). |
| OPTIN text | This is the user's Marketing optin status (YES/NO). More about optin and GDPR here. |
Ideas and Tips to use for Email Marketing
All those variables are jam-packed with information, but what do they actually mean for you as a course creator? They are essential for you to know and segment your audience.
By personalizing your message, you will get much better results and conversions from your email campaigns. For example, you don't want to send a promotional offer to a customer who bought the course recently, or you might want to re-engage a student who hasn't visited in a while.
Here are a few ideas on what you can do with them:
One-time Emails – Emails such as newsletters, message broadcasts or one-time offers can be sent to specific members of your audience. You might want to avoid sending unique offers to customers who bought recently.
Send a weekly newsletter.
Unique mass offers, for example for Black Friday.
Ask for feedback and reviews from users of a course.
Share industry news, job listings and new course launches.
Automated Sequences – Create different email sequences or workflows based on the actions of your users. Different sequences serve different purposes, and you can nurture leads into customers, reward repeat customers and upsell to others. There are many automated sequences you can make, for example:
Welcome sequences for new users.
Free course (lead magnet) to sell a paid course.
New course launch sequence.
Thank you emails & gift digital downloads for customers who just bought a course.
Drip Emails – Drip email campaigns are emails set to be sent at specific intervals. You might want to welcome users and share a bit of information every time, educate them on using your resources, or send exciting material to keep them engaged.
Prepare a tips & tricks campaign to give some value to your audience and increase engagement. Send them great advice every few days to get them hooked!
Educate them on using the platform and come back to visit their course until they finish it.
Create an upsell sequence for a limited-time offer. Prepare the sequence before-hand and let the drip email deliver it without you manually sending every email. Exclude people who already bought your course.
Trigger-based Emails – Send emails based on the actions a user has taken. For example:
Send a welcome message when someone registers for the first time.
Send a congratulations email when someone has been awarded a new certificate.
Send a reminder email if someone hasn't logged in for a week.
Time-based Emails – Send emails based on the date someone has registered, last visited the school or last bought the course.
Re-engage users that haven't visited in a month.
Send a coupon code to a user who hasn't bought anything in 6 months.
Ask for feedback of your course after a week.
Capturing emails for your email list
After you connect LearnWorlds, all your students' emails will be synced to your email list. Every student signing up to your school requires them to give their email address. The same goes when they buy a course for the first time (without first registering).
But, if someone doesn't want to sign-up, there are a few others ways to encourage them to share their emails and use email marketing to engage them in the future. Here are a few ideas powered by LearnWorlds to get you that valuable email!
Ask them to Join Your Mailing List
The simplest way of capturing an email is simply asking someone to join your email list. If you share valuable information with your list often, then joining your email list is a great way for visitors to stay in touch and get free value from you.
Offer a Lead Magnet
Lead magnets are valuable pieces of information in exchange for an email. You could be offering an ebook, a checklist, a free webinar or any other kind of free content or digital download to your audience. Here are a few ideas.
You can do both by using LearnWorlds' email capture templates to offer a lead magnet or ask someone to subscribe to your newsletter.
A Free Mini-Course
Courses are the ultimate lead magnet. Offer a piece of your content, maybe the first section or two as a free mini course. This is great to show some value up-front and capture email addresses.
Conclusion
Email marketing is an essential tool in the arsenal of any online business, and especially one selling digital knowledge. Through our customers' feedback, one of their top priorities was to be able to automate the lead collection and marketing efforts with the best email software. A mediocre or patch-work solution was totally out of the question.
Mailchimp, Active Campaign, AWeber, Convertkit and Zapier are in the top in their niches and can level-up your marketing efforts. If you are not using any marketing software, it's probably the next thing you will need to be looking after setting up your school.
If you want to learn more on how to sell your courses using email marketing, read our article on the subject. And, if you are looking for your favourite tool to be connected with LearnWorlds, send us an email at support@learnworlds.com
(Visited 1,629 times, 1 visits today)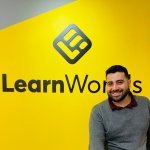 Nick Malekos is a Senior Digital Marketer in LearnWorlds. He is a results based and well-rounded Digital Marketer with years of experience in the education industry, writer and digital literacy trainer.