If you have been involved in online learning for a while, you must already know the work it takes to engage students in an asynchronous learning environment. How can you know their preferences, so you can create learning experiences they enjoy? How can you choose the best course content and teaching strategies to keep them hooked?
It's hard to achieve the same level of engagement in a virtual classroom as with traditional classroom learning. Luckily, most Learning Management Systems (LMS) come with video conferencing tools like Zoom, learning communities, breakout rooms, and discussion forums. These features allow for real-time interaction and increase student engagement and retention.
What if we told you there's one more way to captivate individual students in an online environment? We are happy to introduce you to… forms!
Forms can be used in multiple ways enabling you to engage not only your learners but also website visitors. Wondering how?
In this post, we'll see how to use forms in your courses and your online academy's website. We'll also show you how to use the all-powerful LearnWorlds Form Builder exploring all its superior features. And, we'll share 3 quick tips to keep in mind when creating website and course design forms.
7 Use Cases & Benefits of Forms
You don't need lots of imagination to use forms; you only need to be practical. Because forms can help you manage different aspects of your online school in ways you hadn't previously thought. Let's see how:
Watch our Webinar on How to boost learner engagement with the LearnWorlds Form Builder!
1

Capture New Leads

With forms, you can use lead magnets to get potential customers' contact information, stay in touch with them, and communicate offers and news.

For example, if you're a coach, you can create a form where the client will leave their name and email to arrange a free consultation. Or you can offer a free eBook that site visitors will receive after filling in their email addresses.

Using forms on your eLearning website, you can start building excitement for upcoming events and even courses that haven't started yet!
2

Optimize Marketing

Surveys can give you tons of valuable information about your audience. You can create a form and add it to your landing page, asking site visitors to fill in the data, so you can direct them to the best course or send them some free course material.

Ask them how they heard about you, why they decided to learn a new skill, etc. This way, you'll learn from their demographics to their learning goals. Knowing this will enable you to create customer personas and tweak your marketing efforts accordingly to resonate with your audience.

For example, if most people say they're joining your course to improve their resume, you can emphasize that on your eLearning website and your learning objectives to attract more people.
Or you may find out that most of your leads come from word-of-mouth advertising but very few from Facebook ads. Knowing this, you can boost your efforts on that front and have better results.
3

Get to Know Your Students

Forms have a pronounced function – all students must fill in one to register for a course. Registration forms give you all the necessary information for typical reasons, like contact information.

But how about giving students a form to complete right after they join the course? You can either share it via email or embed it in the course. Here you can ask questions about the way they prefer to learn, their learning goals, their current level of experience with the subject, and their life or business goals.

Sharing this information strengthens learners' commitment to the course and gives you a better idea of what they're looking for. You can use this information to personalize or promote relevant courses and learning resources. You can also make student onboarding enjoyable by asking new learners to submit a video presenting themselves (It helps if you do the same first to get the ball rolling!).
4

Improve Your Online Course

One of the best uses for online education is collecting student feedback. You can gather feedback regarding the course and instructor. Identify complaints/comments that keep coming up in surveys and make adjustments to enhance the learning experience. You can also follow up with an email or call to see how you can reverse negative feedback.
5

Cross-Sell and Upsell

Did you know that forms can be excellent sales assistants? By redirecting survey respondents to a course or a bundle, you can tempt them to sign up on the spot. Or you can lead them to a relevant blog post that will convince them about the importance of your course.

And, let's not forget that even if they don't make a purchase right away, you can still stay in touch with learners and communicate similar products or new releases.
6

Discover Opportunities for new Courses

You can get ideas for new courses from site visitor feedback and learner feedback. You just need to ask the right questions. See which skills are most in demand, why learners are joining your online courses, and what is missing from the market. Collect this data to identify common ground among the replies, and you never know – the inspiration for your next course could be just one click away!
7

Create a Self-Reflection Unit

Self-reflection is an essential part of the learning process. It enables learners to think back to what they've learned during the course, how they've improved, how they performed overall, and how confident they feel about their new skills.

This process can boost learner confidence as it helps them realize what they've accomplished and their progress. But it's also an excellent opportunity to think about what they could have done better to get the most out of the course.
3 Best Practices to Apply When Designing Forms
What are some best practices to follow when creating your forms? Let's find out!
1

Keep forms short

Forms shouldn't feel like quizzes or third-degree questioning. People will be reluctant to fill in a page-long form – not to mention that they might be skeptical about why you want to know so much.

If you have to ask for a lot of information, like in student onboarding, then at least choose card-based formatting so that the questions don't appear all at the same time.
2

Ask the right questions

For the sake of brevity and also to achieve the desired results, don't ask random questions in your forms. Think about why you've created the form in the first place.

Is it just to open a communication channel with a potential customer? Τhen, ask for their name and an email address and connect your social media accounts, so they can follow you if they wish.

Are you asking for instructor feedback? Then, ask about the course delivery and whether the instructor encouraged online discussions and posed student questions that served the goals of the course.
3

Place your form in the right location

Let's say you want to collect student feedback. We have all taken online classes where the instructor asks us whether we're happy with the course after a 3-minute video lecture. But how much can you say, really?

It's not a bad idea to check in with students regularly, especially in asynchronous distance learning. However, the best moment to ask for a comprehensive evaluation survey is at the end of the course.

Similarly, don't add your form to the signup button if you want to capture leads. The user might not be ready to buy yet, so you will miss the chance to connect with them. Instead, you can create a pop-up asking them for their email to stay in touch or send them a free eBook.
Build Your Form With Learnworlds
Our course creation platform, LearnWorlds, has a powerful integrated Form Builder that ticks all the boxes in terms of usability and ease of use:
💡 You can add tags to the "choice" and "rating" questions in the surveys. Using the Zapier integration, you can initiate automated actions according to tags.
💡 Save user data from the Form on your "Leads from Pages" table. If you have integrated a marketing tool, you can set up automated emails to communicate offers, send a freebie, or anything you like. Increase your chances of converting site visitors into buyers with this amazing feature.
Using the LearnWorlds Form Builder: A Step-by-Step Guide
The LearnWorlds Form Builder enables you to create two types of forms – Marketing and Course Forms. Let's see how easy it is to use each one:
How to Create Marketing Forms
You can create Marketing Forms both for your learners and site visitors.
To create a marketing form:
Navigate to Marketing → Form Builder → New Marketing Form → Add the Form name → Create & Edit.
Congratulations, you have just created your first Marketing Form! You can start customizing one of the available templates, use it as-is, or create your own form from scratch.
See our relevant article to find out more about how to edit your Marketing Form and retrieve user responses.
How to Create Course Forms (Learning Activities)
You can create forms for your Learning activities as part of a course. These forms are available only to enrolled users.
To create a Learning Activity Form:
1. Go to your Course → Contents.
2. Go to the section you want to add the Form in → Add an Activity → Questionnaires → Form.
💡 If you're going to use the Form for student onboarding, we recommend adding it in the first section. To collect learner feedback, add the form to the last section.
3. Type a name for your Form → Save → Edit Form. This will take you to the Editor, where you can either create your own Form or choose one of the available templates and customize it.
📌 See our relevant article to find out more about how to edit your Course Form and retrieve user responses.
Ready to Start Engaging Your Learners Better?
Now that you know how forms can positively impact engagement with learners and leads make sure to add them to your courses and on your website. And keep in mind that LearnWorlds Form Builder has the superpowers you need to tackle many online teaching challenges! Versatile, easy-to-use, and fully customizable, our Form Builder will help you engage learners and site visitors alike.
Start your own free 30-day trial with LearnWorlds today to enjoy this and many (many) more features you'll love!
Further reading you might find interesting:
(Visited 199 times, 1 visits today)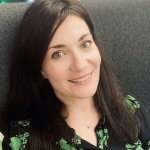 Androniki is a Content Writer at LearnWorlds sharing Instructional Design and marketing tips. With solid experience in B2B writing and technical translation, she is passionate about learning and spreading knowledge. She is also an aspiring yogi, a book nerd, and a talented transponster.