The Form Builder is your three-in-one tool to Connect with your Audience throughout your Sales Cycle and Improve the Learning Experience of your School.
Capture new leads? ✅
Learn more about your students? ✅
Gather feedback? ✅
Picture the power you would have if you could easily collect accurate feedback, opinions, and responses from students and use that information to improve various aspects of your online school. If you had the ability to learn all about your students' experience, thoughts, goals, requirements, availability, and practically anything else you want to know about them?
Without further ado, let us introduce you to the brand new multi-purpose powerful LearnWorlds Form Builder.
Offering 16 different question types, powerful file upload, webcam capture, tagging based on answers, easy customization, Zapier triggers, URL redirection, and a rich template library, LearnWorlds Form Builder enables you to discover everything you want to know about your students!
Unlock your eLearning Superpowers
Information is power – in every context. This is exactly why there are so many paid-for apps fully based on creating forms and collecting data. I'm talking about Typeform, Jotform, SurveyMonkey, Paperform…and I can count another thirty on Capterra alone!
At LearnWorlds, we deal with thousands of online businesses on a daily basis and we understand the need for streamlining workflows and avoiding wasting time and budget to familiarize ourselves with a completely new tool.
Therefore, we took the initiative of building our very own Form Builder for your amazing online schools and academies to help you unlock your eLearning superpowers easier and faster!
Powerful and Easy-to-Use, just like your Site Builder
Creating surveys, collecting customer data, researching topics provides your business with a wealth of valuable information. No wonder why there are so many apps that claim their spot. But let me tell you what you're not going to find anywhere else:
The five-star LearnWorlds Site Builder experience you're already familiar with. No need to familiarize yourself with any other additional tool (or to spend budget on it).
Tags based on answers. This powerful tagging system works seamlessly with your automations to trigger email sequences, establish visibility of specific sections of your LearnWorlds site, and feed into User Progress Reports.
Sales funnel creation, with shareable URL & end-of-survey redirection. You can easily share as standalone pages for lead captures outside your school.
Automated lead collection, straight into your school.
No-code embed in a widget or popup on your LearnWorlds school's site
Customizable question navigation. The Form Builder supports classic static, or one-question-at-a-time, or section-based navigation. This means you are in charge of what respondents see and how they interact with your questions.
How Can a Form Boost your Sales Cycle AND Learning Experience?
No more vague marketing funnels, no more second-guessing the demographics of your learners, no more hypothesizing extra questions about your content, no more hoping they liked your course.
Now you can learn all this and much more, directly from your students. The power of the LearnWorlds Form Builder lies in its multi-purpose nature, gathering information directly from your students before sales, during service provision, and after the service has been provided.
Here are some examples of what's possible with the new LearnWorlds Form Builder: capture leads at the first touchpoint, onboard your students, collect their questions about your course, gather feedback, or even test potential new course topics.
Build your First Survey with the LearnWorlds Form Builder
In essence, the LearnWorlds Form Builder is like Typeform made for eLearning but so much better; more customization and tagging options are right at your fingertips. You won't find anything this powerful on any other platform!
Create
Depending on what you want to achieve, you have two options to get started:
To create a marketing form and share it with prospects, go to Marketing → Form Builder
To create a form for your existing students, go to your course content page, then Add New Learning Activity → Questionnaire → Form
Once you're in, you can start from scratch or use one of the 20 templates in our library. You have 16 different question types available to craft your survey just the way you want it.
Tip: If you're running a lead capture campaign, remember to always have a compulsory email field and a setup custom URL.
Customize
The experience will be similar to what you have in your Site Builder. Choose a look-and-feel that reflects your brand or create something completely new for an extraordinary campaign. Decide on: navigation, colors, spacing, typography, background, and animations.
Follow up
Obviously, you will be able to see and export responses but the real kicker here is that you can:
Redirect → What will happen after your learners hit the submit button is up to you. If you're running a marketing survey, maybe you want to reveal an exclusive discount on your school or a lead magnet, for example.
Answer-based & Survey-based Tagging → you can tag all those who completed your surveys (each survey with different tags) and even tag respondents based on their answers. And as you know, you can use these tags to trigger other automations (e.g. an email sequence) or grant visibility access to specific sections of your site and courses!
Zapier trigger→ you can also connect your survey directly with a brand new Zapier trigger to any of your favorite tools, whenever a form is filled in by a user.
For step-by-step guidance, visit our support article → Form Builder Overview
Four Workflow Examples for your LearnWorlds School
You have now seen the potential of the Form Builder and how to get started. We will now see how the Form Builder fits into your workflow and your routine. Let's take a look at four examples of workflows that you can easily replicate in your school to answer these and many more questions throughout your sales cycle:
Sales funnel and lead magnets
Course onboarding
Extra products delivery
Course evaluation and feedback
1. Sales Funnels and Lead Magnets
Our main goal here is to support the lead capturing process. In this example, your goal is to give a reason to your prospect to get in touch with you by offering a free consultation session. Let's assume that you have a professional training academy and that you want to provide a free career orientation session. Here's how the workflow will look like:
Questions and tags:
Questions types: Name & Surname, Country dropdown, Date & Time, Long-form text
Tags: based on the survey submission
Distribution and follow-up:
Distribution: Online paid advertising, social media, embedded in popup appearing on the school's blog.
Follow-ups: tags trigger an automated email to the respondents and to the person responsible to schedule the calls
Reports: we can track the tags and compare them with students who convert from other campaigns.
Surveys based on the same logic:
Subscribe to your free newsletter
Allow requesting a callback
Qualification questions
Register for a pre-launch
Apply to corporate internal training courses
Run a contest online to win free access to a course
2. Student Onboarding
The aim of an onboarding form is to improve the learning experience of your students. What do we mean by that? Onboarding surveys include data such as location, job title, industry, and any sort of other demographic data.
Onboarding forms have a three-fold goal:
to help you better understand your students and use this information to refine your course content and your marketing strategy.
to understand your students' level of expertise (and therefore their expectations from your course.
to encourage a stronger commitment from students, which in turn will have a positive effect on completion rates.
Besides, you can also use course forms to collect student requests for content clarification. You can then address these inquiries through a weekly Zoom live session.
Questions and tags:
Questions types: Name, Date, Country dropdown, File upload/WebCamrecord, Short text, Long text
Tags: based on country
Distribution and follow-up:
Distribution: Second activity of a course, right after your course introduction
Follow-ups: gather information to optimize your marketing strategy, or create groups based on common goals, or languages spoken
Similar surveys:
Choose the favorite start date for cohort courses
Ask about goals
Submit pre-requisites such as proof of work experience or other certificates
Ask your students to submit a video to introduce themselves and share all the videos with the students of the same cohort (you need their prior consent of course)
Run a demographics survey (and use the anonymized info for marketing purposes)
Gate courses that include sensitive topics by asking for date of birth or ID
Collect data to apply to accredited external examinations
3. Extra Physical Products for Extra Value Delivery
You can use forms to break the 'digital' boundaries and provide extra value with your courses. For example, if you're offering a course in programming and IoT, why not ship an Arduino Kit to your students to complement your online teaching with hands-on practice? The same goes for a painting course: why not send an actual painting starter kit? Or a manual? You see where I'm going with this!
This is a great way to massively increase the value of your courses (and your revenue!). It's really easy to get started, simply adapt your course price to include the material and the shipping cost (if you wish), and then add a form to your course asking for shipping details. You may keep storage at home with relevant material, or you could send a gift from Amazon and similar websites.
Based on a similar logic, you can send printed versions of completion certificates.
Tip: We strongly suggest cloning your course and offering a version with / without additional goods delivery to accommodate every need. Furthermore, please note that it is important to state any geographical/temporal/shipping limitations.
Questions and tags:
Questions types: Name&Surname, Short text, Phone, Country dropdown
Tags: based on data consent
Distribution and follow-up:
Distribution: Within the first section of your course
Follow-ups: gather information to ship relevant goods
4. Course Evaluation and Feedback for Continuous Improvement
Feedback and school optimization go hand in hand. It is important to collect feedback to make informed decisions for your school's future. Whether it's about ameliorating your content delivery, future topic choices, or hiring instructors, feedback will help you understand the qualitative aspect of the data that you can find in your Course Insights.
Questions and tags:
Questions types: Multiple choice, Dropdown, Star Rating, Linear Rating
Tags: based rating and survey completion
Distribution and follow-up:
Distribution: Final section of a course
Follow-ups: gather information for content delivery optimization, and use positive answers for advocacy, showcase positive ratings on your site, investigate new topics.
Similar surveys:
Instructor evaluation
Content delivery feedback
New topic research
Acting on the information collected is the key to success
It's important to follow up on survey feedback to ensure customer satisfaction, customer engagement, customer retention, and many other aspects of your online school. This applies to all the cases we have discussed above of course.
There are several ways that you can follow up and they can all be combined.
Analyze and cross-check results regularly
Collect answers from the feedback surveys on a regular basis and consider them carefully. Is there any area that several students have marked for improvement? It's a very good indicator for you to take action and improve on that.
To make it more specific, cross-check these results on Course Insight too. Run the survey again after a significant amount of time and compare results. Has anything changed for the better?
Follow-up personally
If surveys are not anonymous, you can also ask for further clarifications from selected students to better understand what they mean. Don't forget to ask permission to contact your students for that reason (use the consent box to track their preferences).
Trigger personalized responses
You can create new segments depending, for example, on the star rating that students expressed. This is easily done by tagging the different responses. Then, provided that you are collecting email addresses and that you opted for collecting leads on pages, you can trigger an automation based on the stars given.
For example, for those people who gave 4 or 5 stars, you could ask them to leave a review on your Facebook page. And those who answered with just 1 or 2 stars could receive an email asking to schedule a time to talk. The aim of the talk will be to deep dive into the reasons why they gave a low score to the course.
Immediate response to new course applications
If you are running a course application survey you can set a trigger via Zapier, so that you are instantly notified and respond as quickly as possible.
Lead nurturing campaigns
When using forms for new lead capture, you can create and save segments. And then trigger a specific email sequence (set them up in MailChimp, Active Campaign, AWeber, or Convert Kit, making sure that the audiences in your school and the automated email sequences correspond), and specific offers that can be visible only to them – thanks to the page or popup visibility based on tagging.
Scheduled Reports
Especially when working with B2B clients, you may have to report to team leaders about the progress of the team members, so why not add their course review too? Provided you're doing a great job, offering this information voluntarily will help you to get clients' loyalty and repeated purchases.
Build a Survey that Serves your Purpose.
LearnWorlds is providing you with an industry-leading solution to gather data from your students and prospects, with no waste of time familiarizing yourself with a new tool, nor need for extra budget.
If you have a LearnWorlds school with a Pro Trainer or higher plan, you can directly put in action the multi-purpose powerful LearnWorlds Form Builder.
Take the time to explore the 16 question types and multiple file upload options to build a survey that serves your marking, course, and feedback goals. Then, automate your follow-ups and even your reports, via the tagging-per-answer option.
Get ready for eLearning evolution, with no more second-guessing the demographics of your learners, no more hypothesizing extra questions about your content, no more assuming the students liked your course.
Results from surveys can confirm or spark discussions about strategic business decisions, provide unbiased information to guide decision-making, and turn your online school into a successful and profitable business.
This Swiss army knife addition to LearnWorlds' extensive toolkit, will enable you to enhance your online school's learning experience, directly from your most valuable source of information; your students!
(Visited 3,132 times, 3 visits today)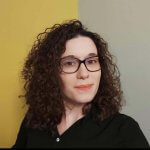 Sara is on a mission to keep up to speed the LearnWorlds' community with the latest feature releases and more. She lived and traveled all around Europe, gaining an MSc in Marketing, experience in tech, and passion for education.