The way we consume content has undergone a monumental shift over the past three decades. Printed books are now competing with their sleek and dynamic counterparts: eBooks. 
Ebooks change the landscape as they are more:
Convenient

Accessible, and

Portable
They are the ideal medium for the modern reader and consuming habits. This is evident by looking at the 2% growth rate of ebook revenues per year, which is projected to reach US$14.16bn in 2023.
In this article, we will explore the realm of ebook creation, with an 8-step guide designed to be your compass. 
We'll walk you through the process of crafting your own ebook – from ideation to publication and promotion.
How To Create An Ebook in 8 Easy Steps for Beginners
First, let's answer a few important questions and topics about ebooks.
What is an eBook and how Does it Work?
An eBook – short for electronic book, is a book in digital format that is read on electronic devices, such as tablets, smartphones, and laptops. eBooks are reflowable for a better reading experience and are non-editable.
Why Create an eBook?
As a business owner, there may be many reasons to create ebooks. Writing ebooks offers a great opportunity to diversify your product offerings, generate more leads and income, or showcase your expertise in a particular subject.
Here are a few ideas on how to utilize ebooks:
Sell your content online
Ebooks can be sold online e.g. Amazon, providing an additional revenue stream for your business. This is especially true if your content is unique, well-researched, and offers practical solutions.
Offer education or training 
You can create ebooks that can be used to educate your customers, employees, or partners about your products, services, or industry trends via online courses. This can lead to better customer understanding and engagement.
Boost brand awareness
Creating and distributing ebooks can help increase your personal brand's visibility and reputation. If your ebooks provide valuable information, readers are likely to share them, leading to more people discovering your business.
Achieve differentiation
Depending on your industry, not many businesses might have invested the effort to create comprehensive ebooks. This can help you stand out from competitors and establish a unique selling proposition.
Build thought leadership
Publishing ebooks on topics related to your industry or niche can position you as an expert and thought leader. This can enhance your credibility and influence within your field, leading to increased trust among your audience.
Ebooks in the Age of Artificial Intelligence
But ebooks are not just about digitizing the written word; they've also paved the way for innovative integration of technology. The rise of AI-powered ebooks has further transformed the writing of ebooks. With the incorporation of artificial intelligence – AI ebooks are easier to write, enhance, and publish. 
💡 Check out this list of AI Writing Tools for more!
What is the Format of an eBook?
Typically, ebooks aren't much different from printed books. They have all the structural elements of a normal book such as:
cover, 

chapters with headlines,

footers for every section, 

page numbers.
You can arrange an ebook in various ways. In general, it follows the format of a novel or textbook (depending on your topic). Still, you should keep in mind a few aspects of an ebook, both from an ebook design and online structure standpoint.
These aspects will help you make your ebook more user-friendly for reading either from a laptop or any other ebook-reading device (Amazon Kindle, Adobe PDFreader, etc.).
To name a few, most ebooks usually follow a specific color scheme for their entire layout, highlighting the mentioned links and other referring sources. Also, most ebooks have headers and subheaders in the form of H1 and H2 for search engine optimization (SEO) purposes.
We will further discuss ebook formatting later in this post. Now, let's go over the 8-step process on how to create your eBook.
Step #1: Choose the Topic of Your Ebook
The topic you choose needs to address a real problem – a customer's or audience's pain point and give solutions to those who need them. As the expert, you will be instilling all your knowledge and expertise into the ebook.
An ebook can be a way to fame, a lead magnet, or a revenue generator. 
Whether you are trying to use it to attract an audience or make an income through the ebook, you need to choose a topic that will suit your goal.
If you are writing an ebook as a lead magnet, the topic of your ebook should be relevant to your industry and what you do as an organization as well as what you are offering – your product or service.
For example, if you are teaching English as an online course creator, your ebook could focus on English language exercises, and everyday conversations or contain a self-study guide that helps learners learn the phrasal verbs.
Having said that, you will need to come up with an ebook title that is simple, informative, and easy to understand. At the same time, it needs to come with an attention-grabbing title.
Take a look at these ebook title templates for inspiration:
An Introduction to [Your Industry/Topic]
A X-Step Guide to Understanding [Your Industry/Topic]
Learn From the Experts: X Secrets You Need to Learn About [Your Industry/Topic]
X Common Mistakes to Avoid When You Are Dealing With [Your Industry/Topic]
X [Your Industry/Topic] Trends You Need to Become Familiar With Today

The [noun] of [noun] e.g. The pursuit of happiness

How to [Topic] in [Time/Effort] e.g. How to get a promotion in 90 days.
Any of these templates can work great for your ebook.
Once you have pinpointed two or three topics you want to explore, try a few variations to see which one works best for you and your audience.
💁 If you are struggling to come up with a topic, our article on the most trending course topic ideas can help out.
Step #2: Come up With Your Content
Before writing a new ebook, you have probably been actively writing to blogs, social media, white papers, or on paper.  This content is the source material for your ebook publishing.
Instead of producing new content for your ebook, you can repurpose your old content. To do this, browse through the articles you have written or any other documents saved on your drive or computer, to find if any of these can be part of it.
If you are coming up with new content, you need to make sure that it is high-quality, and offers valuable content that engages people.
Your ebook content is the most important success factor in the whole process. It is therefore important for your message to speak directly to your target audience.
Ensure

that the entire content (main text, headers, descriptions) is written in a language that your audience understands and uses.

In your writing, avoid unnecessary fluff, metaphors, or technical terms.

Provide useful, accurate, and up-to-date statistics, facts, and reports.
Tailoring your content to your audience increases the chances of people downloading, buying, reading, and possibly re-reading your ebook. Jargon is ok, as long as you are writing for professionals in the field, but you should avoid jargon for beginners or light-reading ebooks.
To add more value to your text, make sure to add any links to external sites e.g. your blog, landing page/homepage, or sales page, encouraging readers to engage with you or your company further. It could be as simple as a call to sign-up for your newsletter.
Once you finish with the text, edit and proofread it several times before publication. Check for any grammar or spelling mistakes and ensure that your content is well-written and professional. You can use editing tools such as Grammarly or Hemingway to help you.
Step #3: Organize Your Content
Organizing your ebook content in a way that is easy to read and understand gives an extra incentive to the reader to continue reading. To do this effectively, you need to think about all sections of your ebook thoroughly.
More specifically, you need to decide what goes in the Introduction, Main Body, and Conclusion – as you would do for an essay, but also add key chapters in between. 
Here's a sample ebook outline for a yoga practitioner writing an ebook to attract leads to their yoga business.
Introduction: The opening section of your ebook helps to set the scene, welcome the reader and prepare him for what is going to follow.
Main Body: The in-between sections are your key chapters in which you will explore the topic further. If you are writing about yoga practice, for example, you will need to explain what yoga is, the benefits of yoga, how the reader can practice yoga, and what  the different yoga styles are:
Chapter 1: What is Yoga?
Chapter 2: The Philosophy & Benefits of Yoga
Chapter 3: How to Practice Yoga
Chapter 4: The Different Styles of Yoga
Treat each chapter as a separate blog post so that you give them the appropriate amount of focus in context. Make sure that they connect well to one another and that the flow is smooth.
Conclusion: The closing section of your ebook needs to lead to a certain conclusion, findings, or results, and should always prompt the reader to carry out a task, e.g. visiting your page through a call to action – CTA (more on this later on).
Since ebooks are immediately accessible it means people who want access to your ebook will want to get the most out of what you write quickly.
Give your ebook a good structure, using the following:
Write

an outline for it

Create an ebook cover

Include a Table of Contents

Write in small paragraphs

Make use of bullet points

Add clear headings
To get these effectively on a Word document, we recommend using Microsoft Word or Google Docs. When it comes to producing content and giving it structure, it is the easiest and most cost-effective tool to use.
Lastly, while an ebook doesn't have any limits on its length, make sure it is not too long*. Readers on digital devices often have a shorter attention span.
Think of your ebook as a collection of blog posts bundled together. It should have a character and convey whatever needs to be conveyed without adding unnecessary details or unnecessary information.
*This does not apply to authors or book writers. Fiction and non-fiction books tend to have different content organization structures and could have longer paragraphs or extensive text for in-depth explanations.
Step #4: Design Your Ebook
When it comes to designing your ebook, you can use tools like:
These tools come with free ebook templates that you can choose from and get started with ebook creation. Simply follow the steps each tool requires to customize the design of the ebook to your own needs and preferences.
Using ebook templates will save you valuable time in content creation. You may consider using stock photos or behind-the-scenes company imagery, or any other visuals like infographics, direct quotes, statistical data, etc., that can bring out the result you are hoping to get for your content.
As you can imagine, thinking carefully about the layout of your ebook is crucial because it directly affects the readability of users.
Before you finish designing your ebook, make sure that your ebook will be accessible on smartphones – Android or iPhone, tablets – iPad or Surface, desktops and laptops – Windows or Mac, and popular e-readers – Kindle, Nook, or Kobo.
Step #5: Decide on the Ebook Format
Your ebook can be saved in several different formats. So when you finish it, think of how you can make it available to readers choosing the most appropriate format for them.
These are the most common ebook formats to use:
PDF – PDF which stands for 'Portable Document Format' is the most well-known and accessible format for readers. It is available to almost all desktop or mobile devices and software and allows you to insert hyperlinks, interactive text, and visual content.
EPUB – EPUB, which stands for Electronic Publication, is a collection of HTML files that offer many different levels of formatting control and require certain skills (or apps) to create. They are only accessible through special software programs like Apple iBooks or a web browser that supports this format. The two types of EPUBs are fixed layout and reflowable.
The fixed layout is similar to the PDF which supports hyperlinking and complex visual formatting that works on a layout of text that stays the same as the screen changes. Whereas reflowable EPUBs work like web pages that adapt to various mobile devices and tablets. However, they require greater XML/HTML knowledge for more advanced visual formatting.
MOBI – The MOBI format by Mobipocket Reader software was purchased by Amazon in 2005 but then shut down in 2016. Even so, it still is a popular ebook format that is compatible with most e-readers – except the Nook. MOBI does not support audio or video.
AZW – AZW is an ebook format that was designed for Kindle by Amazon, but it is also supported by many smartphones, tablets, and computers.
ODF – ODF stands for OpenDocument format and is a file type that was used for OpenOffice – open-source content creation programs that are like Microsoft Office.
IBA – The IBA format is the ebook format only for books that are written in the Apple iBooks author app and it is not compatible with any other e-reader. It supports video, sound, images, and interactive media.
Amongst these, the MOBI format along with PDF and EPUB are the most common file formats you can use.
Which one(s) you choose though depends on the ebook creator software and the distribution channel you prefer to use. For example, Canva and Visme allow you to download your ebook in a PDF file, whereas InDesign allows you to export your document in an ePub format.
So, before you decide which one you want to use, make sure to think this through.
Step #6: Add CTAs in Your Ebook
Unless you are writing a novel or want to publish your creative writing stories, adding call-to-actions – CTAs, is essential for your marketing initiatives.
A CTA prompts your site's visitors, leads, and customers to take action. As a marketer or entrepreneur, you want them to take a certain action that will help them engage with you further, and potentially buy from you.
Depending on which action you want them to take, you will use a different type of CTA that says 'Subscribe to my Newsletter', 'Read More' or 'Learn More', 'Get it Now', 'Buy Now', 'Click Here', and so on.
A CTA that is strategically positioned in your ebook, will encourage the customer to click on the link to visit your company page and learn more about you.
The best way to do this is to insert links in between the chapters of your ebook or preferably at the end of each or after the conclusion. Alternatively, you can add a whole page inside your chapter that prompts people to click on it to get more resources or reach out to you directly.
Linking to any of the following pages on your site always works:
Sales page or subscription page: to buy your product or service.
Community page: to join your community or sign up for your newsletter.
About us page: to help them learn more about you and your team.
Contact page: to speak to you directly or a company representative.
Product page: to browse and learn more about your product(s) and its specs.
Social media page: to share the ebook (or a phrase or text) on their social media.
For example, if you have a course you can also link to your course landing page.
Opportunities are endless here! However, you need to be discreet and subtle with your CTA positioning since it can put off readers easily.
Step #7: Publish & Share Your EBook
Once your ebook is ready you can publish and share it with your network.
If you are offering it for free, then you can use the publication URL of your ebook or share the PDF file on your favorite social media channels, your website, your blog, or your author page.
Ebooks can be used as lead magnets and you can offer them as free downloads in exchange for the contact details of your readers and potential customers – their names and email addresses. By offering valuable content in exchange for their contact information, you can build a targeted email list of leads that aids your marketing efforts. 
If you are offering your ebook at a price, you have to think about how you are going to make it available to your audience too. The easiest way to publish your ebook is through Amazon's KDP (Kindle Direct Publishing) platform. Here's how:
Step 1: Create a KDP account here.
Step 2: Choose a book title and subtitle for your ebook and write a description.
Step 3: Pick the right keywords and Amazon categories for your ebook.
Step 4: Upload your ebook and create a cover.
Step 5: Price your ebook, click 'Publish' and get ready to sell.
For a more detailed guide on how to self-publish your ebook on Amazon click here or watch the video below:
Bear in mind that to make it available on Amazon your ebook needs to be converted to one of Amazon's proprietary file types before publishing. The best formats are EPUB and MOBI, which are supported on Kindle and Nook e-readers.
If your ebook is in a PDF format, there are many online converters out there you can use for both EPUB and MOBI.
Step #8: Promote & Sell Your Ebook
Finally, you need to start investing in the promotion of your ebook.
Share your ebook with your audience, either on social media, newsletter, or through media exposure (PR).
To start with, you can use your social media channels – Facebook, Instagram, Twitter, LinkedIn, TikTok, and YouTube.
Create some amazing social media graphics or some beautiful images that can match the style of your ebook and start sharing it with your friends and network.
Don't forget to tell your friends to share the ebook with their friends too.
Each platform has its advantages and disadvantages, so make sure you explore and use all of their available features to promote your ebook.
You can try the following:
Facebook – announce the big news to your friends and make your ebook a profile cover.
Instagram – share stories to inform people and add the link to your ebook on your profile.
X (former Twitter) – create a pinned post on your profile and create buzz with popular keywords.
LinkedIn – insert the ebook link to your profile and write a small description about it.
YouTube – mention your ebook in one of your videos and offer it as a prize to a contest.
To go big on promotion, email is the best way to spread the word.
So, regardless of how big your email list is, send an email to your subscribers with a link to download the ebook or even offer them a special discount as a way of thanking them for their loyalty.
Apart from that, you can also get a few testimonials and reviews to share on your website. Share your ebook with some close fans, friends & colleagues to write reviews for your ebook first.
Content marketing is a great way to promote your ebook online. Whether you share graphs, stats, or content pieces from your ebook through social media or email, it's going to help you sell more books or get more leads to download!
From all of these tactics, make sure to choose the one(s) that resonates with your audience best. 
Besides, you know your audience better than anyone else.
Ebook Templates You Need to Check Out (& Download)
Crafting an eBook from scratch can be a time-consuming task, especially when considering design elements and layouts. But, this is where ebook templates come to the rescue, streamlining the creation process and enabling creators to focus on their content. 
Below you will find ebook templates provided by four aforementioned popular design tools and platforms: Canva, HubSpot, Visme, and Adobe InDesign.
Canva: Creativity made simple
Canva, known for its user-friendly interface and wide range of design tools, offers a diverse collection of ebook templates that cater to various genres and styles. With drag-and-drop functionality, even those with limited design experience can customize templates to align with their brand identity.
Canva's ebook templates are suitable for a wide array of purposes, from educational materials to marketing collateral. The platform's extensive library of images, fonts, and illustrations enhances the creative process, enabling users to produce visually appealing eBooks effortlessly.
HubSpot: Seamlessly Integrated Marketing
HubSpot takes a marketing-centric approach with its ebook templates, designed to integrate seamlessly into marketing campaigns and lead generation strategies. 
While offering a smaller range of templates compared to other platforms, HubSpot's ebook templates are finely tuned to align with the platform's marketing tools. This makes it easier to collect leads, track engagement, and analyze the performance of your ebooks as part of a broader marketing strategy.
Visme: Visual Appeal with Interactive Elements
Visme distinguishes itself by providing ebook templates that are highly interactive and visually engaging.
Beyond traditional static content, Visme's ebook templates allow you to incorporate animations, interactive charts, and multimedia elements, enhancing the overall reader experience. 
These features are particularly valuable for educational materials, reports, and presentations that require dynamic visual communication.
Adobe InDesign:
Professional Precision
For those seeking the utmost control over design and layout, Adobe InDesign remains an industry standard. 
While it demands a steeper learning curve compared to other platforms, InDesign offers unparalleled design precision and flexibility. Its ebook templates allow you to create complex, multi-page layouts with intricate typography, ideal for projects that demand a professional touch.
Creating an Ebook With AI (ChatGPT)
Gone are the days of staring at a blank screen, struggling to find the right words, or facing writer's block. If you are experiencing this, you can use AI's assistance and harness the power of its advanced algorithms to generate ideas, outlines, and even full paragraphs for your ebook. 
After defining the scope and purpose of the ebook, AI can help you generate topic ideas, conduct research, and suggest subtopics to cover.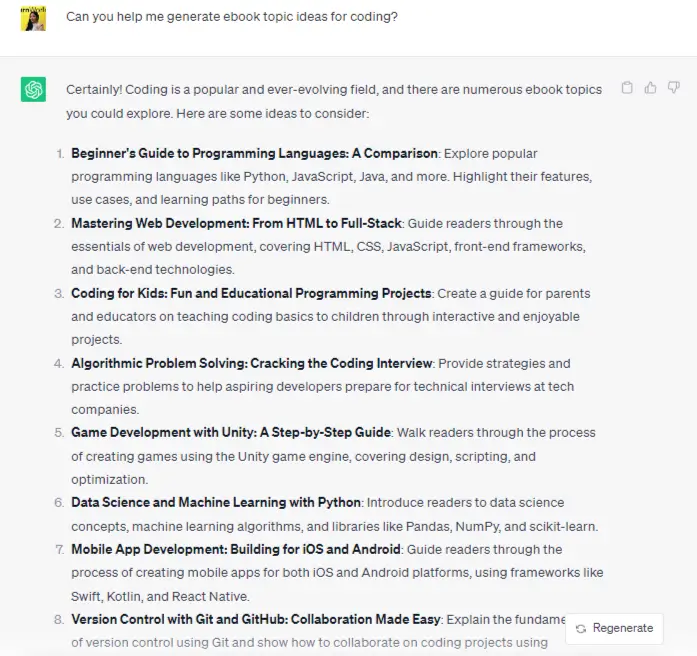 Generating ebook topic ideas for web development with
ChatGPT
.
With a clear outline in hand, you can use AI like ChatGPT, to draft the ebook's content. The AI tool can generate initial drafts based on provided prompts, which you can then refine, expand upon, and infuse with your unique voice, brand personality, and company insights.
An outline for an ebook about marketing by ChatGPT.
One of the remarkable advantages of using AI in ebook creation is its ability to provide real-time suggestions. So if you get stuck on a particular section or want to explore alternative angles, AI can offer suggestions for sentence structures, word choices, and even examples to enrich the content. 
Moreover, AI can assist in maintaining consistency throughout the ebook. Whether it's ensuring a uniform tone, adhering to a particular writing style, or using consistent terminology, AI can help you maintain a cohesive and professional voice.
Monetizing Your Content: Creating an Ebook
Creating an ebook comes with a range of benefits for you, your business, and your audience. You may choose to create an eBook to sell, use it as a lead magnet, enhance what you're already offering, and much more! 
In exchange for a super informative ebook, which can be a source of knowledge for your customers, you also get to engage with them better and for the long term. An ebook cannot only help you earn more money, but it can also increase brand awareness, and help to position yourself as an expert in your field.
Are you ready to create your own ebook? Let us know what is going to be about!
Frequently Asked Questions (FAQs)
Q1. What is the best software to write an eBook?
There are several web-based software available to create an ebook but the best tool that will help you write the content of your ebook is Microsoft Word or Google Docs. It is the easiest and most cost-effective program to use when it comes to content creation, and you can easily export them to a PDF format.
Q2. Is selling eBooks profitable?
Just like with any other digital downloads, selling ebooks is profitable and can help you generate a steady stream of passive income for yourself or your business. However, it needs a lot of promotion via social media and other channels to reach engagement and keep those sales rates high.
Q3. How do I create my own eBook?
All you need is to write the content, then use software like Canva or InDesign to give it the look you need, and then publish it through Amazon Kindle or any other marketplace. You can even self-publish through your own website and sell it with software like Shopify or LearnWorlds.
Q4. What types of eBooks sell best?
The most popular types of ebooks that sell are fiction, business, and self-development ebooks.
Q5. Is publishing an eBook worth it?
Publishing an ebook is definitely worth it. Apart from offering you the potential to make more money, it can also position you as an expert in your field, building awareness for your personal or business brand.
Q6. How much does it cost to create an eBook?
You can create your own ebook for free using Canva.
Q7. How do I create a PDF eBook?
You can create a PDF ebook through Canva without the need to upgrade to a premium account and with no strings attached. If you are using Visme, you will need to upgrade your account. Or you can create interactive PDF files with Flipsnack.
Q8. Is an eBook the same as a PDF?
An ebook is not the same as a PDF. However, an ebook can be downloaded in PDF format. PDF stands for Portable Document Format and is a file type used for online documents, guides, templates, and many more.
Q9. How to write an eBook for Amazon
Writing and publishing a book with Amazon's Kindle Direct Publishing (KDP) is a simple and straightforward process:
Write your eBook.

Create an Amazon publishing account.

Enter ebook details, like ebook title, keywords, categories, and more.

Upload and preview your eBook.

Set the rights and pricing.
For detailed information, read the relevant article on how to create a Book with Kindle Direct Publishing.
Q10. How to write an eBook for free
There are several free online tools you can use to write and design an eBook, such as:
Google Docs

Microsoft Word

Apple Pages

Kindle Create & Kindle Previewer

Canva

Calibre

Mobipocket

Scribus
(Visited 21,336 times, 12 visits today)
Kyriaki is a Content Creator for the LearnWorlds team writing about marketing and e-learning, helping course creators on their journey to create, market, and sell their online courses. Equipped with a degree in Career Guidance, she has a strong background in education management and career success. In her free time, she gets crafty and musical.