Are you thinking about turning your passion into an online course?
Of course, everyone has something to teach!
Whether you are a prominent expert that everyone looks up to, a professional educator or a passionate hobbyist, you are a potential course creator. You can create an online course and share your knowledge with the world.
As a potential course creator, this is just the right article for you! Filled with inspirational ideas, trends, and examples of course topics you can teach. Your time to turn a course into a profitable online course business is now!.
And the right, all-in-one tool that will expand your horizons to limitless worlds of learning to create, market and sell your online courses, to train and coach your audiences is: LearnWorlds!
————————–
Did you ever stop to think how much money you can potentially make with an online course?
Take this quiz and find out!
Finding Your Profitable Online Course Topic
Online learning is becoming more and more prevalent. Companies are offering courses as perks. i It's a great way to get some passive income, monetize your audience if you are an influencer or a blogger,or if you want to gain financial independence through your online business.
Start by answering the following three questions first, to find the topic that really inspires you to create and educate:
What do you know?
What do you love?
What do people need?
Let's dig a little deeper into each question…
P.S: You can download our Course Workbook to help brainstorm & validate your online course topic
What do you know?
To teach any subject, you need to be a subject matter expert. What's that? In layman's terms, you need to know what you are talking about.
But, you don't need to be the Guru of the topic. Anyone can teach a subject they know well, as long as they are passionate and have something that other people want.
This can be knowledge coming from:
Work experience: You are an expert at what you do or can give "hacks" and "productivity" improvements through your teaching. This is what we call professional training.
Certified: You might be certified to teach a subject, like a math teacher, a yoga instructor, or a professional coach. You can also cover topics for CPE like lifelong training for a profession.
Hobbyist: You have indulged in a hobby to the point that you can teach beginners or even more experienced and share your experience. Think of a home-cook or marathon runner.
Influencer: In this case, you have amassed a number of followers. Now, your followers ask you to teach them a subject you have become an expert in. Or, you can give courses about the thing you specialize as an influencer, beauty advice, photography, decorating, and so on.
What do you love?
Knowing is not enough. You need to love what you do, and I can't stretch it enough. If you don't love what you do, chances are that you will not succeed. You need to ask yourself, am I passionate enough to work for the next month, year or even decade teaching this subject?
Your passion will flow through the course and your students will feel it. You need to be able to inspire others in order to teach, and you need to persist in building your course business.
Love and passion will be your guides to success!
What do people need?
At this point, it's time to transform your course into a profitable business. You need to consider the need.
You have to be solving a problem for others in order to sell your course. Consider these factors:
Are other people asking for your advice on the subject?
Do you know there is a gap in the market?
Would anyone pay to receive this knowledge?
If someone can't get the information for free, or you can "lead" them to the way faster than they could otherwise, they will.
After that, you get to the next step.
Can you validate the course idea?
You can help yourself out by creating a decision tree and reading our article on how to validate your course idea and put it to the test!
I have also included a video (webinar) where you can see our take on profitable course ideas, trending subjects and popular courses with my colleague Stella before going through the list of ideas.
The Best Online Course Ideas, Trends & Examples
As one of the leading online course platforms, we have done our research to find the most popular online courses in the market, discover trends and predict what the future of elearning holds for 2022.
So here are the best online course ideas for 2022:
Coaching
Online coaching is on the rise. People are looking for direction in their life and turn to professional coaches to help them in many aspects of their life. Online coaching is on the rise, and we do expect more people to turn to coaching in the next few years.
Coaching takes various forms and is usually seen as self-improvement. While you don't need to be a certified coach to offer an online course on coaching, getting a certification in coaching will greatly help you attract learners.
Popular topics for coaching include:
Family, Dating & Relationships
Self-improvement
Life Coaching
Business Coaching
Interpersonal Communication
Examples
One great example of family coaching advice is the Pause Platform, by author Jon Kaplan, who transformed the teachings of his book and coaching business into a self-paced online course.
Another great example is Christian Simpson's Success Academy, combining courses with an online community of coaches, teaching transformational coaching.
Health & Wellness
While many coaches focus on health and wellness topics, it truly deserves its own category. We all are worried about our health and always try to improve it.
Many people turn to online courses to find a way to improve their diet, lose weight, learn to meditate or start a healthy habit like yoga.
Through these turbulent times, health issues and government regulations have affected everyone's mental health, and we have seen a rise in online courses related to mental health and staying healthy at home.
Eating & Dieting (e.g. Vegan, Flexitarian, Weight Loss)
Meditation
Yoga
Mental Health
P.S.: Read how to Choose Your Coaching Business Model.
Examples
Feels Good Wellness is an Australian science-based mindfulness and psychotherapy training, focusing especially on companies that care for their employees' mental wellness.
Key Wellbeing provides wellbeing training from the UK to all over the world. Marie and Melissa offer more than a course, they are offering a way to live healthier, happier and more productive lives through elearning modules, guides and resources!
Personal Development
More than a trend, an essential part of our lives is personal development. We need to grow as persons, professionals and deal with an ever-changing environment. Here is where course creators in the personal development space thrive.
A very interesting trend that has been rising for the past couple of years and is expected to grow in demand is personal branding. More people want to represent themselves in work or on social media, and personal branding is the way to do it.
Another rising course trend is digital navigation, learning the skills in an ever-evolving digital world. Digital navigation courses teach the right tools to navigate life on the web!
Other online course topics that are timeless as they are high in-demand and will remain in the personal development space:
Personal finance
Time management
Language course e.g. ESL
Examples
The Simplified Coach, Inc takes digital skills and simplifies them. For example, they teach how to be more effective in virtual meetings.
On the other side, Attitude guides youth in building confidence, self esteem and navigating peer pressure in school with the who am I course.
Business Courses & Entrepreneurship
Next is business courses and entrepreneurship. Business courses teach anything from finance to project management or how to be an entrepreneur. Everything you need to know to survive and grow in the corporate environment.
An emerging and growing topic around the world is diversity & inclusion. We see the conversation about diversity in workplaces and inclusion growing, especially with the rise of remote working.
Course topics areas you might be teaching would be:
Entrepreneurship
Finance
Project Management
Diversity & Inclusion
Examples
iED Academy, provides elearning courses in multiple categories, for example Business & Funding Opportunities, with a focus on grant writing for European projects.
Professional Skills
On the other side of the office, it's about the employee looking for that promotion, better pay or moving into a different position through learning new skills. Professional skills are also about Continuous Professional Education courses.
An ever-high-in-demand skill is excel. We see spreadsheet skills rising in demand for about 5 years, maybe more. Similarly, but for less time is data science and data analysis skills. As we move into data management and big data, companies need more professionals to deal with the ever-changing work environment.
The change in trends for professional skills comes from the increase in remote teams. Remote team management and leadership are new challenges that companies try to solve by educating their managers, and if you are an expert in the field, a very profitable course topic!
Data Science / Data Analysis
Excel
Remote team management / leadership
Business communication & languages
Public speaking & communication skills
Any professional training e.g.

Medical training for Doctors
Electrician training
Accounting training
Corporate training
Examples
MPIRICS is an academy with courses, live classes and more for KanBan & Scrum methodologies, providing the professional skills needed to become a certified scrum master.
SsAcademy is a great example of the rising Medical education industry and exam prep education for doctors, especially in the UK & Ireland.
Personal Investing / Finance
Lockdowns, Bitcoin, tech stocks, the market is booming, and this has attracted a lot of new investors looking for investment advice websites to understand how to invest their money.
While online communities in Facebook Groups, chats and elsewhere can be accessed for free, there are those who are looking for a more serious education on how to invest.
Forex training courses have been here for a while, but blockchain / crypto courses that started as a niche topic for a very targeted audience are going into the mainstream. We expect to see a growth in the NFT courses for the next year.
But, if you want a safe bet, real estate courses are here to stay! The interest in real estate courses and online classes has been here for a while and doesn't look to budge to new trends. Whether it's for new homeowners, investors, brokers or real estate agents, there are many things to learn and to teach about real estate. For example, getting real estate license online might be possible only through online courses.
Looking for ideas to get investors to spend their money? If you are an expert in any of these, you should be launching your course now:
Stock Market
Forex
Blockchain / Crypto
NFT (Non-Fungible Token)
Blockchain / Crypto
Real Estate
Examples
Thinking out of the box, Viswise Academy teaches subjects such as financial intelligence and youth investment to K12 children. Find inspiration from the following:
Lynn Richardson teaches -among other subjects- how to be a real estate investor. As an influencer, she has amassed a huge following on YouTube and Instagram, and monetizes her audience through online courses.
Pranary is more than an academy, it is an online community of entrepreneurs with high-ticket programs like Founders Circle, Ignition, Velocity & CEO Circle, to help founders grow their businesses.
Making Money Online
You might think making money online owes to business or entrepreneurship topics, but it's so vast, it has to be a category in itself.
Entrepreneurship is in human nature, and whether someone is trying to make some money on the side, build a small business or startup, course creators and coaches are there to teach and guide.
Teaching the fundamentals of running a business is essential for someone looking for financial freedom. Some favorite ways of making money online are growing a website, blog or podcast and creating an email list to sell courses, physical products or becoming an affiliate.
All of those are great topics. Usually, successful entrepreneurs or influencers end up creating a course teaching others how to do it by following their steps. Are you among them?
Then, you can teach:
Blogging
Podcasting
Affiliate marketing
Amazon sales / affiliate
Ecommerce / Drop-shipping
Examples
Soundpath shows the way to accelerate your audio skills with digital training and peer-inspired learning. It includes courses, live classes, webinars and mentors!
Learn E-commerce is an example of a successful entrepreneur teaching others how to start their own Amazon business.
Fitness
Fitness is related to health, both physical and mental health, and as such it has always been high on the priorities of everyone looking to improve their health (or looks).
Many people have taken up home fitness amongst lockdowns or replaced other hobbies with a fitness regime or sport.
One rising trend amongst those is unsurprisingly fitness coaches and getting certified to be a fitness coach. What are you waiting for?
If fitness or sports are your expertise, you could be making some money launching a successful course of your own in:
Home exercise
Fitness coaching
Sports

Mountain Biking
Surfing
Motocross
Tennis
Examples
One of the fitness trends that has been on the rise over the past few years is calisthenics. The School of Calisthenics is a prime example of this, and you should definitely follow them on YouTube and Instagram!
P.S. Download the School of Calisthenics' case study:
Another example of a family dojo teaching martial arts that decided to go online and reach more people than they could with their physical location is Virtual Kenpo.
The story of William Camp going from a crowded martial arts space in his hometown to a successful international school at Kenpo is very interesting.
IT & Software
The Metaverse, AR/VR, AI, UI/UX, security, mobile-first, online coding courses, no-code … so many things to keep in track in a fast-growing tech environment.
The need for learning to programme or even using no-code programming is increasing, while so many new technologies and cyber-threads are showing up. Courses to tackle the growing need to keep up with technological changes are not a new thing, yet theywill significantly grow.
This year has seen a huge conversation starting from blockchains to cyber-security, to the huge announcement of Meta (Facebook), but so many changes went silently.
Both individuals and companies will focus on education to handle the changes. Can you provide the solutions?
Here are some course topics you could be teaching next year:
AR/VR Courses (Metaverse)
Cyber Security / Ethical Hacking
Python
Responsive design
UI / UX
WordPress development
Digital infrastructure (Microsoft or AWS servers)
No-code development
Examples
Teaching professionals how to program AR/VR apps, the Immersive Insiders academy is where you should be going. Be sure to also follow Dinesh on YouTube if you are interested in learning more about AR/VR and building your own metaverse!
The ICTTF – International Cyber Threat Task Force does a great job educating on security and cyber threats. There, you can find certifications on being a security expert, be informed about ransomware, or join an online community of experts in cybersecurity.
Academic & K12
Homeschooling has been trending even before the pandemic, relevant and the pandemic just accelerated the trend. Looking for a tutor online or a course to take your STEM skills to the next level was always here, but, now, more people are looking for subjects to learn online.
Social science subjects, like psychology, show a growing trend in the area of homeschooling ever-increasing growth of the exam prep industry.
Exam prep can take many forms, from entry exams for university, medical schools, teacher evaluations to high-school and academic exams. If you are a great tutor who rocked your exams or a teacher, you could be creating content for:
Maths
Physics
Homeschooling
Psychology
Exam prep
Examples
This is probably one of my favourite examples. We have discussed with Jason multiple times in the past and he has an ever-evolving website where he tests various designs and new features of LearnWorlds (a marketer's dream).
The Learning Liaisons is an exam prep website targetingteachers preparing for state exams by Dr. Jason Ampel, a professor at the University of Florida. Be sure to also follow him on YouTube for more content and tutorials.
Marketing
You don't need to be a marketer to have a successful online course, but, in this case, most of those people are either marketers or social media influencers 💭
There is a wide variety of people looking to learn more about marketing, and they turn to online courses or virtual classes to do so. Specifics of marketing courses change, but, every online business, SME or solopreneur needs to learn basic digital marketing skills, social media marketing and blogging skills.
Amongst the rising trends in courses though, SEO is becoming more popular (and challenging), online community management, and the most surprising (or not) a trend towards becoming a social media influencer.
With the maturity of social networks and our reliance on them and consuming content, many people aspire to become an influencer, even children. It's not so much a surprise.As I mentioned before personal branding is increasingly becoming important, so becoming an influencer is pretty much connected to personal branding and audience building.
Who teaches these skills? Marketing agencies, influencers in the space, or anyone with practical expertise in marketing can potentially launch a course in digital marketing. There are so many niches and so many people looking to be educated in diverse marketing areas, such as :
Social Media
Social Media Influencers
Digital Marketing
Blogging
SEO
Community management
Examples
WEBSCHOOL is a place for professionals to learn social media marketing, digital marketing or programming. It started as a physical training location in Israel and now offers courses in both Israeli and English internationally.
Or, you might prefer a more … influential example. Angelic runs the Millennial Visionary Academy and teaches how to create a social media brand, monetize your online content and everything you need to know as an influencer.
Design, Photography & Video
Are you the creative type or an expert in Adobe's many software tools for design and video editing?
Whether you are a seasoned professional or an avid hobbyist, teaching photo/video editing skills is always looked out for.
The past few years, there has been a rising trend in mobile photography and food photography. We do expect to see more courses teaching video editors on creating deep fakes for social media, movies, and professional works.
How about sharing your expertise and skills in any of the topics below?
Photoshop
Graphic design
Video Editing
Food photography
Deep Fakes
Examples
The Unraveled Academy is more than a photography school. It's an online community of amateur and professional photographers and mentors. A place for artists to grow and create!
An interesting niche coming up is travel photography, and EXPANDMY.WORLD is the right place to learn those skills with Canon Master, Richard I'Anson.
Fashion & Beauty
The world of fashion and beauty is as diverse as it is attractive. If you are a beauty influencer or an ex-model looking to teach your skills, you are in the right place.
Many beauty vloggers and Instagram / TikTok influencers end up monetizing their audiences with online courses with more in-depth content creation on their topic. Whether that's using beauty products, applying make-up, shooting a video or modelling.
Fashion
Modelling
Nail technician
Make-up
Examples
The online academy of Milan Fashion Campus is the ultimate example of a professional level course on starting a career in modeling and fashion, or just improving your style.
On the other hand, a make-up shop for both professionals and individuals who want to improve their skills, HMA by Louise Volschenk's business sells beauty products, courses and a social media brand. Follow her brand on Facebook for incredible videos and photos.
Arts & Crafts
We all strive to express ourselves artistically and we do enjoy some handicrafts. Whether you are an expert in knitting, painting or woodwork, there is someone looking to get into the art or craft you teach
Subjects like painting and music have always been high in demand courses. So, what would you teach?
Sewing / Knitting
Art history
Painting
Woodwork
Music, Singing, Instrumental
Mixing (DJing)
Gardening
Examples
DJing and mixing music is increasingly becoming more popular as more people aspire to become DJs or music producers with home studios. Punkademic comes to solve this problem with affordable courses in the topic.
Roisin O'Farrell teaches painting through a very artistic online school with both free intro courses and paid ones!
Hobbies
Did you ever think that your hobby would turn into an online course business?
Dancing usually needs company, and as a salsa and bachata dancer myself, I know it pretty well. Over the past few years, I have seen the growth of international dance artists launching their online courses and smaller dance schools following up.
Similarly, other hobbies like gardening, drone flying/photography, professional poker, home improvement, DIY, golf and many more can be easily turned into online courses.
All you need is an audience and be knowledgeable enough on one of these topics for others to ask you about it. You don't need to be a master of DIY to teach tips on home improvement. What are you waiting for?
You could be teaching:
Interior design
Home improvement / DIY
Drone flying
Dance
Poker
Examples
Poker can be a fun hobby or a professional activity. Poker Ambition shows you how to get better at playing poker through webinars and masterclasses. Follow TheWakko on Twitch or YouTube.
Unexpected topics
Are you a dog person or a cat person?
Dog training courses are having an incredible year though, but, I guess it's because they can be more easily trained, unlike cats who have a wilder nature 🙂
Looking through the fascinating world of online courses, I have found many subjects that attract an incredible audience even though they might be unexpected or heard only in specific communities.
Niching down from photography to becoming a master of smartphone photography, or learning how to travel like a pro, from finding the best deals to learning the culture and being a pro vacatoneer.
eGaming is a whole new segment on the rise, with many courses on becoming successful or training for eGaming competitions and events.
Lastly, religious or spirituality courses, getting in touch with something deeper in our lives, understanding our own cultural roots, or exploring diverse cultures. Especially for people that might be physically far from their spiritual communities, online courses provide an opportunity to connect and find an online community and a spiritual leader.
If those are your expertise, you can turn your knowledge into online courses:
Dog Training, Pet care
Smartphone Photography
Travel
eGaming / eSports
Religious & Spirituality
Examples
Canine Principles offers courses to professional trainers and individual pet owners alike. It's a school with great 5 star reviews on Trustpilot and you can see a free course to get started!
Snap Soccer normally has classes on real life soccer and also offers one for eGaming, as their community is becoming more and more interested in the subject!
What is Your Online Course Topic?
The possibilities are endless for what you love to become an online course. Many online course creators started as expert hobbyists or by influential community members with others asking them for advice.
All you need to do is have a subject you know and love and others craving the knowledge you can provide.
During the pandemic, many entrepreneurs started their online course businesses, but the demand for online courses is growing.
If you have already validated your course topic and are ready to start creating your course content, then, all you need is the right course platform.
Here at LearnWorlds, we have the all-in-one course business platform you will need to start, and you can get a 30-day trial today to start building your new and successful online course.
(Visited 53,955 times, 10 visits today)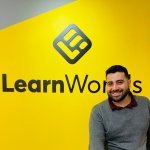 Nick Malekos is a Senior Digital Marketer in LearnWorlds. He is a results based and well-rounded Digital Marketer with years of experience in the education industry, writer and digital literacy trainer.