According to Gartner, Worldwide IT spending is projected to total $4.4 trillion in 2022, with this year being "one of the noisiest years on record for CIOs."
No wonder this is a busy year for IT departments and digital leaders. Digital transformation has invaded a large number of industries, changing the way they operate internally and with other businesses and the way they serve their clients.
Like all processes that lead to great changes, digital transformation can be tremendously beneficial for your business. But it can't be done easily. There are bound to be challenges on this journey. But you can definitely limit surprises and hassles by developing a carefully calculated digital transformation strategy.
So today, we're going to explore all these aspects of digital transformation with you: benefits, challenges, and how to develop a digital transformation strategy for business success.
Think about automated workflows, digital communication, machine learning, artificial intelligence, eCommerce, the Internet of Things (IoT), and banking/fitness/learning/social media/ you-name-it apps. These are all digital age phenomena and testaments of digital transformation trends.
Digital transformation looks different for every company depending on their business goals, industry needs, and more. No matter the degree it reaches, digital transformation is primarily the integration of technology in business operations and customer experiences and an overall shift to a more agile mindset within an organization. At its highest level, successful digital transformation can lead a business to create its own ecosystem or become a disruptor in its industry.
In an increasingly digital world, embracing digital transformation is a one-way street to move past stringent work processes, engage with customers, and remain competitive. Ultimately, digital transformation is customer-oriented. It takes place so you can improve user experience, customer experience, and how you engage with customers.
When you think of giants of digital disruption like Amazon, Netflix, and Uber, it's easier to understand the impact of successful digital transformation. These companies have led massive changes in their industries and forever raised customer expectations.
From startups to established companies, there is a lot to be achieved once your digital transformation efforts are completed and met with success:
1

Improve Efficiency Across Departments

Digital transformation doesn't take place in a silo. Eventually, every department in the company will work more efficiently as they will have better tools and automated workflows. Automated workflows also reduce human error, which is another way digital transformation contributes to increased efficiency and speed.
2

Decrease Time to Market

Companies that undergo digital transformation have more efficient processes; they manage to introduce new products to the market faster. It's not uncommon for companies to develop a product that takes so long to be market-ready that it's no longer relevant to consumer needs by the time it does. Digital transformation can help prevent this from happening.
3

Elevate Customer Experience

For a while now, the end goal for every business is to improve customer experience, as this is where the key to success lies. Customer expectations have risen, so a better, smoother customer experience is the best way to build customer loyalty and establish your brand. From the quality of your products to how you communicate with customers and understand their needs, digital transformation can get you closer to engaging your customers.
4

Efficiently Collect and Analyze Data

Digital transformation improves the way businesses collect, store, analyze, and share data. This enables companies to draw more accurate conclusions about different aspects of their operations and customers and use these insights to improve their processes, marketing strategies, and customer experience.

Especially when it comes to customer data, better data analytics enable further personalization, more relevant products, and more targeted marketing. The latter can significantly reduce marketing costs and increase conversions as your messaging will resonate with your target audience.
5

Increase Agility and Innovation

The pandemic brought forth the need for increased agility. As we mentioned, digital transformation encompasses a shift in culture and mindset. This shift is about becoming more agile, improving readiness, quickly adjusting to market changes and evolving customer demands, and staying at the forefront of innovation with novel products.
6

Boost Profitability

According to a McKinsey report, agile companies report higher revenue. The reason for this can be attributed to:
streamlining internal processes and improving efficiency and employee productivity
reducing the amount of unnecessary or overlapping digital tools they use
introducing innovative products that have established them in the market
improving the customer experience, increasing customer satisfaction, and building a loyal customer base.
7

Thrive

In our day and age, embracing digital transformation is not optional – it must be part of a business strategy. Giants like Kodak and Blockbuster that failed to stay up to speed and didn't go digital are no longer in business.

Instead, Netflix, Amazon, and DHL, to name a few examples of digital transformation, have revolutionized their industries and are not merely surviving but actually thriving. And even if your business can't reach these greatness levels, it can achieve more than just staying afloat.
Digital transformation is more than buying new CRM software or adding a chatbot to your website. It's a business transformation that impacts everything from figuring out a new business model and brand identity to changing company culture. Obviously, there will be bumps along the way.
1

Promoting Adoption

They say you can't teach an old dog new tricks. We say that you can – you just need to get them to see the benefit in that. Even if digital transformation sounds like an exciting idea, some employees or customers might be reluctant to change their ways and go through all the "inconvenience" that modernization and going digital involve.

Change management starts from the upper management level. The CEO must be actively involved in the digital transformation initiative and communicate the importance of this endeavor and the business value for the company and the employee experience.

Make sure your more tech-savvy and forward-thinking leaders are the first to get on board so they spread enthusiasm and influence their teams. It's also essential to reassure employees you'll offer them all the support and training resources they need until they become proficient.
2

Onboarding Employees

Not all employees are equally comfortable with new technologies, so you need to figure out ways to facilitate the transformation process for them. One way to do it is by providing relevant training in a timely manner and online resources they can access anytime and anywhere, even on their mobile devices.

Another option is to invest in a digital adoption platform. A digital adoption platform is an integrated solution that facilitates learning new software by providing simplified tutorials and highlighting essential features. Many platforms also provide detailed metrics that measure adoption rates.
3

Limited Budget

Limited financial resources are undeniably an issue in digital transformation projects. Proper planning that involves accounting for unexpected expenses, like errors, do-overs, and external hires, as well as analytical estimation of available resources and estimated ROI, can help you know where you stand and not put your company's financial state at risk.

You don't have to go all-in either. Assess your needs and prioritize accordingly. Start with small steps and gradually integrate technology into your processes to facilitate adoption and mitigate the risk of going off-budget.

Of course, your digital transformation journey won't be completed with "patches" here and there. But you need to pick your battles until you can reach the level where technology is incorporated into every part of your business.
4

Lack of Skills from the IT Department

An IT department that is not entirely up to the task will jeopardize your plans for digital transformation. This is a very common – and up to point understandable – occurrence since technology is one of the most rapidly changing sectors, and it's hard to keep up.

The solution to this problem is straightforward: outsource all relevant tasks to external collaborators with relevant experience and expertise. Explore available IT service providers to find the best for your budget and needs. It may cost you a bit more to start with, but it will save massive headaches and money down the line.
5

Cybersecurity Concerns

The digital transformation process often involves data migration from several storage spaces and legacy systems to one centralized system or – at a less advanced level – digitization, i.e., moving data from paper to cloud computing. This raises concerns regarding data loss in the process or even cyberattacks, which is even more worrisome in industries with extremely sensitive data, like finance and healthcare.

Again, the most appropriate solution is to hire system migration and cybersecurity experts to ensure the process goes smoothly. They can also check your current defense mechanism against threats and provide relevant guidance and training.
6

You Don't Know How To Proceed

Digital transformation is a massive venture – naturally, you don't know where to start and all the steps you need to take from planning to implementation. A consultant specialized in digital transformation is key to success if that's the case. They will accurately assess your needs, available human resources, and budget and help you develop a strategy.
Digital transformation success is within your grasp. You just need to take small, calculated steps:
1

Assess Your Company and Available Resources

Evaluate where you stand now in terms of human resources, budget, and the overall level of digital integration in the company. For instance: what are your current processes and employee skills? Does your IT department have relevant experience, or do you need to outsource? How far from digital transformation are you, and how close can you get? Doing so will help you prioritize your "points of attack" and also pick the right tech tools for your needs and capabilities.
2

Identify Your Objectives

What do you want to achieve with digital technologies? Optimize your current business processes? Improve customer experience? Streamline your production operations? Supply chain visibility automation? Improve the way you collect and process big data?

Again, being clear about what you want to achieve will help you make better decisions when choosing tools and priorities. Plus, you'll define the KPIs you need to check to measure the success of this initiative.
3

Understand Your Market

It's essential that you know the market you're in and also the place you have in it. See what other companies that have successfully established themselves as digital businesses offer. Notice how the market is evolving and what changes you should anticipate.
4

Assess Customer Needs

What do customers expect? Which touchpoints of the customer experience can you improve? Improving customer relationships and building loyalty is one of the top goals of digital transformation initiatives. You need to consider consumer needs during decision-making to achieve your objectives.
5

Create a Roadmap

The digital transformation journey is long but needs to happen fast, so you need to think of what lies ahead to avoid wasting precious time. Which business aspects will you have to touch on to achieve digital transformation? Which tools are you going to replace first? How often are you going to gather with your team and review your progress? Clear all that up with a kick-off meeting with your digital transformation team before diving into action.
6

Review Your Operating Models

Consider changing the way decisions are made in your business and follow a horizontal approach where employees also contribute with ideas and opinions and are not solely receivers of decisions taken. Make sure you establish new processes and assign new roles to employees as they all become part of this exciting journey.
7

Get Employees on Board

The last step involves communicating your intentions and plans openly and transparent to all employees. Pinpointing the benefits will help them feel eager about this. Provide relevant training or start with a more relaxed approach, like attending or creating your own webinars to warm them up and increase their knowledge on the subject.
Digital Transformation is the Future of Business
Digital transformation is clearly underway and shows no signs of slowing down. Keeping your business relevant and competitive means jumping on this wagon as soon as possible.
💁Here's a tip: Implement a comprehensive online learning system to better engage your employees and customers in your business's digital transformation. Learn everything you need about customer education and how to use it as a marketing tool in this comprehensive free ebook we have created for you: Customer Education as a Marketing Tool.
Further reading you might find interesting:
(Visited 747 times, 1 visits today)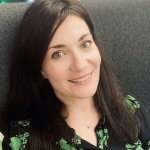 Androniki is a Content Writer at LearnWorlds sharing Instructional Design and marketing tips. With solid experience in B2B writing and technical translation, she is passionate about learning and spreading knowledge. She is also an aspiring yogi, a book nerd, and a talented transponster.