255 billion mobile apps were downloaded only in 2022. The number is out of this world considering that the earth population is currently a bit above 8 billion people, right?
Among those mobile apps, education is the third most popular category. Is it any wonder? Mobile apps enable users to simply pull out their smartphones and instantly access information, products, and services no matter where they are. 
So that brings us to mobile learning for corporate training. A recent analysis by GMI (Global Market Insights) shows that in 2022 the mobile learning market value reached $46 billion. By 2032, it's expected to reach $244.6 billion. 
In layman's terms, the demand for Learning Management Systems tailored for mobile devices is growing constantly and steadily. 
Companies want to reap not simply the hype but mainly the benefits of mobile learning: unparalleled ease of access, flexibility, and enhanced engagement. Of course, these benefits are multiplied when you deliver training via a mobile app and not simply via a mobile-friendly LMS.
Mobile learning is also an excellent pair with microlearning, making mobile apps the perfect training tool for deskless employees who don't have easy access to a desktop and new hires who need quick job aids. 
Another use case for mobile apps is extended enterprise training, which includes partner training (vendors, consultants, resellers, etc.) and customer education.
Delivering training material to customers and business partners is a game changer when it comes to building your brand – you're now perceived as an established, client-centric business that is successful enough to deliver training under its own brand. 
Building a mobile app to deliver online training is not as hard as it sounds. And it's definitely not for a selected few who can afford it. In fact, the no-code movement has turned things around and made app development feasible even for tech dummies.
If you've been toying with the idea of launching a mobile app but haven't committed to it just yet, keep reading. This post explores the 4 best no-code mobile app builders that will have your training program up and running in no time! 
👨‍💻 No-Code Vs. Low-Code Mobile App Builder
When you think of building a mobile app from scratch, you probably imagine writing endless lines of code, testing, and tweaking, falling, then trying again. For many years, that's exactly what software development was.
But no-code & low-code development has changed everything.
In fact,
"The future of coding is no coding at all." – CEO, GitHub.
The No-Code Movement refers to app development without a single line of code. In contrast to a command-line interface, a no-code app builder interface lets you drag and drop pre-coded elements exactly where you want them, and the code follows suit.
What happens is that on the backend, the no-code tool transforms your simplified input into "real" code, sort of like an interpreter. Although you may not speak Python, HTML, C++, or whatever programming language your program requires, your interpreter does.
The only downside is that to maintain their ease of use, no-code platforms use pre-built blocks and templates. Therefore, users can't input unique code, therefore customization options are limited.
Low-code app builders are between no-code and manual coding. You need to be somewhat tech-savvy to handle a low-code app yourself or hire a web developer to do custom coding or handle specific use cases. You have more customization options compared to no-code, but launching your app might take longer and cost you a bit more since you'll have to hire a programmer.
According to Gartner, by 2024, 65% of applications will be developed on low-code and no-code platforms. The no-code revolution is here to stay and includes LMS software as well!
Native Vs. Progressive Web Apps
Another distinction between mobile apps is whether they're native or progressive web apps. Let's see how these differ:
Simply put, native mobile app development involves building apps for a specific mobile operating system. Users can access these mobile apps from dedicated app stores, such as the App Store or Google Play. To achieve this, there are selected technologies and programming languages developers use. 
For example, if you're looking to build an iOS app, you'll need to learn Objective-C or Swift. Since these apps inherit their devices' OS interface and UI standrads, they appear and feel like part of the device. Thus, the flow of the app is more natural.
While native apps are written to run on mobile devices, Progressive Web Apps (PWAs) run inside a web browser. Web apps rely on different browsers and underlying technologies such as JavaScript, HTML (HTML5), and CSS. PWAs are web apps that use service workers, manifests, and other web-platform features with progressive enhancement to give users an experience on par with native apps.
Overall, native apps offer a smoother user experience than PWAs: they are faster, more intuitive, and more secure.
Top 4 No-Code Mobile App Builders 
Let's discover some of the most popular no-code LMS app builders in the elearning industry for you to try out.
1

Our Top Choice | LearnWorlds Mobile App Builder

LearnWorlds is a leading mobile learning platform for creating, managing, and selling online courses with AI content creation capabilities and SCORM compliance.

It offers the most powerful no-code mobile app builder in the industry, enabling you to launch your online courses with your own branded, native mobile app for iOS & Android.

The Mobile App Builder is user-friendly and packed with awesome features to supercharge your training programs, reach more audiences, meet your learners on the go, and boost customer engagement. Let's explore them together:
🎨 A Simple, Intuitive & 100% White-label Visual Editor
You can fully customize the look & feel of your academy's app to fit your branding. Set your app name & your app logo to suit your purpose, needs, or brand requirements. Our app builder enables you to customize:
Theme

Typography

Color palette

Onboarding screen
Plus, you can add sections & widgets, like a course catalog, downloaded videos, blog, etc.
🛍️ Your Own App Store Account
Your learners will search for your brand, company, and app in the app store marketplace – not some LMS provider's. Through the App Store or Google Play Store, learners can easily download your apps directly from your development account.
🙅‍♀️ No App Maintenance From Your Part
The app is yours, but the LearnWorlds team takes care of everything (aka backups, firewalls, updates, etc.) to ensure it runs smoothly. 
⏱️ Real-time Testing
Live test your app within the dashboard or download our demo prototyping app before submitting it to the app stores.
💯 One Dashboard, Countless Possibilities
Create and manage your courses from your academy's dashboard and keep your curriculum consistent across multiple devices. Every change you make is instantly synchronized across platforms. 
🔔 Targeted Push Notifications
This engagement booster will keep your learners motivated and bring them back to your academy. Or, it can drive more sales by communicating offers and new course releases if you're selling. 
Set up push notifications to target specific groups of learners, teams, or divisions, then tailor your messages according to their needs.  You can even redirect them to a specific page in your mobile app if you wish.
🕵️‍♂️ Biometric Authentication
Increase security and speed up the login process with face id and fingerprint recognition. Help your learners get to their course faster, eliminating unnecessary and tedious steps like password input. 
🧑‍🤝‍🧑 Guest User Flow
Having to sign in right as you download and enter an app is frustrating for many users. By enabling the Guest User Flow, you enable users to take a look around your app before they decide to share their contact information with you.
🤑 One Click & One-Off Payments
Create in-app purchases, so users can buy your courses with one-off payments via Apple & Google Pay. No payment gateways & complex integrations are needed. eCommerce at its finest!
🤓
Learning Reminders
Our app enables your learners to set up learning reminders, so they can study when it's most convenient for them. Learning reminders are a great way to boost retention and course completion rates.
📲 Exclusive Mobile Content
Do you want to differentiate the content of your learning app from your web academy? You can do that! Keep your "heavier stuff" of your course library for the desktop, and create bite-sized learning content for your app.
🎥 Interactive Video for Microlearning
Engaging blended learning or microlearning on the go: LearnWorlds has you covered! You can add questions, titles, pointers, overlay images, links, and more interactions to your videos without post-production to make them more vivid and enjoyable.
📶
Offline Video Mode
Enable offline video, so your learners can download video content and view it even without an internet connection. Users can later find their downloaded videos by navigating to My courses → Downloaded courses.
🎓 Flowing Learning Experience
Your learners will benefit from a flexible and powerful study process through a customizable, beautiful course player. Anything they need is available on their mobile app, from course discussions to certifications. Any progress they make using either the mobile app or their web browser is automatically synchronized once they log in again to their course, and they can pick up where they left off.
Flexible pathways with Drip Feed

Casual reading with Note-taking

Live Sessions with Zoom and Webex integration
📊 App Analytics
Our mobile app offers 4 different types of app analytics, available under one Dashboard for a quick overview:
Growth: new app downloads, active users, and respective trends over the last 30 days
Audience: total number of mobile users and total downloads by store
Reachability: total number of users that have opted in to receive push notifications from the school's app
Engagement: average time (in minutes) that your mobile users study by using your school's app.
👤 Advanced User Progress
Monitor your learners' progress with detailed analytics on each course, exam, and assignment, and combine search queries for data-driven decisions.
✅ Assessments For Every Need
Make sure your learning outcomes are compatible with multiple types and formats of quizzes, tests, and assignments! Easily track, monitor, and report your students' successful results.
🧑‍🤝‍🧑 Vibrant Learning Community
Lifeless learning materials are not enough to engage learners. Spark authentic connections and give your learners a discussion forum to exchange ideas and tips and share their experiences and advice within a community of practice, just like they'd do on social media.
🔗 Powerful Integrations to Monitor Marketing Campaigns
Your academy's app can integrate with Google Firebase and Facebook Business SDK natively to track important events like app downloads and in-app purchases. Know where your online course business stands at any given moment to make better decisions. 
👉 What you need to know
The LearnWorlds Mobile App Builder is exclusive for schools with a subscription to the Learning Center and higher plans and comes with a starting price of $169/month.
We take mobile education a step further and allow you to tap into the benefits of mobile learning for your online school, regardless of your industry. Go mobile today and elevate your online learning academy with LearnWorlds.
2

Docebo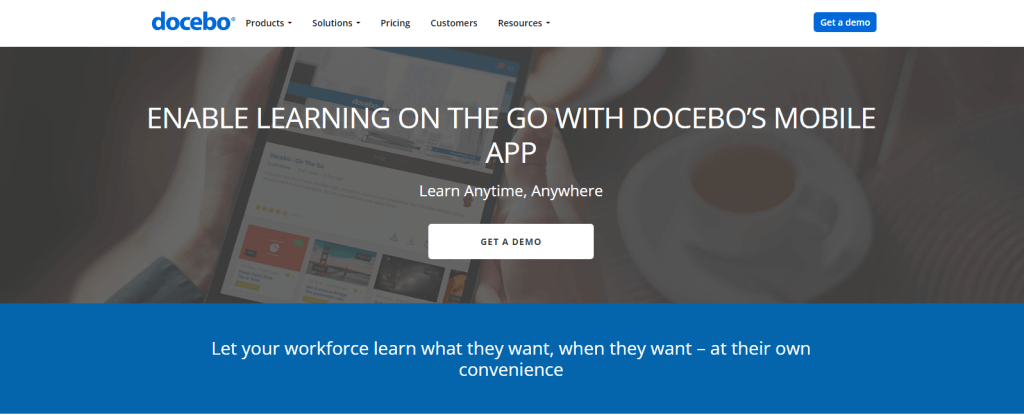 Docebo is a learning and development platform that creates, delivers, and contextualizes the business impact of your training initiatives. Along with its other features, the platform also offers a mobile app builder tool to create digital, personalized training courses that integrate seamlessly into employee workflow.
Docebo's Mobile App Publisher is a useful product that allows you to create a branded version of mobile apps and publish them on the app stores for Google and Apple.
The possibility to customize the Mobile App through Mobile Pages is included in the platform subscription. No extra license is required.
The branding functionality allows you to customize:
✔️ App name
✔️ App images
✔️ App Store Page for Apple's App Store (iOS) & Google Play Store (Android). According to your company's design guidelines, you can autonomously manage your activity in the app stores.
✔️ Push Notifications are supported if you want to enable this feature, but it is not natively integrated into the platform to offer an all-in-one solution.
Let's check the limitations of this offering:
❌ If you want to have push notifications, your branded app needs a project in Google Firebase (this is also required for iOS apps). The platform admin has to generate a project in Firebase to send push notifications. To set up push notification campaigns, you have to log in to your Google Firebase account, your academy's external environment.
Compared with LearnWorlds: LearnWorlds Mobile App Builder offers a streamlined experience for the admin without any technical headaches involved. How? You just log in to your academy and go to the Push Notifications tab inside the Mobile App section (no need for Google Firebase set-up). You can set up your campaigns, segment your learners, and check the performance of your past campaigns quickly.
❌ No automated app maintenance
When your learning app needs to be updated with the latest version, you have to take care of it.
Compared with LearnWorlds: LearnWorlds Mobile App Builder looks after your own learning apps and takes care of everything (aka backups, firewalls, updates, etc.) to ensure it runs smoothly.
❌ In-App Purchases are not supported
Compared with LearnWorlds: LearnWorlds Mobile App Builder enables you to maximize your school's growth via in-app purchases. You can charge one-off payments and choose what course content your learners access for free or need to be charged for, make a seamless buying process, promote new products, sales events, and so much more.
Overall, Docebo is a powerful LMS platform with massive employee and partner training capabilities, although it lacks customization and features to compete with LearnWorlds.
3

Bridge LMS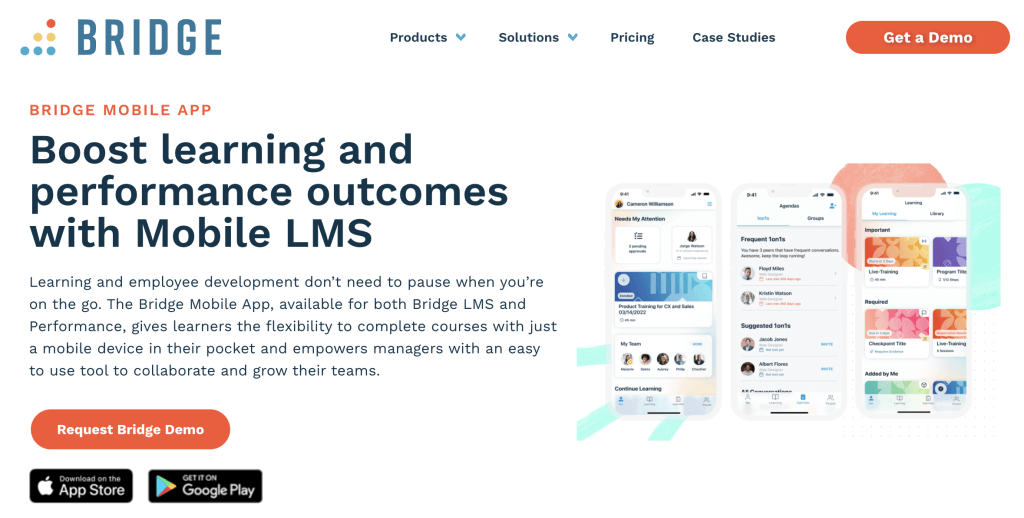 Bridge is a cloud-hosted talent development platform. It is an employee-centric solution that enhances communication and monitoring and situates stakeholders in a conducive environment for co-development.
It offers a native LMS mobile application that makes online learning and performance management seamless wherever your employees are. Let's dive deep into detail:
✔️ Meaningful one on ones in the palm of your employee's hands
Empower managers to keep their teams aligned and have conversations that count through Bridge's 1on1 agendas.
✔️ Foster connection between employees
Drive connection between employees by allowing them to search coworkers' profiles, find mentors, and share interests right in the app.
✔️ Complete assigned learning
✔️ Live-trainings
✔️ Learning library
✔️ Company directory
✔️ Custom branding
You can customize your mobile learning app with your company's logo and your favorite course font, and you can choose your desired theme color, select the navigation bar color, and edit sign-in and splash pages for a better user experience.
Elements where custom branding is not applied:
❌ App Store and Google Play listing appear as "Bridge: People Matter Most."
That means that you can not have your own branding inside App Store Marketplace.
❌ App icon & app name appears as "Bridge" with the Bridge logo.
The app is not yours; your customers will have to search for Bridge LMS, not your brand.
❌ Mobile app login screen
When your device is in high contrast mode (iOS) or high contrast has been turned on in the app settings (Android), custom brand colors are not applied to ensure that the required contrast ratio is met. The app turns into Bridge LMS brand colors to ensure a smooth performance.
Compared with LearnWorlds: LearnWorlds Mobile App Builder offers a 100% white-label solution to put your brand in front of your learner's attention! It's your own apps, with your own branding, in your own Apple App Store and Google Play Store developer accounts. In other words, your employees and your partners will search for your brand, not LearnWorlds, in the app marketplace. The app store pages can be customized according to your brand guidelines.
The LearnWorlds click & edit visual editor of Mobile App Builder allows you to upload your app icon and select your app name. Also, you can customize the look and feel of your app by choosing colors, app themes, splash & onboarding screens, and more!
4

TalentLMS

TalentLMS is a popular LMS platform known for its ease of use and gamification features, which range from badges and levels to leaderboards. To facilitate learning on the go, TalentLMS has its own mobile app for iOS and Android. 

If you want to launch your own white-label app, it comes at an extra cost which is not mentioned on its website. Plus, this option is available only for Android. Let's see what this mobile app offers:

✔️ Offline mode for a wide variety of content (video, audio, images, PDFs, and more)

✔️ Automatic progress synchronization once back online

✔️ In-app messaging

✔️ Deep linking

✔️ Live sessions

✔️ Gamification

At the moment, the app has several limitations:

❌ No learning reminders

❌ No in-app purchases

❌ No white-label app for iOS

Compared with LearnWorlds: While TalentLMS supports offline mode for several types of content and automatic content synchronization, it falls short when it comes to white-labeling and monetization. 

You can only launch a branded mobile app for Android and not for iOS, which is extremely limiting since iOS has a 28.36% market share. This means that one out of three learners will not be able to have access to the app! Plus, the mobile app doesn't support in-app purchases, which means that it's not a good option if you're looking to monetize your courses.
📲 Ready to Launch Your Mobile Learning App?
Mobile apps are transforming the eLearning industry and online learning; you shouldn't risk missing out. So, don't waste your time and start using no-code tools today to turn your idea into a reality without any headaches.
And remember, the future of coding is No-Code, so it's time to jump in!
With the brand new LearnWorlds Mobile App Builder, the power of creating engaging mobile learning experiences is literally at your fingertips.
Go mobile today and unlock all the possibilities available to you by LearnWorlds.
Not with LearnWorlds yet? Try our platform with a 30-day free trial and turn over a new page in employee training!

Further reading you might find interesting:
(Visited 3,798 times, 3 visits today)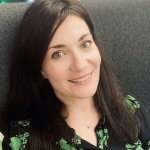 Androniki is a Content Writer at LearnWorlds sharing Instructional Design and marketing tips. With solid experience in B2B writing and technical translation, she is passionate about learning and spreading knowledge. She is also an aspiring yogi, a book nerd, and a talented transponster.
Jo is a passionate Product Marketing Manager on a mission to revolutionize the eLearning industry, bringing to the forefront the most powerful Online Course Mobile App Builder created by LearnWorlds. She has extensive experience in the tech SaaS industry, focusing for over 5 year on driving growth through digital channels. Her studies are mainly focused on Integrated Digital Marketing Communications.