Online learning and training have become an essential part of every online business. Creating and selling online courses can be quite profitable, with many professionals achieving 6- and 7-figure incomes.
The whole elearning market is expected to exceed $300 Billion by 2025, and that includes both individuals and corporations spending more and more into online learning. There has never been a better time to join the growing industry of eLearning.
But, in case you have thought you have something to share with the world, there is a lot to concern:
Are online courses the right type of online business for you?
How can I choose the right course topic?
How can I create a profitable course?
How will I sell it afterwards?
Well, we created this massive guide to answer all those questions for you.
First Steps to Creating an Online Course
If you are new to the e-learning world, you may have many questions about building an online course.
Here we answer to the most common questions regarding creating an online course and what kind of course would work for you:
How to write a course?
There is no one way to write a course. All you need is patience and imagination. Most of all, if you love the field of your expertise, everything will come into place. There are hundreds of tools and resources out there to create a stunning course! In this article, you will learn everything you need to know about how to create an online course.
How long does it take to create an online course?
It depends on how much material you have that is ready-made. If you have all PDFs and videos stored and want to upload content, create some quizzes, a certificate, and a landing page a week is more than enough to create an online course if you work two hours a day on it.
How much does it cost to create an online course?
Again depending on whether you have created the media you will use, the course creation may cost from zero (except the learning platform charges) to thousands of dollars. For example, some instructors invest a lot of money in video production.
How to make an online course interactive?
The more you have in mind to interact with students while creating your content, the more the final result will be interactive. How do you want to engage your students? What kind of interactivity do you want to include? Do your research, and keep those things in mind in the planning stage.
How hard is it to create an online course?
Creating a course is not that hard as it seems. When you have finished content uploading, you have to find smart ways so that people reach your course and buy it. And this is the hardest part for course creators. The good idea is to reuse your blog's content. Besides, you already have the people interested in following you.
You can easily record and sell online speeches and workshops; you have already been doing. Turn your training into a profitable online course!
How to create a profitable online course?
If you want to create a profitable online course, the most important thing is to get acquainted with your audience, learn what their interests are, and come up with the best course idea. Depending on the type of course you're selling, you may have to do more research. For example, if you're selling B2B training, it's a good idea to connect with your existing touchpoints over the phone and understand their needs directly before you even begin cold outreach.
No matter the case,, if people see that you are solving a significant problem for them and that they will learn new skills, they will want to buy your course. A successful course always:
– Solves problems for others.
– Teaches something new.
– It helps achieve a goal.
Your experience can provide valuable information to younger professionals.
Eighteen types of Online Courses
Before you start creating an online course, it is good for you to know what type of course it is you want to create.
We have researched several online courses and concluded to specific activity patterns, each of which correlates to a particular course type.
We have a unique guide to offer here. In it, you can see in detail what each course type is all about and the exact structure your activities must have to create each one.
Download Our Free Online Course Outline Templates for 2021
Depending on what you want to achieve with your course, here are 18-course categories you can choose from:
Once you decide to nurture your ideas and develop them into an excellent lesson plan, these can become an exciting course that will bring innovation and change to your clients.
Assessment Courses
These courses intend to help both you and your potential students assess (test) their skills. This course type can also be used as a powerful Lead Magnet to gather students' emails early on the process.
Presell Courses
Presell courses serve as a storefront of an upcoming course. They can rapidly validate a course idea and start building an email list of your potential students before officially releasing a course.
Orientation Courses
An orientation course provides an overview of all the courses you offer. If you are offering many courses in your Academy, create an orientation course to build student engagement and interest with the course contents and let them get acquainted with the goals of your Academy. It's a good idea to add a walkthrough of your academy, how to engage in the community or contact the instructor(s).
Μini-courses
Mini-courses are short to consume summaries (teasers) of a full-sized course. Like presell and orientation courses, they serve as teasers that make students enroll in a course. However, in contrast to the other two categories, Mini-courses provide real educational value: A full summary of what will be taught in the full-sized course.
Live courses
This course type includes mostly scheduled live sessions. You can frame your live meetings with many different types of material, also: Quizzes, gamification, discussions in the discussion forum, transcripts of the live sessions, downloadable files (PDF) of your presentations. Live courses could also have office hours, where the instructor can be reached for questions, feedback or support.
Demonstrations/Workshops
Demonstration courses consist of a series of videos where an instructor demonstrates specific skills to students online. Workshop courses usually fall in arts & crafts, painting, sewing, fitness, content creation, anything that shows the instructor demonstrating something new that students try to imitate through observation.
Professional training courses
Professional training courses serve in building knowledge, skills, and competence in a group of individuals or a team. Companies are used to promote job quality, efficiency, and effectiveness while also motivating employees to make a formal commitment to growing with the institution and being more productive. Corporate training is a main use case of professional training courses and this course outline template.
The X days challenge courses
Through an X Days Challenge course, an instructor attempts to guide the student through daily or weekly small achievements to higher achievements at the end of the course. Therefore, X Days challenge courses challenge users to focus on small steps and quick and fast wins in specific skills/achievements. You can see a live example of a challenge course in LearnWorlds' Just Launch It! Challenge.
Certification courses
Certification courses offer a certificate that guarantees the skills a student has obtained in the course. Certificates serve the external validation of knowledge and require students to pass a final exam to get it. Certifications can be obtained from external governmental organizations or the academy. Certification courses work a lot with prerequisites, you can read more on the course navigation on LearnWorlds here.
Spotlight/Niche Topic Courses
Niche topics are created to teach particular skills like mini-courses. The difference between those two-course categories is that spotlight courses are oriented to a specific skill. Instructors can create a whole Academy with multiple niche courses and also sell them in bundles.
Traditional Academic Courses
Academic courses are courses with a traditional academic structure followed by universities. Each section usually consists of an introduction to the course, where objectives are discussed, a short test to assess pre-existing knowledge, and multiple lectures. Faculty members use this outline structure the most to deliver academic courses to their students.
Drip feed courses
With the drip-feed course, you can organize the timely release of your content (section by section) so that it doesn't become available to your students all at once. For example, if you're running a fixed time frame course, ten weeks, it makes sense to drip your content weekly to keep students engaged and moving through the course.
Conceptual Change Courses
Conceptual Change courses are courses that aim to create an experience with the power of storytelling. These courses don't intend to teach a skill but rather change students' mentality on a subject. Their structure is random (it can include, for example, five videos, three ebooks, and two assessments).
Hybrid courses
Hybrid courses allow students to take the benefits of online learning and combine them with traditional in-class learning. These courses enable students to use the physical classroom skills and apply them to real-life scenarios.
Series of invited talks Courses
Courses that include invited talks from guest speakers who talk about the courses' topics are very engaging. You can schedule a series of (live) interviews every three months or two weeks, for example, and ask for payment from the beginning.
Selling digital goods or extra services
Online courses are not strictly used for teaching. An online course can be a suitable wrapper for a digital good you are offering. In other words, an online course can be used as a portal to give access to users to certain digital products or extra services.
Bonus Courses
Bonus courses are usually short and offer some extra resources to students. They typically contain scarce resources, like a pdf, an exclusive interview, an exciting webinar, etc. What makes bonus courses so valuable is that they add much more value to your first bundle.
Complimentary to Physical Products Courses
A complimentary to physical course offers additional material to a product you are selling through your website. Such complementary content can be information about that specific product, guidelines about how to use the product.
Ιn our new free ebook "18 Course outline templates", you will learn more details about each course category and get free syllabus templates on how to create them.
Download Our Free Online Course Outline Templates for 2021
Let us know if this handbook helped you.
How much money you can make
Launching an online school or online courses can, bring you a passive income or a significant new source of capital. Ιτ can also offer other multiple benefits to you or your business.
There's a vast potential to make money through online courses. From simple online lectures to intensive boot camps, you'll find courses that charge anywhere from a few hundred dollars to nearly $20,000, depending on the topic.
How much money you can make with online courses mostly depends on the resources at hand, including the value of your personal or company's branding, your industry or target group, and the work you put into creating, marketing and selling courses. You could be earning from a few hundred dollars per year to a six-figure income and more.
Changing people's lives by sharing your knowledge is invaluable. And when your course income comes in, it's a good idea to invest more in your online business 😉
Launching new courses will bring repeat buys from current satisfied customers, with each course launch bringing in more income while improving your course's content will allow you to sell it for a higher price!
Think Positive and Avoid Mental Blocks
Lot's of negative thoughts are spinning around your head when you think about creating an online course:
"I don't have enough money to start online courses."
"I am not an expert."
"What if this doesn't work?"
"I don't have the technical skills required."
But your course, and ultimately the business that you want to create, is somewhere outside of this circle.
If you are waiting to have the right mindset down pat before you start building your course, you'll never get started. Procrastination is a mental block holding you back.
Specify the negative thoughts you are having. Stuffing it away isn't the best strategy.
It will just build up and explode. You have to acknowledge your feelings so you can replace the negative thought with a positive one.
And don't think of yourself as a person trying to start your own business. Think of yourself as a business owner already.
Own it.
Like it's already ingrained into who you are as a person.
The truth is, besides that, no technical skills are required to use a course platform, and you don't need thousands of dollars to create a course.
Also, you have to embrace the possibility of failure. If you let the fear of failure hold you back, you are missing out on your real potential. Failure may be the most significant thing keeping you in your comfort zone.
But the thing is.
You don't have to be afraid of failure. Be fearful of not getting back up.
You can learn a valuable lesson through failure that will get you that much closer to your success. That's another aspect of the CEO mindset you want to develop. The ability to bounce back from failure and try again.
How to Create an Online Course (Step by Step)
1

Decide the Course Topic

Finding the topic for your course shouldn't be a struggle at all. We suggest that you look no further from your everyday reality and ask the following questions:
– Do your friends, customers, and colleagues ask for your help in a specific thing that you are considered an expert?
– Have you solved a problem that you think others are struggling for?
– Are you an expert on software or a method that others want to use?

It's all about creating a course about anything you are passionate about.

How excited are you about creating this course? You're likely to quit before you get there if you hate working on something!

The other important factor of starting a course topic is the profit potential: The profit potential is high if you are solving a problem that people would pay for.

So, think about the following: "Do people already spend money to solve this problem, in the form of books, apps, services, etc…?".

A technique that will help you define the most profitable courses is asking for people's opinions through surveys.
Here are some questions you can use:

"Tell me about your experiences with…"
"What's your biggest challenge with…?"
"What would you achieve if you deal with these challenges?"
"What communities are you a part of online? What blogs do you read frequently"

Once you have created your course, you can make a smoke test to see how many of your audience enroll already. Setting up a landing page should take you a few hours and maybe two or three days to get it out there.

Actively go and find out where your potential learners are hanging out and make a public post asking if they sign up. Also, if you have an email list, do an email blast advertising your course. Then, you have the time to get feedback and make the necessary changes to your course.
2

Research the subject

Research and planning the course is the most crucial stage of your course creation. You can't have an excellent course if you don't have a plan. Besides, you don't want to be giving out unorganized information that people could get anywhere else for free.

Let your creativity roam free. Brainstorm all the subtopics you would like to include in the course. Write everything down on a piece of paper.

After that, go for an online search and study your topic as much as possible. You may already be an expert. But there is always something new out there. Looking into what people are talking about online, asking, and teaching (potential competitors) on your subject is essential. Learn your area like no-one else.

Doing that will help you update your brainstorming ideas and include new subtopics, find new literature and external links to add to your course.
3

Plan the Course Outline

After your search, you probably have many ideas about what subtopics you can include in your first online course. Break down those ideas even more. Then, divide them thematically. Put all those topics in a logical order and make a list. You can follow, for example, this course template:

Topical Course Outline Template
(Course subject)

– Main topic 1
– – Subtopic
– – Subtopic
– – Subtopic

An example of such a list could be this:

Course subject: Improving writing skills at home

– Main topic 1: Introduction on writing as a skill
– – Subtopic: Using vocabulary
– – Subtopic: Combining meanings
– – Subtopic: Organizing content
– Main topic 2: The importance of reading texts
– – Subtopic: How reading affects writing
– – Subtopic: Practices to improve writing
– Main topic 3: The benefits of writing summaries
– – Subtopic: How summaries affect learning
– – Subtopic: Practices to turn summaries into new texts

Although this step is helpful, it is not obligatory. What is most important is to know what exactly you want to teach and the impact you want to create.

You can also follow Dr. Finley's Unit Plan to plan your curriculum as a new teacher. His eight-step plan can guide you from research to development of the teaching curriculum and comes as a downloadable PDF.
4

Writing Goals and Objectives

Learning goals are the heart of a course and need to be made clear at the planning stage. They are broad, general statements of what we want our students to learn and provide direction, focus, and cohesion for our work with learners.

Objectives tell the learner or us how they will be able to know whether or not they have learned and understood the lesson. This way, the instructor can see in which ways they can shape each lesson around their main priorities for learning.

Why is this step we are explaining so important? It is as simple as that: With goals and objectives:
You can adequately organize the course material because you can establish a logical sequence of learning milestones.
You can immediately align objectives with evaluation methods.
You can communicate expectations to your learners, so you help them evaluate themselves.
Finally, learners will be able to interconnect their goals through their courses.
What is the Difference Between Goals and Objectives?
Learning goals are long-term, broad, and achievable, but not necessarily measurable. On the other hand, learning objectives are also referred to as learning outcomes because they are immediately linked to the expected results – what we can expect learners to be able to do by the end of the course.
Changing one of these three components utterly affects the other two. So, this process is dynamic while you design a course.
Distinguishing goals from objectives help to achieve a better course design. Use the following planning map to turn your goals into objectives.
| | Goals | Objectives |
| --- | --- | --- |
| Express | Your hopes and values regarding the overall educational experience. | Your choices on learning strategies, lesson material, and instructional activities. |
| Represent | Your perspective on the course, describing what the course will do. | What your learners will be capable of by the end of the course. |
| Describe | Your long-term aims that are not directly measurable. | The assessments (questions, assignments) with which you evaluate your learners. |
| Convey | The kind of experience you want to create for your students. | What your standards and expectations for the course are. |
Tip: Learning Goals are great pitches for your course sales page, and you should use them to increase sales.
Below you can see two examples of an instructional goal vs. the objectives for an Art course and a Photoshop course.
Art Course
Photoshop Course
Learning Goal
Learners will know everything about art printing.
Learners will learn how to use Photoshop CS5.
Learning Objectives
– Learners will be able to identify whether a print is a woodcut or a lithograph.
– Learners will be able to justify this identification
.- Learners will be able to manipulate layers.
– Learners will be able to correct colors.
– Learners will be able to paint.
– Learners will be able to create special effects.
How to Form Your Instructional Goals
Write at least three goals to shape your ongoing course design. To make it easy for you, complete the following sentences regarding your course goals:
"In this course, I will emphasize in…"
"The main themes learners will go through are…"
"The big picture I want to promote through this course is…"
How to Form Objectives?
Objectives should be specific, concise, observable, and measurable. Each learning objective should target one particular aspect of student performance and be expressed with a single action verb.
But how do we set those objectives?
There is a specific order according to which learners process information in a course.
Bloom describes levels of student learning, that could help a designer set the right objectives for each level of learning:
Recall
Comprehension
Application
Analysis
Synthesis
Evaluation
Following this, taxonomy is the most surefire way to boost knowledge to a higher level. The following table depicts everything we are talking about. In it, there are examples of verbs and activities you can use to formulate your course objectives.
| Domains | Sample Verbs for Writing Learning Objectives | Sample activities |
| --- | --- | --- |
| Knowledge or Remembering | Recall, tell, show, match, list, label, define, cite, name, brainstorm | Test, worksheet, quiz, labeling, table |
| Comprehension | Compare, contrast, demonstrate, identify, report, outline, summarize, review, explain, catalog | Outline, summary, test, identifications, review, compare and contrast exercise |
| Application | Develop, organize, use, select, model, choose, construct, translate, experiment, illustrate | Report, diagram, graph, illustration, project, video, case study, journal |
| Analysis | Analyze, categorize, classify, distinguish, dissect, examine, differentiate, calculate, solve, arrange | Model, report, project, solution, debates, case-study solution |
| Synthesis | Combine, compose, solve, formulate, adapt, develop, create, validate, design | Article, report, essay, experiment, composition, essay audio or video product, drawing, graph, design |
| Evaluation | Assess, evaluate, determine, measure, select, defend, score, rank, discriminate, judge, justify, conclude, recommend | Peer and self-evaluations, charts, critique |
Examples of how to use the listed verbs:
– Learners will be able to use a rule to determine if a sentence is grammatically correct. (Application stage)
– Learners will be able to classify foods according to their origins. (Analysis stage)
– Learners will be able to discriminate between the program's peculiar features. (Evaluation stage)
See how it goes? This method provides an analytical design, which makes it worthwhile to try out! You will see how much clearer picture you will have of what you want to achieve. In the taxonomy, learners start at the base layer, or the "Remember" step, and work their way up as they master the content in the increasingly complex layers.
Using the table above, design your Learning Objectives.
Consider: For whom are you writing your learning objectives? Analyze your target audience and their pre-existing knowledge.
Keep overall course objectives to no more than a dozen – this will keep you focused on the essentials.
Don't exaggerate trying to write even more precise learning objectives – the main point is to express as clearly and plainly as possible.
Quick Tips:
Consider developing three learning objectives for each section of your course.
If the objectives are several, organize them into subcategories.
Don't use more than one sentence to express your objectives.
Don't list multiple verbs in one objective – since every action will be measured and assessed differently, each verb should be in a separate objective.
Communicate your objectives through your course page, your welcoming video, or discussion with your learners!
How to Use Objectives with Activities
For each objective of the course, write down some corresponding activities that you are planning to use to accomplish that objective. Through these activities, students will achieve the goals you set for them. Other activities not mentioned above are:
Reading a text
Reading worked-out example problems
Answering short objective questions
Discussing issues with other learners
Working short numerical problems
Conducting research
Remember:
To use your assignments to achieve an objective you have to give learners valuable, on-time feedback.
Ideally, as you are drafting course goals and learning objectives, you are also beginning to develop the assessments for the course. Decide which questions you will include in your questionnaires or exams (as well as the type of questions you will use) or the content of your assignments based on the objectives you have set.
Align your assessment activities with your objectives. This way, you can be sure that your learners have the desired progress.
Reflect on your objectives
Are your course objectives in agreement with the course goals?
Can learners' performance on the objective be measured?
Are there real measures stated (rate numbers, percentages, or frequencies)?
Are you attempting too much so that your objectives are not achievable?
Is the objective value for the learner?
Choose your methods
Teaching is about delivering information in an efficient, effective, and appealing way. For this reason, you should always have an instructional plan in mind.
1. Small Wins
Small wins are simple activities/challenges in your course that give your students a sense of accomplishment and confidence. They keep students excited about learning more.
Include small wins throughout the training, mainly where students should have accomplished a particular challenge and are ready to move on to more challenging activities.
2. Scaffolding
Scaffolding is layering the learning experience, so students build on the concepts they already understand. Scaffolding requires that you gradually layer from simple concepts more challenging ideas by telling students how this new information fits into what they already know.
3.Active learning
Learners must DO something to learn.
It is not enough to include dozens of videos of yourself speaking into the camera or do a lot of screen recording.
Allow learners to apply the content they are learning about. Use quizzes, assignments, and interactive elements in our new video editor to transform learners from passive to active. Social activities such as starting a dialogue in the discussion section or sharing pictures of the activities can increase the engagement of students.
5

Creating the Course Content

The next step is to create the actual content.

Based on the course plan and the activities you have planned, you will probably a variety of media productions for your course.
Where to get the material from
Experienced trainers and educators can easily create a course from scratch. But the best approach to launching your online academy is by repurposing your old content.
You probably have some digital material from informative leaflets to word documents with valuable information.
Do you write a blog?
Have you recorded your last workshop, training, or webinar?
Take a look at your computer and find some material that might be great for repurposing as an online course and save yourself precious time. Here is a list to inspire your search frenzy:
Videos (recordings, screencasts, webinars, etc.)
Presentations or Slides
Audio files (talks, podcasts, interviews, etc.)
Graphic Design
Powerpoint
Map your production schedule.
You'll find that the course creation process will go more smoothly if you follow a specific plan.
Take your calendar and choose dates for the four phases of course creation:
Pre-production (1 week)
Writing (2-6 weeks)
Recording (2 weeks to 2 months)
Post-production (1 week)
6

Video and Presentation Recording Tools

How do you want to present your course material?

You have several options:
Share text-based content
Create a video tutorial
For instance, videos and images might serve you better if your course teaches students how to complete a craft. Text descriptions are easily misinterpreted, and your students will want to see you complete each step up to completion.
You will need video recording and presentation software, like Camtasia, Screencast-O-Matic, Audacity, Filmora, Adobe Premiere.
Are you looking for tools to convert your presentations into video presentations for your courses? You can read more in our article on how to make educational videos. You can also join our free course on Video Based Learning to learn how to create professional high-quality video courses.
Learn how to sell courses in the LearnWorlds academy
Sign up now
While choosing the right camera and microphone, we suggest you start small and grow as your audience grows.
Recording your first course with your laptop's camera and microphone could be enough, and if you feel like upgrading to better quality, you can re-record it after you have your first paying students.
If you have the budget to spare, you can get yourself some professional equipment for the job.
Microphones
Cameras
7

How to Nurture Learners Into a Community

Τhe best value your students can ever get is from a community.

Although learning is somewhat of an individual activity, it is still a social process.

Learners love to communicate with people who are on the same journey with them and love to share ideas.

It's a great idea to encourage communication within the members of that community, allowing them to have a shared journey in their learning and foster a sense of peer support. Establishing that sense of camaraderie between fellow learners will be beneficial for everyone in the long run.

Besides, it is impossible for you, as an instructor, to have all the answers. By building a community around your online course, what you're doing is helping your students become self-sufficient and rely on the group more than on you.

Create groups in your course, your blog, or social media and initiate discussions.
Looking for ideas to create an engaging community? Then read our top article about 8 Ways to Build an Online Learning Community.
How to Price Courses
Earning enough money by selling online courses can be a tricky job.
To price your course, you must find that sweet spot where your course price is attractive to your learners. There is a direct correlation between how much you charge for your course and the engagement level of your students.
The higher you charge, the more engaged learners will be.
When you make your content free or cheap, people are less likely to trust it and have low expectations for results. If you increase the price, people inherently feel that they're getting more value.
Once people purchase your course, they immediately feel compelled to see a return on their investment. So, don't hesitate to price your course as it deserves and not lower.
To help you further with this, keep in mind to price most of your courses well above $100.
Only your smaller courses intended to attract new students should be priced below the $100 mark.
Also, don't compete on pricing.
The worst way to do marketing is by competing on pricing. You can do discounts to earn demanding or price-sensitive clients, but a price competition with someone that offers a cheap course is not a solution.
If you want, you can learn more about how to price your own online course.
Choosing an Elearning Platform & Uploading the Content
Next step is choosing the right management system to host your academy and upload your course.
While marketplace options like Udemy, Khan Academy, Udacity, or Skillshare are great places to find a lot of students, you have no control over your brand, pricing, marketing, and data of the students.
Course marketplaces will take a significant share of your earnings and sell your competitors' course on the same page as yours. On the other hand, WordPress plugins help you create an online course, but in them, you may not find the variety of features you can find in standalone platforms.
They are also not that convenient.
The best way is to use a standalone course platform like LearnWorlds to create, market, and sell your courses. Those three are online course platforms where you can host your course, your website, and sales funnel all under one roof and keep all your earnings and students' data.
Uploading or creating your first course on LearnWorlds is quite easy, and no technical skills are needed. All you need to do is follow the step by step instructions, and your online course can be ready in a few minutes.
Creating Your First Course With LearnWorlds
You have researched, planned, and developed your course. Now, it's time to get it into a learning management system your students will drool over to join.
First things first, you will need to get a free 30-day trial with LearnWorlds.
Click on "Manage Your Online School"
The Dashboard is what gives you access to the administration (back-end) of your school. All the magic happens there, and you can create and customize every part of your school from there.
Remember, you need to sign in to your school first with your admin email to access the admin dashboard that controls your school. There, you will have all the course building tools you need.
Click on Create a Course
Look on the top menu of the page. You can click on the + Icon to Create a Course. Easy, right?
Follow the Wizard
We have created a unique course creation wizard to guide you through the process of building your courses. The wizard will guide you in adding and changing the most critical settings without the need to look for them. If you want to change something later, don't worry, you can do that by visiting the settings of your course.
Write a catchy course title which will help you sell online courses and follow the steps by clicking "Next".
Pricing and Types of Courses
Give a price to your course. If you haven't thought of the cost, then read our guide on pricing courses. Then, choose the type of your course:
Paid – Students can either buy, or you can manually enroll them.
Draft – This course is being built, and only admins and instructors can see it.
Coming Soon – Give a sneak peek to your students; it will show up on your course catalogs but will not be available.
Free – Free courses are great lead capture tools, educating customers, and testing a market.
There are more advanced course types to choose from after you finish the wizard, and you can always change any course between them:
Private – It's great to sell to individual customers, segmenting your classes, and giving access to VIP material to a few selected students.
EnrollmentsClosed – If you are running an Autumn and a Spring class every year with limited access, this is the option to stop new students from registering, but keep it visible to inspire interest and let your class have access to it.
Create a Structure and Add the Course Material
Go to the tab "Contents" of your course and add your first section. Then, choose from a list of Learning Units to upload to your newly created online course:
Video: In LearnWorlds you can either directly upload a video file and use it in your courses or include an existing video that is stored in Vimeo.com.
eBook: The eBook learning unit is a unique learning object for presenting textual information. You can easily import your text and then use among tens of awesome design templates to create a fantastic eBook. Your students will love the reading experience, as well as the highlighting and notetaking tools.
Quiz: This unit helps you create a self-assessment quiz that consists of multiple-choice, true/false questions, short poll, short answer, text with feedback, and confidence.
Note that Quizzes are just used for self-assessment and not formal exams. Students get immediate feedback on their answers, but they are not getting a score at the end of the test. If you want to create a formal test, then have a look at the Exam learning unit.
Exam: What better way to monitor your learners' progress than assigning them an exam. Within your LearnWorlds school, you can create the most fantastic exam activities with either multiple choice or true/false questions, to always be aware of your students' potential and course progress.
The exam learning unit can be used for creating formal tests, and with it, you can create any test type by adjusting settings such as the duration of the test, maximum number of tries, passing grade, etc. Here are some necessary steps you can take when creating your exam learning unit:
Assignment: You can easily insert assignments into your courses. Assignments are open-ended (text) questions that your students have to answer, and the instructor can manually grade.
Certificate with Exam and Certificate of Completion: "Certificates of Completion" are awarded to students after they have finished studying a course (they have visited all learning units, or they have successfully passed all the tests of a course).
PDF is one of the most frequently used learning units. You can save your presentations as a pdf and upload them at the platform.
YouTube: You can easily include YouTube videos in your courses using the YouTube embeddable code.
External Link: This option will give you the ability to include a webpage, an article or another external resource to your course.
Embed: Our platform supports embedding so you can import all sorts of web content to your courses.
Do you have your content in a word format? Upload and convert it into an interactive ebook.
Prepare the Course Landing Page
You got the course material, but you still have to sell the course. With LearnWorlds' pages builder, you can create awesome course landing pages to sell your courses.
It's as easy as choosing the template you like and editing it as you would an MS Word document or for Mac users a Pages document. Click here for a detailed guide 😉
How to Market & Sell Online Courses
Once you have created your excellent course for a specific audience, you shouldn't stop here. Grow your email list as much as possible using email marketing techniques. For example, you can use lead magnets so that people pay you with their emails, capture emails from your own website, or through social media.
Here are some ways to sell a course:
1

Pre-Sell Email Campaign

Of all the sales strategies we're going to share with you, this is the only one that requires that you have a reasonably extensive email list (at least 100 subscribers), but it's also the most straightforward. Try our online course launch email templates.
2

One-on-one Sales Conversations

This is the best way to sell your course if you have a small (or no) audience, or if your audience is cold and unengaged. But this is also the most uncomfortable sales strategy because if the person says no, you feel the rejection acutely.
3

Free Coaching Calls

All you have to do is to reach out to the people you spoke with during your market research and present your offer to them. Follow your offer outline.

These are only three of the most effective ways you can fill your pilot course. Gather feedback throughout the course. Ask students for suggestions and other feedback by sending surveys at the beginning, middle, and end of the course.

Selling online courses is a big deal, and much more than what we can say in a blog post, you can download our free ebook or read our ultimate guide on how to sell online courses!
Common mistakes to avoid
Are you making an online course for the first time? You might be susceptible to frequent and easily avoidable mistakes. Follow these rules of thumb for a successful online course.
Lengthy videos
Attention spans are getting lower. Video courses should be smaller than 20 minutes, avoid prolonged and crowded videos. There are three categories of video lengths:
0-5 minutes: Intro sections and short bursts of information.
5-10 minutes: Self-contained course videos that explain a unit but not the whole section.
10-20 minutes: Comprehensive videos that give a lot of "juicy" information. It can also include an entire chapter of your course in one video but must be very engaging and exciting to keep someone involved.
Worrying too much
One of the worst mistakes. Being a perfectionist is one thing, but if you are overly worried about the quality, your audience, or any other factors, your course will never get live, and that is the biggest of your problems.
Without trying, there is no chance of success. Give it a shot, test your market, make a sample course, and try to get your first paying customer. Do not worry about all the details and make-up as you go. Use the lean startup method (and read the book, it's an eye opener) on building your online course or any other venture.
Forgetting to Test
Like all new ventures, testing your product with real users, friends, and family is a great way to avoid silly mistakes. You might have forgotten to add a video, deleted a quiz you mention on the previous assignment or didn't include a "buy button."
Test your course, and have someone proofread your landing pages and content for mistakes. When you work on a project, you tend to become "immune" to errors from the many times you have passed over the text.
Your Journey Has Just Begun
Awesome! You're at the end of a super long article on how to create an online course.
Now all you have to do is to use what you've learned. Go back to the table of contents, take a pen and paper, and implement, step by step this guide, beginning with determining the direction of your pilot course.
We've done our best to make this page as comprehensive, helpful, and actionable, but as educators, we realize that all this may not be enough. Stay also tuned because in a short time we will release the most massive guide on "How to Create and Sell Online Courses".
Also don't forget to sign up for LearnWorlds Academy we have a ton of resources for course creators to start building their first course, and, when this is done how to sell it!
We wish you the best as you learn how to create an online course… that doesn't suck!
And, as long as you are here, your first step in publishing your course is using LearnWorlds' course platform. We do offer a 30-day trial to help you get started and a stellar support team to help you on the way 🙂
Further reading you might find interesting:
(Visited 237,698 times, 94 visits today)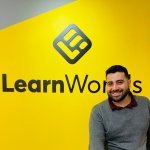 Nick Malekos is a Senior Digital Marketer in LearnWorlds. He is a results based and well-rounded Digital Marketer with years of experience in the education industry, writer and digital literacy trainer.
Anthea is a Course designer and Content Creator for the LearnWorlds team. She holds years of experience in instructional design and teaching. With a Master of Education (M.Ed.) focused in Modern Teaching Methods & ICT (Information & Communications Technology), she supplements her knowledge with practical experience in E-Learning and Educational Technology.