Being a course creator, you probably have put all your effort into creating high-quality content and engaging learning experiences. And while this is absolutely desirable and necessary, there's one more thing you're missing to create a successful online school – building your personal branding.
Associating your online school with a face and a mission will help you stand out from the competition and create repeat customers. This is what personal branding is about and what it can help you achieve.
And it's not as hard as it may sound. In fact, you're probably doing half the job already as you share content on social media platforms and engage with your audience at every chance. Working specifically towards personal branding should be part of your overall digital marketing strategy for even better results.
In this post, we'll explain why it's important to build a strong personal brand in this creator economy and the steps to follow!
Why Building Your Brand Is Important
Personal branding is a buzzword, but there's a reason why every successful business person, from influencers to entrepreneurs, works so hard on building one.
Nurture stronger relationships
You will be a one-person brand. That's not just cool – it's also totally engaging! Having a distinct personality and voice and sharing your mission and story helps build trust with your audience and develop a deeper relationship with them.
Learners will feel more connected to you if you're more than just the instructor "of some course they're taking." This relationship of trust will pay dividends in the long run as it will turn learners into repeat customers.
Expand your client base
A brand equals a loyal following that will leave high ratings and positive reviews and promote your courses through word of mouth and on social media (especially if you provide them with an incentive).
Apart from that, having a strong presence and a brand attracts attention and instantly makes you a more attractive choice than an impersonal course offering.
Build authority
As you build a strong personal brand, you also build authority and establish yourself as an experienced professional in your area of expertise through all the content and opinions you share. Building authority is an incredible competitive advantage; the more credibility and reliability you have, the easier it becomes to win over customers.
Increase profitability
Everything we've discussed so far comes down to this. Having a successful personal brand enables you to sell more courses, to more people, at a higher price.
10 Steps for a Successful Personal Branding Strategy
Success comes with careful planning and organization! So here's how to build a personal brand, step by step.
1

Be prepared for a long game

First things first, you need to get in the right mindset. Building a successful personal brand certainly takes a while, but keeping the momentum around it requires continuous effort. Of course, once you've managed to get your name out there, things should become much easier.
2

Know thyself

Branding yourself starts with knowing yourself. What makes you special? What are your strengths? Focus on what you do best and work with the qualities you have as a person. For instance, not everyone needs to act funny and approachable – you might be better off eluding professionalism and authority, especially if that resonates best with your audience and niche.
3

Know your audience

Who are your courses addressed to? You can't craft a message that resonates with people unless you know who your target audience is. And by target audience, we mean your ideal customers. Don't try to be a Jack of all trades because you'll end up being a master of none. Knowing your audience will also impact your content strategy and even your future course offerings, so definitely spend some time on it.

Key things to know:
Demographics (age, educational level, etc.)
Pains and problems
Goals
Where can you find this information? Social media is a good place to start, look for groups relevant to your niche and join to find out what people are discussing. You can also deep dive into your online academy's analytics and see what your current customers prefer, delve into your learners' content consumption data, or -as we say in LearnWorlds- take the pulse of your school by seeing how your learners interact with your courses and get answers to key questions.
Besides, if your online academy is built with LearnWorlds, you can always leverage the power of the LearnWorlds Assessment Builder and create your very own survey exactly the way you need it to gather valuable data from your audience and learn all about their aspirations, pain points, and more!
4

Be authentic

Get inspired by others, but don't imitate anyone. Don't pretend to be someone you're not or say what you believe people will want to hear. A brand identity is supposed to make you unique and recognizable, and if you're just doing or saying as others do, you're kind of missing the point. Besides, people can tell a facade from a real person.
5

Share your story

In the spirit of being authentic, it's essential to be honest and even vulnerable to make an impactful first impression and stay in your audience's minds. Describe your journey into the industry, what brought you here, and what you want to achieve – what you want to change and improve. Don't be afraid to share the challenges you've faced and how you overcame them.

Usually, the best places to share your story are your academy's website blog or your social media profiles. You can also create a bio that you will share across all these channels, accompanied by a professional photo.
6

Have consistency

Personal branding is also about aesthetics and having a signature image, i.e., specific fonts, colors, and a logo, that people will recognize you by. Design a beautiful logo with the help of a professional graphic designer, choose colors and fonts that match your aesthetics, and use those consistently across your website, business cards, social media accounts, and email templates.
7

Develop a content marketing strategy

Content takes many forms: blog posts, social media content, videos, podcasts, webinars, worksheets, etc. Creating valuable content and distributing it to the right places is how you can establish yourself as a thought leader. You need to decide:
Which type of content is best for your audience
The best platforms to promote your content
Content type and distribution channels are often intertwined as different; content types perform well on different platforms. Reels, for example, are extremely popular on Instagram, but they don't perform so well on Facebook.
Part of your content strategy is repurposing. Repurposing makes it easier to maintain consistency in publishing, as you create content once, then reuse it modified or as-is.
8

Apply basic SEO strategies

Since most of your personal branding efforts will take place online, you'll need to use SEO to help search engines discover you. Your online academy and your own personal brand are essentially a small business that is not yet known to the wide public.

💡 Neil Patel shares some foolproof tips to skyrocket your traffic using SEO in our 2022 Worlds of Learning Summit.
9

Build an online community

An effective personal brand strategy includes building an online community. This is how all the true bonding will take place, with and among your audience. There are actually several options here:
Built-in community
The first place to start working on building an online community is your online academy, of course. The more options your course creation platform gives you, the best. Our platform, LearnWorlds, enables you to build a full-fledged online community with course discussions and groups. Learners can upload their own content and also follow their Friend's activity.
Social media
Social media can also help you nurture and expand your online community. Don't aim just for an X number of followers but aim to make time actually to engage with them. Invite them to leave comments and testimonials, and always reply to comments and reviews. Remember that you need to post new content and have a strong online presence on a regular basis.
Membership site
Another option to consider is building a membership site. This means that you will release content at least on a monthly basis and that you will invest time to schedule live events regularly.
10

Network

Networking -online and offline- is a vital component of building a strong personal brand as a course creator and should be a consistent part of your marketing strategy. You can connect with a diverse group of people who can support and promote your brand. Networking allows you to form partnerships with other businesses, become a guest contributor on blogs and podcast shows, and interact with experienced professionals who can act as mentors and offer valuable advice.

Additionally, networking can help you expand your reach and visibility, as the connections you make can share your content and promote your brand to their own networks respectively. It also provides you with the opportunity to learn from others and stay updated on industry trends and developments.
Are you Ready to Shine?
Establishing a strong personal brand is essential for achieving success. Don't shy away from the spotlight and showcase the person behind your online school.
💁 If you want to get inspired by some successful personal branding examples, check out Personal Branding Guide: How to Build Your Brand Strategy.
LearnWorlds wants to see you shine – our platform supports white-labeling and is fully customizable, providing an extensive library of website templates you can tweak as you like to match your brand colors and aesthetics.
Try LearnWorlds with a 30-day free trial, and enjoy creating your very own personal brand while building your courses!
Further reading you might find interesting:
(Visited 765 times, 1 visits today)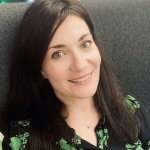 Androniki is a Content Writer at LearnWorlds sharing Instructional Design and marketing tips. With solid experience in B2B writing and technical translation, she is passionate about learning and spreading knowledge. She is also an aspiring yogi, a book nerd, and a talented transponster.