Whether you want to monetize your knowledge, educate your customers, or train your employees, going the eLearning way is always a smart move. Because eLearning is the most flexible way to deliver training resources to adult learners.
And it's flexible for both parties. Developing an eLearning course is much easier and more cost-effective for course creators and training managers than organizing on-site training. For the learners, eLearning allows them to study anywhere they are, often using the device of their choice and at their own pace.
In this post, we're taking it from the very beginning. We'll see some eLearning examples, why training content development is so important, and also the best content creation tools. Then we'll start building your eLearning course together, sharing some tips to remember when creating your eLearning content.
But, first, check out our online course outline templates, you can download them for free:
What Are Some Elearning Examples?
eLearning is all around us… sort of. Any type of learning that happens online is eLearning. The common characteristic of eLearning courses is that learners can complete them online, whether entirely asynchronously, synchronously, or with a combination of the two.
Here are some typical examples, some of which you may not have realized are actually considered eLearning:
1

Online Courses

Courses sold on online course marketplaces like Udemy, Coursera, Skillshare, and many more are the most common eLearning example. The same stands for courses sold via a creator's online academy.
2

Corporate Training

Also known as employee training, it is another characteristic example of eLearning. Employee training is often a combination of on-site and online learning, also known as blended learning.

The eLearning part of corporate training gives employees more time to process the information and go over training material as often as needed. The on-site part of learning helps them practice the skills they've learned.

Having resources readily available online is beneficial when onboarding new employees who might need extra support. Deskless employees, like sales assistants or healthcare professionals, who might need instant access to information also benefit from the online training content.
3

Extended Enterprise Training

Extended enterprise training comes in two forms: customer education and partner training. It refers to training people who use or sell your product or service.

Did you just buy a new Project Management tool and watch several tutorials to figure out how different features work? Or perhaps you read relevant articles?

In this case, you accessed customer education resources, which businesses put together online to help customers learn and use their products.

Partner training has a similar logic, although it's usually more thorough and regulated. External collaborators like vendors, consultants, and franchisers must have excellent knowledge of the product to sell it effectively. Therefore, they need to undergo training to ensure they know the product inside out.
Why is Training Content Development Important?
Creating training content for employees, partners, or customers can boost your company's growth in unexpected ways.
Let's see what you can achieve with employee and partner training:
1

Reduce Employee Turnover

If you're systematically deploying employee training and offering continuous learning and development opportunities, you should expect a surge in employee retention. That's because employee training makes any job more fulfilling.

Employees get a sense of accomplishment and progress with every training they complete and new skills gained. In fact, a lack of opportunities for growth and a sense of achievement is the leading cause of avoidable turnover.
2

Improve employee performance

A rather obvious benefit of employee training is that it addresses skill and knowledge gaps that may be holding your employees and, consequently, your company back. When employees do their job better and faster, your partners and customers are happier.

As employee performance improves, employee morale increases too. Plus, employees are more productive and efficient, which translates into less friction among teams about pending tasks and faster deliverables.
3

Promote from within

Why go into the long, painful process of recruiting for higher-level positions if you can upskill your employees? It's a double benefit, as it saves you from the time, trouble, and risk you unavoidably take with every new hire you make.

Plus, a new hire will need more time until they acclimate and become fully productive. In comparison, an employee already familiar with the company culture will catch up much faster.

At the same time, knowing there's room for advancement in the company will keep employees motivated to do their best.
4

Stay ahead of the competition

Help your employees stay sharp and curious, and offer them the skills they need to keep your business at the forefront of innovation. Continuous development also increases agility and adaptability – your employees will be better equipped to deal with whatever lays ahead.

In the case of customer education, the benefits are also impressive:
5

Achieve Higher Product Adoption

A no-brainer, customer training is the single best way to not only spread the word once a new product is out in the market but also to increase adoption. Customers have all the instructions they need to learn a product and discover how they can use it. This makes it so much easier to become part of their lives.
6

Improve Customer Satisfaction

Naturally, customer satisfaction increases as they have put their purchase into good use. High customer satisfaction is positive news for a business. Satisfied customers are more likely to recommend your product to friends and colleagues and leave positive reviews that further strengthen your brand's reputation.
7

Build Customer Loyalty

Nothing says "I care about my customers" than ensuring they have all the resources they need to enjoy your product. Along with customer service, product education can substantially help how customers perceive your brand and feel they're in "good hands," thereby remaining loyal for longer.
8

Increase Customer Lifetime Value

Did you know that regular clients spend more? Well, it's true. So here's another huge benefit that fell right into your laps just because you had the good sense to deploy customer education.

If you're considering deploying customer education, read in detail the business KPIs you can improve after implementing successful customer training.
What are the Best eLearning Content Creation Tools?
eLearning content creation tools, or authoring tools, is software that enables you to create and arrange content using text, multimedia, and interactions. eLearning authoring tools are usually SCORM compliant and come in SCORM, HTML5, xAPI, or TIN CAN files. Most learning management systems, like LearnWorlds, have authoring capabilities.
eLearning authoring tools come in many different forms: cloud-based, self-hosted, accessible on mobile, and even desktop-based. SCORM compliance is one of the top features to search for in an authoring tool or LMS, as it's by far the most common content format used.
We've prepared a quick list of the top choices among eLearning authoring tools:
1

LearnWorlds

LearnWorlds is a course platform with authoring capabilities. A comprehensive online course platform, LearnWorlds allows you to build, sell and market your course while offering the following authoring options:
Interactive video & transcripts
Interactive eBook
Exams, assignments, and quizzes
Multimedia/video hosting
HTML5, SCORM, xAPI, and TIN CAN hosting
Certificate builder
You can use LearnWorlds for employee training and customer education or to monetize your knowledge and sell courses no matter your niche. It's one of the best course builder software in the market.
2

Articulate Storyline 360 and Articulate Rise 360

Articulate Storyline 360 is perhaps the most popular eLearning authoring tool due to its rich features and ease of use. Articulate Rise 360 focuses on mobile-responsive content. Features that stand out:
Course templates
Option to create your own course template
New features added frequently
Interactive content
Built-in library
3

Elucidat

Elucidat is a cloud-based authoring tool that stands out for its user-friendliness. Aside from that, it offers the following capabilities:
Gamification
Vast course templates library
Collaborative tool
Clean user interface
4

Adobe Captivate

Another top-notch tool from the most well-known, trusted brands of the eLearning world, Adobe Captivate comes packed with the following features:
Storyboard
Advanced triggers
Frequent updates
Green screen feature
5

iSpring Suite

If you are looking for a super fast and user-friendly authoring tool, iSpring Suite won't disappoint you:
It is fast
It is cost-effective
It provides simulations
It offers an advanced quiz maker
Check out our respective article for a thorough comparison of the top eLearning authoring tools.
💡What is the best software to create eLearning content?
If you don't want to juggle different tools and end up going off-budget, we strongly suggest picking a course creation platform that offers built-in authoring. Keep in mind that LearnWorlds offers a 30-day free trial to take it for a spin!
Basics of Creating eLearning Content
Here is everything you need to know before you create eLearning content to ensure it has high educational value:
1

Add Interactivity
💡What is interactive eLearning?
Interactive eLearning is eLearning that promotes frequent interactions among learners, among learners and instructors, or even among learners and content. Interactivity in eLearning is an ingredient that is often missing from online learning, especially when it's entirely asynchronous.
However, interactivity is of the utmost importance; therefore, you should add interactive elements whenever possible.
Interactivity is particularly beneficial as it :
Keeps learners' attention by asking them to take some form of action and not sit back passively
Boosts knowledge retention by asking learners to recall information
Enhances learner engagement as the course encourages participation and becomes more exciting and challenging.
Here are a few ways to add interactivity to your courses:
Live sessions: Live, instructor-led sessions are essential not only when diving into more complex topics but also to encourage interactivity. During live sessions, learners can address questions, engage in thought-provoking discussions, and get a chance to practice with role-playing exercises.
Interactive videos and eBooks: Ask questions in your video, embed links to relevant resources or anywhere you like or add buttons to take the learner to a different part of the course. These small details can really spruce up your course.
Quizzes: Don't be afraid to add quizzes to your course! Quizzes give learners a chance to evaluate their knowledge and recall information.
2

Add Social Learning Components

Social learning is another way to add interactivity to your eLearning courses, but it's a category of its own. Social learning has all the benefits of interactivity and facilitates the learning process. By interacting with others, learning occurs more naturally and effortlessly.

We have a few ideas to help you add social learning:
Online learning community: What better way to promote social learning than creating your own built-in community within your academy? The online community can be divided into groups or be open to everyone; learners can "follow" and chat with each other and share their posts.
Course discussions: Course discussions serve as discussion forums for course-related topics to be discussed in the course. A course discussion brings together the learners of a particular course and encourages meaningful interactions that will help them learn from each other.
Social media group: A social media group is similar to a built-in community. Although it may not be as effective in bringing learners together due to the many distractions, it can increase the visibility of your course or academy through comments, mentions, and shares.
3

Make it Mobile-Friendly

Your course should display well on mobile devices – and that's not negotiable.
Want to take it a step further? Create your own mobile app to give learners access to learning anytime and boost engagement with in-app notifications.
💡How can I create an eLearning app?
Thankfully, you don't need to worry about that anymore. With LearnWorlds' no-code mobile app builder, you can create a mobile app for your learners without writing a line of code.
4

Keep it Short

Make sure all content is brief and to the point. Create eLearning videos that last no longer than 20 minutes, or even 7, if you are building a microlearning course. Break a video down, if needed. Create infographics instead of long blocks of text.

Why? Short content sticks better and engages learners. It's easier to understand and retain as it contains essential-only, simplified information.
5

Add Variety

You might be a master of video creation (if you're not, take a look at our post with tips on creating great training videos), but that doesn't mean you shouldn't mix it up a bit and offer a variety of learning content. Add eBooks, infographics, slideshows, and even brief podcasts.

Different types of content do more than just spice up your course. They also satisfy different learning preferences. Adding a little bit of everything ensures that all learners are happy with the course.
Ηow to Build a Great eLearning Course
Let's now see the steps you need to take to create your eLearning course.
Step 1: Consult an eLearning Professional
Sometimes you can't create an eLearning course entirely on your own. This is usually the case in larger companies that want to develop training for employees on a specialized topic or deploy extended enterprise training.
If for whatever reason, you feel like you're not up for the task, these are the professionals you may need to consult:
Instructional Designer: Instructional Designers are the best people for developing courses for a large corporation. They know the best type of content and learner assessment depending on the course's learning objectives.
Organizing training content can become chaotic – an Instructional Designer can help you structure and develop the course curriculum correctly. Alternatively, you can download our cards with 50 Instructional Design tips to build your course like a pro!
Subject Matter Expert: A Subject Matter Expert can help you or the Instructional Designer build the content, ensuring that all the information is accurate. Don't be shy if you're not an expert on the topic. Find someone who is! It doesn't even have to be an external collaborator. A seasoned employee can also help you out.
Step 2: Conduct Research
Depending on who you're creating the eLearning course for, different types of research are required:
Audience research. Knowing who your audience is is another must-have. It will help you build a course tailored to your learners' needs. Plus, if you're trying to create an eLearning business and make money, you'll need to deploy a marketing strategy. Again, to adjust and increase conversions, you need to answer some basic questions regarding your audience's demographics and experience level.
Topic research. Are you unsure about which topic to teach? First, you need to think about what you know about and what you're passionate about. Then, you need to make sure that there's interest in your knowledge area. For this, you need to play detective on social media and course marketplaces. See if people are discussing your topic and whether other course creators are already selling similar courses.
Skills assessment. Skills assessment is required only in the case of employee training. Do on-the-job observations or tests to see where employees stand so your course has the right difficulty level. This part is crucial – if the course is too challenging or too easy, learners might be discouraged from finishing it.
Step 3: Write Down your Learning Objectives
The A and Z of your eLearning course are the learning objectives, regardless of the type of course you create. These are simply a concrete description of what learners will be able to accomplish after completing a course.
You should write learning objectives for two reasons:
Gather your thoughts and structure your course. When you know where you're heading, you will get there faster. What is it that you want learners to achieve? What is the best content to teach them that? And what type of assessment should you use to ensure these goals have been met?
Give learners a reason to join. It doesn't matter whether you're selling the course or we have mandatory compliance training. It's always nice to have motivated learners. It makes learning fun.
When you're writing your learning objectives, make sure to be concise, brief, and use active verbs. Need to learn more about learning objectives? Then check out our post about learning objectives in course design!
Step 4: Pick Your Online Training Tools
The choice of the course creation platform will make a world of difference. You need to think about what will work best for you. Usually, you can go with one of these three options:
WordPress LMS plugin: if you already have a WordPress site, you could add an LMS plugin. There are many decent options out in the market, allowing for an impressive level of customization. But if you decide to go down this way, know that you'll need to pay extra and mix-and-match several add-ons to build a course like you've imagined. Plus, you'll need to be tech-savvy.
Course creation platform: A learning management system, course creation platform, or video training platform is more straightforward than a plugin. Most LMSs are packed with all the features you need to create a course and even an eLearning website to market and sell it if that's what you want to do.
Sell on an online course marketplace: With this option, your course will be viewed by thousands of people. But, you'll also have to compete with people offering similar courses and have no access to student data or any type of branding.
Step 5: Create a Course Outline
Gathering your thoughts – second round! Now it's time to start giving shape to your course. Create a course outline to help you figure out how to best organize your content, so you can start preparing the material as needed. Don't skip on this very important step, as it will help you spot things that are missing or modules misplaced.
Step 6: Reuse or Create Content
We've already discussed that it's best to add more than one type of content into your course to satisfy different learning preferences. But had you thought each type of content also serves a different objective?
Video: it is perfect for everything, provided you know how to deliver the lesson vividly. The most effective way to explain complex processes and manual tasks without tiring the learner.
Infographics: to summarize key points or break down simple processes.
eBooks: as a supplement to more in-depth studies.
Podcasts: a more "relaxed" way to give some extra information and dwell on a topic.
Step 7: Build Learner Assessments
Great job building the content, but how can you tell whether learners have actually retained the information? You can use a method like dripped content to control the pace, but you still can't measure the results.
To evaluate learner knowledge, you need to build learner assessments. These can come in the form of multiple-choice quizzes, open-ended questions, and even group projects. Always create your assessment, asking whether this type of assessment can effectively measure whether the learner has achieved the course's learning objectives.
Step 8: Create a Certificate
A certificate is a powerful incentive for all learners under all circumstances and adds credibility and value to your paid course. It's also useful when offering customer training resources for high-end tech products. Employees can use a certificate to enhance their resumes after completing training.
Step 9: Ask for Feedback
One final step in custom eLearning development is to create an evaluation survey. If your course creation platform offers built-in forms, you can add the survey in the last module of the course instead of sending it over email later when most learners won't bother to fill it out.
Learner feedback is particularly useful: you'll find out the strengths of your course and things you need to improve, and you might also get a few suggestions for new courses. It shows learners that you want an honest relationship with them and that you care about whether they've had a pleasant learning experience.
Ready to Embark on the eLearning Journey?
We've seen a little bit of everything today about eLearning! eLearning is for businesses, solopreneurs, and anyone with a skill they want to monetize.
What knowledge would you like to share with others? Are you thinking about creating your first eLearning course? Give LearnWorlds a try for free for 30 days to see where online learning can take you!
Further reading you might find interesting:
(Visited 1,124 times, 4 visits today)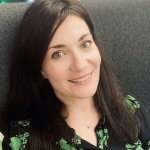 Androniki is a Content Writer at LearnWorlds sharing Instructional Design and marketing tips. With solid experience in B2B writing and technical translation, she is passionate about learning and spreading knowledge. She is also an aspiring yogi, a book nerd, and a talented transponster.