The world of education has dramatically changed ever since we entered the digital age. As the virtual revolution started post-social media channels and cloud-based services, there has been an unprecedented rise in the e-learning industry.
Classrooms and convention centers are no longer the only venues people can gain learning experiences. Companies and individuals start turning to various learning management systems (LMS) and virtual learning hubs that people can access with only a smart device and an internet connection.
Online learning through an LMS is not just more convenient. In many cases, it's also more efficient.
Whether a company is planning to launch an organization-wide training program or a home-based entrepreneur wants to launch a cooking class online, e-learning now makes it possible. Looking at where the world will be in the next year is quite exciting for people who want to jump into e-learning.
Here are some of the top 10 statistics that show that the future of e-learning is bright.
1

The e-learning market is now in its 13th year of existence.

For anyone who thinks that e-learning is just another online fad that's viral today and will die down in the pandemic, it'll be a surprise to know that e-learning has been around for quite a while now.

The word "e-learning" first became popular in 1998. While virtual courses and curricula looked very different in the past, it has improved since then. The growth of online education statistics has shown an upward slope over the years, and it shows no signs of slowing down.
How We Should Respond
First, it's important that we dispel any notion that the virtual uptick of learning is a fad that will go away in a few years. The past thirteen years of existence and the exponential increase in usage should serve enough proof that the internet has forever changed the way people learn.
If you're a company, it's time to start jumping on the e-learning train and launch e-learning programs. If you're an individual, start using the internet to learn online.
2

Massive open online course (MOOC) market will likely grow to $374.3 billion by 2026.

Massive open online courses are educational programs that anyone can take at any time without any limit to attendance or location. As per reports, the overall MOOC market value is set to grow to USD 374.3 Billion by 2026.

These virtual learning opportunities can either run on e-learning websites or a course-hosting site like Coursera, Lynda, Skillshare, or many others. As more people turn to MOOCs to learn new skills, there's a big market share that's up for grabs.
How We Should Respond
If you're a company looking to launch an online learning platform, consider using a massive open online course platform. But before you start creating your own internal training, consider checking if there's an existing training on a MOOC that your company can use. There's little point in building out something that someone has already created. There are tons of marketing, finance, leadership, team building and other soft skills training you can use for your company.
Individuals should also start looking into checking websites like Lynda, Coursera, or Skillshare to learn new skills. In this day and age, everyone has something new to learn, especially as more technologies rise in the new digital era. Many of today's top careers- like social media management, artificial intelligence, email marketing, and others- didn't even exist a few decades ago. And all these new careers can be learned online.
3

The modern MOOC / Course Platforms movement has already surpassed 100 million.

Online learning statistics show that over 100 million people now prefer to learn online. For perspective purposes, that's almost double the size of the population of the United Kingdom. More astounding is that the number of MOOC students is 5 times larger than the population of college students in America today.
How We Should Respond
Online learning will not replace today's face-to-face learning systems, but it will challenge and change the traditional education system. One thing is clear: online learning can be a great augment to traditional education.
More than 100 million can attest to that. And as that number increases over the years–which all indicators indicate that it will–the MOOC movement will greatly impact the way that traditional education institutions, universities, and public education bodies will respond.
4

The demand for e-learning grew exponentially in 2020.

As the world started sheltering in place, learning never stopped. Many professionals started looking for e-learning opportunities while on lockdown. And it seems that in the new reality we now face post-COVID-19 that the trend will keep going on an upward scale as small to large companies now realize the many benefits of online learning.

By our own estimates, the online course market has grown by 400% in 2020 and continues to grow in a similar rate for 2021.
How We Should Respond
As we slowly see the light at the end of the COVID-19 tunnel, companies wonder whether companies will stop retooling and upgrading via online courses and training programs. Many companies seem to indicate that they will continue to use webinars, online courses, virtual materials, and other digital educational tools as a means to upgrade teams and employees.
5

Employees are embracing upskill opportunities.

One of the clamors during quarantine seasons has been the search for new skills. With technology taking never-before-seen leaps and bounds, people are starting to learn skills around digital marketing, social media, cloud-based technology, machine learning, and many others.

As people look to learn these skills, they rarely turn to traditional educational institutions. Instead, they turn to blogs, YouTube and other online resources, which makes monetizing a blog with online courses a great business opportunity for content creators and educators. Many consultants and operators are turning towards course-creation routes to create supplemental income.
How We Should Respond
For anyone with a blog or online platform that hasn't monetized on their content, this is great news. Gone are the days that ad placements are the only way to earn online. So if you have a blog that provides a lot of value and drives a considerably fair to a high amount of traffic, consider creating educational materials.
With the demand for online learning still on the rise, there's a big chance that you can cash in on the growing market for ebooks, video courses, coaching programs, consulting opportunities, exclusive membership groups, and other online learning platforms and systems. It also prompts more companies and organizations to implement some form of HRIS systems to work alongside their existing tools and sync data between systems, which is highly essential in a remote working environment.
6

In 2020, 90% of companies used e-learning as a training tool.

Nine out of ten companies used an e-learning route to teach their employees new skills in 2020. Analysts attribute a large chunk of the shift to the COVID-19 pandemic. But even as the crisis starts to see its end, it's likely that many of these companies will continue down the e-learning route.

A majority of training costs and expenses by large corporations consist of travel expenses- per diems, airfares, accommodations, and so on. With online learning, these expenses can go down significantly over the next few years.
How We Should Respond
If a learning platform still isn't part of your company's online infrastructure, it's time to consider making it one. If an MOOC or existing course doesn't meet your company's requirements, you can also create your own online school for a very minimal cost.
Moreover, the rise of platforms for online course creation also provides companies with another income-generating opportunity. Let's say you're a thought leader on the cake and pastry front. Your company should consider creating branded courses and selling them. This can provide both another income stream and establish your brand as an expert in your industry.
7

Mobile learning will become the microlearning mode of choice by 2025.

The current trends in online education have institutions and individuals turning to mobile devices as the main mode of delivering educational content in the next four to five years. Tablets and smartphones are some of the top devices that professionals and even students consume video and written content from.

What this means for content and course creators is that there needs to be a mobile orientation in mind when creating content and choosing learning management systems and platforms. To snuff the mobile platform could very well be one of the costliest mistakes any virtual educator can make in the future.
How We Should Respond
Given that learning happens with mobile in mind, anyone who might create a course must always consider the native attributes of mobile, including smaller screens and lesser cursor functions. Create online courses with video and written content built for smaller screens.
Many MOOCs and online course-creation platforms also provide commenting, quiz procuring, and communication features that adjust to mobile screens. Make sure to select a service that provides these responsive abilities.
8

The e-learning Industry Has Grown by 900% since 2000.

One of the most powerful statistics of online learning vs classroom conversations is how much e-learning has grown. Studies show that the increase in e-learning has reached a nine-fold increase in the last twenty years.

As technologies improve, it's safe to assume that the acceleration of e-learning as a mode of education and upskilling will still grow in the coming years.
How We Should Respond
With growth comes the assurance that we are going in the right direction. So if you're in online education or have an online learning program, you're on the right track and don't think otherwise!
9

98% of Small Businesses Use Video-Based Training Programs

It's not just the big players that are turning to e-learning as the new education norm. Small businesses now use video-based training programs to pick up new skills, strategies, and trends. The far majority–roughty 98%–of small businesses learn via video courses and content today.

Looking at the future of business amidst the COVID-19 pandemic, we know that entrepreneurial training and skills training programs will take a more non-traditional route as adaptive leaders take on the new underdog as their mode of training and teaching. And the day will come that e-learning will become the norm rather than the exception.
How We Should Respond
If you're a small business looking for ways to upskill and upgrade, video-based training programs are the way to go. This helps cut costs like traveling to conferences and losing valuable time to tight schedules, given that most video-based training is on-demand. You should also highly consider running these programs with your employees too if you haven't yet.
10

40% of millennials would prefer to learn how to better present and unlock creative thinking

As far as what lessons and materials to teach, it's also pretty clear what the larger fraction of online learners want to be equipped in. It's millennials that have taken up the mantle of becoming the pioneer digital generation.

As far as what kind of e-learning content appeals most to them, 40% of millennials would want to pick up more soft skills around building more creative thinking and learning to adapt and pivot during unprecedented times.

And these lessons come at a timely juncture as these skills will become some of the most transformative ones as companies come out of a worldwide economic crisis.
How We Should Respond
If you have the knowledge to share around the topics of creative thinking, soft skills development, and topics related to this category, you should consider creating online training and learning materials on the topic.
If your material truly adds value to the people who might sign up for your course, there's a high chance that many millennials will sign up.
This trend also tells companies that more creativity-oriented training programs are the pain point of your millennial workforce today. There have been many opportunities in the past to learn skills. Now younger generations want to expand their capabilities by becoming more creative, adaptive, and innovative in the workplace.
E-learning Platforms and Customers are on the Rise
If the e-learning industry were a balloon, it would be a quickly expanding one. The emerging trends in eLearning all point towards an upward tick in usage, content availability, and platform creation. But interestingly enough, there are very few signs of oversaturation.
So for anyone looking to expand their educational programs, create upskilling content, or creating online courses and programs, there's a high chance for success if what they have to teach is worth learning.
And as programs surrounding e-learning like fintech platforms, video-hosting services, quizzing services, and other facilities improve through the next few months, 2021 looks to be a good year for the e-learning industry as a whole.
(Visited 2,936 times, 2 visits today)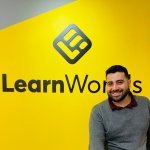 Nick Malekos is a Senior Digital Marketer in LearnWorlds. He is a results based and well-rounded Digital Marketer with years of experience in the education industry, writer and digital literacy trainer.