Your personal brand is how people identify you. It encompasses the most critical aspects of your personal and professional life and what they think of when they hear your name.
A strong personal brand can help you advance your career, open up new opportunities, and make more money.
Think of Oprah Winfrey, Elon Musk, or Neil Patel. What you are thinking now is how you associate them with a personal brand.
This guide will discuss why personal branding is important, give you a strategy to create a personal brand, and show you some examples of influencers who have built successful personal brands.
Let's get started!
Your personal brand is how people think of you. It is a combination of your personality, skills, and experience.
How people perceive you affect their decisions to hire you or purchase your products and services. It impacts your professional career as well as your online presence.
The benefits of personal branding
When you work to improve your personal branding, you are making an effort to influence the minds of people, and the public perception of you. Your goal is to elevate your credibility, differentiate from others, or position yourself as an authority in your field.
A strong personal brand is important, as it opens up all sorts of opportunities. A well-regarded professional can ask for a higher salary or charge more for services, and If you are building your online business, building your personal brand is a no-brainer.
Why?
Become an authority: Position yourself as a thought leader in your industry. People will come looking to learn from you and will be more eager to buy what you have to offer. People search for brands and celebrities more than they search for generic products and services.
Get more clients/job offers: Clients tend to choose consultants who are well-known and prefer to hire "star employees" even at a premium price, as they are more confident they will see results.
Charge more: You can ask more for your products and services. A well-positioned brand allows you to charge more and avoid competing on prices because of the trust that comes with your branding.
Open up opportunities: Instead of pitching yourself to speak at an industry conference, the conference organizers will come looking for you to speak. Hiring managers will send you offers and potential clients will be requesting your services at premium rates.
Creating a personal brand is not something you do overnight. It takes time, effort, and consistency to build a strong reputation.
Follow this step-by-step process to develop your own personal brand strategy and position yourself as an authority in your field:
Step 1: Discover yourself
Step 2: Tell a Story
Step 3: Build a digital identity
Step 4: Build an audience
Step 5: Establish credibility and gain visibility
Step 6: Be consistent and focus on quality
Step 1: Discover yourself
The journey to building your brand starts with self-discovery and setting up a goal.
The phrase "fake it 'til you make it" has lost its appeal, and today's society is looking for authenticity. Building an authentic brand requires a deep understanding of yourself but makes it much easier to be consistent in the long run.
Start by listing your accomplishments and expertise. From school to university, professional accomplishments, and personal accomplishments.
Ask yourself these questions:
What makes me special?
Did I make an impact on someone's life?
What did I achieve as a professional that others would like to copy?
What is my key characteristic?
What do others already think of me?
You may also need to consult friends, colleagues, or a mentor to point out your key personality traits.
Figure out what makes you unique and special. What makes others want to copy you or learn from you.
Step 2: Tell a Story
Storytelling is a powerful way to establish a brand. Avoid boring monologues and one-dimensional brand messages.
The best way to say a story nowadays is by creating content. Writing blogs, opinion pieces, branded images for social, or videos (vlogs, stories, and lives). Base the storytelling on your unique selling proposition (USP), the reason someone might follow you.
A story with the right tone of voice will make you memorable. Your brand voice can be:
Warm and approachable,
Professional,
Light-hearted or humorous,
Strong and loud,
Overly emotional,
Positive, or
Simply weird
Self-branding is all about consistency; keep this in mind and build your story as time goes by.
Step 3: Build a digital identity
Your online presence matters a lot. Chances are, your audience will be online and search for your website or social media.
Work on your digital marketing skills or hire someone to help you build your digital identity. First impressions matter, so make sure it represents your brand and story.
Personal website: This is a must-have. Create a website where your audience can find more information about you; adding a blog and maintaining it is a nice bonus!
Logo: It's a good idea to create a logo, but you might not need it in the first steps of your journey. A logo reinforces your brand message and is another memorable part of your story. I recently tried Shopify's Logo maker Hatchful, and it's easy to make a simple logo.
Social Media Platforms: Choose 1 or 2 social media channels your audience often visits, like Twitter, Instagram, LinkedIn, and TikTok. Join the conversation, develop a meaningful content marketing strategy, and share your story. A LinkedIn profile is recommended for everyone, even if you don't update it often.
Branded email address: Having a business email will add to your credibility. It signals professional communication over a personal address like Gmail or Yahoo. Whether you own a small business or are a solopreneur, business emails go a long way for credibility.
Prepare a content calendar and consistently create content for social media and your website (blog).
Step 4: Build an audience
To create effective personal branding, you need to consider your audience. The most important part is deciding who is your target audience. Think of your audience's demographics, what they like and dislike, and where they tend to hang out.
The number one indicator of success in a digital brand is having an engaged audience, it is more important than a massive amount of followers, but one leads to another.
In step 1, we discussed authenticity. Use social media profiles to connect with your audience and engage in meaningful conversation. First, provide value before self-promotion. This will create a fan base that will eventually become loyal followers.
Keep in mind your brand message and tone of voice; it's how you will brand yourself to various communities to build your own community or following eventually.
Step 5: Establish credibility and gain visibility
Establishing credibility and gaining visibility go hand in hand. By developing a brand strategy to establish your expertise and credibility, your visibility will also increase.
There are many ways to increase your personal brand's visibility and can be divided into content strategy and speaking opportunities.
You can earn credibility by producing content for your own channels or for others:
Author a book
Start a podcast or find guest speaking opportunities
Write a regular blog
Host or guest in webinars
Post regularly on social media
Engage in public relations activities
Work on Search Engine Optimization (SEO)
Contribute guest posts on other sites
Keep a regular email communication, e.g., newsletter
You can also find speaking opportunities to get in front of more people. Start small by building partnerships with smaller, more approachable brands, creators, and events; bigger opportunities will unlock as you go along.
Speak at events live or online (especially in keynote speeches)
Get interviewed by podcasts or vlogs
Collaborate with influencers and creators for webinars
Appear in TED & TEDx talks (local TEDx events are great to start with)
Attend industry/niche events
Join and participate in communities both online and offline
Step 6: Be consistent and focus on quality
Building a brand takes time and dedication. The key here is consistency and focus on the long run with quality content.
To become a thought leader in your industry, you must first offer value to your audience.
Know your audience, participate in communities, and most importantly, be true to yourself.
Here are a few successful influencers who have built a solid personal brand over the years.
Each of these people has a unique story; they knew their audience and what message they wanted to put out there. They were consistent with their personal brand strategy and always kept the quality of their content high.
Oprah Winfrey
Oprah Winfrey is one of the world's most successful and well-known media personalities. She is the founder and CEO of Harpo Productions, Inc. and has ranked as the richest African American of the 20th century.
Oprah has built an empire around her personal brand, which stands for honesty.
Social Profiles:
Gary Vaynerchuk
Gary Vaynerchukis a Belarus-born American entrepreneur, investor, author, public speaker, and internet personality. He is the co-founder of VaynerMedia, a social media agency.
Gary is best known for his work in digital marketing and social media, where he has used techniques such as Facebook Live video streaming to promote
He has created a very outspoken personal brand sharing his "brutal truths" on social media.
Social Profiles:
Mari Smith
Mari Smith is an internationally renowned Facebook marketing expert, keynote speaker, and author. She is the co-author of Facebook Marketing: An Hour a Day and is frequently quoted in publications such as The New York Times, The Wall Street Journal, and Forbes.
Mari has built a massive online following due to her area of expertise in Facebook marketing and her personal brand as "the Queen of Facebook".
Social Profiles:
Tony Robbins
Tony Robbins is an American entrepreneur, author, and motivational speaker. He is best known for his self-help books and seminars, which have been featured on NBC, ABC, and CBS.
Tony has built a personal brand around helping people achieve their goals and live their best lives.
Social Profiles:
Neil Patel
Neil Patel is an entrepreneur, blogger, and co-founder of two startups: Crazy Egg and Hello Bar. He is also the founder of Neil Patel Digital.
Neil is known for his marketing skill set, and he has been able to help companies like Amazon, NBC, Viacom, and General Motors increase their revenue.
Social Profiles:
Marie Forleo
Marie Forleo is an entrepreneur, author, and motivational speaker. She is best known for her self-help books and seminars, which have been featured on NBC, ABC, and CBS.
Marie has built a personal brand around helping people achieve their goals and live their best lives.
Social Profiles:
Personal branding allows you to create an identity for yourself that stands out from the rest. You control your own brand message and will offer the next step in your career, whether that means more job opportunities, personal brand as a creator or building a business empire.
Now that you understand what personal branding is and why it's important, it's time to start thinking about your own personal brand strategy.
Remember to keep your audience in mind, be authentic, and stay consistent with your message. Building and maintaining a personal brand takes hard work, but your work will be rewarded!
How do I brand myself personally?
Identify your personal message, strengths, and expertise. Then, you will need to create a branding strategy and focus on being authentic and consistent.
What is a personal brand example?
Some examples of personal brands include Gary Vaynerchuk, Mari Smith, Tony Robbins, Neil Patel, and Marie Forleo. These individuals have all built successful careers around their personal brands and have achieved a large following due to their expertise and unique perspectives.
What is the difference between personal branding and personal image?
Personal branding is the process of developing a name, face, and story that represents who you are and what you do. It is the creation of a unique identity that sets you apart from everyone else. Personal image, on the other hand, refers to how others see you based on your appearance and what they know about you.
Why is personal branding important?
Personal branding allows you to create an identity for yourself that stands out from the rest. You control your own brand message and will offer the next step in your career. That translates to more opportunities on the job market or building a business empire.
(Visited 3,526 times, 2 visits today)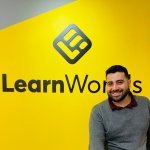 Nick Malekos is a Senior Digital Marketer in LearnWorlds. He is a results based and well-rounded Digital Marketer with years of experience in the education industry, writer and digital literacy trainer.