The creator economy enables bloggers, social media influencers, podcasters, and video creators to monetize their work. Creators create content for entertainment, informational, and educational purposes.
Any creator with a sufficiently large and loyal following can monetize their content and make a living by becoming part of the creator economy!
A recent report by Oxford Economics and YouTube shows more than 45,000 channels with at least 100,000 subscribers only in the US. With creators getting more attention than many traditional media channels, advertisers are turning to them to reach their audiences.
While more and more people access the internet, smartphones, and social media daily, creators are taking the lion's share of attention from internet users, while online platforms enable creators to reach their audience and monetize their content.
What is the Creator Economy?
The creator economy is a term used to describe the way content creators make a living from their work. Content creators engage their audience with their content and, in turn, monetize the audience's attention with sponsored content, merchandise, and online courses.
Creating content is a journey that begins with building your personal brand as a creator and ends with running your own business.
What is a Content Creator?
Anyone who creates content for entertaining, educational, and informational purposes is a content creator. Content creators often produce content for one or more social media channels and their websites or blog.
A content creator may use a specific social media platform, like Instagram and Twitter, or a video platform, like YouTube and TikTok, or even their own private community.
P.S.: Read our article on selling online courses with TikTok.
The State of the Creator Economy
Content creators are becoming entrepreneurs and contributing to the US economy with $25 billion in GDP just from YouTube's creative ecosystem (source), more than 425,000 full-time equivalent jobs being supported by them.
The revenue streams of creators vary depending on the platforms they use and their content. While most creators have some revenue paid by their media platforms as a share of advertising revenues, they also monetize their audience with:
Sponsorships
Merchandise
Online courses
Membership platforms
Community platforms
Services
Many businesses also participate in the creator economy by creating content without looking to monetize it, but they are looking to attract attention to their products.
The Rise of Influencer Marketing
In the early years of the internet, bloggers were the real micro-influencers of the web, but with the rise of social media, creators have risen as online influencers. The creator economy was born with the monetization of content through ads, brands, and other products.
Social media influencers can affect the purchasing decisions of others because of their authority and relationship with their audience. This allows them to monetize their content by suggesting affiliated products or selling their own products and services.
Brands actively pursue influencers to promote their products.
Micro-influencers with a few hundred or thousands of followers are sought out for their influence in local and niche communities, while big influencers get multi-million dollar contracts to promote national and international brands!
The Amplifiers of Creators: Social Media Platforms
Creators thrive in social media! With 4.6 billion active social media users internationally, social media is the perfect melting pot for creators of all kinds to reach their audience.
The biggest and most successful creators are found on YouTube, with Facebook & Instagram following, and TikTok quickly rising to the top.
Let's go into a breakdown of the most popular social networks and the differences in relation to the creator economy:
YouTube
YouTube is the biggest video platform with 2.5 billion users in 2021 and is projected to reach almost 3 billion users by 2025 (Source: Statista).
Creators like PewDiePie (111 million subscribers) gain millions of views with each video, and they produce earnings between $2 and $12 per 1,000 views (Source: Business Insider). To make a living just from the YouTube partner program, creators need at least 100,000 subscribers and videos getting hundreds of thousands of views.
To monetize your YouTube channel with YouTube's partner program, you need to follow their monetization policies, which include at least 4,000 hours of watch hours and 1,000 subscribers.
Few creators make it big with millions of subscribers and viewers per video.
This is why many video creators end up using services like Patreon and BuyMeACoffee.com to fund their work along with their own merchandise, communities on discord, and digital products like online courses.
Creators end up building a business based on their YouTube channels. A great example is Rhett & Link from Good Mythical morning, who sell apparel, accessories, mugs, grooming, kitchen, merchandise, as well as an occasional paid-to-watch event.
Facebook
Facebook is still the biggest social network, with 2.9 billion users in 2022. Even with the recent decline in users, the sheer volume of users makes it a very important social network for creators.
Up until recently, Facebook did not share revenue with creators, but now it has launched in-stream ads and music revenue sharing to give a portion of its earnings to content creators.
While Facebook creators usually make their income outside of the platform, a new suite of tools to get paid for content enables creators to make money with branded content, affiliate deals, ads, paid events, subscriptions, and more!
Instagram
Instagram is the fourth most popular social network with 1.5 billion users and is also part of the Meta family.
The visual-first platform is moving towards similar features to Facebook, joining the Creator Marketplace, Digital Collectibles NFTs, and more.
But, as always, creators on Instagram were already monetizing their popularity by working with brands and by promoting their own or affiliate products.
Many creators also used subscription software, like Patreon or OnlyFans, to fund their content production.
TikTok
TikTok is the fastest growing social media platform surpassing 1 billion users last year, even with the threat of controversies and political plays behind it.
The short video format has attracted the younger generations, with 25% of its users being under 20, but older age groups are slowly getting onboard as well.
Monetization was one of the early challenges for TikTok creators, with many creators being paid to promote other businesses or products outside of the platform. Without in-platform monetization options, only the biggest creators could monetize their audience.
Now, TikTok has launched multiple ways to help creators monetize through the platform with Creator Next:
Creator Fund ($200m for creators)
Creator Marketplace
Video Gifts
LIVE Gifts
Tips
Still, TikTok Creator Next is only available to a few creators in the US, UK, Germany, France, Italy, and Spain (Canada & Australia coming up soon), who meet the following criteria:
Have at least 1,000 video views in the last 30 days
At least 3 posts in the last 30 days
Have an account that is in good standing with Community Guidelines.
Twitter
The microblogging platform might be the single most influential social network and the most difficult to monetize. Twitter is taking strides to help creators monetize their audience.
It's already a place for influencers, thought leaders, experts, and – true – lots of internet trolls to grow their influence. Now Twitter is doubling down on the creator economy with monetization features like:
Media Studio
Twitter blue
Super Follows
Subscriber-only Spaces
Ticketed Spaces
Still, many creators amplify their voices through Twitter and monetize using other platforms.
Twitch
Live streaming is almost synonymous with Twitch. The major live streaming platform for gamers was part of the early creator economy and still spearheads the mature creator economy.
Streamers stream their games, esports, music, watch parties, performances, talk shows, live events, cooking shows, and so much more!
Twitch is a place for creators to connect with their audience for live video shows, commentary, and community. They can monetize their audience through:
Bits & Subscriptions,
Ad revenue,
Sponsorships,
Amazon Associates, or
Promoting your own products & affiliations
P.S.: Twitch is owned by Amazon.
Other Popular Social Media
There are so many social media platforms that creators use that we can't really go through them all. Here is a quick list of more popular social media platforms creators use to connect with their audience:
Snapchat
Pinterest
LinkedIn
Clubhouse
SubStack
Creators choose at least one network that works best for their content and audience to focus on, then expand to other networks. The choice of network is completely up to You!
Podcasts
Podcasts have been around for a while but started growing in popularity over the past few years, with 80 million Americans listening to podcasts on a weekly basis (Source: Edison Research).
Podcasts are usually audio-only, but some platforms are now experimenting with video podcasts, and you can see video podcasts on YouTube and other platforms in the form of vlogs or repurposed podcasts.
As of July 2022, Apple Podcasts is the biggest platform for podcasts with 37.5%, followed by Spotify with 27.4%.
Blogs & Bloggers
We often forget the simplest and original forms of online creators: Bloggers. Blogs were one of the earliest forms of expression on the internet and still persist.
While the blogosphere might have changed a little, bloggers are still around and most popular in fashion, beauty, food & drink, travel, and other specific niches.
Now, most successful bloggers monetize their audience with sponsored content, affiliate deals, and online courses.
It's also very common for a creator to start as a blogger only to expand into other platforms, like YouTube or Podcasts.
How can Creators Monetize Their Content?
Successful creators can monetize their content and work full-time. Creators can transition from niche success to influencer status and build their small businesses on top of their content creation activities.
But, first, creators have to unlock the potential of their channel and create their first revenue streams for side income before they gradually transition to their own business.
So, let's talk a bit about the minimum requirements to transition to monetizing your content.
How Many Fans Does it Take to Make a Living as a Creator?
Kevin Kelly, the founder of Wired magazine, suggests that 1000 true fans are all you need to make a living as a creator (full essay here). That number is not absolute, as it depends on the price you can ask your fans to pay for your content.
Most creators do not need millions of followers to monetize their content. A true fan is someone who supports you and buys anything you produce. That would include music, merchandise, courses, memberships, and more.
Having 1000 fans paying a $10 subscription on Patreon or a VIP community means $10k per month or yearly revenue of $120,000. That would be more than enough for most creators to live a comfortable life and start being autonomous.
The True Money-Makers
While creators can make some money from the ads running on their content, you need millions of views to make enough for a living.
Most creators find monetization by selling their influence or their own products.
Here are a few ways creators can make money without being dependent on the platform's monetization options:
Sponsorships
Brand partnerships
Premium live streams/webinars
Sponsored newsletters
VIP community with a subscription fee
Affiliate marketing (promoting other products)
Merchandise on Etsy, Amazon, Shopify, etc.
Selling video on Cameo
Creator Economy Trends: Top trends for 2022-2023
As the creator economy continues to grow, so does the number of tools and technology available to help creators succeed. In this article, we will explore some of the top trends for the creator economy we see in 2022 and predictions for 2023 and later!
These trends include artificial intelligence (AI), tools for content creation, and cryptocurrency & non-fungible tokens (NFTs).
More Short Form Video
Video is getting shorter, and TikTok has proved this to be the case. So now, Facebook, Instagram, YouTube, and other social networks are adopting short videos as the main format.
There are still social networks that have not adopted this trend yet, and creators have to adapt and work with the new format to be successful.
While creators work with any type of content, visual content is taking over. This is due to the technologies allowing for the seamless creation and delivery of video in all formats.
Creators as business founders
Over the past years, successful creators have been building their own businesses. The great resignation is being led by workers looking for better jobs and wages. Many of those decide to focus on freelancing or starting their own businesses.
More of those solopreneurs will join the creator economy and start new businesses around content creation.
Venture capital focused on creators
In 2021, the creator economy was boosted with $1.3B in funding. Companies that operate in the creator economy by supporting creators got most of this funding. These companies are now growing and helping creators make content and monetize their audience.
LearnWorlds was also part of those companies raising $32m to improve course creators' services further.
Part of this funding will also end up in creator-made startups and not just the supporting technology. Multiple companies already offer Creator funds, especially on social media.
More tools & technology
With the funding of more tools for creators and the adoption of technologies like live video through the pandemic, creators will have to compete with other creators for attention, and those who can automate their workflow to save time and produce more will come out as the winners.
Technologies to create content, communities, publishing content, editing media, live videos, and more will give the edge to those who use them.
AI-assisted content creation
A special attribute for AI tools to write content for social, blogs, or video scripts will be on the rise. Creators who utilize AI to make more high-quality content will get the most out of the new creator economy. Read our review of the top ai writing solutions.
Similarly, creators who use AI-generated images and art will see a rise as the technology matures enough to be used for commercial purposes.
Be careful! While AI can help, publishing AI-created content is not ideal. All these new technologies need curation and editing to produce quality results. AI content alone will not dominate the creator economy; smart creators using AI to assist them in creating more high-quality content will be the winners here.
The rise, fall, and rise of Crypto & NFT
Many influencers have adopted the NFT tsunami that has now crashed, leaving NFT trading at 1% of its former glory.
Crypto, on the other hand, has lost tremendous value in 2021 but is still there. While the trend is cooling down with not much to see on NFTs, crypto might again make a resurgence in late 2021 or 2022. Creators publishing content in the space will see a lot more ups and downs from the space.
While cryptocurrencies' future is still unsure, blockchain technology is here to stay.
Examples of Successful Creators
Creators come from all walks of life, most of them in the first few decades of their life, and are currently influencing an incredible amount of people.
In this list, we have collected examples of successful creators representing a variety of platforms and niches. The list is partially based on Forbes' Top Creators for 2022.
Patrick Shyu – TechLead – YouTube
Patrick Shyu was a Facebook engineer who got fired for a series of videos about the company's work culture. He then transitioned to educational videos on learning how to code and about his personal life. Now he mostly posts about Cryptocurrencies.
Patric has more than 1 million subscribers on his channel TechLead.
Delyanne Barros – Investing Coach – Instagram, TikTok & Podcast
Delyanne gave up her attorney job to become an investing coach. She is selling her own course, hosting a podcast called Diversifying at CNN Podcasts, and has 167 thousand followers on Instagram and 305 thousand on TikTok, along with her blog.
Michelle Lewin – Fitness Model – Instagram & YouTube
Michelle started as a model and worked her body also to become a fitness icon. Along with her modeling career, she operates multiple social media with 15+ million followers on Instagram and more than 400K YouTube subscribers, monetizing her audience through her online courses, Fitness Training App, supplements, and clothing brand one0one.
Take Charli D'Amelio – Dance Videos – TikTok
Charli's dance videos on TikTok have skyrocketed her to fame with 145 million followers on TikTok. The 18-year-old now owns her own perfume brand (Born Dreamer), a clothing company, and an early-stage VC fund.
Jimmy Donaldson (MrBeast) – Stunts – YouTube
MrBeast's fame started with crazy stunts on YouTube and has gotten him more than 100 million subscribers. He continues doing crazy stunts and records them on YouTube. He has since diversified with multiple YouTube Channels.
MrBeast monetizes his fame with his own website shop, YouTube monetization, and a ghost kitchen operated by affiliated restaurants!
Huda Kattan – Makeup – Blog
Huda started a beauty blog back in 2010, which landed her clients for her makeup artist work. The blog eventually helped her launch a cosmetics line and has since expanded to skincare and more cosmetic goodies.
She has since expanded and has 50 million followers on Instagram while maintaining a presence on TikTok, YouTube, Facebook, and Snapchat.
Tyler Blevins (Ninja) – Streaming Games – Twitch
Ninja is the most popular Twitcher, with more than 18 million followers. He also has 3 YouTube channels for his videos and multiple other social media with millions of followers as well.
Ninja monetizes his audience with merchandise, a collaboration with Masterclass, donations, brand deals, and his discord community.
Ryan Kaji – Toy Reviews and More – YouTube
Ryan's World is probably the biggest kid YouTube star. Ryan's parents shoot videos of him reviewing his toys and as he gets older expands his topics with diy science, doodles, and animated costars.
His channel has 33 million subscribers and YouTube and monetizes them with AdSense revenue, merchandise, and his proprietary line of toys.
The Future of the Creator Economy
Technology enables us to move out of traditional economies and create entertaining or educational content that can be shared across the world in seconds.
The first step away from a production-only economy was the service economy, and now we move closer to the knowledge economy with content creators leading the way.
There is still a lot to be figured out, with social media taking the lion's share of the ad revenue, tackling misinformation, creator burnout, unrealistic expectations, scams, and copyrights. The creator economy is not perfect; just getting out of its infancy to its teenage years.
But, still, the ecosystem supporting creators is growing, with software & tools enabling them to create more and better content and monetize their audience.
LearnWorlds provides creators with the tools to monetize their audience with communities and educational content (courses). Try LearnWorlds with a 30-day free trial:
Frequently Asked Questions FAQs
What is an influencer?
An influencer is somebody who has the power to affect the purchasing decisions of others because of their authority, knowledge, position, or relationship.
How Big Is the Creator Economy?
It's not clear how big the creator economy is. There are more than 200 million creators (Source: Statista), and only YouTube adds $25 billion in GDP to the Creator economy.
What are the pros and cons of the creator economy?
On the plus side, the creator economy is creating new jobs and opportunities. On the downside, the creator economy leads to a consumer culture based on entertainment.
How can you become a successful creator?
To become a successful creator, you need to work on your strengths, find a niche and start creating content until you build a personal brand. Creators focus on content they do really well and start by focusing on one single channel that works for their audience.
How can creators make money online?
Creators can make money through the revenue shared by the platform they create or monetize their content with:
Sponsorships
Brand partnerships
Selling online courses
Premium live streams/webinars
Sponsored newsletters
VIP community with a subscription fee
Affiliate marketing (promoting other products)
Merchandise on Etsy, Amazon, Shopify, etc.
Selling video on Cameo
Is the Creator Economy a Fad?
No, the Creator Economy is here to stay and growing steadily. It has been here for more than a decade, it is just growing faster now as the tools to create content and the social networks that connect us all have matured enough to support it.
The creator economy will grow even more as more people look for entertainment and knowledge online.
What are the countries eligible for TikTok Creator Next?
TikTok Creator Next is only available to a few creators in the US, UK, Germany, France, Italy, and Spain. Soon, it will also be available in Canada & Australia.
How many fans does it take to make a living?
You only need 1000 true fans to make a living as a creator. However, that number varies per niche and depends on how you monetize. For example, YouTubers make more money compared to TikTokers with the same size of views and followers. You can monetize your audience even with only 100 followers and grow from there.
(Visited 1,206 times, 2 visits today)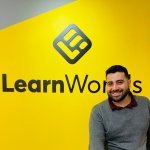 Nick Malekos is a Senior Digital Marketer in LearnWorlds. He is a results based and well-rounded Digital Marketer with years of experience in the education industry, writer and digital literacy trainer.