TikTok is one of the fastest-growing social media platforms, with over 1 billion monthly active users worldwide as of the last quarter of 2022.
It has become an incredibly popular platform for businesses and marketers to reach their target audience in a highly engaging way.
With a phenomenal 92% of users globally taking action after watching a TikTok video, it goes without saying why you should, as an online course creator 𑁋or any entrepreneur in this sense𑁋 integrate TikTok into your marketing strategy and use it as an effective tool to promote and grow your large or small business and your online academy.
From creating TikTok-engaging content that resonates with your audience to harnessing the power of TikTok for business, TikTok influencers, and repurposing user-generated content, there are many ways you can use this ultra-popular social media channel to make your online courses famous. In this guide, we will share tips on how to do just that!
First, we will dive deep into understanding TikTok's features, how hashtags work in TikTok, what are the current trends, and then we will move on to see what you can do to establish a community for your online academy and leverage ads for maximum reach. You'll also learn how to analyze the performance of your posts so you can keep improving results as you go along!
Let's explore some of TikTok's core features to see how you can use them to promote your online course business.
TikTok allows you to create short videos with music, special effects, and other creative elements and even to go live and interact with your audience in real time. TikTok also enables creators to use various hashtags and trends to reach more people, as well as share your content on other social media platforms, such as Instagram and Twitter.
Through TikTok's algorithms, users can discover content relevant to them through personalized video feeds, and it also provides detailed analytics so you can track your performance and gain actionable insights about your audience.
With TikTok's growing popularity among online course providers, it's essential for you to understand how you can use this platform to increase your online course visibility and engagement.
A brief overview of TikTok's features
Among TikTok's main features is the ability to edit videos with a variety of editing tools, including filters, effects, and music. These tools can enhance the videos' visual and audio quality.
You can crop, flip, and rotate your uploaded videos, as well as change the speed at which they play. The app also lets you record videos and choose songs to lip-sync or dance to, or you can choose your own background music after recording.
Also exciting is TikTok's algorithm that suggests creative ideas for videos. You won't have to worry about content blocks anymore!
There are also plenty of filters and effects available, such as the "Beauty" filter, as well as stickers and animations.
The most fun effects are AR effects, which allow TikTokers to alter their hair color and eye color and apply various virtual elements to their heads, such as glasses, hats, flowers, and puppy ears. In addition, you can use an AI filter to turn your photo into an anime image.
Obviously, some of these effects would most probably not be appropriate for your TikTok videos if you are a more formal online course academy. Always be conscious of the brand image you want to convey to your audience. Certainly, formal companies can be playful, but remember, you are more than just a TikToker, you are a business owner, and TikTok is a business tool for you with which you aim to attract more customers to your online courses.
💡 Here's a very informative video showing you exactly how to create an AR effect using TikTok's Effect House:
Another feature of TikTok is the ability to use hashtags to increase the visibility of videos. Hashtags are keywords or phrases that are preceded by the "#" symbol, and they are used to group videos together by topic. By using relevant hashtags, you can increase the chances of your videos being discovered by potential students. Mainly though, in TikTok, hashtags don't exactly show what's trending. Instead, they are used to tag users and invite them to various challenges, such as duets.
Duets on TikTok are one of the most popular features. In fact, we'd dare to call it a breakthrough tool for your social media marketing tactics. Duets enables you to lip-sync or dance to your favorite song with anyone on TikTok, whether it's a friend, a random user, or a celebrity. You can leverage the versatility of duets to create exciting challenges that will help you reach a broader audience and increase your monetization potential.
💡 Here's how you can create a duet on TikTok, nice and easy:
In addition to sharing videos within the TikTok app, you can use social sharing buttons to share your videos on other social media platforms and link your TikTok profile to other social networks, such as your LinkTree account, where you can share your freebies and top courses.
Likes and comments in TikTok work similarly to those on Instagram, where hearts represent likes. A separate tab displays all liked videos. You can also set up push notifications to see who liked and commented on your videos, as well as who followed you.
Additionally, TikTok offers a feature called reactions, which lets users record themselves reacting to videos. By allowing users to record themselves and share their viewing experience, these videos can be viewed by a broader audience.
TikTok also provides live video streaming, during which users can earn money from other users' virtual gifts; these are rewards fans can give to their favorite creators for hosting a TikTok live video.
Additionally, TikTok offers QR code scanner and geolocation features, allowing users to subscribe to other users by scanning their QR codes and seeing who is broadcasting live nearby.
Lastly, TikTok offers real-time analytics where you can view data about your comments and likes and view a graph showing live viewers and broadcasters.
TikTok accounts types
You can create three different types of accounts in TikTok: a TikTok personal account, a TikTok Ads Manager, and a TikTok Business account.
The personal account enables you to do a lot of video creation; however, it is limited in terms of analytics, brand visibility, and direct communication with your audience, whereas a Business Account gives you access to valuable tools for measuring your performance based on key metrics, insights, and other creative tools that will help your online course business grow. A TikTok Ads Manager account allows you to create and manage paid ads (if you are familiar with Facebook Ads then you will not have an issue handling TikTok ads at all).
There is no either/or option for the business and ads manager accounts, you can have both of them at the same time.
TikTok Ads Manager account
An Ads Manager TikTok account gives you access to all your campaigns, metrics, and budgeting tools in a comprehensive dashboard.
Also, you get handy tools, such as the "Video Template," that helps you build creative video ads with ease, choosing from a variety of video templates and adding to them your existing images without needing to be a professional video editor.
The "Automated Creative Optimization" is an ad delivery tool that enables you to make your ad management more efficient by automating the process of creating, delivering, and optimizing your ads. This way, you can build creative ad formats (also known as placements) that fit your marketing goals and help you bring your story to life in engaging and fun ways.
Advanced targeting is also possible based on gender, location, age, interests, and many other unique variables.
You can even set bid strategies for your TikTok Ads and monitor how they influence the cost per result, your ad spending, and the delivery of ads to your different audiences. Furthermore, you can run an A/B test on any of the bidding strategies you use using a function called "Split Test".
You are also provided with various useful data measurement tools that help you determine how your campaigns perform against your goals (metrics like cost per campaign, impressions, clicks, active, disapproved, out-of-budget, underperforming, daily spending, and more).
TikTok Business Account
You can unlock all the metrics, insights, and creative tools you need to grow your business with a TikTok Business Account. As a result, you can better understand your audience and how your content performs. This allows you to customize your TikTok marketing strategy to create the most effective content.
A TikTok Business Account also enables you to add your brand information to your TikTok profile so your audience can easily find you. You will also be able to access TikTok's in-app Business Content Guide, which will aid you in building your brand better, and be able to view exclusive video case studies to discover what's trending in your country or line of work. This is done through carousels from brands and creators.
The Business Account also comes with access to over 500k royalty-free music, sounds, and songs that you can use to enhance your content from a content creation perspective.
Overall, you get to work on an intuitive dashboard that provides you with everything from detailed analytics to success stories to creative advice.
You can switch from a business to a personal TikTok account anytime and as often as you like. But why would you when a business account offers three main benefits you cannot ignore:
an in-depth analytics tool that helps you understand how your account performs and how users interact with your content,
an email function for your followers to contact you directly, and
the ability to add the website link for your online academy in your profile, which helps you promote your courses more effectively.
Taking care of some housekeeping steps is always the first priority when undertaking any new content project. So, before getting down to business with creating your TikTok videos, make sure you check the following boxes.
🧑🏻‍🤝‍🧑🏾 Understand your audience
Currently, TikTok is available in 154 countries worldwide and in 75 different languages. Also, recent statistics show that the TikTok user base is aging up, so keep this in mind if you're not sure whether your target audience is using this platform.
And although engagement is hard to quantify, real-life examples indicate that engagement on TikTok is incredible.
🚀 Here's an impressive example of TikTok's remarkable engagement: Jennifer Lopez, the renowned pop singer, a while ago posted the same video on both Twitter and TikTok, where she has 45 million followers on the former and 5 million followers on the latter. She had 2 million views on Twitter and over 71 million views on TikTok!
Now, video is what TikTok is all about, right? When it comes to video length, there isn't a one-size-fits-all solution. Originally, TikTok videos were only one minute long, but they can now be up to three minutes.
You have to consider a number of factors, such as what your video is about and what your audience enjoys. Try different video lengths to see if they work for your audience. Your video analytics can assist you in your decision, but don't overthink it.
It will be a good idea to adjust the length of your video according to your analytics, for example, if you see that your audience spends most of their time watching 10 seconds of your videos include your call to action during this time.
As a general rule, always put your most engaging part at the beginning of your video. Many TikTok creators start by showing the end result of their video to captivate their audience's attention and then show the explanatory part.
Whatever you decide to do, remember to keep it authentic and aligned with your brand. This brings us to the next step of the housekeeping process.
🎯 Define your brand and what you stand for
You should take a moment to think about everything you enjoy doing. What is your specialty, your know-how? What are your superpowers? What topics do you want to cover? What aesthetics or styles are you comfortable with? Highlight the things that are unique about you and your online course business.
There is no need to lock yourself into a specific niche forever or define your brand in a finite way. Also, you might want to think about your brand narrative. Think about what kind of content you plan to share. Use your bio to help people learn more about your brand.
📊 Identify the analytics you want to monitor
Your TikTok analytics is just three taps away from you. Go to your TikTok profile, tap the three dots, tap "Creator tools," and tap "Analytics."
It's best to consider the bigger picture when creating future videos, lean lightly on analytics, and use them for insight rather than strategy. Analytics are useful for understanding the performance of your videos but don't use them primarily as a determining factor.
TikTok analytics are divided into three categories: Overview, Content, and Followers.
Overview displays followers, video views, profile views, likes, comments, and shares for the last 7, 28, or 60 days, as well as a custom date range. The Engagement section within Overview lets you analyze the performance of your videos using metrics such as likes, comments, and shares.
For detailed insights into your videos, click on the Content tab. You can find information such as total views, likes, comments, shares, average watch time, watched full video, traffic source type -where viewers find your videos- and audience territories. Just remember that only the last seven days of content metrics are available.
You can gain insights into the community you've built on TikTok by clicking the Followers tab. You can see where your audiences come from when they are most active on TikTok and how your following has changed compared to the past few months.
Remember that fluctuations are normal if one of your videos performs differently than others. Check your analytics to see what works for your viewers and note differences in watch time and other factors.
By analyzing your audience's attention, you can determine how to share videos that resonate with them.
After analyzing hundreds of TikTok accounts and going through tons of video content, we developed an easy-to-use 6-step formula for creating engaging and high-quality TikTok content to promote your online courses. With every step, we'll also share tips and ideas to help you along the way.
Step 1. Create Engaging Content
Creating engaging TikTok content is essential to increase visibility on the platform and attract potential students for your online courses.
To generate attention and interest in your course, you need to produce creative videos that showcase the topics you cover in your course as well as demonstrate why it's worth taking (e.g., highlighting interesting topics or special features).
💡 Videos between 21 and 34 seconds long are the highest-performing videos.
Additionally, consider creating short tutorials or educational videos that offer helpful tips related to your course material; this will help viewers better understand what they would be learning if they enrolled in your online courses. Suppose you are planning to offer a free course or a live webinar. Create a 15-second clip highlighting what learners will gain by enrolling and give out a few key takeaways.
Moreover, focusing on topics that are currently trending on TikTok can help draw attention from a broader audience, while adding some fun visuals into the mix can make it even more attractive for viewers.
Several strategies can help you maximize engagement and build a loyal following on TikTok to promote your online courses. From showcasing success stories of former students to leveraging influencers, these tips will get you started on the right path toward social media stardom!
Knowing your aesthetic, understanding popular trends and memes, and engaging with followers are all essential elements in ensuring your content stands out from the crowd. With the following tips in mind, you'll be well-equipped to make an impact on this fast-growing platform!
Be authentic
The key to engaging with an audience is to be authentic. People want to know that they're talking to a real person with valuable insight, not just a corporate entity or another faceless account.
Be unconventional
When it comes to making videos on TikTok, it's important to be creative and think outside the box. People tend to gravitate more towards content that stands out—be daring, tell jokes, try something new! This will help your video capture attention in ways that standard clips wouldn't. Showing off your personality will make viewers more likely to connect with you, so don't be afraid to be yourself!
Know your aesthetic
Having an aesthetic for your content is also important when it comes to making videos or other content on TikTok. This means having a style—whether funny, sincere, educational, or something else altogether—that people will recognize as yours.
You should have consistency in terms of how you create your videos and what kind of topics or themes you cover. Establishing this helps viewers feel connected with your brand and provides familiarity when they come across new posts from you.
Engage with followers
Engaging with followers is crucial when it comes to social media success. Make sure you take time out of each day to respond to comments, answer questions and interact with anyone who has reached out in any way—this is especially true on TikTok since conversations move faster than on other platforms. Doing this makes people feel heard and valued, which increases loyalty toward you!
Showcase testimonials
Showing off success stories and testimonials from former students who have taken your course can be a great way to increase engagement and draw potential new customers in. People are more likely to purchase something if they know somebody else they trust has had success using it beforehand. Showing off pictures or videos of individuals who benefitted from taking your course will help further highlight its value and provide more evidence of its effectiveness.
Step 2. Utilize TikTok hashtags and trends
In addition to creating attractive content for Tik Tok, another key factor for success is monitoring and utilizing trends and appropriate hashtags throughout all of your posts to get discovered by potential students who may not already follow you on the platform.
Learn popular trends/memes
Familiarize yourself with current trends or memes. Knowing what works means you can jump into conversations already happening on the app and capitalize on popular topics or phrases. It also helps if you have an understanding of which filters do well, as this will give your video an aesthetic edge over those who don't bother utilizing them.
To do so, you should research terms related to online education or specific topics within your field that might be popular among TikTokers; using these hashtags will ensure that more users see your content when searching through those tags or browsing related trending topics on Tik Tok.
Furthermore, linking back any additional posts you have posted elsewhere (such as Instagram) by providing a link back hashtag could potentially drive traffic from other social media platforms too. This will help spread awareness about your brand across multiple channels, thus potentially increasing enrollment rates within your online courses.
Step 3. Establish an engaging TikTok community for your online academy
To quote Mari Smith, the queen of Facebook, "Content is king, but community is queen!" Nowadays, having an active community is one of the most effective ways of boosting engagement on social media platforms such as Tik Tok; this includes responding promptly to comments left by followers, interacting with fellow content creators within similar fields/topics, etc.
Furthermore, hosting regular Q&A sessions or live streams on Tik Tok enables you to connect directly with prospective students who are interested in joining your online academy; this helps build trust between prospective students and encourages them to enroll in one of your courses.
Program offerings, discounts, giveaways, and exclusive offers only available through subscribing via TikTok are another great way of gaining exposure amongst different demographics outside of just Tik Tok users alone!
Lastly, having regular contests where followers answer questions related to their interests/your course material not only adds some fun but also creates a connection between yourself and those participating – making them more likely to become long-term supporters rather than one-off visitors who never return again post competition date!
Step 4. Leverage TikTok Ads for maximum reach
Once you have established yourself on Tik Tok by creating attractive content and building an engaging community around it, it's time to invest some money into leveraging ads. Targeting potential audiences can exponentially increase exposure and awareness of your online courses and online business.
One of TikTok's ad formats, called "lenses," incorporates augmented reality to create 3D objects, face filters, and more similar effects. Branded lenses work similarly to Snapchat's lenses. Users can easily identify the product/service displayed at first glance by creating a branded lens for your business, making it more recognizable.
💁 Here's a detailed visual guide of Ad Formats by Setupad to get you inspired and up your ad game!
Step 5. Analyze your TikTok posts' performance to improve results
In TikTok, you can see a snapshot of the performance of your content over the past week, along with percentage increases and decreases based on the previous week. Analytics includes two significant aspects of your TikTok channel, video views, and profile views.
Video views:

In a graphical format, you can see how many people watched your videos over the last month and easily pick out trends.

Profile views:

This shows how many likes, comments, and shares each video has received over a given period.
Under the Overview tab of the TikTok analytics, you can collectively see the following over a selected time period:
Your video's number of likes
The number of comments that your videos received
The number of shares your videos received
The number of users following your account and how it has changed
The number of videos you've shared within the selected time period.
You can also view demographic information about your followers, such as gender and location, the hours your followers are most active, the days your followers are most active, the sounds your followers have listened to; these factors are important to help you determine what trends with your audience most.
Under the Content tab of the TikTok analytics, you can see which content you post is getting the most attention, showing the following data from the last seven days:
Which video had the most views of the last nine videos you posted
The videos with the fastest growth in views over the last week
How people found your video, whether they saw it on your profile or on someone else's profile
The video views by region to help you identify where your content resonates geographically
The total playtime and the average watch time to help you understand what is engaging
💡 When you reach 1,000 followers on TikTok, you are eligible for Live TikTok videos. Live videos come with another analytics page for you to review.
Although hashtag metrics aren't found the same way as the metrics above, it's still worthwhile to see how many times a post with a particular hashtag has been viewed in your niche by analyzing different hashtags. In the hashtag analytics section, you can find out how many views each hashtag has, how many videos use it, and related hashtags.
Overall, TikTok analytics can be a powerful tool for content creators looking to grow their page and influence the right audience. By understanding the ideal times to post, what videos people like best, and what is working with your audience beyond your page, you can optimize your content strategy to ensure maximum engagement.
Analyzing the data available through TikTok's analytics will provide you with valuable insight into how to make sure that your content reaches its intended target audience.
Step 6. Grow your online course brand with TikTok influencers
We live in the digital marketing era, which means that TikTok influencer marketing can help you reach a large audience quickly and cost-effectively. If done well, it can also build trust between you and your audience and create positive associations with your brand.
These social media stars can help give your brand the boost it needs to reach a wider audience and increase enrollment in your online courses.
But before you start reaching out to influencers, here are a few tips to help maximize your partnerships and make the most of your influencer marketing strategy.
Tip #1: Find the right influencer for your brand
Not all influencers are created equal. When it comes to finding the perfect influencer for your brand, it's important to look for someone who aligns with the values and content of your online course business.
You'll also want to target influencers with a following (or a large email list) that would be interested in taking your course. Remember, not all followers are created equal, it's better to have a smaller engaged audience of TikTok users than a big one that doesn't care about your course.
Tip #2: Offer incentives
Let's be real, everyone loves a good deal. Offering influencers a unique discount code for their followers to use is a great way to give them an incentive to promote your course. Not only will this entice their followers to sign up for your course, but it will also make the influencer more likely to promote your course again in the future.
Tip #3: Partner with multiple influencers
Why settle for just one influencer when you can have multiple? Partnering with multiple influencers will give you even more exposure and brand awareness and help you reach a wider audience. Plus, each influencer brings their own unique style and personality to the table, which will help your brand stand out.
Tip #4: Show your appreciation
Don't forget to show your appreciation to your influencer partners. Send them personalized thank-you notes or even a small gift (e.g., an Amazon gift card or a free access pass to one of your online courses) to show them how much you value their partnership. This will help strengthen the relationship and make them more likely to promote your course again in the future.
Tip #5: Get creative
TikTok is all about creativity, so why not use that to your advantage? Encourage your influencer partners to get creative with their promotions by coming up with unique and engaging content that will grab the attention of their followers. From a catchy hashtag to a fun challenge, the possibilities are endless.
Here are some of the most prominent TikTok accounts by course creators and entrepreneurs that you can follow for inspiration. Of course, we encourage you to explore and find more creators that align with your interests and goals.
Grant Cardone 1.7M Followers & 36.3M Likes on TikTok
Grant Cardone is a business coach, speaker, and author who is widely known for his teachings on sales, marketing, and personal development. He has written several books, including "The 10X Rule" and "Sell or Be Sold", and runs a number of businesses, including Cardone Capital, a real estate investment company.
On his TikTok account, @grantcardone, he shares motivational and inspirational content, as well as tips and strategies for success in business and life. He often talks about the importance of setting big goals, taking massive action, and not settling for mediocrity.
He also shares tips on sales, marketing, and personal development and encourages his followers to take control of their lives and strive for success.
His content is usually short but powerful.
Gary Vaynerchuck 14.9M Followers & 324.6M Likes on TikTok
Gary Vaynerchuk, also known as Gary Vee, is a Belarusian-American entrepreneur, internet personality, and author. He is the CEO of VaynerMedia, a digital marketing agency, and hosts "The GaryVee Audio Experience", a popular podcast. He is also known for his work in social media and digital marketing and has written several books on the topic, including "Crush It!: Why Now Is the Time to Cash in on Your Passion" and "The Thank You Economy."
On his TikTok account, @garyvee, he shares his thoughts and insights on a wide range of topics, including entrepreneurship, digital marketing, personal branding, and self-improvement.
He often talks about the importance of hard work, perseverance, and hustle in achieving success and encourages his followers to pursue their passions and build their own businesses.
He also shares practical tips and strategies for building a successful online presence and for using social media to grow a business or personal brand.
His content is usually direct, honest, and motivational.
Chris Do 69.7K Followers & 280.9K Likes on TikTok
Chris Do is an American designer, director, and educator. He is the founder and CEO of Blind, a design and animation studio, and the founder of The Futur, an educational platform that teaches design and business strategies to creative entrepreneurs and professionals. He has worked with a number of well-known brands and organizations and is a popular speaker and educator in the design and creative industries.
On his TikTok account, @thechrisdo, he shares his thoughts and insights on a wide range of topics related to design, animation, and business strategy. He often talks about the importance of understanding and utilizing design principles in order to create successful, effective designs.
He also shares tips and strategies for building a successful career in the design and creative industries and motivates and inspires his followers to follow their dreams and create their own companies.
His content is usually informative and focuses on the business side of design.
Simon Sinek 643.3K Followers & 3M Likes on TikTok
Simon Sinek is a British-American author, motivational speaker, and marketing consultant. He is best known for his TED Talk, "Start with Why: How Great Leaders Inspire Action", which has been viewed over 50 million times on TED.com. His books include "Start with Why: How Great Leaders Inspire Everyone to Take Action" and "Leaders Eat Last: Why Some Teams Pull Together, and Others Don't".
On his TikTok account, @simonsinek, he shares his thoughts and insights on leadership, motivation, and organizational culture. He often talks about the importance of understanding and communicating one's "why" in order to inspire and motivate others.
He also shares tips and strategies for building a successful and fulfilling career and inspires his followers to chase their interests and build a fulfilling life. He also talks about the importance of empathy and how it can help one to be a better leader and human.
His content is usually focused on leadership, motivation, and organizational culture.
Vanessa Lau 95.2K Followers & 1M Likes on TikTok
Vanessa Lau is a business coach and online course creator who helps entrepreneurs and small business owners grow their businesses. Vanessa is a former corporate employee who quit her job in 2018 after working at a minimum-wage job as a coffee barista.
She started sharing social media strategies online and offering online services and digital courses. In less than a year, she had already built a 6-figure business.
Today, her team runs a multi-million dollar company that helps corporate escapees, content creators, and new coaches expand their reach and build successful businesses using social media. The company's mission is to open the door to life-changing opportunities and prove that it's possible to build a successful digital career that offers freedom, income, and impact.
In her TikTok account, @vanessalauco, Vanessa shares valuable tips and strategies in the form of concise videos on how to build and scale a social media presence effectively.
She provides a wealth of knowledge on various platforms such as TikTok, Instagram, and YouTube, along with her own personal insights on how she grew her business.
Her content is both informative and engaging, with a unique blend of education and humor.
Steve Harvey 11.8M Followers & 95.9M Likes on TikTok
Steve Harvey is an American comedian, television host, radio personality, and author. He is best known for hosting the television shows "Family Feud", "Celebrity Family Feud", and "Little Big Shots". He also hosted his own talk show, "The Steve Harvey Show", which ran from 1996 to 2002. In addition, he has written several books, including "Act Like a Lady, Think Like a Man" and "Jump: Take the Leap of Faith to Achieve Your Life of Abundance."
On his TikTok account, @steveharvey, he shares a variety of content, including comedic skits and personal insights. He often talks about the importance of family and relationships and shares advice and tips on how to improve your relationships.
He also shares moments from his own life, including behind-the-scenes footage from his television shows and moments from his stand-up comedy performances. He also shares motivational and inspirational content, encouraging his followers to pursue their dreams and achieve their goals.
His content is usually humorous, insightful, and relatable.
Tai Lopez 666.5K Followers & 25.7M Likes on TikTok
Tai Lopez is an American entrepreneur, motivational speaker, and author. He is known for his "67 steps" program, which is a mentorship program that aims to teach people how to achieve success in various areas of life, such as wealth, health, and love. He is also known for his "Here in My Garage" YouTube video, which went viral and has millions of views.
On his TikTok account, @tailopez, he shares various content, including motivational and inspirational content, entrepreneurial advice, and personal insights. He often talks about the importance of self-education and personal development and shares tips and strategies for building a successful and fulfilling life.
He also shares moments from his own life, including behind-the-scenes footage from his business and moments from his travels and speaking engagements.
His content is usually motivational and entrepreneurial-focused.
Now that you understand TikTok a little better, it's time to start promoting your online courses on the platform. By following our 6-step formula, utilizing TikTok hashtags and trends, establishing an engaging community, leveraging TikTok ads, analyzing your performance, and partnering with influencers, you can make your online courses go viral on TikTok.
When creating content, it's important to remember that what works for one person or audience may not work for another. Keep experimenting with different types of content, and don't be discouraged if something doesn't work out. Try different formats, topics, and styles to see what resonates with your audience.
Remember, success doesn't happen overnight, it takes time and consistent effort to achieve. Keep trying different things until you hit the sweet spot with your audience. It may take some time, but it's totally worth it when your content connects with them.
Here's to your success!
(Visited 1,444 times, 2 visits today)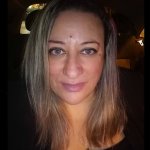 Rosemary is LearnWorlds' Content Marketing Manager. She has over 2 decades of experience in omnichannel marketing and content writing for the IT and SaaS industry. Her expertise lies in crafting effective content marketing strategies that attract, engage, and nurture customers, enabling LearnWorlds to reach its target audiences with precision.