Running an online business usually requires considering a range of approaches. While there is no single formula for building and developing a successful online business, some options seem to be more suitable than others depending on your business goals.
Creating a membership site, for example, is a great way to monetize your content, create a community for your audience and build up a steadier monthly income as opposed to solely building a website for it.
But, you are probably wondering…
What is a Membership Site?
A membership website is the gated part of your online business that provides premium content and gives access only to a specific number of subscribers.
If your business website is created with WordPress (the majority out there are), this gated territory is usually created with a WordPress plugin or on a subdomain with specialized software for community building. Once you set it to work, you are ready to start accepting new members who can log in and gain access to your content.
A membership site can be either free, paid or both, offering a range of membership options.
What Are the Different Types of Membership Sites?
There are many types of membership sites that you can choose from to make your membership site more suitable to your business needs and to your students'.
According to The Membership Guys, there are 7 different membership models:
The Drip-Feed Model: where content is being drip-fed (unlocked and delivered) in scheduled intervals (e.g. each week, month) and requires a monthly payment for access to a private member area.
The All-in Membership Site: where all content of membership becomes available right away upon a fixed fee that is paid upfront or monthly payment.
The Online Course: where content can be delivered in a modular model, upfront, or run at specific times, and it's sold at a fixed price with the possibility to be paid all at once or in installments.
The Online Community: where content involves around a specific subject that is common interest and unites a group of people. There is a monthly fee for access to private forums, messaging systems, or online groups.
The Time-Fixed Membership Site: where content is available to access for a specific period of time ranging from 7 days up to a year. Payment is either monthly for the duration of membership or upfront.
The Digital Product Model: where a digital product is protected and can be purchased or used only in a specific format e.g. after a download or using a login address to enter a membership portal online. This is often offered at a one-off payment.
The Service Model: where content is accessed through the delivery of a service. Often this is accompanied by a private area of online tools e.g. worksheets.
The Hybrid: a combination of different membership sites that share characteristics of more than one model offering this way a range of possibilities.
Out of these, the hybrid membership model offers the best possible outcome and it's the one you can easily combine with selling online courses for additional income.
Why Choose to Create a Membership Site?
A membership site acts as an essential communication channel between your business and your audience and offers some not-so-obvious benefits to your business and your customers.
Some of the advantages of a membership website for your business are:
Manage and promote content to your network in a more strategic way.
Establish a more personal relationship with your customers through community nurturing that increases loyalty.
Increase the number of leads and strengthen customer engagement.
Increase your company's revenue with an additional source of recurring income rather than one-time payments.
But, a membership website also offers advantages to your customers:
Access more exclusive content such as tips, offers, advice, and other incentives for a membership fee.
Meeting and networking with like-minded professionals with opportunities to learn, socialize and do business with.
With a membership site, you offer the opportunity to your students, customers, and most dedicated followers to keep an active, paid subscription in exchange for gaining access to membership content. This can include articles, tutorials, coaching, multimedia content libraries, one-on-one sessions, podcasts, and online courses.
The Characteristics of Membership Sites
When talking about membership sites, different people refer to different things. But, what are the most important things you have to know about a membership website?
1

Belonging – Memberships aren't just subscriptions

Memberships and subscriptions are often linked together, but they are not the same thing.

A 'membership' describes the idea of belonging somewhere e.g. a club or an organization, while 'subscription' solely refers to a revenue agreement that members need to pay a certain amount of money to be able to enjoy the benefits – deals, offers, and discounts – the membership offers.

Membership sites work on subscriptions when there are membership fees involved. This means that a user pays a monthly fee – an automatic payment, except if they cancel it, in order to get access to your content.
2

Gated Content – Memberships have different levels of access

Not all subscribers are created equal. While you can have a free community or an upfront monthly fee for everyone, you can also have different membership levels of access.

For example, when creating courses you can have a one-size-fits-all, where all your courses are available with a standard monthly fee or offer different levels of access to different categories or tiers, e.g. offering a bronze subscription that allows access to the lower 30% tier courses that are more basic and introductory; a silver subscription for half your courses including more advanced and a gold membership for full access.

Higher levels of membership subscriptions might include a personal touch from the instructor – You, such as personal coaching or one-on-one sessions instead of self-paced content and webinars.
3

Engagement – Memberships boost community activity and networking

With a membership site, you can build a community of people who have the same learning goals and needs while offering them premium privileges.

For example, you can create discussion groups or networking opportunities, get on social media and create a Facebook group where you can share updates and special deals within your community promoting your physical and digital products.
4

New Content – Memberships work well with drip content

While paying a recurring subscription, you need to keep your members' interest in order for them to continue paying the subscription.

For example, a few reasons for someone to keep their subscription live would be:
New monthly content being released e.g. blog posts, videos, ebooks.
Regular webinars or group sessions.
Drip-feed content inside online courses.
An active community, work and networking opportunities are also good non-drip ways to keep your members happy and paying.
Each community is unique, and you need to take care of it if you want to bloom into a beautiful garden!
5

The Membership Platform – No need for multiple plugins and WordPress sites

There are many membership plugins or solutions, especially on WordPress. However, most of these plugins come with limited functionality, no support and you will need a host of other plugins to go with them.
Working with a lot of membership plugins and combining them to fit your WordPress theme can be a hustle. But with the LearnWorlds platform you can have all you need for your membership site into one:
Social network
Personal messaging
Online courses
Ebooks
Website builder with blog
Marketing tools
Affiliate program
Sales tools with subscriptions/memberships options
Management and reporting
Hosting included in the price
Having an all-in-one platform with tech-support to take care of the tech-headaches will allow you to focus on building a community, releasing new content and running a profitable subscription-based business.
Planning Your Membership Site
Whether a membership site is going to be successful or not, is determined by a number of factors. You will need to decide the type, content and business side of it before you start building it.
A few crucial elements to consider are the following:
A nice blend of these factors creates an unbeatable formula in terms of business marketing dynamics. Whichever membership software you choose, it will be the technical part of your business, these are the soul and spirit of your business!.
So, let's look at them step by step:
Reusing Content
Membership sites require exclusive content. A Contently study (2017) shows that specific and personalized content – over generic, works better for the majority of businesses.
This approach focuses on the concept of niche marketing that allows the sharing of target-driven content that speaks to your audience and your audience alone. It helps you ensure that you are attracting the right type of learner who is going to commit to it in the long term.
But, why go through all the extra steps to create new content?
If you have any kind of material already, you can re-purpose the most valuable of it as new content.
First, you can look at your blog. Do you have many pieces on an important subject? Then, you can connect those pieces into a more valuable, deep, exhaustive ebook.
Do you have a YouTube channel? What about re-using some of your more in-depth videos as premium content.
Have you ever done any lectures, training or workshops? Then, you probably have some slides, texts or other material from there you can reuse as an online course.
Then, you can re-use the same material again in different formats. Your blog posts can be easily turned into a video where you go more in-depth to the topic or into a podcast. Your gated content can be the exact same material in another, more easily digestible form.
Not all content needs to be new and fresh, you can begin by offering existing content as premium gated content. And, you can start creating new material as soon as you have the first subscribers!
Create New Premium Content
After reusing as much content as possible, you can start creating new content to keep your subscribers happy and coming back for more.
So, what kind of content can you create for your membership website? Any kind of media can be part of your gated content. Here are some of the most popular offerings of membership sites:
Books / Ebooks
Blog Posts / Articles
Case Studies
Video Tutorials
Professional Advice / Training
Online Courses
Screencasts
Guidance (spiritual, self-improvement, work-related, etc)
Webinars and Chats (one to one or one to many)
Digital Downloads: Worksheets, Templates, Checklists, PDF Slides
You can choose to focus on one category but it's better to have multiple types of content that will work with a variety of people visiting your site.
Website & Branding – Stay on Message
Decide on the branding and the direction your website will take. Having a clear view of who are you helping to solve which problem and how this reflects into your brand is important.
It will inform all your decisions building your website and landing pages.
A brand that features a community environment that is open, welcoming and focuses on the success of its people, has more chances of attaining new members while retaining its existing ones.
To enhance your branding, make sure you are consistent with your social media marketing strategy:
Try out Facebook Ads to become more discoverable.
Use your logo and branding colors effectively.
Build a complete business profile with all your social media accounts.
Share testimonials, reviews and case studies.
Customize your marketing messages.
Write informative blog posts to position yourself as an authority in your field.
Your marketing messages are the very core of your communication activity with your audience. Through these, you are calling out to potential customers and waiting for their response. Once you manage to attach a positive feel to it that touches a chord and prompts them to take action, you win.
You can do this through your email marketing initiatives too, as they can help to generate leads and gain brand awareness.
While you are at it, make sure to try out the following marketing strategies:
Speaking to the tone of your audience.
Showing that you empathize with your audience's struggles.
Focusing on the benefits the membership offers (FOMO).
Telling a good story and building on a 'we' community.
Making it all about your customers, not the business.
The goal is to build a marketing strategy around your membership site that is less generic but more defined towards customer engagement and retention.
Member On-Boarding – Make it Easy for Non-Members to Get On-Board
Create the necessary steps to encourage your site visitors to become paying members. Make it easy for them to get what they need from your page quickly and guide them in taking the appropriate actions through the use of CTAs and other incentives.
For example:
Step 1: Get them to subscribe to your email list while offering an ebook.
Step 2: Send them a welcome email, a promo video, offer a free trial or a phone consultation to encourage interaction.
Step 3: Start feeding them with relevant content from your homepage, email and social media (blog spots) to gather attention on membership options.
Step 4: Give them access to a discussion forum where they can connect with paid members.
The content you offer can bring more opportunities to upsell and gradually build on their interest in purchasing a paid membership.
Membership Pricing – Decide the Pricing
A membership site can be either free, paid or premium with tiers. If you want to put a price tag on it, consider the following:
a

Align the membership fee with your business goals

Begin by asking yourself what you want to get out of your membership site.

What's the end goal and what purpose does it serve?

Is it to make membership your no. 1 source of income? Perhaps a membership site that makes 2K, 3K or 5K per month? Is it to encourage members to buy more products or upgrade their subscription? How about attracting more customers?

Each goal requires a different course of action. But, I would recommend starting with a realistic number of how many subscribers you will need to make a profit out of your membership site and how many can you accommodate.

With that information, you can calculate how much you need to charge for it.

The winning pricing equation is:

(No. of Subscribers x Price of Membership) / Desired Revenue

As you are gradually trying to attract more people, through free trials, encourage them to invest more with an average yearly or monthly fee. This should not be too high or too low in relation to your competitors' pricing.
b

Go with the tiered pricing strategy

One of the most common yet effective pricing strategies is offering multiple packages that come with different combinations of features at different prices.

Here are a few examples of tiered pricing options:
Example 1: Guitar Tricks (Guitar Playing)
Guitar Tricks has only two pricing options and makes it clear that the full-access subscription is the best choice. By showing how limited the basic package is, it guides people to the preferred paid option.
For those who are serious about learning how to play the guitar, a $19.95 per month isn't a huge investment and they can get a lot more out of the full membership compared to the basic one.
Example 2: The SchoolRun (Primary Education)
SchoolRun offers three subscription options and free trials for paid options to help customers decide what's best for them.
The premium subscription option is the only one that allows 3-year access to all resources on a one-time payment.
Example 3: Twinkl (Primary & Secondary Education)
Twinkl uses three subscription options guiding the customer's decision to the preferred choice through social proof. The ultimate package seems to be the most popular decision despite being the most expensive.
Example 4: Online Trainers Federation (Personal Training Business)
Online Trainers Federation also has three subscription options on their Team Training program and is making use of the anchor pricing effectively.
Digital entrepreneur Dave Smith, talks about this on his website:
The $99 of the monthly membership here accounts for $100. The perceived value of the program is at 1,200 (100 x 12), but it is being sold at $890 which makes the annual membership the ideal package to choose.
c

Choose your payment gateways wisely

Where are your site members coming from? Think about this when setting up your payment options because some payment processors aren't available to all countries. Plus, people aren't giving out their credit card details so easily.

Using a trusted payment service such as PayPal or Stripe is the best way to go when it comes down to e-commerce.
*If you want to create a membership site with LearnWorlds, you will need Stripe as a payment gateway for subscription payments.
Monitor Your Results – Growing a Membership Business
Creating a membership site is not all set and done, which means that you need to constantly check upon its performance. For starters, make sure to track the number of your subscribers – including how many you get and how many you lose along the way.
Figure out how many subscribers you need to sustain your monthly or yearly income, and monitor your conversion rates on your free trials and sales page.
You will need to work on attracting more new subscribers than canceled ones to maintain and grow your business. So, even though there are people leaving your community, there are still new ones coming and you are not losing on profits.
WordPress Membership Site Plugins
It is common for WordPress users and especially bloggers to prefer plugins to monetize their websites. This has a number of pros and cons.
WordPress membership plugins are usually cheaper than other solutions, but take more time for setting up and maintaining them. They also offer more flexibility as you can combine multiple plugins if there is a functionality missing from the membership plugin. But, be careful, combining many different widgets and plugins might become a technical headache further down.
So, if you choose to go with a WordPress membership plugin, here is a list with the best ones:
MemberPress
MemberPress is one of the most popular WordPress membership plugins. It will give you most functionalities you need to create gated content and connect a payment gateway to accept payments. MemberPress pricing starts at 129$ per year.
WooCommerce Membership
WooCommerce is a very popular plugin for e-commerce, and with its membership plugin, you can restrict content and product for members only. It is great if you are selling physical products restricted only to your members. WooCommerce Membership pricing starts at 149$ per year.
S2Member
S2Member is another popular free WordPress membership plugin that comes with the pro version. It allows content dripping and can even integrate with BBpress to offer a forum on your site.
LearnWorlds: An All-in-One Membership Platform
LearnWorlds is an all-in-one platform to create a membership site focused on a community, digital downloads, and online courses.
All you need to create a membership site is within your grasp and only takes up to a few minutes of work to set up the basics. Then, it's all in your power to decide if you are going to be selling a community, courses, video tutorials, digital downloads, ebooks, LearnWorlds has everything you need to start selling a subscription-based business.
What's important to know about LearnWorlds is that it comes with everything you need to run a Membership Site without any extra costs or messing with multiple plugins:
Built-in Community
Built-in Affiliate Management
Cloud-hosting is included in the price
Modern website builder with customizable templates
Multiple payment options – bundles, subscriptions, and installments
Full elearning capabilities for courses, training, drip-feed, certificates, and HTML5/SCORM
Integrations with most popular email, analytics, and marketing software
Interactive video
User management and reporting
24/7 support
So, if you want to avoid any headaches that you might have with a WordPress membership plugin, here is how to create a membership site with LearnWorlds:
Compare LearnWorlds vs WooCommerce
How to Create a Membership Site with LearnWorlds
Step 1: Create an account on LearnWorlds. Course subscription plans are only available in the Pro Trainer and Learning Center packages.
Step 2: Enable subscription-only school
To do this, go to your Admin menu and click on 'Financial' and then 'Payment Gateway'.
To enable subscriptions in your LearnWorlds school, you need to choose Stripe as your payment gateway. Then, switch the 'Subscription Only School' button to 'On' and click 'Save'.
Step 3:Create subscriptions
First, go to your Admin menu, click on 'Financial' and then 'Manage Subscriptions'.
Now, click on 'Create subscription plan' to start editing your new subscription:
Then go through the following:
a) Name your Subscription plan.
b) You can create a new Subscription plan by setting the price and billing interval (time between billing occurrences).
c) Write your Subscription description so learners will know what this plan is all about.
d) Now you can select which courses this subscription will include. Warning! Don't forget to click on the "Add course" button!
e) A subscription can also have a trial period for which you can adjust the trial days.
f) You can either keep this subscription as a draft (not accessible to students) for further editing or make it public.
g) You can specify the order in which your subscription plans will appear in both your plan authoring page and the starting page of your learners.
h) Don't forget to click on the "Save" button otherwise, your changes will be discarded. Keep in mind that you can also collect a user's credit card before the trial initiates.
Once you finish, this is how your subscription menu will look like to learners:
From here, learners can choose which subscription plan they want and they get to see a detailed overview of all your plans.
And that's it!
Successful Membership Site Examples You Need to Check Out
Are you looking for some inspiration?
Then, these popular membership sites will be the right place to start with. You can get inspired for your designs, branding, pricing and also get ideas on content and what frequency you should be releasing yours.
The Game Changers offer business coaching advice and training as well as an opportunity for people to join a supportive community of professionals and coaches. This is the Opulence program, which has three tiers of membership access.
What I like about this is that it offers an outline of the program, and before you book your place, you get to have a 15-minute call with them to ensure that this is what you need. This is a huge time saver!
Example 2: Pencil Kings (Art/Drawing)
Pencil Kings goes one step further to make sure that their site visitors will convert to subscribers and paying customers. They offer a video case study example that talks about how members of their community managed to accomplish her career goal as an artist. The video is more direct and works great as an engagement tool.
On top of that, it makes use of a number of testimonials that make the brand trustworthy and more credible as a professional community.
Example 3: Genius Network (Entrepreneurship)
Genius Network's site invites people to join their community to get the benefits their membership offers. It focuses on the power of connections and how members can increase their network and reach out to other industry professionals.
What's great about it is that it also gives out an explanation of how the community can help them achieve their professional goals and how to become better entrepreneurs.
As you can see, a membership site can give you greater control over how you manage your content. At the same time, it offers more potential in terms of communicating with your audience and can get more course sales coming your way.
While following the examples of these membership sites, you need to take into account all of the elements that can make yours a nicely-balanced and attractive site that will host your online community.
Include all of these elements into your membership management plan and see how it works out for you.
(Visited 27,125 times, 1 visits today)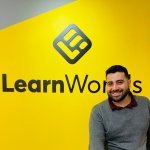 Nick Malekos is a Senior Digital Marketer in LearnWorlds. He is a results based and well-rounded Digital Marketer with years of experience in the education industry, writer and digital literacy trainer.
Kyriaki is a Content Creator for the LearnWorlds team writing about marketing and e-learning, helping course creators on their journey to create, market, and sell their online courses. Equipped with a degree in Career Guidance, she has a strong background in education management and career success. In her free time, she gets crafty and musical.