Grow
your audience
A complete e-commerce solution with built-in marketing and sales tools for growing your audience and increasing your revenue.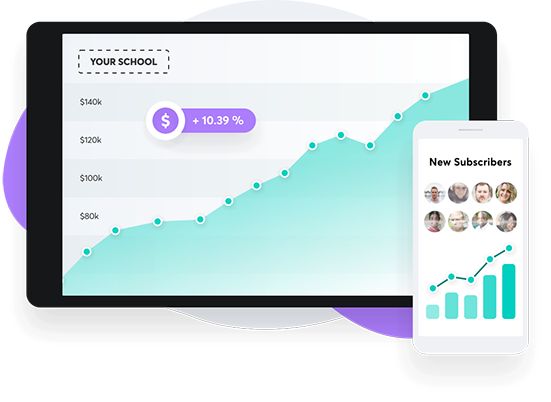 Powerful marketing tools
All the tools for getting more customers, revenues and repeated sales.
Increase sales with coupons and promotions
Upsell and cross-sell with irresistible offers, high-converting sales pages, 1-click funnels and customizable checkout experiences.
Sell memberships, subscriptions and bundles
All types of digital marketing products you will ever need. Subscriptions, course bundles, private courses, free courses, free course sections.
Build your own sales team with affiliates
Take advantage of LearnWorlds advanced affiliate management. Build partnerships and let others help you generate leads and sales.
Use your own custom domain
The domain name of your website is the first impression, it is something that makes you unique and memorable. Use a custom domain to promote your brand.
Full white label, truly yours
Remove the LearnWorlds brand from your online school. Offer a higher-valued proposition to your clients and connect seamlessly your different websites.
Expand your reach on App Stores
Meet your learners where they are with your own branded app, in your own Apple & Google App Store account to supercharge your growth.
Integrate with your favorite tools
Maximize revenues
Grow your list, attract students, sell courses.
Capture leads
Explore our landing pages and lead magnets to capture new leads.
Custom native apps
Ask us to create your own native app (iOS and Android) for your school.
Built-in SEO
SEO-friendly URLs, meta tags, keywords, clean HTML code.
Multiple payment options
Get paid via Stripe, PayPal, Shopify, Apple Pay, Google Pay, Klarna, and many more.
Conversion pixels support
Add conversion pixels to track and improve your conversions.
Manage taxes
Automatically calculate, collect and file your course sales taxes in minutes.
Multiple Currencies
Sell your courses in your currency ($, €, £, A$, £, R$, CA$, DKK etc.)
Flexible payment models
Create memberships and subscriptions or let your customer pay through installments.
Actionable analytics at your fingertips
Get insights, optimize your sales process, improve your teaching.
School Dashboard
Get a bird's eye view of your school, be instantly on top of your sales, registrations, and student activity.
Student progress
Robust reporting for monitoring your students' progress, engagement and course completion. Identify opportunities for course improvements and spot students who need extra support.
Events Log
Identify login information, failed buying attempts, who visited which course and a lot more. Keep track of all the important events and offer better support to your learners.
Export data
Export user lists and discover who has purchased what and who could use a nudge or two to convert. Export your sales records to apply more sophisticated analysis.
LearnWorlds is the best course sales software that provide the students with on time courses an manages the issues related to course handling. It has a demo that can make the user to feel easy in working.
- Ayesha Nasee
I took a long time for me to find a great platform for my online schools. LearnWorlds is a robust platform that is very easy to use and setup and it is also affordable for those that are just getting started.
- D'Andrea Bolden Ministries
The TEAM behind LearnWorld is what makes the difference and the support they offer.
- Ariane G
I am in love with this platform and I would never change them for another. I feel cared for by the amazing support team that know my name, my work, my problems and needs. They offered me the attention and personalized tips. All that gave a big boost to my online school.
- Teya B.
LearnWorlds will soon be recognised as the GLOBAL authority in online teaching... they stand out above the rest and their promises are REAL.
- AAW
The confidence I've gained in my business is priceless. No matter what issue I might have with my platform, the LearnWorlds Support Squad has my answer. When they say "customer service is their #1 goal" they truly mean it. I've never been disappointed.
- Missy C.
I have used few others providers and wasn't satisfied until I found LearnWorlds. They have all the tools and easy to use interface to build your online school.
- Jonas K.
I'd like to say that the support that we've been getting from LW since I got to know the platform is, until this moment, without any doubts one of the best customer services that I've experienced.
- Samir A.
Extremely easy to use their in house video hosting platform, so there's no need to get a platform like vimeo which ultimately saves you money.
- Kenneth John
I can recommend LearnWorlds as a great tool to manage an online course, academy, accelerator or anything similar. The platform works well and has many adjustable features. The support is super fast and always helpful! 5/5
- Alona Belinska
LearnWorlds is likely the most interactive learning system I have encountered. Thanks to greatly integrated video functionalities, gamification and personal notes/library there are immense opportunities to enhance the learning experience by creating engaging content.
- Epp Krusenvald
Before I committed, I decided to contact every elearning platform but honestly, no one beats what they offer. They are always on top of things and all the best features are always being added. The creators are so amazing, I can tell they work so so hard!
- Corine C.
Easy to use, good support from the team (very responsive) and costs less than many course platforms
- Tany Williams
I was looking at maybe 5-7 different platforms before I decided to go with LearnWorlds. It is easy to use (intuitive) and there are the features that you need. I am happy I found it!
- Martin B.
Definitely the best option on the market after an extended research I made. I like to compare my options before making a purchase and LW was the clear winner. The amazing, friendly and well trained support team that replies withing a few minutes is what I find also extremely impressive about LW.
- Teya Bozhilova