Let us once again emphasize the undeniable truth: the potential for earning in this digital wonderland is nothing short of extraordinary.
By sharing your knowledge and enlightening eager minds through selling online courses, you not only experience the joy of educating others, but you also unlock the incredible power to generate a steady flow of passive income at an astonishingly low cost.
In fact, according to studies that peer into the crystal ball of market trends, the global e-learning market is poised to skyrocket to an astounding $457.8 billion by the year 2026. Yes, you read that right!
This mind-blowing figure only reinforces the notion that the opportunities within this lucrative industry are as vast as the cosmic expanse itself. It's a playground where success knows no bounds and success can be achieved with a stroke of digital brilliance.
Last year, Shopify merchants' services generated $1.6 billion dollars in gross profits, and a big percentage of these earnings originates from digital products.
You might be wondering, "But can I sell courses on Shopify?" Yes, a lot of successful Shopify sellers are course creators. Many eCommerce businesses and entrepreneurs decide to monetize their audience with online courses and a Shopify LMS (Learning Management System).
What's great about this is that it's easy to repurpose existing content. Let's say you offer product education via video tutorials and PDF guides. You can keep that content and add some gated course material that will provide additional value, like blog posts, recorded webinars, etc., and sell them as a course. You can also include quizzes and offer learners a certificate of completion.
This post covers everything you need to know about how to sell a course on Shopify, including the best Shopify course apps, marketing techniques, and digital products to sell on this popular platform.
Selling online courses on Shopify is easy, and anyone can do it – no matter the type of industry your online business is in. That's why Shopify for online courses is very popular.
There are two ways you can sell online courses with Shopify:
Sell a course as a digital product on your Shopify store
Sell a course directly from LearnWorlds with Shopify payments
Let's see how these two ways work.
1

Sell a course as a digital product from Shopify

Set up a new product on Shopify, add the pricing information, and create a landing page specific to online courses. Then, you will need to connect to an online course platform like LearnWorlds to enroll each buyer as a student in that course.

In LearnWorlds, account creation and enrollment happen in the background after a purchase. LearnWorlds uses the user's email as an identifier to link their purchase in Shopify to their LearnWorlds account.

❗You will need to check the second option of the Customer contact setting, Customers can only check out using email.
2

Sell a course directly from LearnWorlds with Shopify payments

The easier way to leverage LearnWorlds's Shopify functionality for your elearning website is to connect Shopify as a payment gateway. LearnWorlds offers the option to sell your courses via Shopify by fulfilling any online course purchases from your Shopify online store.

When someone buys a LearnWorlds course, they are redirected to your Shopify checkout page, with the course already added to their shopping cart. When they finalize their purchase, they are sent back to LearnWorlds to start their course.

To integrate your LearnWorlds school with Shopify, follow the steps below:

Step 1: Create a Shopify Account

If you don't have a Shopify Account, create one. The process is straightforward and super easy. You simply need to provide an email address and a few details about what you're planning to sell.
Then you can choose your shop's name or leave it for later if you're still working on it. Once you are in, you will be given your Shopify store URL, e.g., cvworlds.myshopify.com, and you will be directed to your main dashboard, where you can customize your store.
*Should you need help setting up your Shopify store and selling courses, contact Shopify support directly to help you out with your inquiry.
Step 2: Go to LearnWorlds Dashboard
Then log in to your LearnWorlds account → Settings. Click on 'Financial' → 'Payment Gateway.'
Step 3: Choose Shopify as Your Payment Gateway
Once there, select Shopify as your main payment gateway. Fill out your Shopify URL (The Shopify URL ends with myshopify.com).
Paste the Admin's Access token that you have set up in Shopify, add it in the respective field, and hit Save.
Step 4: Sync Your Courses
Now, a new button will appear to allow you to 'sync' your accounts and add your products. Click on 'sync'.
When the synchronization process is complete, you will get a message that says your products – courses have been added to your Shopify store.
Then click 'Save' at the top of your screen, and you are ready!
Every time you make changes to any of your courses at LearnWorlds, you will need to make sure that you sync your accounts again so that courses are effectively updated in your Shopify store.
Also, ensure that 'Accounts are required' is enabled in your Shopify store. To do this, go to your Shopify admin > 'Settings' (at the bottom left) and then 'Checkout'. In the Customer Accounts section, click the third choice.
If you want to sell online courses on Spotify, there are some apps you need to become familiar with to make the process easier for you and your clients.
While building your online store, check the following apps on the Shopify App Store or use them as integrations to market and sell your online courses effectively.
Learnworlds is the top online course platform in the market and has integration for Shopify payments. It offers everything you need to create, market, and sell online courses and can easily be connected to your Shopify store or your website. LearnWorlds is better than any Shopify course app with a direct LMS-Shopify integration, offering a great learning experience for your customers.
💁 If you want one single platform to host, sell, and market your courses, check out our article LearnWorlds vs Shopify.
When connected to your Shopify store, the Active Campaign software can help you send targeted messages to your learners at the right time using personalized marketing automation, email marketing, and advanced segmentation, improving your customer experience automation.
HubSpot is an all-in-one marketing platform that helps you to carry out, track and measure your online marketing activities. When connected to Shopify, this software can integrate your online store data with the leading mid-market CRM, marketing automation, and customer service software.
HubSpot is an all-in-one marketing platform that helps you carry out, track, and measure your online marketing activities. When connected to Shopify, this software can integrate your online store data with the leading mid-market CRM, marketing automation, and customer service software.
Tawk.to is a live chat application that enables you to chat with prospective customers and website visitors. It can be used to make the customer experience smoother – therefore increasing customer satisfaction – by providing real support and service to your customers through a ticketing system that integrates with your Shopify store.
With Google Analytics, you can check how your marketing campaign performs and gain insight into consumer trends. It provides you with reporting and real-time store statistics to find out where your visitors are coming from and what they are doing on your website.
Keep in mind that Google Analytics is also a great tool to track and optimize your SEO efforts and can give you a better understanding of your audience, e.g., telling you which terms they're searching for on the search engine, thus helping you adjust your messaging to get more course sales.
With ReferralCandy, you can build a referral program to leverage your customers' network and promote your product or business to their families and friends. ReferralCandy automates this process and helps you boost sales, build social proof, and increase customer retention.
Fomo helps you increase conversions and create instant social proof. It does so by displaying recent orders, product reviews, and other customer behaviors on your Shopify storefront so that store visitors can see that people trust your business, thus reassuring them that they should do the same.
There are thousands of apps you connect to your online store on Shopify. Choose wisely the ones that are more likely to improve the functionality of your store, enable you to sell the types of courses you want, and make the eCommerce process easier.
5 Types of Shopify Digital Products to Sell on Your Shopify Store
Shopify is undoubtedly one of the best eCommerce platforms out there due to its ease of use and value for money. With it, even if you are a beginner, you can easily set up your eCommerce store or website, grow your business, and start selling a wide range of products worldwide. With the added advantage of SEO optimization for your ecommerce platform, you can ensure higher visibility in search engine results, attract more organic traffic, and ultimately increase your chances of reaching a wider customer base.
The best thing about Shopify is that it works for any business and industry you're in, allowing you to sell many types of products – from physical products to digital goods and other services, including the following:
Type #1: Online courses
It is possible to sell online courses on Shopify as products by connecting Shopify to an online course platform – you create the course on the course creation platform and sell it on your Shopify store. LearnWorlds & Shopify can be directly integrated. In fact, you can sell online courses directly from LearnWorlds with Shopify using payment processing.
💡 Check out the example of Supakit on selling courses on Shopify and find out how they deliver them through LearnWorlds.
Type #2: Digital downloads
Shopify allows you to sell digital downloads, including ebooks, email templates, videos, songs, and graphic art. To do this, you first need to download the 'Digital Downloads' app inside Shopify and then add your products. Shopify offers a step-by-step guide on how you can go through this here.
For example, a good example of digital products would be marketing ebooks.
Type #3: Memberships
One of the things Shopify is proud of is the ability it offers to its customers to sell memberships and subscriptions. So let's say you're an online coach, and you want to share gated content with your clients – you can choose to offer access only to your subscribers, offering different services and resources depending on their membership level.
LearnWorlds offers a robust community where you can enroll users by adding a membership fee via your shopping cart to your LearnWorlds community.
Type #4: Services and consultations
Shopify enables you to offer your services or consultation. If you are a financial advisor or a career consultant, you can sell your services online and encourage people to book an online or offline one-to-one appointment with you.
Type #5: Experiences
If your business or online store is offering an experience, e.g., a trip or adventure, spa therapy, wine tasting, or networking events, you can sell tickets to that event through Shopify.
Remember that experiences are very popular on social media channels, so make sure to inform your social media followers about your offerings.
How to add digital products to Shopify
Here's a mini step-by-step guide on how to add a digital product to your online store:
Add the Digital Downloads app from the Shopify Store
Create a product
Go to the Digital Downloads App
Attach the file
If you offer multiple files, you will need to create an archive file, e.g., a .zip.
For more complex products like online courses, it's better to use a learning management system like LearnWorlds to offer a valuable learning experience to your learners.
While investing in the power of your Shopify store is wise, it's important to also keep true to your core digital marketing strategy.
To help you out at LearnWorlds, we offer a range of free resources that are available to you, including the following eBooks:
Take Your eCommerce Business To The Next Level
Selling online courses on your Shopify store is a great way to upsell your current services. Every eCommerce entrepreneur selling digital products on Shopify or even physical ones through dropshipping can accompany them with an online course on how to use them. If you are stuck optimizing your supply chain, a digital product is a great way to add more value or upsell with unlimited stock.
While you're at it, make sure you use every tool or app to help you get the most out of the Shopify platform to offer your customers the best.
Of course, there are many Shopify alternatives and WordPress Plugins out there to host your online business, yet we do suggest Shopify as the top eCommerce platform in that category, with tons of plugins to help you!
LearnWorlds offers direct integration with Shopify and is always here to help you out, offering the best resources and the right source of inspiration to help you get started on your every journey. In addition to optimizing your e-course sales on Shopify, consider implementing a QR generator to provide seamless access to your course content and enhance user engagement. Cheers to your success!
Frequently Asked Questions (FAQs)
Can you sell courses on Shopify?
Yes, there is the option to use Shopify for online courses and sell them as digital products. However, you will need an LMS as a plugin or integration to deliver the courses.
Shopify is great but will not work so well for education or online learning alone. We suggest you use Shopify eLearning in combination with an LMS provider, like LearnWorlds, Teachable, or Thinkific, to deliver the learning experience your learners need.
What to Sell on Shopify?
You can sell any kind of physical or digital product, and there is also the possibility of selling software on Shopify. Here are some examples of trending products you could sell:
Online Courses
Toys
Shoes
Pens and pencils
Decorative bottles
Drills
Cutters
GPS navigation systems
Bras
Motor vehicle parts
Office chairs
Projectors
Kitchen towels
Digital artwork
Eyebrow enhancers
Neon signs
Tablet computers
Water bottles
Can you sell video courses on Shopify?
Shopify allows you to add media to your digital products, including videos, into your online courses in the same way you would add an image or 3D model. Follow these guidelines from Shopify to learn how to do it step-by-step.
Can you sell a service on Shopify?
Yes, you can sell a service as a digital product and connect it to your scheduling tool or email software, or personally reach out to your client for the next steps of the service.
Do you need a business license to sell on Shopify?
In most cases, you don't need to have a business license to sell on Shopify. However, there are however specific exceptions where the country, city, state you live in, or the type of business you operate will require you to have one, so it's best to check that prior to launching your online store or creating your online course.
Does Shopify work for education?
Shopify is a great tool, but it will not work so well for education or online learning alone. We suggest you use Shopify eLearning in combination with an LMS provider to deliver the learning experience your learners need.
What is the best Shopify theme for selling online courses?
There is no "perfect" Shopify online course theme. Any theme that fits your industry will work great for selling online courses. Next-generation LMSs like LearnWorlds offer landing page templates and themes that are specialized in selling courses. It's better to use a LearnWorlds landing page template for courses and use Shopify as the payment gateway.
How is Shopify for eLearning?
Using Shopify for eLearning is relatively easy. There are two ways to offer online courses with the platform:
Selling access to a site with gated course content: create courses as gated content and sell membership access to your customers. You can sell videos on Shopify, pages, blog posts, webinars, audio files, etc. On Shopify, online classes will have limited functionality, but you can use external tools, e.g., Zoom or Skype, to carry out live 1:1 or group sessions.
Selling online courses via an LMS or course platform: use an LMS to host your online courses, add more interactivity, get access to advanced reporting tools, and secure the smooth delivery of learning experiences on various devices. Simply create the course on your chosen LMS, connect it with Shopify, and sell it as a product.
What are some popular Shopify online course plugins?
There are no Shopify online course plugins per se, but you can connect your online course platform with Shopify and sell your course via it. Some of the most popular platforms for creators are LearnWorlds, Kajabi, Thinkific, and Podia.
(Visited 52,588 times, 22 visits today)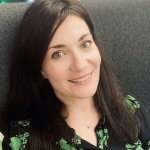 Androniki is a Content Writer at LearnWorlds sharing Instructional Design and marketing tips. With solid experience in B2B writing and technical translation, she is passionate about learning and spreading knowledge. She is also an aspiring yogi, a book nerd, and a talented transponster.