Have you been trying to take your coaching business off the ground to no avail? Something is hindering your coaching business from being successful, and you'd better find out what it is soon before calling it quits.
We're here to help. In our recent coaching webinar, we invited our client and millionaire coach with a career spanning over three decades, Christian Simpson, who shared some invaluable tips that only a seasoned coach could.
Christian's advice is practical and comes from firsthand experience. Take note because there's a lot to learn here. Let's dive in!
Meet Christian Simpson, the Leading Business Coach & Transformational Leader
Christian Simpson is the founder and creator of the Conscious Coaching Academy and offers the award-winning Elite Influencer Coaching Accreditation program.
Christian believes that coaching is the most transformational process known to mankind. His academy is disrupting the Coaching industry aiming to create the best coaches.
So how did Christian get here?
His coaching journey actually started shaping during his adolescence, when his mom went into an early and difficult menopause that gradually deteriorated and left her mentally deranged and sectioned. Due to this personal experience, Christian developed an interest in the non-physical aspect of humans.
So 8 years after, Christian did a year-long accreditation at the European coaching foundation and entered the coaching profession.
It actually took him 4 years to overcome the belief that he couldn't earn a living as a coach, leave his corporate job, and start his own coaching business! But he soon realized that his first coaching business was more of a job than a business. Why?
Because it wasn't "making money for him while asleep." He was the "trading time for money" coach – it was all down to him, and he worked really long hours, which is exactly where most coaches are. Eventually, his two large corporate clients canceled their contracts for reasons beyond his control, and his business went under.
Next, he started working in the States with Bob Proctor, and a couple of years later, he was hired by leadership coach John Maxwell and worked with him and his team until last year, for a total of 10 years. This experience helped him evolve and shape his coaching business into what it is today.
6 Invaluable Tips to Scale Your Coaching Business
Christian gave some great advice to all coaches looking to expand and scale their coaching businesses. Most of this advice results from mistakes that taught him valuable lessons.
#1 Shift Your Mindset
Outside the time when you're preparing and delivering your coaching sessions, you shouldn't think of yourself as a coach. That's right – don't think of yourself as a coach, but rather as an entrepreneur who provides coaching products and services. Without that mindset shift, you will remain in practitioner hood and put a huge glass ceiling on your business.
Shift from practitioner to profit maker in your thinking.
Christian Simpson
#2 Focus on the Client
Generally, coaches have two types of audiences: people who want to change careers and start coaching themselves and established coaches who are not where they want to be yet.
Whatever the case, coaching is just the vehicle that gets the client from where they are today to where they want to be. So instead of talking to your client about your coaching, you need to talk about them and their challenges. You need to focus on them, not you.
#3 Never Rely on "One"
The first most dangerous number in business is one: one customer, one channel to market, only using Facebook for leads, one employee, etc.
Christian Simpson
In other words, over-relying on just "one" thing, no matter what that is, puts you in danger of failure – and ultimate failure, for that matter.
Christian pointed out with humor that the second worse number is two – giving an example of how his first coaching business failed when both his large clients had to cancel their contracts.
#4 Invest in Yourself
After his first business went under, Christian realized that, more than anything else, the problem was himself and the choices he had made. And what did he do? He hired an entrepreneur to teach him how to build and run his business.
Realize that coaches need a coach too. Your business is your greater and most complex investment. Don't hesitate to invest in yourself by getting proper education on how to manage your business. Without this knowledge, you'll make the same mistakes again and again, risking the viability of your business.
#5 Don't Lowball Your Pricing
The idea that you shouldn't earn an abundance of money for providing phenomenal value is what cripples a lot of people in the coaching industry. If you don't charge an appropriate fee for your time, you deny your client the opportunity to invest in themselves at a level that demonstrates their self-worth.
Don't play humble and do stuff for free or at a ridiculously low price. Your pricing should reflect both your value as a coach and the significance of the investment the client is making in themselves.
#6 Hire a Virtual Assistant
As your business starts to scale and grow, you hit different ceilings of complexity. A Virtual Assistant is one of the first investments to consider as they will help with administrative stuff and free up your time so that you can do your actual job. The ROI you'll get is definitely positive and worthy of the investment.
How to Market and Sell Your Coaching Products & Services
Christian also gave us a brief overview of his SUCCESS ACADEMY, built with LearnWorlds, where he sells some of his courses and services. Let's see what products he sells and how he has structured his offerings so you get an idea of what works marketing-wise.
Start With a Free or Low-Priced Resource
Free, but valuable! Always think about how you can provide true value to your audience. At this point, you need to speak into their pain and give them a tool to help them self-coach themselves around it.
👉 LearnWorlds enables you to sell mini-courses and digital downloadables as lead magnets, or you can offer a part of your course for free.
Follow up With Email Marketing
Direct response marketing is what works best for coaches, so always follow up with emails sharing your story and building a relationship while promoting your coaching products. Focus on the stuff that demonstrates your credibility and value.
Don't think for one moment that your life story isn't interesting to people, to the audience that you serve.
Christian Simpson
Promote Your Higher-Priced Resources
Once you've gained the trust of your audience, you can introduce resources sold at a higher price. These resources should give the prospective client the opportunity to get hold of information and strategies that will impact them even more than the free offer, products that go into deeper details. Those who are truly ready to do the work will buy them.
Offer Different Options & Resources
Subscriptions & memberships: Christian offers many options to his audience. For example, he has the Entrepreneurial Mastery Inner Circle, which is a subscription-based program through which clients get hours of coaching and mentoring calls with entrepreneurs to help them shift their thinking.
👉 LearnWorlds allows you to sell memberships & subscriptions and enrich them with all the features you need: self-paced courses, live sessions, digital downloads, a built-in community, a blog, and more.
Online courses & digital products: Christian also sells individual online courses along with eBooks and Guides/Workbooks.
Self-paced online courses are relatively affordable and provide true value, further "warming up" the client before they feel really to sign up for more expensive services. Downloadable resources offer quick access and additional support and guidance.
👉 LearnWorlds enables you to group and sell your courses in bundles, optionally adding a discount.
Premium products: Your offerings must include some top-tier products, priced accordingly, like access to mastermind groups and 1:1 coaching. Those premium products will really elevate your overall offering and help you stand out from the crowd.
👉 LearnWorlds allows you to schedule live events and 1:1 and group coaching via Zoom and Webex. Via the Calendly integration, you set your schedule and allow clients to book their sessions. Plus, you can launch a branded mobile app for ultimate flexibility and ease of access.
⭐ A LearnWorlds feature Christian loves:
Monitoring your client's progress is pivotal. No matter the type of coaching you provide, your client will reach different milestones during their journey when they need to demonstrate they've made progress and are closer to their goals. But how can you easily keep track of their progress?
Enter the "LearnWorlds Review Center".
Christian is a big fan of our Review Center. The Review Center allows him and his instructors to review everything the students have submitted: their masterclass journal, assignments, and accreditation assessments. Then they get to grade the assessments and critique their answers, providing feedback about where they need to improve.
💁 Learn more about the LearnWorlds Review Center here.
All of that has removed so much of an admin headache and made everything seamless and easy for us to run the Conscious Coaching Academy.
4 Things to Remember to be an Outstanding Coach
Closing his talk, Christian shared some wisdom, this way wrapping up his key points.
Make Sure You're Credible
Equip yourself with an industry-recognized accreditation and engage in industry-related continuous personal and professional development. And you need to be consistent and diligent about it – reading the occasional self-help book or attending a seminar once a year is not enough.
Equip Yourself to Succeed
A staggering 82% of coaching businesses fail within the first two years.
Another 98% of those who survived will go under within the next two. So be careful who you take advice from. Get around people who have succeeded in the coaching business to learn their secrets and mistakes to avoid. These are the only people that know how the coaching business really works.
Never Underestimate What You Do
Never lose sight of the magnitude of your work. Don't ever underestimate what you do. Coaches are the instrument that raises the consciousness of our species. Along with therapy, coaching helps people change their quality of thinking and achieve great things. This is powerful and divine work – never forget that.
Don't Play Small
Don't allow yourself to play small in this profession. You've equipped yourself with all these skills and have this transformative power over other people's lives. How can you stand before others encouraging them to live bigger when you're not doing that yourself?
Take the Next Step to Incredible Coaching
These were some inspiring words and extremely useful advice. And, as Christian said, no one's better equipped to guide you through this journey than a successful coach who has experienced the ups and downs of entrepreneurship.
LearnWorlds is Christian's platform of choice for a good reason. Take LearnWorlds for a spin with a 30-day free trial and see how it can help you build a branded, elegant coaching academy that will not simply reflect the quality of services but also enable you to elevate these services with amazing digital products, live events & mastermind groups, memberships, a vibrant community, and interactive online courses.
(Visited 529 times, 1 visits today)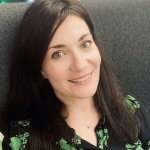 Androniki is a Content Writer at LearnWorlds sharing Instructional Design and marketing tips. With solid experience in B2B writing and technical translation, she is passionate about learning and spreading knowledge. She is also an aspiring yogi, a book nerd, and a talented transponster.