When we hear the phrase "online course" most of us immediately think of the roughly-priced $397 self-paced program from our favorite experts.
And, while the typical price point for most online courses is under $1,000, there is a category of courses that commands well above the four figures.
High-ticket courses, it's the honey-pot of course creators who really value their expertise, and a quick route to making a high-income profit from online courses! 
In this article, we'll cover:
What is a High-Ticket Online Course

The Characteristics of a High-Ticket Course

How to Attract and Enroll Clients into a High-Ticket Course
If you are a course creator, entrepreneur, and online business owner, or consider yourself a beginner in the journey of becoming one, this resource is for you.
It's also relevant for you if you want to build high-ticket programs and sell online courses with the goal of getting premium customers and boosting your business revenue.
What is a High-Ticket Online Course?
High-ticket courses are a special category of online courses that typically come with a higher price tag (starting from $900), compared to standard online courses. 
💡 Wondering how much money can you make selling courses? Click the link to our guide & take the quiz to learn!
These courses also known as 'premium courses' are designed to offer a more comprehensive, in-depth, and personalized learning experience. High-ticket courses have five key characteristics that distinguish them from their lower-priced cousins. And it's the combination of all five that makes them both powerful and profitable:
Proven client results

A premium experience

Multiple methods of content delivery

Personal support

Personalized enrollment
Let's look at these characteristics in more detail 👉
Proven Client Results
Your high-ticket course must be designed in a way that gets clients results. Because, after all, that's what they will be paying for. Without this, the other characteristics won't matter.
These days, information is plentiful and does not command a premium price.
Google, YouTube, and thousands of free content sites provide the audience with more information than they can handle.
So a course that will have a premium price must focus on results rather than offering just another source of information. A good online course solves one pressing problem for a specific client group.
The key here is the solution.
Your online course must deliver a path that takes your client from where they are today to where they want to be – from point A to point B.
Bonus points for being able to get them there as quickly as possible.
After all, you don't want to take up any more of our clients' time than is necessary to help them achieve the promised results.
A Premium Experience
While the result the course gets for clients is the most important component, the experience matters too. It will determine how they FEEL while taking your course and whether that feeling is consistent with a premium price tag.
Think about a first-class plane ticket.
While the destination (the results) are the same as the economy class ticket, the experience is completely different!
And, that is a big component of being able to charge and maintain a premium price for your course.
Using a modern LMS – Learning Management System, such as LearnWorlds, is a great way to ensure a premium learning experience.
LearnWorlds can be customized to suit the look & feel of your website, brand, and required experience. Furthermore, it offers interactive learning through eBooks and videos, the entire experience feels seamless, professional, and well-designed – providing the customer a feeling of being well taken care of.
Multiple Methods of Content Delivery
Many people think that an online course is just a series of videos.
While some courses are just that with the LearnWorlds' Interactive Video Editor, these can be much more powerful than regular video courses. 
Adding other, more engaging forms of educational content makes learning more impactful, and creates a better experience and better results, further validating your premium price point.
Using multiple methods for content delivery can also help to ensure that all learning styles are served and that the information is presented in the best possible way for the topic you teach.
For example:
Complex information is best delivered using a combination of interactive videos and

eBooks

.

Assignment guidance in online course

learner assessment

is best delivered using a combination of audio and eBooks.

Background information that requires less cognitive load is great as audio that your client can listen to passively multiple times while doing something else.
Not only does combining methods create better outcomes and help to hit the course's learning goals and objectives, but it also allows you to reach more learning styles and a wider audience.
Personal Support
This one can really differentiate your high-ticket course from many other courses and is directly correlated to the kind of results your clients can get.
Where do your clients need more support than the automated content can provide?
Consider adding 1-to-1 or group sessions inside your modules to supercharge results and greatly increase how much you can charge. These sessions are particularly suitable for coaching programs, so you might want to consider using them if you are running a coaching business.
For example, while training high-ticket clients, you can schedule and include group coaching or mastermind calls as part of your course. 
Doing so will help you create online lessons that offer streamlined learning paths that allow you to connect directly with your clients and support them in a more profound way.
Now sure, this won't result in fully automated service, but the higher you'll be able to charge for high-ticket coaching, and the better results you can get for your clients, will be worth the bit of extra effort involved in this model.
Personalized Enrollment 
The final characteristic is a personalized enrollment experience (more on that below). While building a great landing page is important, at a premium price point, especially with personalized support as part of the offer, you and the potential client will want to get to know each other a bit before committing.
Building trust and credibility while showing potential clients that you already have the expertise to teach this course is essential. According to 2019's Edelman's barometer report, 81 percent of customers said they need to trust the brand before they decide to buy from it. 
This approach automatically differentiates your course as it promises to offer a higher level of engagement, customization, and interaction through tailored learning journeys. 
So those are the five characteristics that, when combined, create a powerful course with better results for clients and more profit for the creator.
How to Enroll People into High-Ticket Courses
As we mentioned in the last characteristic – the enrollment experience is different for a high-ticket or premium course than for a lower-priced course.
So let's expand a bit on that.
Any marketing and sales process – also known as the sales funnel, takes people from strangers to clients.
Source: "What is a Digital Marketing Sales Funnel and Why is Important?" by Reliablesoft
With a higher-priced program, that process can take a greater amount of time. You're unlikely to get an impulse buyer or someone who comes across your sales page and just clicks the 'Check Out' button. 
By default, it takes a bit more effort. But given the fact you will be selling high-priced courses – your efforts will be greatly rewarded. Not only in financial gains, but also ultimately through referrals. 
💡 Learn how to set the right price for your online course.
The marketing process for a high-ticket course involves two key components:
Creating appealing messaging, and

Targeting the right potential clients with that messaging.
A best practice for creating courses – whether premium or regular priced – is to solve ONE key problem for ONE ideal client profile.
That allows you to be compelling in your course promotional messaging as your ideal client recognizes the solution to their needs in your offer.
Where high-ticket course marketing can differ a bit, is in the need for more professionalism and more of you.
You'll be building trust with them on the following topics:
That you understand their problem

That you have the solution

That YOU are the right person to deliver the solution

That you'll be providing a premium experience throughout your work together
💡 Want to build a strong brand? Check out our step-by-step personal branding guide. 
One of the best ways to market high-ticket online courses effectively is through videos.
Whether it's videos on your landing page, social media sites, or YouTube channel; webinars, tutorials, success stories/testimonials, or a VSL (video sales letter), creating videos for your audience to get to know you and your work, provides them a quick way to get to know, like, and trust you in a condensed period of time.
So once your target clients get to know you and are ready to buy, here is where the biggest difference in the sales process comes in:
While most online courses are sold through sales pages, a high-ticket online course is best sold through an enrollment call.
By jumping on a ~45-minute sales call with a prospective client, you not only get to continue building trust in you and your course, but you get to vet them as well and ensure that your course really can help them create the amazing results they're here to get. You will be able to point them to the LMS checkout page where they can complete the transaction and begin the process of becoming a raving fan client!
Combining this sales call with other marketing strategies like affiliate marketing, will also get your high-ticket products in front of the right people. 
So here you go. A quick guide to high-ticket online courses.
💡 AI Course Creation: Build your course within minutes using ChatGPT.
Create High-Ticket Courses to Grow Your Business
We hope that this approach inspires you to use the powerful business model we've suggested in this article to scale your business. 
It truly is the best business model for making a greater impact, increasing your high-ticket sales and profit, as well as achieving more freedom in your business and life!
Start building your next high-ticket course with LearnWorlds. Find out how you can do this easily and quickly with your 30-day free trial.
(Visited 5,335 times, 4 visits today)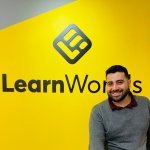 Nick Malekos is a Senior Digital Marketer in LearnWorlds. He is a results based and well-rounded Digital Marketer with years of experience in the education industry, writer and digital literacy trainer.