SCORM and HTML5 packages are an essential part of professional trainers, instructional designers and experienced educators who want to offer high-quality e-learning courses. It is a standard for e-learning professionals and LMS to provide courses in SCORM or HTML5 compatible exports.
With multimedia learning units, online training can be taken to the next level and unlock the full potential of your course. It could be used to add interactivity to otherwise mundane activities, design learning exactly as required by an organization and ensure the interoperability of learning units by all e-learning technologies.
To make your life easier, we have released a better way to manage SCORM and other multimedia files such as HTML5 on LearnWorlds. Now, it is faster to include SCORM compliant files inside your courses!
LearnWorlds is a SCORM compliant LMS, and you can easily upload, manage and deliver SCORM compliant online courses without any fuss.
What is SCORM?
The Shareable Content Object Reference Model is an elearning standard for educational content. It is essentially a zip file containing a single course activity or a whole course packaged in a standardized format. Learning Management Systems (LMSs) recognize the structure of the SCORM compliant file thus delivering the course without any technical issues.
SCORM is a file created using authoring tools such as:
There are many authoring tools able to deliver a SCORM compatible file and vary in price; some are also free, freemium or open-source. SCORM files require a large investment in time to be created, but are robust and provide high-quality learning experiences. Below are some additional benefits of SCORM:
They can work in any LMS system.
Are highly customizable learning units, and can provide a custom learning unit that fits your training needs.
They can be sold, bought or delivered very easily, as they can play with all systems.
What is HTML5 Multimedia Packages?
With Adobe's Flash losing its popularity and HTML5 as the new web standard for interactivity in the web, Adobe Captivate, Articulate Storyline, and other authoring tools shifted to the new standard for e-learning.
HTML5 packages are essentially an interactive website loading inside a cloud LMS like LearnWorlds. The difference with previous iterations is the native support of interactive elements and video playback, making it suitable for e-learning.
When designing a learning unit or a whole course using an authoring system, you will have the option to choose between a SCORM compliant export or an HTML5 package.
HTML5 is used to produce dynamic content and customized interactivities similarly to a SCORM file and can also be SCORM compliant.
Upload Multimedia & SCORM Files on LearnWorlds
When creating an online course, you will need to create a SCORM learning unit, which can be found under the "Embed" category.
Upload a SCORM and HTML5 compatible file in that slot in one of the following formats:
SCORM 1.2
SCORM 2004 3rd Edition
Captivate CAM 1.3 zip package
HTML5
Important note: At this point, if you need to capture the student's performance and report it to the LMS, it is not recommended publishing a SCORM in LearnWorlds because SCORM results won't be tracked by our system (persist). Instead, you can use LW built-in quizzes, exams, and other learning units.
It is important that the SCORM zip file has its contents on the first level, not within a folder. You can see the step-by-step process of uploading the file here. You can try LearnWorlds with a 30-day free, no-obligation, trial:
Be sure to test the learning unit and see how it works before releasing the course/unit. Press on the magnifying glass on top of your screen to preview the course.
We got more updates coming on SCORM compliance and multimedia file support, stay in touch by subscribing to our newsletter!
(Visited 4,855 times, 6 visits today)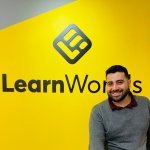 Nick Malekos is a Senior Digital Marketer in LearnWorlds. He is a results based and well-rounded Digital Marketer with years of experience in the education industry, writer and digital literacy trainer.